Dima Hasao Tragedy: Climate Change, Policy Faults and Govt Apathy to Blame
Unabated plunder of natural resources, and unscientifically undertaken projects in the name of development that wreak havoc on nature have once again led to a loss of property and life in a hilly region, this time, in Assam's Dima Hasao district.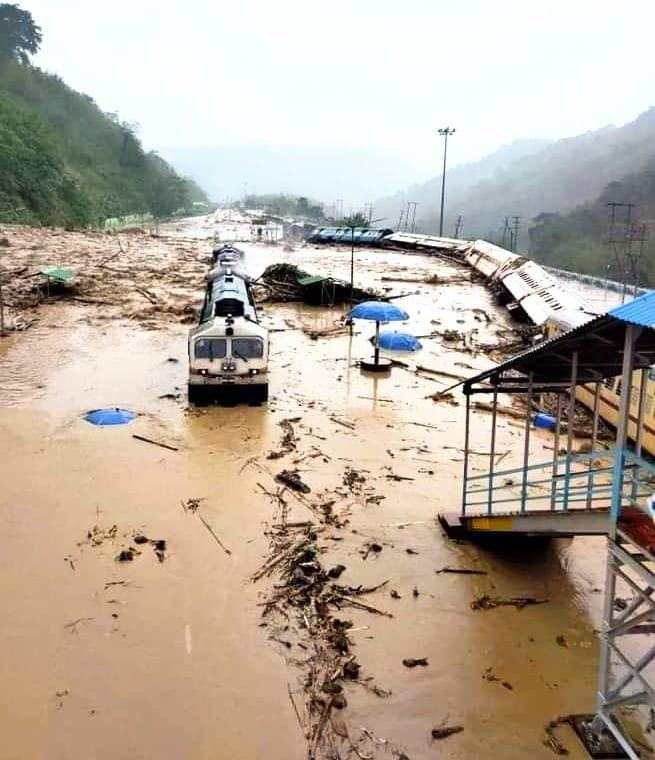 The New Haflong Station on May 16. Photo Courtesy: NDH (News Dima Hasao)
The cover photograph here depicts the situation of the New Haflong Railway Station in the Dima Hasao district of Assam on May 16, where trains were derailed and stranded for three days. The passengers were rescued earlier, though. Mud landslides coming from the top of hills, with roaring water all around with rail and road bridges collapsing, and roads getting swept away are the scenes that have been coming from the hilly district of Assam for the last couple of days.
Till now, three deaths have been reported at the Hokai Puonchi village, near Haflong, the district headquarter of Dima Hasao. However, further loss of lives can be anticipated, seeing the intensity of calamity.
Dima Hasao is a place of serenity, a place of tranquility and of tourism. Sitting in the lap of the gorgeous Borail mountain range, the hill district of Assam has been a sought-after destination, especially during summers. A quick Google search about Dima Hasao brings images of scenic beauty, heritage railway tracks, mountains, clouds and rains, with a lot of content about the vista dome train to Haflong from Guwahati, which was launched recently.
Unfortunately, a few days back, things started turning upside down and at this moment, the same search on the internet will bring dreadful pictures of Dima Hasao reeling under devastations—floods, landslides, loss of properties, lives and livestock. Tragedy it is, and a grave one.
The district is almost cut off from the rest of the state, with several roads collapsed, railway tracks washed away, and a few important bridges getting drifted away. Local people and reporters from Haflong told that many remote villages had been cut off completely as there remained no means of contacting the people because of landslides coupled with electricity and internet cut. The situation brings the grim possibility of more deaths and loss of lives than what has been reported so far.
The current tragedy there reveals something extraordinary pertaining to climate change and the amplification of the effect due to local inputs in the form of policy faults and apparent apathy—all human-made indeed. Dima Hasao is among several such places in the world that have to face the wrath of climate change and is among numerous ones to experience in the very near future.
The riverine places nearby the Jatinga and Mahur rivers and those uphill are equally devastated—the rivers' furious currents swept away everything in front of it, be it a house, livestock or paddy, whereas the hilly areas have witnessed landslides of unprecedented scale. Local reporters told us that there are landslides in places less than a kilometre apart. The Hokai Puonchi deaths were due to landslides where a huge mass of soil fell on the houses down the hill slope.
The areas close to the rivers that are severely affected are Maybong, Harangajao, Mahur, Daotuhaja, Bandorkhal etc. At Daotuhaja, one railway track is seen to remain hanging after the land beneath it got washed away by the river waves, with a similar situation of sweeping away the railway bridge at Bandorkhal. The Jatinga and the Mahur rivers appear not to be under control any time soon. Among the places uphill that bore the brunt of landslides are Haflong, Hokai Puonchi, Dibarai, Lower Bagetar etc. Remember, these are only the places where local media could reach out to. The real scenario of the damages is yet to be revealed.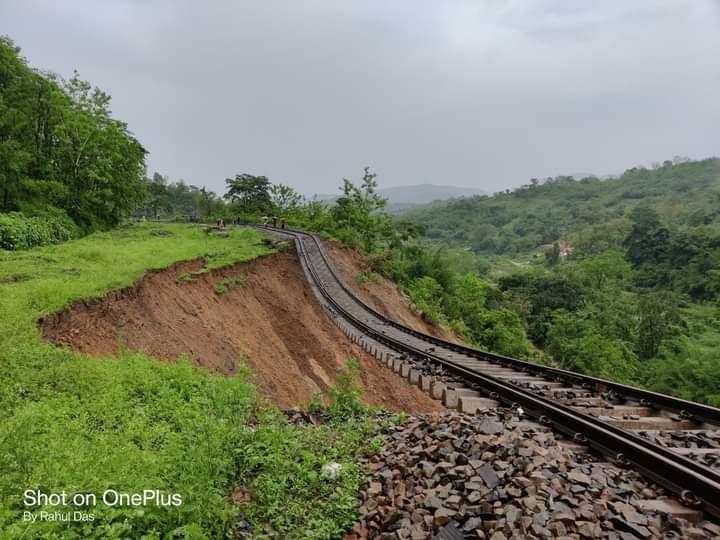 Damaged railway line. Image Courtesy: Assam Daily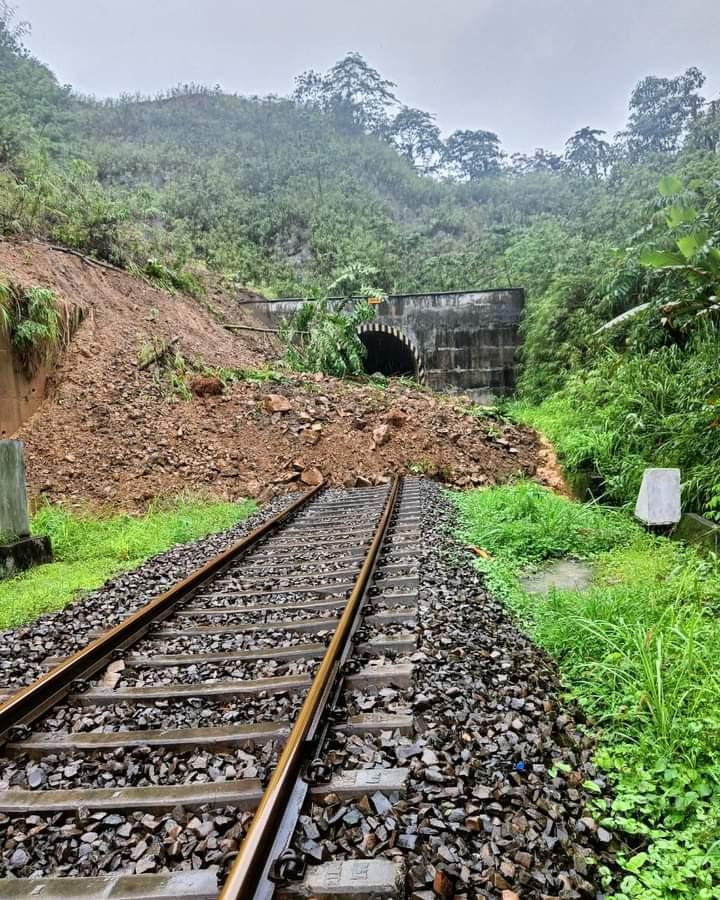 Image courtesy: Assam Daily. The blocked railway tunnel was due to a landslide.
What has been happening in Dima Hasao is unprecedented, at least in recent times. A few local residents told us that the abnormally heavy rain persisting for several days brought the nightmares to the Dimasa Hills. However, to make things worse, the mindless plunder of natural resources and ecological destruction in the name of development contribute largely.
PLUNDERS, ECOLOGICAL DESTRUCTIONS AND POLICY FAULTS
Samarjit Haflongbar is a Congress leader based in Haflong. Haflongbar is an ex-MLA from the Haflong constituency. Speaking to NewsClick he raised some really worrisome points.
"The main cause of extraordinary floods in the areas besides the rivers is the uncontrolled extraction of stones, boulders and river material (sand) from river beds. Earlier also, there were such extractions, but in a controlled way. Moreover, earlier, these extractions were carried out manually. Now, heavy machinery is being used for this purpose, and as a result, the river beds are strained and misbalanced, and we see the furious currents of water," he said.
Uttam Bathari, an associate professor at the Gauhati University at the department of history, also agreed to attribute stone mining as an impactful reason for the massive floods. "Stone mining has escalated massively in recent times. The use of heavy machinery in doing so has rendered the river beds to undergo a sudden change in many places of the rivers,"—Bathari told NewsClick. Along with stone mining, extraction of sands from the rivers, too, on an unparalleled scale to that of past, has added woes, according to Bathari.
Bathari further told NewsClick about the ecological destruction during the large construction projects undertaken in recent times, which include the East-West Highway that passes through Dima Hasao hills, and the converting of the old meter-gauge railway track to broad gauge. "Ecological destructions caused at some point of time may have its dreaded impacts a few years later, especially amidst some unusual climatic/weather events"—he commented. Notably, there are several other construction projects still undergoing in the hills of Dima Hasao, which are accompanied by massive deforestation and earth cutting in the hills, whose impacts are still not known. Dr Bathari also expressed his apprehensions about whether proper hydrological surveys and studies are conducted before starting such large constructions in the hills. Moreover, the mud and soils that were generated during the construction were dumped here and there in an unscientific way, according to Bathari. "Last year during one of my field visits, I came across huge dumps of soils and muds scattered in the Kelolo village, which is near to Jatinga"—Bathari told.
Notably, in the Mahur-Jatinga area, there have been yearly landslides for the last 15 years. Last year it was declared that there would be an elevated corridor in a stretch of 15-16 kilometres, which is extremely dangerous, according to Bathari. Coal mining, with many done illegally and the illegal logging in the pine forest near Umrangso area, have become things of the past. Dima Hasao is witnessing new levels of ecological and environmental destruction.
Samarjit Haflongbar, on the other hand, was quite outspoken against Debolal Gorlosa, the new chief of the autonomous district council. "He was a militant since very recently and joined BJP to get the power. The unprecedented massive plunder of natural resources is happening under his nose"—Haflongbar commented.
The ecological and environmental destructions coupled with unrestricted plunders and their links to the current tragedy seem not to be the conclusions according to Nandita Gorlosa, the present MLA from Haflong of the ruling BJP. Speaking to NewsClick Nandita Gorlosa said—"It will be too early to come to a conclusion that ecological destruction has caused the current tragedy. I have not seen the rivers changing their courses." Rather she pointed to the unnaturally heavy rains day and night that continued for several days.
When ask about relief and rehabilitation package from the government, Gorlosa said, "I am sure the State government will declare some package shortly."  There has not been any such declaration till NewsClick talked to Gorlosa (May 15).
"Only one notification we have got from the Deputy Commissioner which says to not get out of our houses till the rain stops," Samarjit Haflongbar remarked.
Rain it was, with an unprecedented scale. Maiphal Kamprai, a lecturer at a teacher training institute, who hails from Dibarai near Haflong, spoke to NewsClick to share her experience--"In my life till now, I haven't seen such rains. It was continuous and for many days. Dima Hasao is weeping, and we are praying for everyone." However, she also talked about her takes on the current disaster—"This should be linked to global warming and climate change. Human activities are putting tremendous pressures on nature, and we are at the receiving end of the brunt,"—Kamprai told.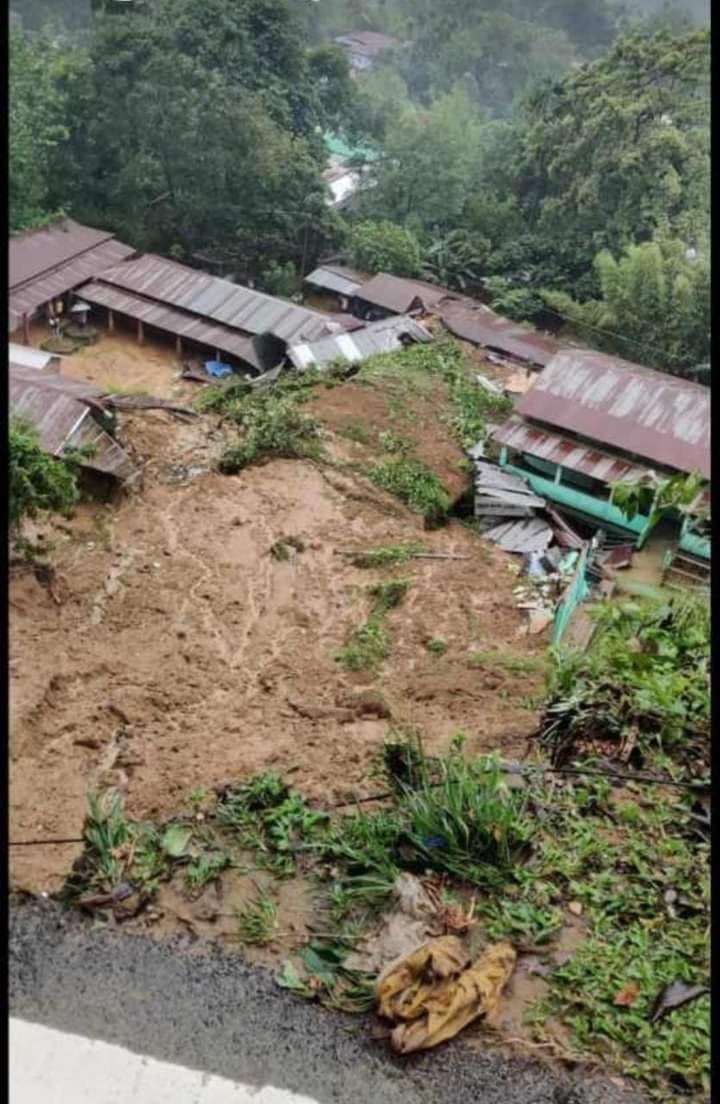 Impact of the landslides destroyed houses.
"Global change of climate will have its impact everywhere; even we can't escape it. However, the local inputs are contributing to the woes. And more so, the local resilience is constantly diminishing, which is a dangerous sign,"—said Dr Bathari.
Holiram Terang, former irrigation minister of Assam, and a resident of Diphu in Karbi Anglong district, while speaking to NewsClick expressed his anguish over the systemic faults in policies, told—"The current situation is an outcome of longstanding policy faults of the governments. Governments at different levels, central, state and local, are interested in exploiting the resources, and all the activities are directed toward it. There are no considerations for other issues related to lives and livelihoods of people."
Terang further commented—"Extractions of coals, limestones, and production of electricity, construction of dams or roads— all are for the benefit of the capitalist class, patronised by the ruling establishments."
Terang also expressed his apprehension over the regulatory authorities like NGT (National Green Tribunals). He said that these authorities are either at the hand of the ruling dispenses or they have no power to influence governments. "Whatever constructions are carried out, it is bound to have an environmental impact. Are they properly assessed at all?"—He questioned. "Because disasters are an outcome of destructions meted out on nature."
He also gave an account of the Karbi Anglong district, which is adjoined to Dima Hasao and has been experiencing heavy rains for several days. According to Terang, water is overflowing the bridge in Kheroni of West Karbi Anglong, over the Kopili river. He also said that the Karbi Langpi hydropower project has an impact in some places in the Nagaon district. "During heavy rains, the dam in the project overflows, and authorities open it. This inundates large swathes of lands at Kampur of Nagaon district,"—he said.
IMPACT OF CLIMATE CHANGE
NewsClick also approached Rahul Mahanta, also an associate professor at Cotton University, at the Department of Physics. Dr Mahanta has been engaged in meteorological modelling of the region for quite some time. He briefly said that the stationary Rossby waves have their impacts on our country as well, for which it may be possible for northern, central and western regions of India to experience extreme heat while in northeast, we are having incessant rains pouring heavily for several days. The stalled Rossby waves can cause excessive heat in some regions and, at the same time, extreme rains in others. "These waves are stationary and can remain for some time"—Mahanta said.
Examples of the stalled Rossby waves bringing summer weather extremes are not that unnatural in the recent past. In the summer of 2010, the massive floods in Pakistan and the Russian heatwaves and the summer of 2018's extreme heat waves in North America and Western Europe while massive rain and flood in Southeast Europe and Japan are attributable to this phenomenon. "We are trying to find out how the Rossby waves bring absurd climatic behaviour to our region"—Mahanta told NewsClick.
ROLE OF THE MET DEPARTMENT AND AN APPARENT APATHY
People now believe that the Indian meteorological predictions have improved over time. It could correctly predict severe cyclonic storms in recent times only to save people from the rages of the winds. It could also predict heat, rain, and cold weather situations with higher precision. Then was it not aware of such devastating rains to be poured over Dima Hasao and other places? Did it fail to predict and understand the gravity of the ominous situations?
NewsClick approached Dr Shaw, who is the deputy director of RMC (Regional Meteorological Centre), Guwahati. Shaw told us that his department did not precisely fail in understanding the looming danger of heavy rains over many places of the state. "We have come out with press releases to declare the developing weather conditions"—He told NewsClick. He also showed us some of the press releases to us.
However, an instance of a press conference to aware people, district authorities and governments was not observed before the tragedy took place. The press releases go on to the website, and media and people, in general, remain grossly ignorant about it. There is an urgent need for the Met department to get more active in the northeast, an ecologically and environmentally sensitive region of India. On being asked how long the rainy situations are likely to prevail, Shaw said that till May 18, there are high chances of heavy rains in many places of Assam.
The tragedy in Dima Hasao is a combination of change in the global climatic conditions coupled with local inputs and a gross apathy of the concerned authorities. The local inputs can be enumerated as unabated plunder of natural resources, unscientifically undertaken projects in the name of development and wreaking havoc on nature.
Get the latest reports & analysis with people's perspective on Protests, movements & deep analytical videos, discussions of the current affairs in your Telegram app. Subscribe to NewsClick's Telegram channel & get Real-Time updates on stories, as they get published on our website.
Subscribe Newsclick On Telegram