Doctors, Lawyers, Teachers and a Journalist Amongst 127 Acquitted of SIMI Links by Gujarat Court After 20 Years
Since they were accused seven of the men had died, most of them lost their jobs, some are dealing with broken homes and the mental scars caused by police harassment. The social stigma will never go away either.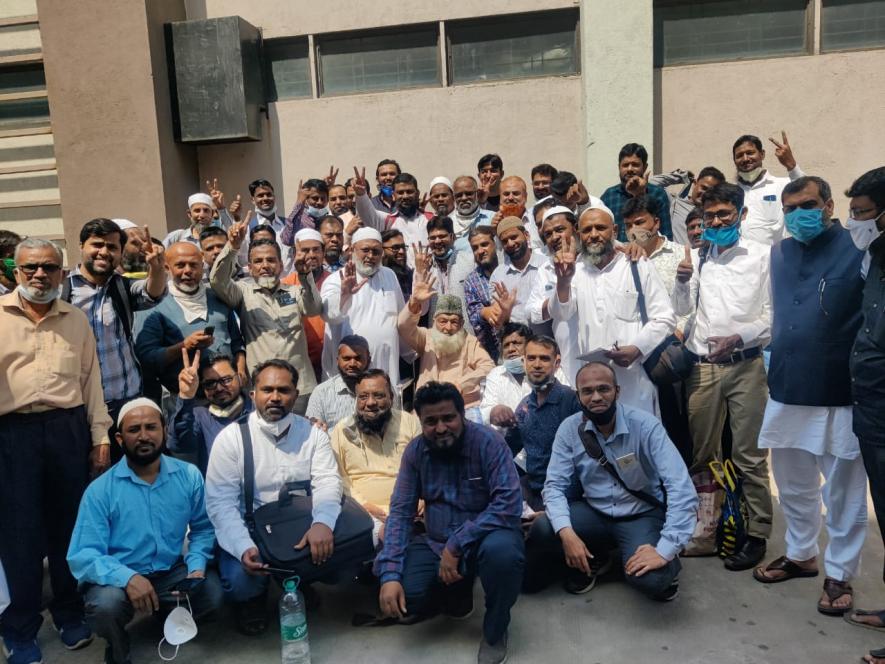 A group photo of all after acquittal 
Asif Sheikh was a budding journalist in 2001 when he attended a seminar organised by the All India Minority Education Board in Surat, Gujarat. The three-day seminar was intended as a gathering to discuss "educational rights and constitutional guidance". However, things took a turn, and changed Sheikh's life forever.
On December 27, 2001, as the participants were about to sleep, the Surat police raided the premises of Rajeshree Hall, a cinema hall which was the venue for the seminar, at around 11 pm, and arrested 125 Muslim men.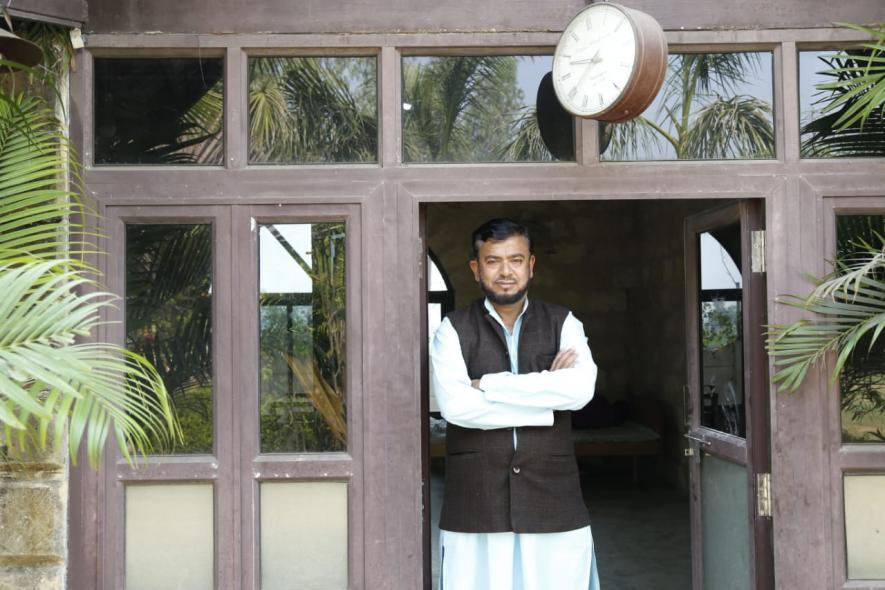 Asif Sheikh, resident of Ahmedabad
They were charged under sections 3,10,13 and 15 of the Unlawful Activities (Prevention) Act (UAPA) and were accused of "promoting a banned organisation", the Students Islamic Movement of India (SIMI).
"I had just completed my education from Gujarat University and wanted to be a journalist when I was arrested. We were taken into a fourteen-day remand while our homes were raided and searched. While in police remand most of us were stripped and thrashed for a confession of a crime we never committed. Thereafter we remained in jail for 14 months. We got bail in 2002 but our lives were never the same again," 52-year-old Asif Sheikh, a resident of Ahmedabad, told Newsclick.
"I was the topper in my class but could not manage to get a job as a journalist in any organisation. While my batch-mates became successful journalists with national news channels, I had to change the course of my career as no one would hire me. I worked at a call centre and tried my hand at contractual government jobs but I would be asked to leave the moment people knew I was charged in the case. Finally, I ventured into the business of selling spices," Sheikh said, recounting events after his release on bail.
"My career is not all that I lost over twenty years. Despite being out on bail the police continued to harass me. I would be detained every year during the Rath Yatra in Ahmedabad or during a VIP visit. The police used to brazenly turn up at my home at any time of the day just to check in on me. Friends and neighbours had distanced themselves from me and my family owing to tag of my association with a banned outfit and frequent police visits only made matters worse. People stopped taking my calls and would look the other way if they happened to cross paths with me anywhere in city. I had trouble getting married. I was rejected 100 times before I got married in 2008," added Sheikh.
On March 7, a the court of a Chief Judicial Magistrate in Surat acquitted all 127 men accused under UAPA in 2001 for participating in a meeting allegedly organised to promote SIMI and stated that the evidence against the accused "were not reliable or satisfactory enough."
Chief Judicial Magistrate Amit Kumar Dave said the investigators had failed to prove that the accused "were members of the banned outfit or that they had gathered there to give a push to the movement. The court has found that the accused had gathered to attend an educational programme and had not carried any weapons. The prosecution has also not proved that the accused had gathered for any activity related to SIMI and neither do the seized documents have any relevance with SIMI. Even during the raids, not a single person attempted to flee the arrest (sic)."
"M.J. Pancholi, then inspector of the Athwalines Police Station in Surat had filed an FIR stating the police had intelligence inputs that members of SIMI were to gather in Surat, based on which they raided Rajeshree hall and arrested 124 men. Out of them, the police accused two men – Maulana Ata-ur Rahman, a 70-year-old resident of Saharanpur, Uttar Pradesh and Mohammed Jamil Siddique, a resident of Lucknow, of being in possession of membership forms of SIMI. Another participant of the seminar, Abdul Hai, a renowned professor of Jodhpur University, was accused of being in possession of shayri (Urdu poetry) written by Osama Bin Laden," Advocate Khalid Sheikh, who represented the men in the case, told NewsClick.
"The remaining 120 participants, who were from different parts of the country, also had Urdu literature on them that the police seized and claimed were SIMI-related documents. Later in 2003, the police arrested three more men out of which Asif Sheikh – a primary health worker in Surat Municipal Corporation – was accused of holding a meeting at his home prior to the programme in Rajeshree hall to hatch the conspiracy and Anik Multani, then a traffic police personnel, was accused of handling the logistics for the entire programme. The police had claimed that these two men were on the spot on the day of arrest but had managed to escape," he added.
"A lot of discrepancies were allowed by the police in this case. Usually the police personnel who files the FIR doesn't investigate the case. But M.J. Pancholi, then PI, who was the complainant in the FIR, also carried out the investigation into the case. However, one 27-year-old Suhel Patel, an Ahmedabad-based man who had a computer hardware business was singled out and investigated by N.K. Amin, the police officer accused in the alleged fake encounter of Sohrabuddin. However, all the evidence collected by Amin – e-mails and seized computers – were deemed illegal by the court as he was not the investigating officer and he was not delegated any investigating responsibility by Pancholi or any higher official. Aside from this, the other evidence collected from the scene was not sealed till it reached the court and the police did not make a sincere attempt to locate the office of the All India Minority Education Board in Okhla, Delhi. A police personnel who was on a visit to Delhi for another case came back and claimed that he did not find any office at the said address. The burden of proving that the 127 men were members of SIMI was supposed to be on the police but in this case the burden was shifted to the accused to prove they were not members of any banned outfit," the lawyer said.
"The 122 men were granted bail in November 2002 and four people got bail later from the Supreme Court in February 2003. Those who were arrested were doctors, lawyers practising in Bombay High Court, teachers, professors, a journalist, police personnel and government employees like health workers and students. After getting bail most of them lost their jobs and those in government jobs were suspended. There were doctors who could not practice because of social stigma. Seven of these men died waiting for justice," he added.
Amongst those who was suspended was Abdul Hai, a renowned professor from Jodhpur University.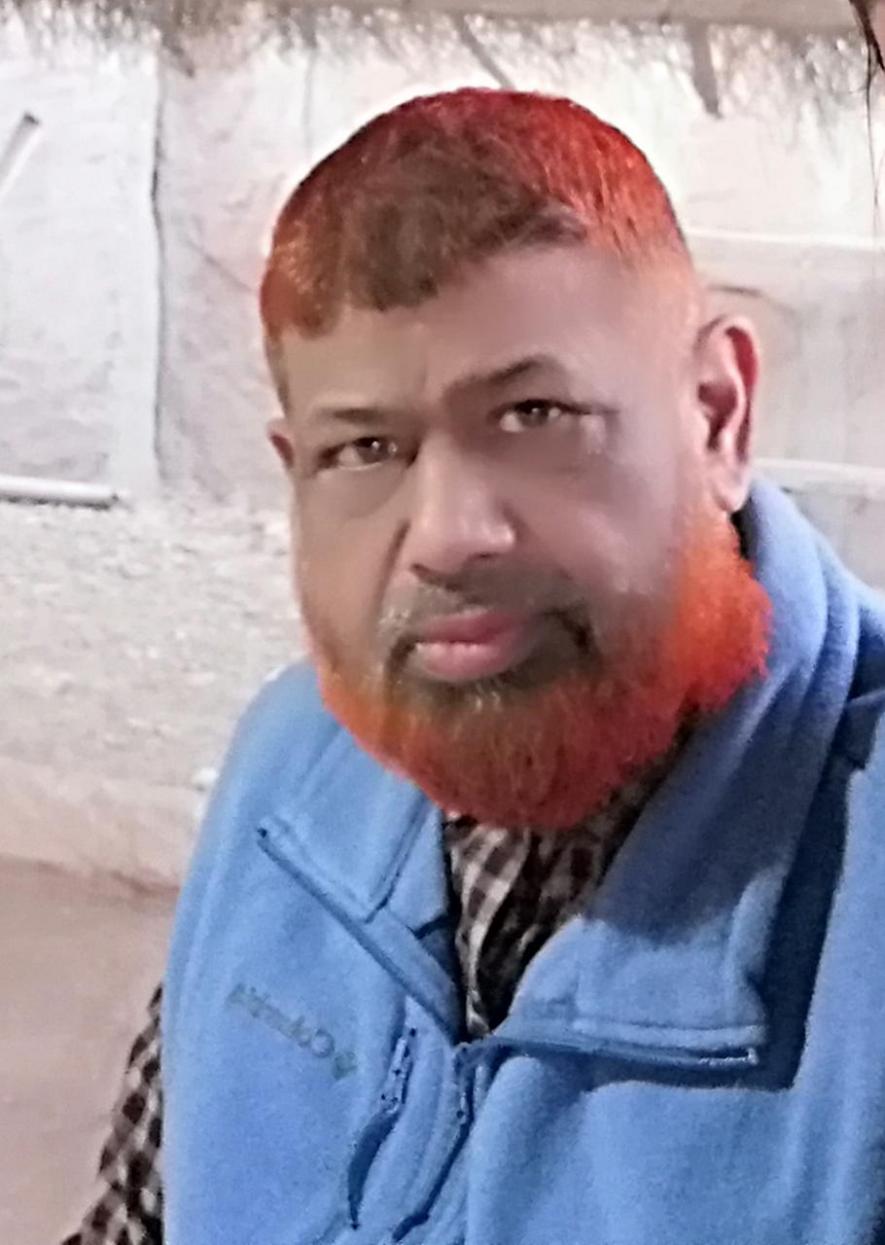 Professor Abdul Hai, resident of Jodhpur
"I was an Associate Professor teaching business, finance and economics in Jodhpur University when I was suspended in February 2003. The university hired me again later owing to my credibility. However, I never got a promotion or retirement benefits," Hai, who retired in 2015, told NewsClick.
"Aside from the harassment of regularly being called by local police, the media trial during those times was very damning; it affected me deeply," added Hai, a resident of Jodhpur.
Asif Sheikh was another government employee who was suspended and later terminated after being accused in the case. A resident of Surat, Sheikh was a health worker in Surat Municipal Corporation (SMC) when he was arrested in 2003.
"I was a middle-class man living a peaceful life when this case turned my life upside down. The police would visit my home at even 2 am or 3 am in the night and detained me frequently. My eldest daughter noticed the police frequenting our home and began asking if I had done something wrong. I had no answers. Eventually, my wife had to go back to her parental home with our children," the 53-year-old said.
"SMC filed a charge sheet against me and suspended me after I returned to work following bail. I filed several applications until they finally terminated me from my job. I began doing odd jobs like repairing electronic equipment to sustain myself but it was difficult grappling with the anxiety of sudden police visits and a broken home. I have lived in constant fear all these years," added Sheikh, who drives an autorickshaw now.
Get the latest reports & analysis with people's perspective on Protests, movements & deep analytical videos, discussions of the current affairs in your Telegram app. Subscribe to NewsClick's Telegram channel & get Real-Time updates on stories, as they get published on our website.
Subscribe Newsclick On Telegram