Does a Great Communicator Mute Press Conferences?
The Bharat Jodo Yatra persona of Rahul Gandhi challenges the PM's TV-generated image of great orator despite his apparent preference for monologue over dialogue.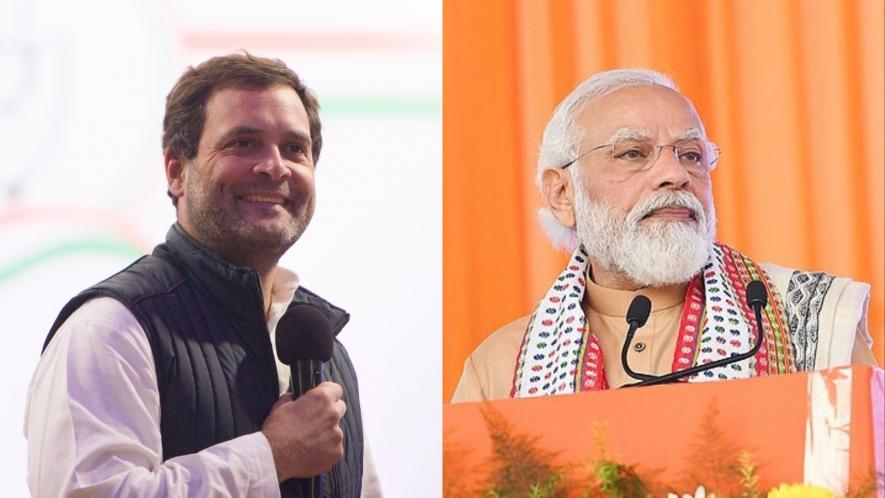 Image courtesy: Wikimedia Commons
Prime Minister Narendra Modi is often lauded for his communication skills. Not just followers, sometimes, even those who don't admire his politics find his oratorical skills impressive. But few can stop wondering why someone who constantly delivers speeches, and even taunted his predecessor as "mute", is never heard at a formal press conference hosted by him or his party. Now that Rahul Gandhi, former president of the Congress party, is on his ambitious Bharat Jodo Yatra—peppered with press conferences—some are also drawing comparisons between the Prime Minister and his political rival's approach to the media.
On several occasions, it became clear that if journalists' tough questions can be a pain to answer, trying to avoid their queries can produce equally embarrassing results. The choreographed image of the Prime Minister suddenly developed cracks in May, for instance, when Richard Walker, the chief international editor with German broadcaster Deutsche Welle, revealed the facts about a press conference scheduled in Berlin. Prime Minister Modi was on a Europe tour following the Russia-Ukraine war, and his first stop was in Berlin. Walker tweeted that there would be a joint press conference of German Chancellor Olaf Scholz and Modi to announce 14 agreements—but at India's insistence, journalists could ask "zero questions" at the meet.
As in this episode, the refusal to field queries has frequently exposed India to criticism, even if it protects the Prime Minister from pesky reporters. Indeed, it has led people to question media freedom in India. After Modi recently called India the "mother of democracy", political watchers asked about his unilateral muting of the media even during official interactions, which sounds like an utterly authoritarian measure. The more there is a refusal to answer questions—the more people will ask if India is the biggest democracy or descending into electoral autocracy.
The Prime Minister's avoidance and abhorrence of the media have been legion since his party came to power in 2014. His first major press conference as Prime Minister was at the Bharatiya Janata Party (BJP) headquarters in 2019. He delivered a speech that friendly TV news channels projected as a historic moment. At the event, he directed all questions addressed to him to Amit Shah, then the BJP president. Ultimately, the event was something the government had to get over than enjoy. Rahul Gandhi gave Modi a left-handed compliment for his "excellent press conference", while some news outlets resoundingly criticised how the event played out. To avoid further criticism, the BJP defended the press conference as one organised for Shah in which Modi had just made an appearance. Wouldn't it have been better to field a few questions from the journalists who had hoped for a sound-bite or two than come up with excuses later?
A leading media house filed an RTI application with the Prime Minister's Office (PMO) asking for the number of press conferences addressed by Modi and the number of interviews he gave. It got an ambiguous response that since the PM holds structured and unstructured interactions with the press, it has no such record.
Modi's avoidance of press conferences has caused concern among democracy-loving Indians, but it is also discussed abroad concerning India's backsliding on democratic indicators. Journalists and editors who consider themselves close to the ruling establishment have a different take. They argue what matters most is people listen to the Prime Minister and that elected leaders' press conferences with journalists freely raising queries do not help democracy. One journalist even argued that not holding unscripted press interactions should be seen as the "new communication paradigm".
On closer scrutiny, Modi's refusal to speak directly with the media since 2014 may have its genesis in how difficult it was for his government to handle the media when he was Chief Minister of Gujarat. The aborted interview with Karan Thapar, the journalist known for posing tough questions to interviewees, amply demonstrated this. Perhaps Modi could never swim ahead of the allegations that chased his government after the 2002 riots in Gujarat. Criticism by the press and its focus on the riots embarrassed the BJP's local and central leadership. It culminated in Modi being denied visas to travel to the United States and the United Kingdom, a ban that lasted until he became prime minister.
Despite his apparent liking for former United States President Donald Trump—as the "Namaste Trump" event the Modi government organised for him in February 2020 shows—Modi never followed Trump's media strategy. As president, Trump displayed tremendous disdain for the press and infamously referred to any news critical of him or his policies as "fake". Yet he did not—or could not—avoid meeting the press during his four-year term. Journalists grilled him on controversies such as his position on Covid-19 or alleged financial misdeeds. Yet he never stopped taking press questions—or the American press has built stronger foundations, which the Indian media must emulate.
Modi's decision to hit the mute button before journalists should not be seen in isolation but as an integral part of his and his government's media strategy. He has opted to send messages through tweets, radio programmes such as Mann Ki Baat and scripted interviews, mainly with pliant journalists (and some non-journalists) on favourable channels or newspapers and periodicals. These hardly raised a difficult question—forget criticism—about his regime or performance record. Structural shifts in technology aided the BJP's strategy, as did the exponential rise in social media usage, not to mention changes in media ownership patterns. All these changes helped Modi and his party target their critics, push the Prime Minister's message to specific audiences, and never have him respond to charges or queries of the kind that dogged him in his previous job.
To cover up the charge of not communicating with people through the free press, his party has created the image of an effective communicator—one who ironically delivers only monologues that dumb down issues. The pattern here is to project the executive as remote and distant from ordinary people. That is why Modi's rise accompanied new rules—some informal—to reshape how journalists interact with the government, the ruling party and the PMO. Gone are the days when journalists could access bureaucrats or ministers for informal interactions. Entering government offices is more challenging, and bureaucrats and ministers alike have been sent signals that less said is better. The tradition of taking senior journalists or representatives of media organisations on foreign tours of the prime minister—another avenue for interacting with journalists—has been done away with. Even access to the BJP office seems not as breezy a task as before, when journalists could walk in and spend time wandering the premises, picking up political gossip or rumours, if not a formal interaction with a leader or worker.
The cumulative effect of this new media strategy is to take complete control over state institutions and the party organisation. Dominance over the media gives this government tremendous leverage. The media has broadly adopted a pliant role vis-a-vis the ruling establishment and continuously targets the Opposition—thus performing the part of a political party than an independent watchdog. This has helped the ruling dispensation steer away from turbulence for nearly a decade.
Challenging this hegemony may seem impossible, but alternative voices—including on social media channels—speak out against the deliberate dumbing down of public discourse. A section of the mainstream media has also carved out a niche, especially reaching audiences who have given up on the embedded media that promotes hate and exclusion. Most compelling was the massive farmer protest, which forced the government to withdraw its farm laws after failing to quell the movement itself. The farmers had created their own media spaces—newspapers, magazines, social media channels—which broke the conspiracy of silence and rumours doing the rounds of corporate-dominated mainstream media.
But will there be a political response to the BJP's media capture? Bharat Jodo Yatra, supported by civil society and prominent individuals, has completed a month in action. It seems to have broken new ground in reaching and communicating with people. Its ultimate success hinges on the persona of Rahul Gandhi, the man the BJP has vilified endlessly for close to a decade in power. It is evident—whatever the failures of the previous regime in the communications realm—Rahul is demonstrating openness to field questions from any quarter. He has not shied away from direct public contact—nor the media. All this seems like a breath of fresh air while the "great communicator" cocoons himself, not taking questions.
It is visible how the man known for oratory fumbles when the tele-prompter malfunctions, while the so-called Pappu stands his ground despite both kinds of downpours—abuses and rain.
The author is an independent journalist. The views are personal.
Get the latest reports & analysis with people's perspective on Protests, movements & deep analytical videos, discussions of the current affairs in your Telegram app. Subscribe to NewsClick's Telegram channel & get Real-Time updates on stories, as they get published on our website.
Subscribe Newsclick On Telegram