Dragged to Death: How Delhi's Hit-and-run Exposes Lack of Legal Awareness
State governments must adopt Standard Operating Procedures to guarantee that the Good Samaritan is not harassed.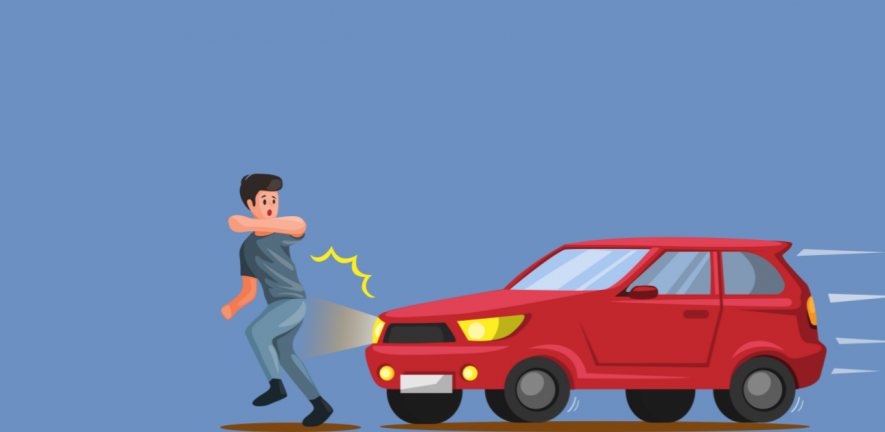 Image for representational purpose. Credit: The Leaflet
India has been jolted by the death of a 20-year-old woman whose body was dragged on the road for hours after her leg was stuck in a car's front axle in West Delhi. On January 1, Anjali Singh's two-wheeler was hit by a Baleno carrying five males in their twenties, and her body was brutally dragged under the vehicle for almost 13 kilometres.
After dragging the woman through the streets, one of the men observed an arm hanging out at a U-turn at Kanjhawala. The suspects then made many U-turns before her body came off and then fled the scene. Singh, the family's lone breadwinner, had such serious gruesome injuries that her garment was completely destroyed and her skin was pulled off her back.
While the men were intoxicated, the families of two of the five accused noted that they did not realise that her body was caught underneath the car. The accused also blamed loud music for their negligence. The suspects have been arrested for reckless driving, negligent death, and culpable homicide.
Later, authorities discovered that Singh's companion Nidhi was also on the scooter with her at the time of the crash. According to her, she fled the site in fear following the crash. Apparently out of fear, she didn't tell anybody about the accident. Nidhi failed to call for help and was only located by the police after reviewing security camera footage. She didn't have any injuries on her body.
The injured or dead victims of hit-and-run accidents are left to suffer in pain, while the criminals escape. It is a driver's criminal and legal obligation to report a traffic mishap instantly even if they are at fault.
The accident spurred a protest in India's capital, challenging the irresponsibility of hit-and-run drivers and witnesses towards victims. The accident has triggered several concerns about India's traffic safety.
What is a hit-and-run accident?
Section 161 of the Motor Vehicles Act, 1988 defines "hit and run accidents" as "an accident arising out of the use of a motor vehicle or motor vehicles the identity whereof cannot be ascertained in spite of reasonable efforts for the purpose".
In simple language, the term "hit-and-run" refers to accidents in which a driver strikes another vehicle and then leaves the scene.
How have hit-and-run laws evolved through the years?
A hit-and-run case may result in the cancellation of a driver's licence, as well as substantial penalties and imprisonment. If an animal is engaged in a hit-and-run, the penalties are slightly greater. Victims of hit-and-run accidents can seek relief under the provisions of Sections 279, 304A, and 338 of the Indian Penal Code ('IPC'). In addition to civil duty, legal duties are included in hit-and-run accidents.
Anyone who operates a car recklessly on a public road may be in violation of section 279 of the IPC. For negligent driving or hurting someone on the road, a motorist may be sentenced to six months' imprisonment, or have to pay a fine of Rs. 1,000, or both. The District Magistrate has jurisdiction over the offence committed in violation of section 279, and may set bail.
If a driver who is not intoxicated by alcohol causes the death of another person in an accident, the offence is covered by section 304A of the IPC. The rider faces a one-year jail term that can be increased to two years, a fine of more than Rs. 1,000, or both.
In the case of the State versus Hari Singh (1968), the Rajasthan High Court decided that just driving fast will not make someone guilty under section 304A; it must be established that the accused's carelessness caused the accident.
The Supreme Court ruled in A.A. Pareira versus State of Maharashtra (2012)  that "a person responsible for a reckless or rash or negligent act that causes death which he knew a reasonable man that such act was dangerous enough to lead to some untoward thing and the death was likely to be caused, may be attributed with the knowledge of the consequence and may be fastened with the culpability of homicide not amounting to murder and punishable under Section 304 Part II IPC".
In rare situations, the police may also file a hit-and-run case under Section 302, which is connected to murder. A motorist arrested in accordance with section 302 may receive the death penalty or a life sentence.
Section 338 of the IPC provides for punishment where the victim does not die but is severely wounded. It stipulates that anybody who causes grave harm to another person via rash or irresponsible behaviour will be penalised with imprisonment for up to two years, a fine, or both. When juveniles are engaged in such incidents, the law sentences the youngster's parents to three years in prison with substantial penalties.
Hit-and-run cases are also covered by the Motor Vehicles Act under Sections 161, 134(a) and 134(b). Earlier, the provisions of section 161 included compensation for hit-and-run victims, which was Rs. 25,000 in cases of death and Rs. 12,500 in cases of severe injury.
The driver who caused the collision must seek prompt medical assistance for the wounded individual, according to section 134(a). According to section 134(b), the driver must immediately provide a police officer with any information related to the collision or they may face consequences.
The Motor Vehicles Amendment Act of 2019 modified section 161 to raise the compensation granted in hit-and-run fatality cases from Rs. 25,000 to Rs. 2 lakhs, and the amounts awarded in serious injury cases from Rs. 12,500 to Rs. 50,000. The Compensation to Victims of Hit and Run Motor Accidents Scheme, 2022 was unveiled by the Union Government on February 25 last year. The scheme replaced the Solatium Scheme, 1989 that provided compensation to victims of hit-and-run accidents.
The Supreme Court had ordered the Union Government in 2012 to pass laws protecting "Good Samaritans" after considering the reluctance of witnesses to road accidents to assist victims (who might have survived if taken to hospitals in a timely manner) or the police, in order to facilitate a better and faster inquiry.
What do the figures for hit-and-run accidents indicate?
The riskiest period to be on Indian roads is between 3 and 9 p.m., according to the Union Ministry of Road Transport and Highways' ('MoRTH') annual report for road accidents in India for 2021. More than 1.58 lakh of the total 4.12 lakh accidents recorded in 2021 happened between 3 p.m. and 9 p.m.
The bulk of road accidents in India happened between 6 p.m. and 9 p.m. last year, accounting for 20.7% of all events in the country. In 2021, overspeeding was the biggest cause of traffic accidents, killing 87,050 people and injuring 2,28,274. In 25.7% of accidents, rash driving and overtaking were factors.
The number of deaths due to traffic accidents in Delhi has decreased by 37% compared to the previous decade, whereas hit-and-run incidents accounted for 59% of all fatal accidents in 2021, which was 50 in 2020. According to the research, 1,238 persons died in road accidents in 2021, compared to 1,866 fatalities in 2012, a 37% decrease in 10 years.
With a growing number of vehicles on the road, road accidents are on the rise. The majority of collisions that are hit-and-run are on routes with mostly low vehicular traffic, giving drivers a greater opportunity to depart the area after the collision. On its official website, MoRTH also published how the majority of these collisions occurred on national highways.
According to a study published by the Transport Department of the Delhi government, fatal accidents and deaths decreased somewhat after 2019, owing partly to the COVID pandemic and subsequent lockdowns, but cases are currently progressively rising. In 2020, there were 1,163 fatal collisions and 1,197 fatalities reported in the National Capital; in 2021, the figures significantly increased to 1,199 fatal accidents and 1,238 fatalities.
The report also noted, "The colliding vehicle was not known in 40 per cent of fatal crashes. Males were responsible for most of the fatal crashes in Delhi. Only 1% of drivers found at fault were female. Cases with unknown gender were excluded." 
How can we help hit-and-run victims? 
The drivers involved in the most recent hit-and-run accidents fled the scene out of fear of legal ramifications. Additionally, they abandoned the accident victims on the road, which not only worsened their situation, but proved to be fatal in Singh's case.
Hitting someone and escaping the scene of a car accident can result in serious criminal penalties. You should be willing to provide the police with your side of the information. Take anyone who has been injured to the hospital. After helping the victim, contact your auto insurance provider and an attorney right away to assist you to build your side of the case.
Guidelines from the Union Ministry of Health and Family Welfare ban public and private hospitals from holding Good Samaritans responsible or demanding them to pay registration and admission fees unless they are a relative of the injured victim. When a Good Samaritan transports an accident victim to the hospital, no inquiries will be made of them, and they can exit instantly. If the person is an eyewitness, their address may be documented and they cannot be made to stay.
The testimony of witnesses in hit-and-run cases is crucial for securing the conviction of perpetrators. However, the witnesses are often hesitant to assist the police since they do not want to get involved in any police case. If a spectator willingly asserts that they were an eyewitness to the accident, they can be interviewed as part of the police inquiry or during court proceedings. In such cases, the investigation requires highly accurate and thorough surveillance of the crime scene to avoid information gaps.
If victims had received assistance in a timely manner, many of these lives may have been saved. The main cause of the ignorance is fear of the police and legal processes, which prevents witnesses from providing victims with the necessary assistance.
A victim of a hit-and-run accident should immediately report the accident to the local police station. The victim could feel anxious after a hit-and-run incident. Victim should maintain their composure and, if they are conscious, find out as much as they can about the reckless driver and their car. The more information one has, the higher are the chances of the police locating the responsible car.
State governments must adopt Standard Operating Procedures to guarantee that the Good Samaritan is not harassed. Every day, hundreds of individuals lose their lives in traffic accidents without even receiving first aid services. The major cause of these sad fatalities is not a lack of hospitals, but a lack of awareness, information and willingness.
Get the latest reports & analysis with people's perspective on Protests, movements & deep analytical videos, discussions of the current affairs in your Telegram app. Subscribe to NewsClick's Telegram channel & get Real-Time updates on stories, as they get published on our website.
Subscribe Newsclick On Telegram