Dry Spell, Incessant Rain Leave MP Soya Farmers in Lurch 
Soya bean crops that survived the lack of rainfall were damaged as late monsoon flooded the fields.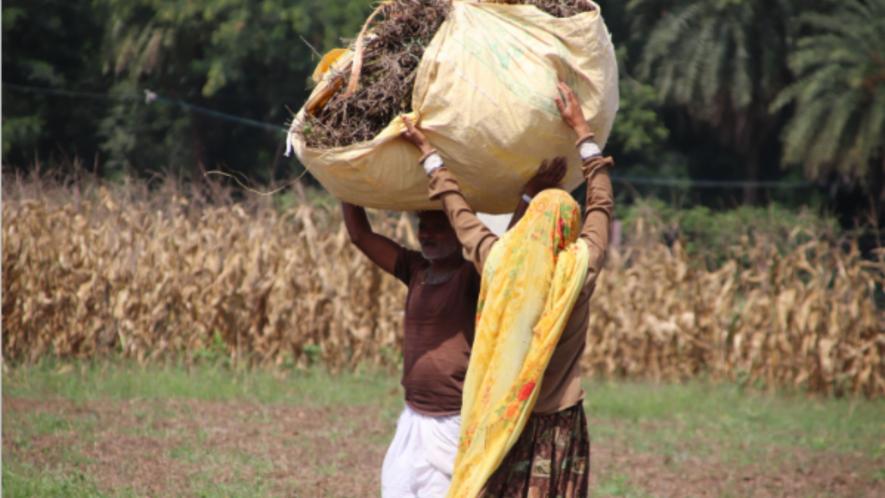 A farmer collects his soya produce in the Neemuch district of Madhya Pradesh. Picture credit: Aishwarya Mohanty.
Neemuch (Madhya Pradesh): Jagdish Dhangar (45) had planted soya beans on his two acres hoping that a bountiful harvest would cover the expenses of his son's wedding and help pay the EMI.
However, nearly a month after the sowing, a prolonged dry spell with scanty rainfall destroyed half of his crop. On September 5, the resident of Borad village, in Madhya Pradesh's (MP) Mandsaur district, committed suicide.
"He was completely dependent on the harvest. He was under severe financial strain. The loss was devastating. We will struggle to break even this year," lamented Dhangar's father Ramchandra.
The loss sustained by the Dhangar family is not an isolated incident in the state this year. Farmers across MP have been severely impacted by a month-long drought followed by incessant rains, resulting in significant crop damage.
In August, rainfall was far below average while September saw an unexpected increase in rainy days.
MP India's Equivalent of US Midwest
The state's Malwa region is often called India's equivalent of the US Midwest due to its substantial soya bean production. A favourable climate and soil are ideal for soya bean cultivation. The Malwa Plateau, encompassing the districts of Dewas, Indore, Dhar, Ujjain, Jhabua, Ratlam, Mandsaur, Neemuch, Shajapur and Rajgarh, plays a pivotal role in soya bean production.
Soya bean cultivation is a vital agricultural activity in various districts during the Kharif season. Soya bean has multiple uses, including oil extraction, livestock feed and as a high-nutrition food source.
The crop accounts for 35% of the country's oilseed production. However, the country still imports approximately 3-4 million tonnes (MT) of soya oil annually to meet its domestic consumption of almost 6 MT. Madhya Pradesh alone contributes 60% to the country's total soya bean production.
Dry Spell and Withered Soya Beans
Mentioning the plight of soya bean farmers, Rahul Mali (27), a native of Sarwaniyabor village in Neemuch district, explained, "Sowing was initially delayed due to late rainfall. We expected rain in August and sowed seeds by the end of June and early July. Unfortunately, there was a dry spell and the pods dried. The farms looked parched and we could already anticipate the loss."
Most soya fields dried up due to the lack of rain in August.
According to government officials, farmers were advised on late sowing this year but the situation couldn't be avoided.
"Soybean sowing timing depends on the onset of monsoon. We recommend sowing only after receiving, at least, four inches of rainfall. However, monsoon was delayed this year and sowing was done prematurely. The situation could have been manageable if we had received rain seven days after sowing," Yatin Mehta, deputy director of the Department of Agriculture in Neemuch, said.
"Such erratic weather patterns have become increasingly common in recent years," he added.
According to agricultural experts, insufficient rainfall and dry spells reduce crop size. The typical soya bean crop cycle spans around three months, but late monsoons shorten this cycle as farmers are compelled to harvest early and prepare their fields for the next crop.
"In most cases, the crops flowered in August. But due to the lack of moisture, branches didn't grow. The absence of moisture led to delayed or no pods," explained Buddheshwar Dupare, principal scientist at the ICAR-Indian Institute of Soybean Research, Indore.
"Ideally, farmers were advised to irrigate their fields before soil cracks appeared as these cracks damage roots and leave no chance for recovery," he added.
Large stretches of soya bean fields across the Malwa region were dry and pale appearance until the heavy downpour finally arrived, which unfortunately inundated the farms. 
Incessant Rains Wreak Havoc
The downpour after the dry spell destroyed the remaining crops.
"The remaining crops had started maturing and we were preparing to harvest them. However, the rains flooded the fields and delayed harvesting. This resulted in the decay of the remaining pods," rued Mali.
Normally, Mali's annual harvest ranges from four to five quintals. But this year, he expects only around two quintals. The expected selling price of soya bean is around Rs 4,000 per quintal. 
"Soya bean usually fetches decent returns. Most of it is sold to nearby oil factories, requiring minimal transportation and selling efforts. We averagely spend around Rs 12,000-Rs 16,000 per acre for the crop, including seed purchase, irrigation if needed, sowing and labour costs," said Aniket Jat, who cultivates soya beans on 20 acres in Dewas.
"This year, it appears challenging to even recover the investment," he said.
"This is the fourth consecutive year we've had heavy rainfall during maturation, resulting in crop damage. The number of rainy days keeps fluctuating and the intensity of rainfall has also increased," Dupare said.
The writer is a Bhubaneswar-based independent journalist who writes on gender, climate change, rural issues and social justice.
Get the latest reports & analysis with people's perspective on Protests, movements & deep analytical videos, discussions of the current affairs in your Telegram app. Subscribe to NewsClick's Telegram channel & get Real-Time updates on stories, as they get published on our website.
Subscribe Newsclick On Telegram