DU Admin Forcing us into Slavery, Allege Employees Protesting Against E-tendering Proposal
GeM is an online portal set up under the aegis of the Department of Commerce, Ministry of Commerce and Industry for procurement of common-use goods and services by ministries, departments and public sector enterprises.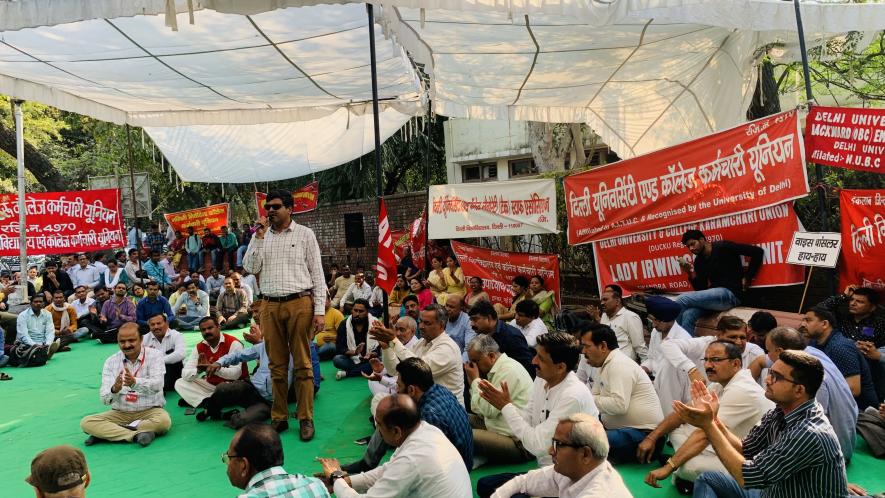 The dharna at the Faculty of Arts at Delhi University, where hundreds of employees have assembled to protest against the latest tender for the engagement of clerical staff through Government e-Market (GeM), completed 24 days on Friday.
GeM is an online portal set up under the aegis of the Department of Commerce, Ministry of Commerce and Industry for procurement of common-use goods and services by ministries, departments and public sector enterprises. The employees maintain that the move by Delhi University to engage staff will make them more vulnerable with no job security and complete denial of provisions like health insurance, pensions, and gratuity. The protesters raised slogans like 'DU Administration down down', 'Inquilab Zindabad' and 'DU VC step down' at the agitation.
Talking to NewsClick, Devendra Sharma, president of the Delhi University and College Karamchari Union, said that the consistent pursuit of contractualisation as a policy for the recruitment of employees has proved to be a bane where efficiency and quality of work have taken a back seat. "I wish to make it very clear that we are witnessing the introduction of slavery at Delhi University after 75 years of independence. Everybody knows about the quality of goods procured through the government e-market portal! When employees will be procured through tendering, you are turning them into commodities. My college has a requirement of 10 clerks and a company is roped in to provide them. Mind you, we are not the direct employer. We complain about one employee's quality of work, and he/she is changed. Why would any employee take his job seriously when he does not know if he has some sense of security or not? A permanent employee has much more to lose – pension, provident fund, and gratuity. If he does not perform with responsibility, he knows very well that he may be suspended and will lose many benefits," argued Sharma.
Sharma maintained that Delhi University employs approximately 4,400 employees and has been using the services of 1,100 contractual staff. The tender to hire 20 clerks, a few lab attendants and multi-tasking staff has been floated to seek entry of private players. Once they are in, the colleges too will be asked to hire staff through the GeM portal. "It is convenient for the government too because it need not pay any pension, provide medical benefits, etc. Did the country attain independence for only those administrators who are drawing huge salaries? The guard who is standing at the gate is getting only Rs 14,000 per month. When a new contractor comes, she will pay Rs 20,000 back to him to put her on the rolls. Where is the freedom for them?" he questioned.
When asked about the probable impact of the e-tendering policy on the recruitment of 1,100 employees through the National Testing Agency, Sharma added that the agency earned interest only on crores of rupees collected in form of application money. After two years of waiting, it has released the dates of the examinations. He said, "Ideally, Delhi University should have first completed this process of recruitment, then explored other avenues. The e-tendering policy will create two classes: the kings and the slaves. Why would any administration want permanent employees if the job is done through contractual staff?"
Ravindra Pande from Acharya Narendra Dev College, who is coordinating the protest meet outside at Arts Faculty, suggested that increased contractualisation will have an impact on affirmative actions like reservations for marginalised sections like Scheduled Castes, Scheduled Tribes, and Other Backward Castes. As per constitutional provisions, higher education institutions funded by the central government must provide 15%, 7.5%, and 27% reservations to SC, ST and OBC communities respectively in admissions and jobs. Pande said, "The reservations will certainly be hit but there is greater danger looming over our heads. We may soon witness a new administrative structure in the form of a Board of Governors. We are apprehensive that the model which was followed in MTNL and DESU to oust employees through a voluntary retirement service scheme may be followed. We met the registrar, but he is adamant about the new policy. The employees will oppose it till their last breath. Every major workers' union, be it AITUC, CITU, or HMS, has extended their support to us."
Ajay Kumar Sain, who came to the protest along with his colleagues from Dyal Singh College, told NewsClick that the education and health sectors have long been a target of the super-rich to extract profit and they have been consistently lobbying for privatisation of these sectors. The real blow came to employees when the sixth pay commission recommended against the recruitment of class IV employees. "What we are missing here is that these employees have catered to the problems of students in higher education institutions. So, the students too will be hit apart from the fact that contractualisation will exploit employees," said Sain.
He added that the government passed General Finance Rules in 2017 enabling procurement of goods and services through the government e-market. He said, "We are seeing that the introduction of this platform only made things costlier in comparison with the open market. A vendor needs to pay a processing fee plus commissions. So, it is defeating the purpose of cheap procurement. As far as services are concerned, our Constitution envisions permanent and secure jobs. This policy goes against the spirit of the Constitution. However, our biggest worry remains about the confidentiality of the process. Earlier, workers like sweepers, gardeners and security guards were hired. Now, the government is going one step ahead and hiring clerks who help in determining crucial issues and there is confidentiality attached to it. There is always a danger of leaking confidential documents. Delhi University is a big university and it has all the resources to conduct examinations for recruitment against sanctioned posts. The employees will provide you security and contribute significantly to the development of the institution and the country."
When asked about the impact on reservations in his college following contractualisation, Sain said that "it is correct that the private players are not bound to implement these constitutional measures".
"Even if you ask them to implement it, there will be no benefit to marginalised communities because there is no job security. Labour codes introduced by the central government talk about fixed-term employment which means that you may be hired for a shorter period and if you come within this range of fixed-term employment, no reservation can empower you," concluded Sain.
Vikas Gupta from the Department of History, who came to the protest site to extend solidarity, said that the bureaucrats in the government are obsessed with western countries but they are not looking at the fallout of similar policies. "We witnessed how the hire-and-fire policy made employees vulnerable to the extent that they do not have homes for them and many are compelled to live in cars only. To relieve themselves, they are dependent on public toilets. Do we really want this model here? Our employees and several teachers are bound by contracts. Will VC too want such a contract for him where his services are extended every four months? Think about it!" he said.
NewsClick attempted to reach out to Delhi University Registrar Vikas Gupta for his comment on this issue but received no response. The report will be updated if and when a response from Gupta is received.
Get the latest reports & analysis with people's perspective on Protests, movements & deep analytical videos, discussions of the current affairs in your Telegram app. Subscribe to NewsClick's Telegram channel & get Real-Time updates on stories, as they get published on our website.
Subscribe Newsclick On Telegram