DU: Classes to Stay Open from 8 AM to 8 PM, Teachers and Staff Slam the Move
The teachers highlighted that the university administration bypassed the statutory bodies while making this decision.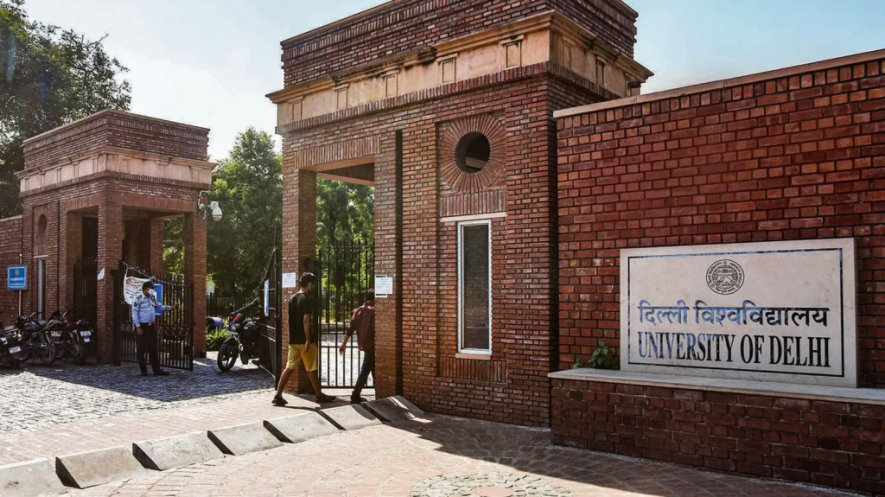 In a latest move, Delhi University has asked colleges and departments to open classrooms and laboratories from 8 AM to 8 PM to ensure optimal utilisation of resources. 
The letter, citing University Grants Commission communication issued by Registrar Vikas Gupta, stated that the regulatory body has "requested central and HEIs to take appropriate measures for the implementation of UGC guidelines for optimal utilisation of resources available in central universities/higher education institutions so as to extend benefits to UG/ PG students and researchers."
It added, "Clause 8 of the guidelines states for optimal utilisation of resources, the classrooms and laboratory facilities be opened at least from 8 AM to 8 PM on all working days. Accordingly, all the colleges and departments are required to take measures to open the classrooms and laboratory facilities from 8 AM to 8 PM on all working days. The action taken report may please be submitted to Dean Academic Affairs."
The letter has evoked sharp criticism from teachers and staff who said that the move would deeply hurt academics and pushes privatisation by asking institutions inadvertently to mobilise resources to run operations. 
Talking to NewsClick over the phone, Abha Dev Habib, Secretary, Democratic Teachers Front, said that the premise of the letter assuming an abundance of resources with higher education institutions is wrong. Indeed, they desperately need funds to cope with swelling numbers of students enrolled in institutions for post-OBC expansion and EWS reservations.
She said, "The notification to implement the 12-hour/six-day week has been issued without any prior discussion in the Academic Council and Executive Council regarding its feasibility. Bypassing the statutory bodies in matters of such serious concern does not augur well for the democratic functioning of the University."
She added, "The implementation of the FYUP, similarly undertaken in haste and without considering the need for additional infrastructure and teaching hands, has been chaotic given the constraints of classrooms and labs in most colleges. The idea of the cluster colleges is similarly ill thought of as time students need to move from one college to another has not been factored in, and timetable making is a veritable nightmare."
She said implementing this irrational order requires more (teaching and non-teaching) staff, which the Delhi University administration and the Union government are patently unwilling to do. 
"Either they expect the work duration of teaching and non-teaching staff to exceed what is warranted by labour laws which would be patently illegal, or they expect the same number of teaching and non-teaching staff to handle the long hours, which would necessarily reduce the quality of the academic outcomes."
The failure to see that all these possibilities are adverse implies that the Delhi University administration and the Union government are deliberately seeking to derail the system of public higher education in India to further their agenda of privatisation and commercialisation.
Nandita Narain, who teaches Mathematics at St Stephen's College, said that the Government and the Vice Chancellor have already failed to provide teaching hands against the implementation of the EWS reservation or for the implementation of FYUP. 
"Further, there is an unwritten ban on faculty appointments on an ad hoc basis, and only guest appointments are being allowed even against sanctioned posts. Besides, adverse changes in workload norms, in terms of class size and tutorial group size, threaten to result in adverse academic outcomes for both students and teachers."
She added, "Holistic development of students cannot happen without time for leisure, time for studying independently and time spent in the social world outside. Getting trapped in the 08:00 AM to 08:00 PM classroom schedule will adversely affect students' academic and overall development. Such late-hour classes would imply that they will return to their homes at even later hours. This raises significant security concerns, especially for female students and staff. But the University administration is unwilling to guarantee students' and staff's safety and security."
Rajesh Jha, spokesperson, Action for Academics and Development Teachers Association, told NewsClick that the guideline is ill-conceived and to convert University from an academic line to an assembly point. The university system is to create and develop new ideas. This is not a place for a productive work culture. The whole purpose of the Central government is to convert public-founded universities into self-financed universities and collect high student fees.
He added that the guidelines state sharing of resources on a charge basis. Since colleges are not getting any Science laboratory development funds from UGC, this charge must be collected from students' fees, and each year college will increase the fees. This will affect socially and economically weaker sections of students more adversely.
"Such a scheme can be effective with more hostel facilities, but now the university and colleagues have to take loans for building new hostels."
Ajay Sain from Delhi Karamchari Front told NewsClick that the current guidelines contravened earlier notifications specifying staffing patterns for colleges. 
"In the science stream, the student's teacher ratio was fixed at 25:1 when colleges have a strength of 1500 students. The number of students has swollen to 7000. There was some relief in the form of grants on the teaching front so teachers could be engaged. There has been no increase in staffs in colleges after OBC expansion and EWS reservations."
Sain added that the move should be linked to the bid for privatisation through the New Education Policy. 
"It must be remembered that the guidelines come after the implementation of NEP, and it categorically states that institutions must mobilise resources on their own. It wishes to bring a Board of Governors structure to run the operations. Even a principal recently accepted that institutions would be under the burden to run courses which are market friendly and it will be more interested in producing cheap workers. The whole idea of education is under threat today."
Get the latest reports & analysis with people's perspective on Protests, movements & deep analytical videos, discussions of the current affairs in your Telegram app. Subscribe to NewsClick's Telegram channel & get Real-Time updates on stories, as they get published on our website.
Subscribe Newsclick On Telegram