DU: Endowment Foundation Faces Opposition From Students, Teachers
They warn that the move would lead to a decrease in the overall quality of education, and the institution would be in danger of a corporate takeover.
The formation of an endowment fund for Delhi University (DU) has raised the eyebrows of teachers and student organisations.
Registered under the Companies Act 2013 as a company with limited shares 'The University of Delhi foundation' will be able to raise money through "mobilising, bequest gifts, funds, subscriptions, contributions in cash/or in kind to accept land, building or any other assistance from individuals, well-wishers, alumni, philanthropists, associations including the University of Delhi, business fraternity, industries and corporates within the country and overseas and to raise funds in such manner as the board of directors of the company may think fit subject to Articles of Association to support any or every aspect of Delhi University."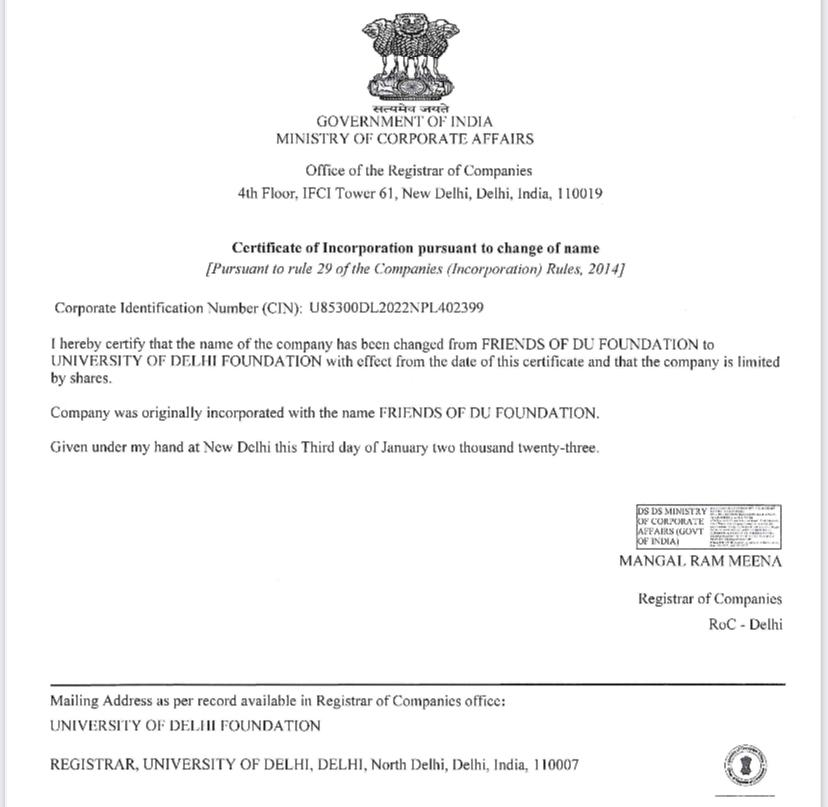 The memorandum of association, also known as the constitution of the company, further stated that the company will "promote, facilitate and support education, research, infrastructure, neighbourhood programmes, library and museum preservation, campus activities and such other activities including housing, hostel and guest houses and food courts and the like for the benefit, social needs and welfare of students, employees, alumni and well wishes of the University of Delhi."
Raising apprehensions over the motives of the move, Abha Dev Habib, Secretary, Democratic Teachers Front, said that the setting up a private Not-for-Profit Company, now known as the University of Delhi Foundation, was initially granted approval by the VC on December 8, 2022. The Executive approved this VC move on February 3, 2023.
"It is deeply concerning that this company, the University of Delhi Foundation, will now be able to mobilise funds and resources and control the Funds for objects listed under its Memorandum of Association."
She further said, "This company, from now on, will be able to raise resources from alumni, students, well-wishers of DU, Government, public bodies, private companies and corporations. Will private companies and corporations, who are for-profit entities, provide funds without expecting a suitable quid pro quo?"
Habib maintained that it is abundantly clear that this aligns with the funding principle underlying National Education Policy 2020 (NEP).
"This funding principle tasks universities with the responsibility to expand course offerings and promises some Development Fund (but not operating expenses such as salaries of teachers and non-teaching staff). Thus, teachers whose salaries depend on these resources will have a precarious existence in terms of pay and other service conditions."
Nandita Narain, former President, Delhi University Teachers' Association (DUTA) and a signatory to the statement, said that the details outlined in Draft NEP required each higher education institution to institutionalise an office to mobilise funds for its activities. This action of the DU VC, who is excessively eager to please the Union government, shows that this institutionalisation for DU is in the form of a company mobilising, managing, utilising and investing University Endowment Funds.
"In short, it is a step towards gradual self-financing of higher education and destruction of public funding of higher education. The setting up of a company called Higher Education Funding Agency a few years back did not result in any extra quantum of funding. Instead, it led to substituting loans in place of Government grants or infrastructural requirements. The logical consequence of such loans is fee hikes and freezes or reductions or delay in salaries of teachers and non-teaching colleagues. We are already getting a foretaste of delayed salary payments in a rising number of DU constituent colleges due to the government's policies and the cravenness of the DUTA leadership."
A similar concern came from Rajesh Jha, Media in-charge, Academics for Action and Development Teachers' Association, the teachers' wing of Aam Aadmi Party, who argued that the corporatisation is being imposed in the name of the endowment fund.
He said that while they met teachers across the departments and the colleges and brought this to their notice, they expressed deep anger over the commodification and commercialisation of higher education by the companisation of the University.
Jha said, "The decision to take a loan of Rs 1000 crore was imposed on us too. The EC was informed about the authority's plan to take many more instalments of such loans. This makes DU easy prey for the corporate takeover due to bi-ownership and the decision-making power being taken away from the Academic Council and Executive Council."
He added, "The change of name does not change its character of being enemy of DU, which is open to all castes, class and creed as provided by Clause 6 of DU Act 1922. This also violates Clause 4 (Power of the University) and Clause 5 (territorial jurisdiction of the University) of DU Act 1922."
Discontent over the issue is brewing among students who argue that changes are being brought to implement the core fundamentals of NEP.
Abhigyan Gandhi, Secretary, All India Students Association Delhi, said that it is the beginning of a dangerous trend where the responsibility of generating funds has been handed over to a private company.
"NEP proposes that the Board of Governors will replace the decision-making bodies like Academic Council and Executive Council. Similarly, the four-year undergraduate programme with multiple entry and exit points has already been introduced. We will not tolerate this. We have already launched a campaign against these sweeping changes, essentially anti-students."
Mayank Azad, Secretary, Students Federation of India Delhi, told NewsClick that the provisions of financial autonomy in the new education policy are directly linked with the dilution of the quality of education in higher education institutions.
"The institutions have been advised to seek financial autonomy by generating revenues through their resources. The institutions can raise funds by increasing fees. They will also be under pressure to reduce their expenses in the form of teachers' salaries and expenses on infrastructure building and maintenance. It will lead a student to get an expensive but low-quality education. Plus, there will be more market-oriented courses, and courses which enable us to understand our societies may no longer be in existence."
Get the latest reports & analysis with people's perspective on Protests, movements & deep analytical videos, discussions of the current affairs in your Telegram app. Subscribe to NewsClick's Telegram channel & get Real-Time updates on stories, as they get published on our website.
Subscribe Newsclick On Telegram