D.U.T.A: DU Teachers Want to Reclaim Association
The Democratic United Teachers Alliance's Aditya Narain Mishra is pitted against DUTA president and BJP-backed NDTF member AK Bhagi.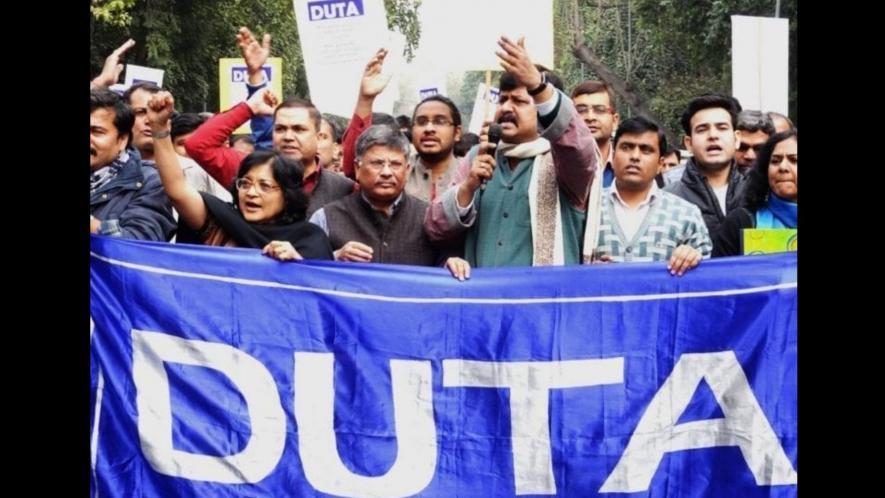 Delhi University (DU) teachers started voting to elect a new president and the executive body of the Delhi University Teachers Association (DUTA) on Wednesday.
A total of 9,500 teachers are expected to cast their votes. Counting will begin at 6 pm and results are expected by midnight. 
The crucial elections are being held against the backdrop of the mass displacement of teachers. Teacher organisations like the Democratic Teachers Front (DTF) and the Academics for Action and Development Teachers Association (AADTA) have alleged partiality towards new candidates supported by the ruling party and its affiliates by ignoring the experience and contribution of serving teachers.
The DU administration further curtailed any possibility of the teachers rejoining by doing away with ad hoc positions in the colleges.
Interestingly, 10 teacher organisations and several individuals formed the Democratic United Teachers Alliance (D.U.T.A) and put up Aditya Narain Mishra as the presidential candidate against serving president AK Bhagi of the National Democratic Teachers Front (NDTF).
The teachers are also apparently miffed at NDTF for not taking action in asking the university to reserve posts for the Economically Weaker Sections (EWS). Parliament gave a nod to 10% EWS reservation in college admission and recruitment in 2019.
A teacher requesting anonymity told Newsclick that the displacement of teachers is "unprecedented because the DUTA leadership didn't bother to mobilise teachers to ask the administration to reserve posts for the EWS".
"Had these posts been reserved, displacement would have been minimal," the teacher claimed.
The suicide of an ousted teacher, Samarveer Singh, in April was the flashpoint. Singh was a philosophy teacher at Hindu College for six years before his ousting.
DTF secretary Abha Dev Habib told Newsclick over the phone that NDTF, a BJP-RSS-backed teachers group, had led DUTA in the last two years.
"In a betrayal of teachers' faith and DUTA tradition, the leadership has shamelessly shared platforms with the administration and government to push the New Education Policy and DU privatisation through the Higher Education Funding Agency (HEFA) loans and scheme of Graded Autonomy," she alleged.
HEFA is a collaboration between the education ministry and Canara Bank to provide monetary assistance through loans for building infrastructure of institutions.
Teachers have argued that loans are a deviation from earlier methods like grants and create liability on institutions to pay back the money with the immediate fallout being an exponential hike in tuition fees.
Similarly, the university was criticised for applying for Category-I status under the graded autonomy regime from the University Grants Commission (UGC), whose provisions state that the university should arrange its funds for starting new courses. DU's new five-year integrated BA LLB course fee has been fixed at Rs 1.90 lakh annually.
"Under the current leadership, DUTA has also betrayed teachers by not building a systematic movement to arrest displacements of long-serving teachers," Habib added.
"The situation has deteriorated so much that DUTA has not issued any statement against the displacement of six long-serving teachers of Satyawati Evening College, including an ST teacher with 14 years of service and a visually impaired one with 10 years of service," she said.
On the question of alliance among 10 teacher organisations, she said, "It is important to reclaim DUTA as a teachers' collective and restart the struggles on issues affecting teachers now and issues that threaten their future."
That is why so many teacher organisations (almost all organisations barring the NDTF) "have set aside their differences and, along with many individuals, have come together under the Democratic United Teachers' Alliance (D.U.T.A.) to put up Aditya Narayan Misra as the candidate for the post of DUTA president", Habib added.
According to her, the election will "decide the role of DUTA—whether it is a trade union body to defend teachers' rights and a democratic public-funded education in the country or whether it continues, as it has done in the last two years, to become a mouthpiece of the government and its policy implementer at the university level".
Habib said that DUTA has "remained silent for the first time in the face of repeated onslaughts, proving its utter complicity in the rapid changes that we are witnessing—be it syllabi, workload norms, the 8 am–8 pm-notification and others that are altering the very ground on which we stand".
AADTA spokesperson Rajesh Jha said that the displacement of fewer candidates could be understood but there was "mass displacement of teachers where entire departments with teachers serving for more than two decades were displaced. "It happened at Ramjas, Laxmibai and Hansraj college. It simply showed that NDTF wanted absolute control and it had zero regard for their livelihoods," he told Newsclick.
Jha added that the pandemic showed how families could be ruined without strong social security. "We lost several young colleagues during COVID-19 and their families suddenly lost everything. The families, covered under the New Pension Scheme, could hardly get money to sustain themselves."
Therefore, "this is also a fight for the Old Pension Scheme. Why should a teacher who is building the nation should feel so vulnerable?"
Get the latest reports & analysis with people's perspective on Protests, movements & deep analytical videos, discussions of the current affairs in your Telegram app. Subscribe to NewsClick's Telegram channel & get Real-Time updates on stories, as they get published on our website.
Subscribe Newsclick On Telegram