'Earth Champion' Irony: High Praise, Low Performance
Since the Modi Govt took over, there has been unprecedented dilution of environmental regulation. Till 2017, over 570 projects have been cleared, mostly in fast-track mode and without due diligence.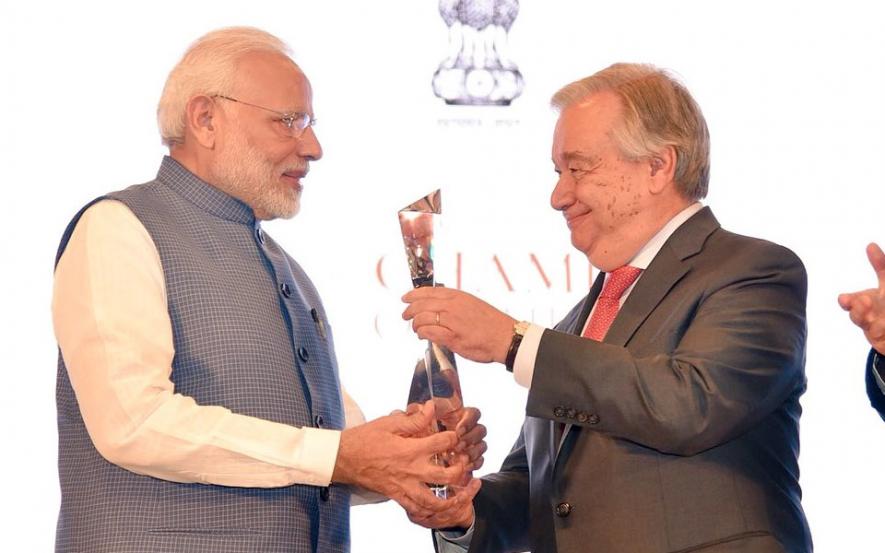 With UN Secretary General Antonio Guterres in Delhi, an attempt was made by several UN agencies to kill many birds with the one stone. Lofty praise has been showered on the government for the campaign to eradicate open defecation and how far it will go in helping India meet the Sustainable Development Goals (SDG), while also inspiring other countries to draw upon India's success and strive towards similar achievements.
While in Delhi, UNSG Guterres also conferred the United National Environment Programme (UNEP) 'Champion of the Earth' Award for 2018 on Prime Minister Narendra Modi under the leadership category.  The award is in recognition of his major role in promoting renewable energy, especially solar energy, in India and other developing countries through the Solar Alliance, and also for "championing environmental conservation" both as Prime Minister and, before he assumed that office, as Chief Minister of Gujarat, especially as regards water conservation. A promise to eliminate single-use plastics has also been cited, even though no action has been seen towards this end.
One can understand the interest of the UN in holding up the Government of India, and its leadership, for lofty praise. If India and its political leadership can be held forth as a role model, it could be expected to galvanise other developing countries into more purposeful action on SDGs, especially its goals on environmental protection and climate change. In respect of SDGs, India was assessed as ranking 116 out of 157 countries in an index compiled in 2017, behind Nepal, Sri Lanka and Bhutan, and just six places ahead of Pakistan. India fares even worse in other important SDG goals such as health.
As for protecting the environment, awarding this government and Prime Minister is indeed ironic because the four years since they took over the reins of governance in India, have witnessed unprecedented dilution of environmental regulation, weakening of regulatory norms and institutional mechanisms, and a barrage of actions whose seriously negative environmental impact will be witnessed in India for many years to come, both in the ecosystem and on livelihoods and well-being of marginalised sections.
Soon after assuming office, the new government determinedly set about their task of dismantling the environmental regulatory framework in order to facilitate "ease of doing business," i.e. in favour of corporate interests especially in mining, industrial and infrastructure sectors. Scrutiny of environmental clearances has by now been virtually done away with. The Environmental Impact Assessment (EIA) process has been emasculated with companies submitting reports written by their own consultant, most often copies wholesale from other reports.
Denial of approval has become a rarity. Till 2017, over 570 projects have been accorded clearance, most in fast-track mode without due diligence, and those refused clearance may be counted on one's fingers.  Approvals committees have been bureaucratised, with few independent experts and little oversight. "Self-appraisal" is the new norm, but now without any factory inspection and weak supposedly on-line monitoring of pollution. Already weak Pollution Control Boards at the Centre and in the States have been rendered toothless tigers in a country where obedience of the law is already a joke.
Efforts to completely overturn extant environmental legislation through the notorious TSR Subramanian Committee Report having run aground against Parliamentary Sub-Committee disapproval, the same ends have been pursued through other means, avoiding the legislative route and resorting to executive notifications, administrative orders, and modifications in rules and norms. Meanwhile, NITI Aayog has been tasked to study the entire regulatory framework towards a comprehensive "reform." And lest these reforms come under judicial scrutiny, the government also proposes to clip the wings of the National Green Tribunal by limiting its powers and placing it under a non-judicial appellate body.
Forest clearances have readily been given, including for the most egregious violations. Mining has been permitted in forests, including coal mining, under new guidelines. "Linear projects" such as highways, railway tracks and power lines have been allowed through forest areas, unmindful of ecological damage and disruption of wildlife habitats increasing human-animal conflict in many parts of India. Are all rail tracks straight, and do roads not curve? But nothing is to be inviolate in the present government's vision of "development."  Over 6,000 hectares of the Panna Tiger Reserve have been sacrificed to the Ken-Betwa river inter-linking project, itself of dubious value.
The Coastal Zone Regulations, already amended many times, have been severely watered down, with the no-development zone now restricted to a mere 50 metres, that too with many exceptions permitted including "eco-tourism" which could mean anything. In modifying the norms, no care has been taken to protect the livelihoods of traditional fishers and other coastal peoples.
A new Forest Policy is on the anvil which severely undermines existing forest laws and hard-won rights of tribals and other forest-dwellers. The policy threatens the very nature of forests in India in both their ecological and societal dimensions. It seeks to promote commercial plantation activities, with the private sector playing an important role, not known anywhere for altruistic goals such as protecting the environment.
Afforestation is proposed to be done with commercially important timber species, a crass motive given the proverbial fig leaf of enabling India to meet its climate goals of 33% forest cover and carbon sequestration. This takes India back to colonial times with its monoculture plantations of pine that has wreaked havoc in the Himalayan region. Further, the proposed new Act strips away almost all rights of tribals, forest dwellers and their gram sabhas.
India is indeed doing fairly well regarding the Solar Energy target of 100,000 MW of installed capacity, even though it will soon start having problems with storage and evacuation, and is expected to fall short of the target by around 25-30%.
The less said about Gujarat the better. The entire Ahmedabad-Vadodara industrial belt has been deeply scarred by a scorched earth policy which allowed untrammeled pollution that has badly damaged water bodies and lands. As for water conservation specifically mentioned in the Award, Gujarat ranks among the top 5 for most polluted rivers according to the Environment Ministry's own reports. The much hailed Sabarmati riverfront project actually representing among Gujarat's most polluted rivers, for cleaning of which Rs.200 crore of public money has recently been sanctioned.  And even the Comptroller and Auditor General had noted the poor performance of the Gujarat government under the Earth Champion with regard to water pollution, in particular in its industrial belts and rivers.
Glass far less than half full, Mr.Guterres?
Get the latest reports & analysis with people's perspective on Protests, movements & deep analytical videos, discussions of the current affairs in your Telegram app. Subscribe to NewsClick's Telegram channel & get Real-Time updates on stories, as they get published on our website.
Subscribe Newsclick On Telegram