Egg Made of Chicken Menstrual Blood? An Unscientific Assertion by Maneka Gandhi
Scientific evidence shows that eggs can help combat prevailing malnutrition among children in India. However, religious sentiments seem to be taking precedence over science with religious groups and right-wing political leaders asking for a ban on the provision of eggs in government schemes.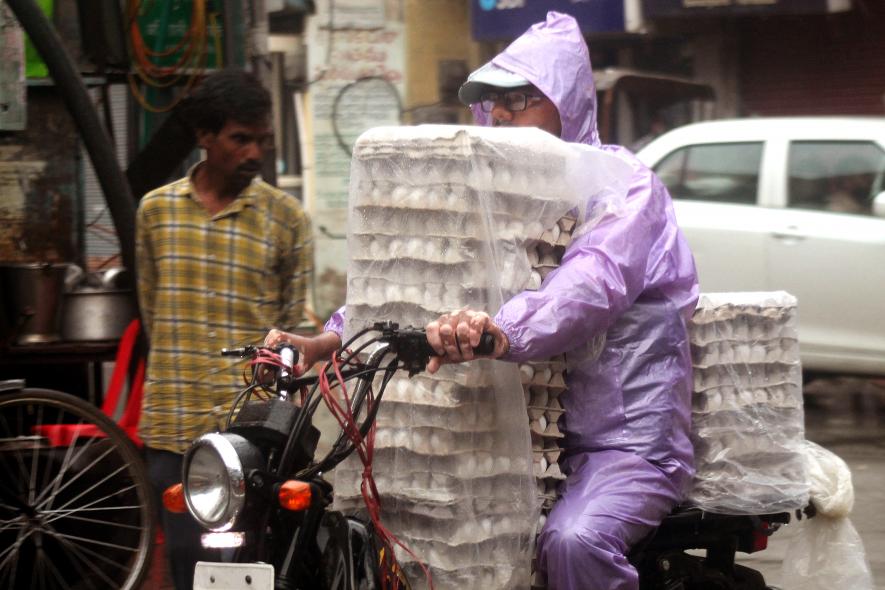 A vendor carries the pile of eggs covered in the plastic sheets on his bike
It is not the first time that leaders of the BJP have gone ahead and pushed science two steps back. Recently, Maneka Gandhi, at a meeting organised by the Sri Jain Seva Sangh in Hyderabad, claimed that egg is made of the menstrual blood of chicken and hence, not fit for consumption, especially by children. She advocated that government programmes promoting eggs should be stopped!
However, this claim has been countered by doctors and public health experts as being bizarre.
"This claim is completely unscientific and rather bizarre in terms of science", says Dr Vandana Prasad, a community paediatrician and public health professional. 
"Firstly, only certain animals, specifically mammals, menstruate and not the poultry. Secondly, such a statement reinforces the stigma attached to menstrual blood as being dirty. Public health doctors and activists have been countering this stigma for years and trying to establish that menstruation is a normal bodily function. Such a statement by a leader of the ruling dispensation is regressive," Prasad emphasises. 
Dr S. Krishnaswamy, Faculty (retd.) Madurai Kamraj University explains the science, "Only some mammals menstruate due to rejection of unfertilised eggs. The menstrual fluid consists of an unfertilised egg, blood, cervical mucus, vaginal secretions and endometrial tissue (inner lining of the uterus). In hens, there is no rejection of unfertilised eggs (yolk). Both fertilised (if sperm from a rooster permeate it) and unfertilised eggs (yolk) pass on to form the hen egg with albumin and shell added. The hen tries to hatch all eggs it lays whether fertilised or unfertilised."
Eggs Important for Nutritional Requirements 
For years, the Right to Food Campaign has advocated for providing eggs in mid-day meals for children. The Campaign demands that eggs be provided in every state of the country five days a week to children who eat eggs. 
Recent surveys have shown that the nutritional levels of children and women in India have declined. The National Family Health Survey 5 clearly shows an increase in the proportion of children under five years who are severely wasted between NFHS 4 (2015-16) and NFHS 5 (2019-2021). There is also a sharp increase in the proportion of women (53% to 57%) and children (from 59% to 67%) who are anaemic. 
A 2022 study by Ulahannan SK, Wilson A, Chhetri D, et al., based on district-level analysis of NFHS 5 data, shows that "over the last two decades, severe acute malnutrition (SAM) has been increasing in India despite favourable national-level economic growth. Among the 707 districts from 36 states and UTs, 341 districts reported at least some increase in SAM between NFHS 4 and NFHS 5."
Severe Acute Malnutrition (SAM) is defined as very low weight for height, visible severe wasting, or the presence of nutritional oedema. As per guidelines, SAM is caused by a significant imbalance between nutritional intake and individual needs. It is often caused by quantitative (number of kilocalories/day) and qualitative (vitamins and minerals, etc.) deficiencies.
In a recent letter to the Jharkhand Finance Minister, Jean Dreze, renowned development economist, appealed for the "provision of one egg/day in mid-day meal, six days a week, in schools as well as Anganwadis." 
Reportedly, the state government has agreed to provide eggs daily, but the decision is yet to be translated into action. 
A 2019 paper by Réhault-Godbert, Guyot and Nys explains that "egg remains a food product of high nutritional quality for adults including elderly people and children and is extensively consumed worldwide. In parallel, there is compelling evidence that egg also contains many and still-unexplored bioactive compounds, which may be of high interest in preventing/curing diseases." 
The paper further adds, "Besides basic nutrients, eggs are also a great source of potential nutraceuticals. A total of 550 distinct proteins were identified so far in egg-white and yolk/vitelline membranes, and the physiological function of only 20 of them is characterised to date." 
Consumption of Eggs – Science versus Religion 
Recently Karnataka had reintroduced eggs in the mid-day meal diet but only in seven districts with high malnutrition rates. The move was opposed by the All India Vegetarians Federation and Lingayat and Jain leaders. 
The RTF Campaign demanded that "the Karnataka government, as well as other states, base their nutritional intervention for children on sound scientific premise rather than religion, caste or ideology." 
It also emphasised that "As per National Institute of Nutrition (NIN) and demands from civil society, nutritionists, doctors, advocates, parents, children etc., eggs should be provided as part of mid-day meals on five days of the week to children owing to its numerous nutritional benefits."
Reportedly, in Madhya Pradesh, the BJP government rolled back the decision taken by the Congress government to introduce eggs in mid-day meals. In Chhattisgarh, the BJP opposed the announcement of the Congress government to introduce eggs as part of supplementary nutrition in schools. Resultantly, the administration backtracked and announced that eggs would be delivered to the homes of children who consume them. At present, only 13 states and three Union Territories are providing eggs through mid-day meals. 
Moreover, Akshay Patra has been involved in a public-private partnership with many state governments to provide mid-day meals. But it has refused to follow the recommended nutritional guidelines in the government scheme and does not provide eggs.  
"Eggs are the easiest method of giving nutrition to the children. Dal/pulses can provide the protein, but an egg is a wholesome food – it provides carbohydrates, proteins, lipids, etc. It was a good move to give boiled eggs in mid-day meals, which should be continued. Organisations such as Akshay Patra have been given the charge of distributing mid-day meals which impose religious beliefs. It is an underhand method of introducing religious ideology", cautions Krishnaswamy. 
"Public health strategies are designed by considering scientific recommendations, evidence and choices and customs of communities. But today, they seem to be governed by religious beliefs. Nobody is forcing eggs on children. But in communities largely non-vegetarian and where eggs are culturally acceptable, children must be provided with eggs in mid-day meals", says Prasad.  
In today's India, when religious sentiments are used to further vested interests, will children's health be sacrificed at the altar of religion, or will scientific evidence prevail?
Get the latest reports & analysis with people's perspective on Protests, movements & deep analytical videos, discussions of the current affairs in your Telegram app. Subscribe to NewsClick's Telegram channel & get Real-Time updates on stories, as they get published on our website.
Subscribe Newsclick On Telegram