Election 2019: From Chowkidar to Chor: BJP Losing Foothold in Jammu?
"Jammu stood with BJP but not this time."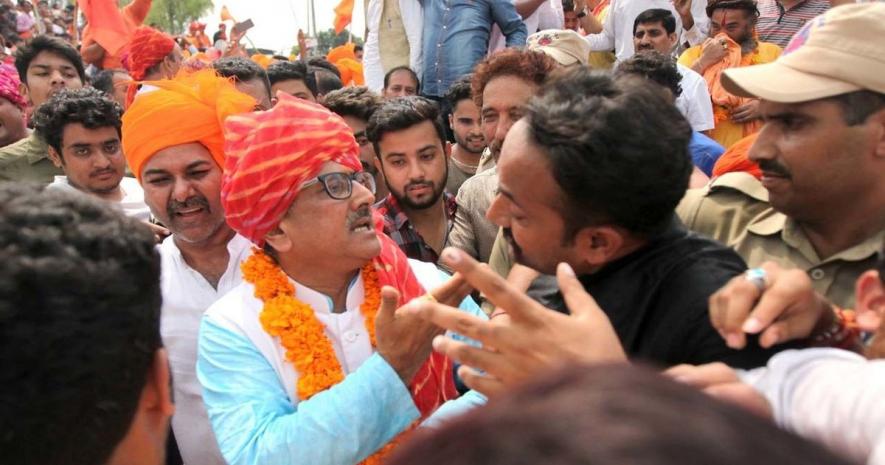 Image Courtesy: Scroll.in, Image for representational purpose only.
As political parties have started campaigning rigorously across the Jammu region of Jammu and Kashmir, hoardings of various political parties can be seen along with the flags installed on the houses and pamphlets pasted on the shops, urging people to vote. While a new party, like Dogra Swabhiman Sangathan invoking Dogra pride, has come into the fray, new electoral baits are being introduced to appease the voters. Amidst all this, Bharatiya Janata Party (BJP) is facing a backlash from the locals for the party's unfulfilled promises. Recently, at Narendra Modi's rally on the outskirts of Jammu, a group of locals were reported chanting "chor", as they saw BJP leaders passing by.
The Tribune reported, "After the event, former BJP ministers were passing through the crowd and were being called 'chor'."
Newsclick met a few locals from different sectors in Jammu to gauge the public mood ahead of the elections.
At Narwal bustand, an auto rickshaw driver, who wished to remain anonymous explained his disillusionment with the Modi government. Speaking to Newsclick, he said, "This time it will be NC-Congress. Modi government has been a failure in Jammu and Kashmir. They have always pitted Hindus against Muslims in the last four years. But people here have come to realise that they have been exploited by the current government. At least, I won't vote for Modi this time."
Daily wage workers
Daily wage workers have been protesting since last four years, but were very hopeful of the Modi government. Newsclick has been covering the struggle of Public Health Department (PHE) daily wagers under Modi regime. Thousands of workers have been waiting for pending wages for the last four years. The workers claimed that they have been facing starvation-like situation. The PHE workers were protesting in Kathua on Wednesday, which is the poll constituency of Jitendra Singh, BJP politician and Union minister. Speaking to Newsclick, PHE Workers' Association President, Tanveer Hussain, said, "In 2014, BJP leaders came to us and said, if you will vote for us, we will release your pending wages and ensure there is a policy too. But nothing has happened in the last four years. Today, we are protesting in Jitendra Singh's constituency to remind them of their false promises."
Contractual lecturers in Jammu
Contractual lecturers [10+2] have been on a chain hunger strike for over 700 days in Jammu. As reported earlier by Newsclick, every day, four lecturers, in rotation, sit on a hunger strike from 9 am to 5pm in the evening. They have been raising a basic demand – regularisation of their services. The lecturers claim that they have been receiving assurances but in vain.
President of the forum, Arun Bakshi had recently said, "In the last one week, I have talked to the governor personally on telephone. He has assured that he will do something. But the last time we had met him, he assured us the same even then. We are in constant touch with the advisor, and he is assuring us like always. But this time, we are sure that if no concrete steps are taken, we will launch a massive fast unto death, and then the state will have to bear the consequences."
Farmers and Border Residents
In Jammu, border residents and farmers residing near borders have been facing a hard time because of the shelling. The farmers lose their crops, cannot come outside, and work in the farms as they are apprehensive.  A few days ago, three people including a woman and a five-year-old girl were killed in the shelling in different sectors of Poonch district. Speaking to Newsclick, Rohit Chaudhary, an activist, a border area resident and national president of Kisan Welfare Organisation, said, "Compensation comes later. In the last four years, the shelling has increased, and it happens when the farmers have to harvest the crops."
Chaudhary said, "If you go through the speeches of the leaders here, nobody talks about MSP unlike in the rest of the country. They don't even know anything about MSP, and these figures are startling. They reveal the loss a farmer is bearing per quintal."
Migrated Kashmiri Pandits in Jammu
In its 2014 manifesto, BJP had underlined the return of Kashmiri Pandits. The manifesto read: "The return of Kashmiri Pandits to the land of their ancestors with full dignity, security and assured livelihood will figure high on the BJP's agenda." But in February, 2017, all the speculations were put to rest when government informed Parliament that "there was no proposal for setting up separate colonies for Kashmiri Pandits in Jammu and Kashmir". The statement was in reply to a written question from Ashwin Kumar of Congress in Lok Sabha. The Kashmiri Pandits living in Jagti and Nagrota settlements feel dejected. A woman in Jagti told Newsclick, "We Kashmiri Pandits voted for Modi thinking he will do good for us. But no BJP leader paid a visit to our settlements to ask us about our condition."
What Students Think
A poll fever has gripped Jammu, students can be seen discussing politics and polls in the cafes, dhabas and in campuses. Apoorva, a Postgraduate Journalism student from the Central University, Jammu told Newsclick, "BJP ignored Jammu. Jammu had showed faith in BJP, but instead, they focussed on Kashmir. Even the BJP leadership in Jammu is weak. They haven't delivered anything in the last four years."
Another student, requesting anonymity said, "If you see development, there has been no development. They have only pitted Hindus against Muslims. Jammu stood with BJP but not this time."
Get the latest reports & analysis with people's perspective on Protests, movements & deep analytical videos, discussions of the current affairs in your Telegram app. Subscribe to NewsClick's Telegram channel & get Real-Time updates on stories, as they get published on our website.
Subscribe Newsclick On Telegram