Elections 2019: What the SC Should Do About Pragya Thakur's Candidature
It is high time for the apex court to invoke its plenary powers in the interests of Indian democracy.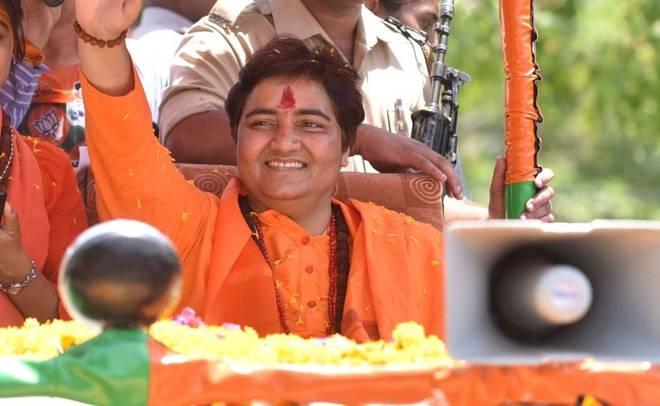 Image Courtesy: The Hindu
Pragya Singh Thakur, the BJP candidate from Bhopal in the 2019 Lok Sabha Elections, has been earning praises and ringing endorsements from a phalanx of leaders of the BJP and RSS, the latest being yoga guru Ramdev who on April 26 said that she is a mascot of nationalism, among other purple prose.
Ever since Thakur's candidature was announced, we have seen a bevy of Sangh leaders and journalists going out of their way to normalise her. At the same time, a number of editorials have been written criticising her, especially for the abhorrent remark she made about Hemant Karkare, the Maharashtra ATS chief who gallantly fought and fell to terrorists' bullets in the 26/11 terror attack on Bombay.
Sources close to NewsClick informed that the Supreme Court will soon be moved to decide on the candidature of Thakur from Bhopal, especially since the Election Commission has been deliberately dragging its feet on the numerous complaints that have been filed against her candidature.
Also Watch: Sadhvi Pragya's Nomination: BJP at Its Brazen Best
Here are some facts dug out after painstaking investigation which debunk all the claims made by Pragya Thakur herself and her supporters, and will also be able to assist the Supreme Court in doing justice:
Claims of Torture are Baseless
Thakur does not tire of saying how the Maharashtra ATS, under the command of the late Hemant Karkare, had tortured her in custody. While speaking to the press, or in pubic rallies, Thakur is seen to be breaking into tears while narrating her ordeal. Her supporters and political handlers parrot the same line ad nauseam. But what's the reality?
A report in Mumbai Mirrror exposes the truth. The National Human Rights Commission, after a detailed probe, found her allegations to be without substance. When she was asked to provide medical evidence of injuries sustained during the alleged prolonged custodial torture, she could come up with nothing.
Not only the NHRC, but also the Supreme Court trashed her claims. In a judgement delivered on September 23, 2011, a bench of Justices Panchal and Gokhale found her claims to be without merit. The SC believed the Bombay High Court judgement which said that there was no evidence that Thakur was either illegally detained or tortured in custody.
Cancer Patient? Doctors Rubbish Claims
Thakur does not leave any stone unturned to claim that she is suffering from breast cancer; in fact, she even stated this on oath before the court which enlarged her on bail. But when NewsClick spoke to doctors of JJ Hospital in Bombay, where Thakur initially sought treatment in 2010, they said in unison that they had conducted a number of tests when she used to complain of lumps and pain in her breasts, but had found nothing. In fact, they said that she often used to create a ruckus about not getting proper treatment, and they were quite exasperated with her. A report in Mumbai Mirror has top oncologists of the Tata Memorial Hospital, India's leading centre for cancer care, rubbishing her claims of being diagnosed with cancer and being cured by the intake of cow urine and a mixture of cow dung and other substances.
Also Read: Sadhvi Pragya Granted Bail on 'Health Grounds', But Fit to Fight Elections?
However, a report in the Bombay edition of The Hindu has a report quoting Dr. S.S. Rajput of the Ram Manohar Lohia Institute of Medical Sciences in Lucknow who said on record that he had operated on Thakur thrice, and she was fully cured of cancer in 2008. The Hindu report, thus, supports the view of later doctors not being able to find any trace of cancer as she had been cured in 2008. So the questions arise- why was the court so gullible as to take her claims at face value and not examining all the medical records? Why is a section of the media tamely acquiescing to whatever Thakur, her bosses and apparatchiks (members of a political organisation) are saying and clucking their tongues in sympathy?
The Canard of Clean Chit
BJP President Amit Shah, yoga practitioner Ramdev and a number of hotshots from the Sangh camp have been saying ad nauseam at many rallies that Pragya Thakur has been given a clean chit. Nothing could be further from the truth. One only has to read the judgement of Judge S.D. Tekale of the Special National Investigation Agency (NIA) Court in Bombay, in December 2017. In paragraphs 231 and 232 of his ruling, he states in no uncertain terms that there is a considerable amount of evidence against Thakur and her accomplices, and they have to stand trial. This conclusion has not been challenged before any court, so it still stands. Hence, all talks of the so-called clean chit are nothing but lies.
The Supreme Court's Responsibility
This leaves one with the question- what is the apex court supposed to do, especially because the NIA court has said that it does not have any powers to ban Thakur from contesting and the Election Commission has been most reluctant to act? One has to refer to a September 25, 2018, ruling by a constitution bench in the Public Interest Foundation case, to find the answer. The bench said in no uncertain terms that decriminalisation of Indian politics starts with political parties.
Also Watch: Who Let Pragya Thakur Insult Martyr Hemant Karkare?
"In a multi-party democracy, where members are elected on party lines and are subject to party discipline, we recommend to Parliament to bring out a strong law whereby it is mandatory for the political parties to revoke membership of persons against whom charges are framed in heinous and grievous offences and not to set up such persons in elections, both for the Parliament and the State Assemblies," the judgment stated.
Such a law, the Supreme Court said, would go a long way in achieving decriminalisation of politics and usher in an era of "immaculate, spotless, unsullied and virtuous constitutional democracy." The judges could not lay down a law, for that is the domain of Parliament, but issued a slew of directions for candidates regarding their criminal antecedents. Thakur and her accomplices (two of whom are also contesting the polls) have been charged with Sections 16 (committing terrorist act) and 18 (conspiring to commit terrorist act) of the Unlawful Activities (Prevention) Activities (UAPA), and under the Indian Penal Code (IPC) for murder, criminal conspiracy and promoting enmity between communities in October last year. They are yet to file their affidavits, so it remains to be seen how much they disclose.
But surely, none of these factors stop the Supreme Court from using its plenary powers in the interests of Indian democracy.
Till date, the apex court has used its plenary powers under Article 142 of the Constitution on many occasions, sometimes with desirable consequences, sometimes with results that have come in for much criticism. As things stand, there is no statutory provision for barring Thakur from contesting. At the same time, there is a catena of judgements of the apex court where it has pulled out all stops to prevent the criminalisation of politics. Undoubtedly, this election is a crucial one in which the very idea of India is at stake. Would their Lordships of the apex court then remain mute spectators when democracy and secularism, two of the foundational pillars of the Indian republic, are at peril?
Read More: Pragya Thakur's 'Curse' Remark on ATS Chief Karkare's Death Sparks Outrage
Get the latest reports & analysis with people's perspective on Protests, movements & deep analytical videos, discussions of the current affairs in your Telegram app. Subscribe to NewsClick's Telegram channel & get Real-Time updates on stories, as they get published on our website.
Subscribe Newsclick On Telegram