UP Elections: In Eastern Region, Dalits Search for Alternatives
Dalits are generally considered silent voters who do not readily reveal their political preferences. A closer look, however, points to their inclination of looking beyond BSP and BJP this election.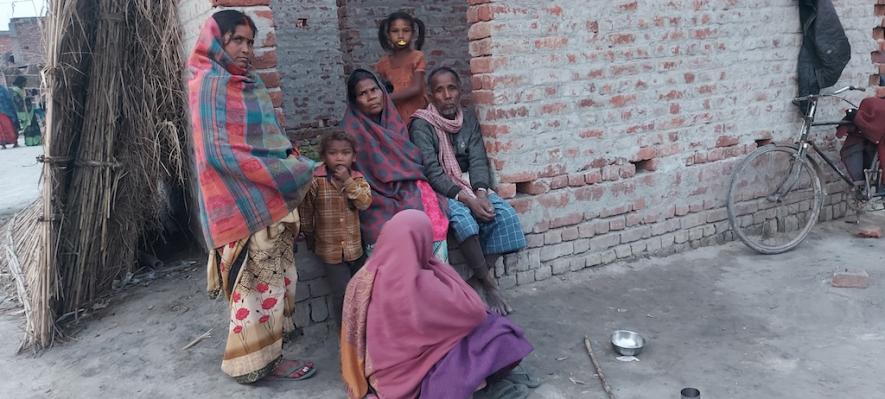 Leela with her family and fellow villagers
Kushinagar/Varanasi: Leela, 45, a musahar by caste, is dangerously anaemic and malnourished. Fat deficiency has resulted in skin elasticity and volume loss, causing visible wrinkles on her body as if she is above 70 years old. She says she slept without food the previous night as there was nothing at home to cook.
It was not an isolated night when she had to go to bed without food. Getting meals at least twice a day is a luxury for around 46 families living in the musahar hamlet, meant for socially outcast people, on the outskirts of the Kushinagar district.
Musahars are a dalit community found in the eastern Gangetic plains and the Terai. They are also known as vanvasi or forest dwellers.
It has been 64 years since India — the largest democracy in the world — attained Independence. Yet, justice for all is a far cry. Money and muscle power, together with political string-pulling, often result in denial of justice for the hapless 'have-nots' ravaged by poverty and illiteracy.
A resident of Kusuma Khas village at Romkola block in this eastern Uttar Pradesh district lives in a newly constructed incomplete pucca house one of his four sons has got around six months ago under the Pradhan Mantri Awas Yojana (Rural) — a flagship mission of the government of India wherein poor people in rural areas are given Rs 1.3 lakh for construction of a pucca house.
Leela, too, has got a small two-room house from the government. But it neither has a roof nor a floor. The construction has been halted as the funds ran short. She does not know how much amount was sanctioned.
"The pradhan (elected village head) took our Aadhar card and got our houses sanctioned, but we don't have any idea about the amount he got from the government. He has got the construction done," she told NewsClick.
Asked if the sanctioned amount was transferred to the bank accounts, she said: "We are poor and illiterate people. We don't know the official process. A few days after submitting the Aadhar card, we were taken by the pradhan to a centre where our thumb impressions were scanned. We returned after the process was over. We were not given a single penny. She said the pradhan received the money and got the houses constructed."
Bank accounts of illiterate people are opened these days in a single name, using a thumb impression. These accounts are linked with their Aadhar, which has all biometric details. Customers must personally come to the bank or private authorised centres with a person (usually a close relative or a reputed person of the village) to withdraw cash. The beneficiary's thumb impression is scanned. This allows withdrawal of the money from their account.
Leela's husband used to get Rs 1,500 after every three months as old-age pension, but he has not got it for the past five years.
Those living in the hamlet are faced with abject poverty. They are landless. The only respite they have is the UP government's free ration under the public distribution system wherein poor people get five kilograms of rice and wheat each, one kilogram of refined oil, 1 kilogram of salt per individual enrolled with it.
They said they had got pattas (land deeds) of five kattha (around 3,600 square feet) almost 10 years ago but never got possession.
"We had voted for the BJP en bloc in the previous three elections, thinking that Modiji (Prime Minister Narendra Modi) and Yogiji (UP Chief Minister Yogi Adityanath) will do something for our welfare, but what did we get in return — incomplete houses and free ration? Only rations are not enough to run families. We need work for sustenance," she added
The majority of the hamlet's residents have job cards issued under the Mahatma Gandhi National Rural Employment Guarantee Act (MGNREGA), 2005, which guarantees 100 days of employment in a year.
Suganti belongs to the same village and has 12 members in her family. She said the ration they get runs out in 10-15 days. "Survival for the next 15 days depends on daily income. If we get work, we eat. And if not, we have to sleep hungry," she said, describing the suffering of her and fellow villagers.
She owns three kattha of land (2,160 square feet), which she has bought from her little income over the years. "I grow sugarcane, which I sell to a local jaggery maker to earn a small amount against cash. I also produce wheat and paddy to sustain the family for a year," she said.
One of his four sons and three daughters have a house under the government's housing scheme, but that is also incomplete. "Once, I asked our pradhan to give me the number of the block development officer (who is the first authority to approve house application) to enquire about the fund we got. It angered him so much that he scolded, abused and chased me away," she said.
"Badi pareshani hayi saahib (life is very difficult)," said Shobha Vanvasi, who was busy segregating some leaves outside his dilapidated thatched house at Ayar Musahar Basti at Pindra block in Varanasi — the parliamentary constituency of PM Modi--  as NewsClick struck a conversation.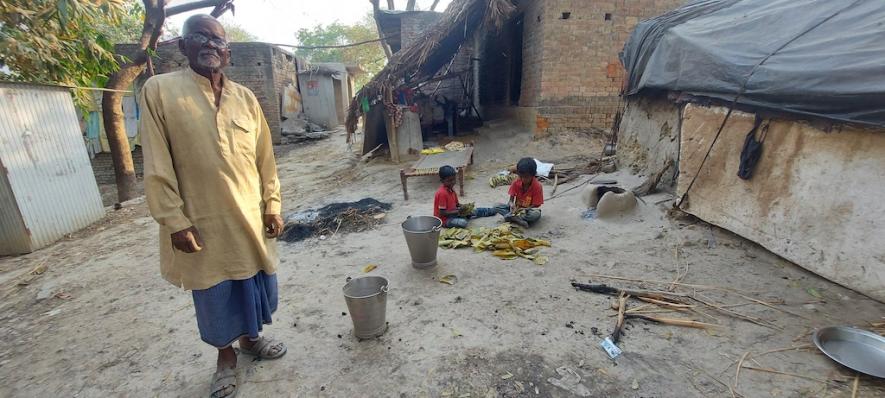 He has four sons — all daily wagers who don't work even 10 days a month. "They earn Rs 300 per day as wages. Even this is not regular, as there is no work," he said.
He said the entire village has always voted for Mayawati-led Bahujan Samaj Party (BSP).
"She claims to be our leader, but the reality is she has not done anything meaningful to improve us socially and economically. Her only achievement was a controlled bureaucracy. Earlier, the police used to refuse to register our complaints with regard to atrocities and discrimination. After she took over as the chief minister, the administration began listening to us," he said.
Babla Kumar, 33, works as a daily wager. "I got MGNREGA job card two years ago but got a job for only 10 days when a brick road was being constructed in the village. The payment is still awaited," he said, describing the sorry state of affairs and exposing the big claims the administration, the government, and its representatives keep making now and then.
After running from pillar to post and allegedly bribing officials, he finally got Rs 1.3 lakh (Rs 1.2 lakh for building materials and Rs 10 as labour cost as per MGNREGA wages) last year from the government for the construction of a one-room house. "Though the amount was not enough, it helped me to a great extent in construction of a two-room house. The total expenditure stood somewhere around Rs 2.5 lakh. I spent all my little saving on it," he added.
Ayar Musahar Basti has 155 houses, which accommodate 55 families.
Babulal, in his mid-40s, pulls a cycle cart to earn Rs 300-400 a day. He, too, claimed the work he gets is not regular. "Kabhiyo lahal, kabhiyo naahi lahal (sometimes I get work and sometimes not)," he said while rubbing tobacco on his palm.
He also has a one-room pucca house for a family of four. His only son works in a brick kiln to support the family income.
The people in the entire village were on the verge of starvation during the two lockdowns imposed by the government to control the spread of coronavirus in 2020 and 2021.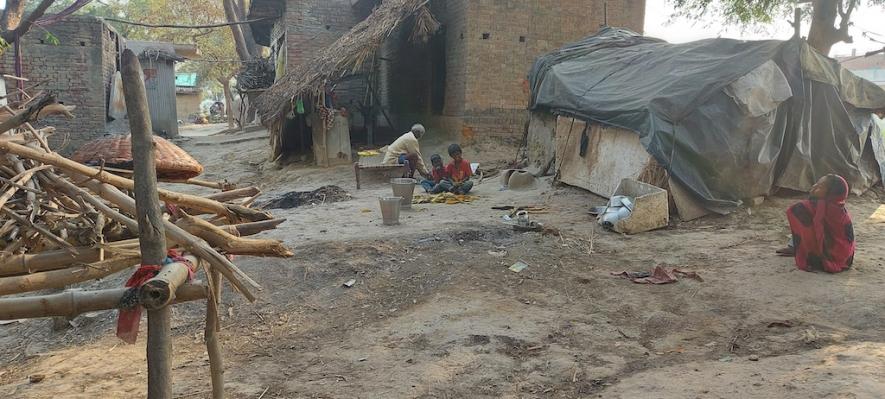 "There were strict restrictions; all economic activities were suspended. Markets were closed. We are daily wagers. We are on the brink of starvation in the absence of any work. An NGO came to our rescue. It set up a community kitchen for months and ensured that we get food thrice a day," he said.
Asked about the government's claim that it managed the lockdown well and ensured all the help people needed in that difficult period, he said the government was not visible anywhere.
"The state presence was felt only on roads where policemen were deputed to thrash people without even listening to them," he alleged.
Budha, a 70-year-old frail woman, who was listening to the conversation under a tree, intervened and said the houses most of the villagers are in, are insufficient to accommodate their family members.
"Humni ke kheti baari naahin, eko biswa jameen naahi ba. Ek ke ghar ba saahib, ohi mein beta, patoh rahat baan. Ohi mein heet naat aa jaat hayin, ta obhi rahat hain [We have no agricultural farming as we don't have even a biswa (one kattha or 126.44 square metres) of land. The only asset we have is the tiny house wherein we, our son and his wife, live. If guests come, they also share the same space]," she said.
WHERE ARE DALIT VOTES SHIFTING?
Dalits are generally considered silent voters. Normally, they do not readily reveal their political preference.
"Je aayin, prachar karin, gaon mein baithak hoi, okare baad log nirnay lihan kekra ke vote dewal jaayi (If the candidates or their representatives turn up for campaigning here, a meeting will be held to build a consensus on whom to vote for)," said Shobha.
Residents of all three dalit settlements in the two districts NewsClick visited were evading a reply and wary of revealing their political choice in the ongoing elections.
Many of them even said they would vote for BJP as they could not be "namak haraam" (unfaithful or disloyal) to the party, which gave them free ration. But as one took them into confidence, they began revealing that that their votes will go to BSP.
Lenin Raghuvanshi, a Varanasi-based dalit rights activist, political thinker and social entrepreneur, gave a context to this apparent strategy.
"The community is still oppressed. Since 'upper' caste people generally surround their ghettos, they live under their influence. Fearing consequences and possible harassment, they either prefer to keep mum about who they are going to vote for, or they voice in favour of the party — which has the support of the majority of the area," he explained.
The reality, he said, is that their vote will go in favour of the party the BSP wants them to shift to. "If the BSP's candidate of the particular constituency is in the contest, dalits, especially jatavs and musahars, will wholeheartedly support the party. And if not, the votes will split among BJP, Samajwadi Party (SP), BSP and Congress. One thing is for sure in this election: SP has managed to eat into BJP's support base of dalits to a large extent," he claimed.
According to him, the pollsters are utterly wrong by not counting BSP and Congress in the ongoing polls that have already been held on two-thirds seats.
"BSP's votes are still largely intact, and the party is capable enough to transfer its votes to the party it wants to return to power," he added.
Asked what led the dalits to abandon BSP and rally behind BJP in 2014 and 2019 Lok Sabha elections and the 2017 Assembly polls, he said: "Dalits are considered a homogenous community, which is not true. There is an internal difference even within the community. There are outcasts among outcasts. For instance, musahars, doms (scavengers) and valmikis are discriminated against within the larger dalit community. The jatavs and others don't marry their son or daughter in these two caste groups."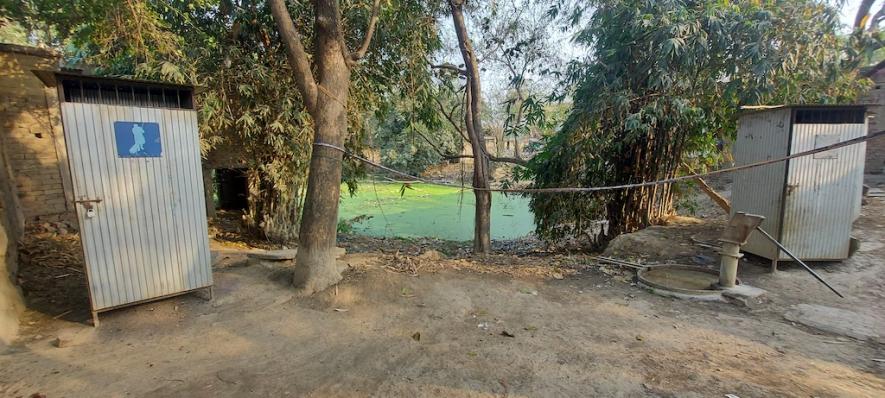 "The role of the opposition was to engage in the social awakening of the entire community. They had the responsibility to bridge the gap by bringing them into mainstream society. Unfortunately, this did not happen, and the gap between the shudra and ati-shudra kept widening to the extent that except jatavs, the majority of the dalit community went in favour of the saffron party," he continued.
He said the Rashtriya Lok Dal (RLD) was "intelligent" enough to understand the importance of the community in the state's electoral politics. And therefore, RLD reached out to 'bahujans' (more commonly known as Other Backward Classes) by holding a series of interactions in different districts of western Uttar Pradesh. "It was the first occasion when jats were having discussions with dalits in a cordial atmosphere without any discrimination. It resulted in a new political equation that will impact the electoral outcomes on March 10 (the day of results of UP elections) for sure," he concluded.             
Ayar village pradhan Rajendra Prasad Maurya too, sounded almost on the same line. The movement of the social and political awakening of dalits launched by BSP founder late Kanshi Ram, he said, was long lost as Mayawati measurably failed to carry forward his legacy. He alleged that Behenji (BSP chief Mayawati) worked on one-point agenda: sell party tickets in lakhs or crores and make money.
"She only capitalised on dalits but did not do anything substantial for their social, economic and educational upliftment. Therefore, many dalit communities began distancing themselves from BSP and went closer to the BJP, which had emerged as a ray of hope for many as the party had ruled the state, not for a longer period like the BSP and the SP. The community was again betrayed after the BJP tried to snatch their reservation and impose majoritarianism," he said.
Therefore, Maurya predicted, a large majority of the community, especially the educated lot, will vote against BJP, at least in the eastern belt of the state. "But it is difficult for an outsider, who does not well understand the community, to feel this undercurrent as this section of voters is not outspoken and prefers to vote silently," he added.
Despite facing discrimination and atrocities, dalits have traditionally maintained proximity with the country's upper and feudal classes.
Vijay Bharti, who also belongs to Ayar village, explains the reason behind this. He said discrimination began when Aryans created the Varna Vyavastha (a caste system based on brahmanical ideology) where dalits (who are referred to as shudras in the caste hierarchy) were placed at the bottom.
He walked down history and said: "The Buddhist movement, which took shape against the social order, abolished the caste hierarchy and liberated the dalits. But Brihadratha Maurya (the last ruler of the Mauryan Empire who ruled from 187 to 184 BCE) by his general, Pushyamitra Shunga — an Aryan stooge who went on to establish the Shunga empire. Following Brihadratha's killing, a massacre occurred, and Aryans shifted their base to Ayodhya. The society was divided into around 6,500 caste groups, and dalits were made slaves of the ruling upper caste. Left with no option, the dalits went close to the forward castes as they controlled the country's resources. Unfortunately, this continues."
This, of late, led to "Hinduisation" of the community, said Shobhnath, a dalit himself and a resident of Shivrampur village in Varanasi's Harahua block. "Traditionally, dalits are not Hindus. We are indigenous people who worship nature. Our community was systematically made Hindus and fed with hatred against India's minorities by convincing them that Hindus are at risk," he said.      
Bharti intervened and said legendary people such as Saint Ravidas, Kabir Das (mystic poets and saints of the Bhakti Movement), Savitribai Phule (social reformer, educationalist and poet from Maharashtra), Chhatrapati Shivaji Maharaj (a ruler and a member of the Bhonsle Maratha clan), Sahuji Maharaj (fifth ruler of the Maratha empire who was associated with many progressive policies during his rule), etc. fought for dalit causes and made attempts to bring them into mainstream society.
Based on conversations with dalit villagers who fight daily for their survival, their educated lot and intellectuals, it emerged beyond doubt that this solid support base of the BJP has eroded, and the community votes are set to split between BSP, SP.
Observers said that if this happens, it will favour SP and be a cause of concern for the saffron party, which had registered a thumping victory in 2017 due to the solid consolidation of dalit and OBC votes in its favour.
TALES OF DISCRIMINATION
"Hum sadiyon se sataye hue log hain (we have been persecuted for centuries)," said Suganti, describing the discrimination the community faces every day.
"We are not allowed to enter houses of upper caste people and touch their utensils as we are considered ashubh (impure). Since we are untouchables, we are given food and grains from a distance as if we are not human beings. Isn't it funny that the same people employ us for sowing and harvesting crops because we are cheap labour? They don't hesitate to consume the foodgrains we touch in the fields," she said.
Leela said untouchability hurts them. "Khoon ek, sharir ek, phir yeh bhedbhaw kyon (When there is no difference in the blood flows in their body and ours, then why is this discrimination)?" she asked.
"They level of hatred can be gauged with the fact: if a dog licks their utensils, it is used after washing. But if we touch it, they will never use it again," she said, asking if they are worse than animals.
Meera Vanvasi, a resident of Raitara Musahar Basti in Pindra village of Varanasi's Pindra tehsil (sub-district), gave birth to 11 children. Seven of them died soon after birth because of malnutrition.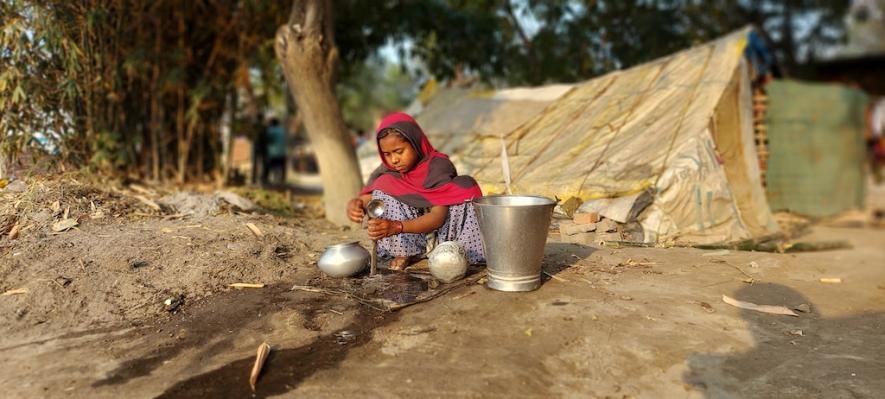 She alleged that she was mistreated by health officials who abused and humiliated her whenever she went to local health centres. But she never resisted because of her circumstance.
The humiliation broke her trust in government health officials to the extent that she never went to the public health centre again. She delivered her babies at home and got treatment of her children done by quacks.
Uttar Pradesh has around 2.6 lakh musahars. Ninety-seven per cent of them live in villages in abject poverty. While 51% of people belonging to the SC community are literate, the literacy rate of musahars stands at 19%.
The Scheduled Caste (SC) has 60.3% of the working population as primary workers, musahars share 44.1% of the same. Against 39.7% marginal farmers of the total working population of the SC, musahars are 55.9%.
Among SCs, 37.9%of main workers and 60.8% of marginal workers are agricultural labourers. For musahars, it is 52.1% of primary workers and 61.3% of marginal ones.
Get the latest reports & analysis with people's perspective on Protests, movements & deep analytical videos, discussions of the current affairs in your Telegram app. Subscribe to NewsClick's Telegram channel & get Real-Time updates on stories, as they get published on our website.
Subscribe Newsclick On Telegram