UP Elections: How 'Double Engine' Messed up Central Schemes in UP
Even in the pandemic years, Yogi Adityanath's government couldn't fully implement key Central schemes.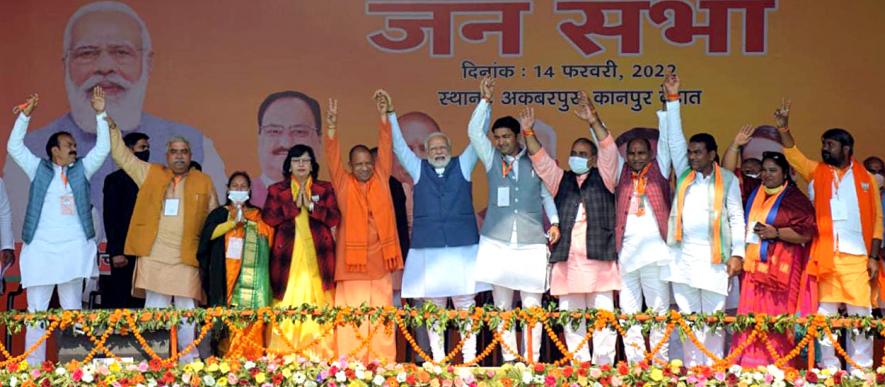 Kanpur Dehat, Feb 14: Prime Minister Narendra Modi with Uttar Pradesh Chief Minister Yogi Adityanath and others at a public meeting, in Kanpur Dehat district of Uttar Pradesh on Monday. (ANI Photo)
Prime Minister Narendra Modi and his party leaders, including Uttar Pradesh chief minister Yogi Adityanath, are repeatedly talking about how people in the poll-bound state benefitted from several Central schemes, especially during the pandemic. However, a review of the implementation of some of these schemes in Uttar Pradesh under the Yogi government belies this assertion. Even in the pandemic years, when the need of the people was greater, these schemes floundered under the so-called 'double engine' government in the state.
Refusal of Work in Rural Jobs Guarantee Scheme (MGNREGS)
This is a life-saving scheme that provides a few weeks of work at a stipulated daily wage rate for the unemployed in rural areas. Analysis of official data, shows that each year of Yogi's rule saw lakhs of persons being turned away from work under the scheme, although it is obligatory to provide work on demand. [See chat below]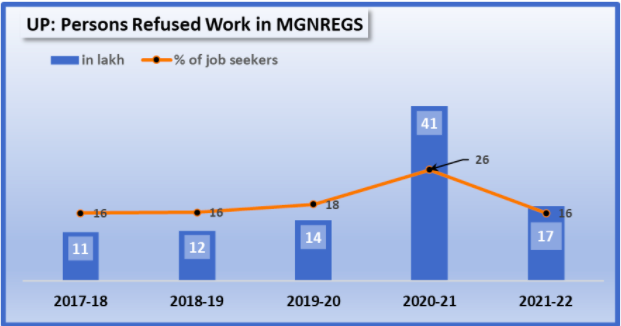 The first pandemic year (2020-21) saw a huge spike in the number of persons demanding work (1.57 crore) but only 1.1 crore persons actually got work, with the remaining 41 lakh persons turned back. This was about a quarter of all those who wanted work. Remember that 2020 saw a full lockdown in April-May followed by restrictions for another few months. The need for support was desperate and universal. Yet, the 'double engine' government of UP could not handle the crisis. 
Part of the blame rests with one engine – the Central government – because they, as usual, were tight-fisted in allocating funds. But part of the blame also rests with the second junior engine, Yogi's government, for they didn't demand more (at least in public knowledge) nor did they make other arrangements to tide over the intense crisis.
Under-Utilisation of Free Foodgrain Scheme
The Central government launched a scheme to provide free food grain (5 kg per person) to all ration card holders so that they may survive the lockdowns and lack of jobs. The scheme – called Prime Minister Garib Kalyan Anna Yojana – was later extended till March 2021-22. 
As the chart below shows (data from Food Grain Bulletin for December 2021, Department of Food and Public Distribution) a total of 68 lakh tonnes of rice and 71 lakh tonnes of wheat was been allocated to UP between the five phases of PMGKAY spanning May 2020 to March 2022. However, offtake has been only 47 lakh tonnes of rice and 60 lakh tonnes of wheat.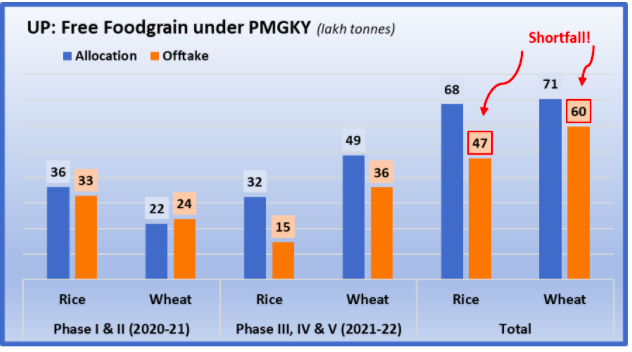 That means that about 21 lakh tonnes of rice and 11 lakh tonnes of wheat were not lifted for distribution till December 2021. As the chart shows, the gap has arisen mainly in the second year, that is 2021-22 which saw the deadly second wave when corpses were seen floating down the river Ganga.
It is rather worrying that the 'double engine' government could not provide some succour to hapless people through this unprecedented crisis. In fact, there is a suspicion that foodgrain may have been held back so that it could be distributed in the last quarter of the year because Assembly elections were due. If this is the case then it would be nothing short of a callous strategy, especially because food items were reportedly being distributed in packets with photos of PM Modi and CM Yogi.
Houses for Poor
Providing housing to poor families has been another favourite theme of PM Modi and the ruling Bharatiya Janata Party or BJP. Data for the Pradhan Mantri Awas Yojana Gramin (PMAY-G) under which such houses are provided (available at the official portal) shows that the Yogi government started with a bang, building over eight lakh houses in its first year, 2017-18. After that, the annual numbers for completed houses went downhill till in 2020-21, only 37,711 (or 0.38 lakh) houses were built. [See chart below]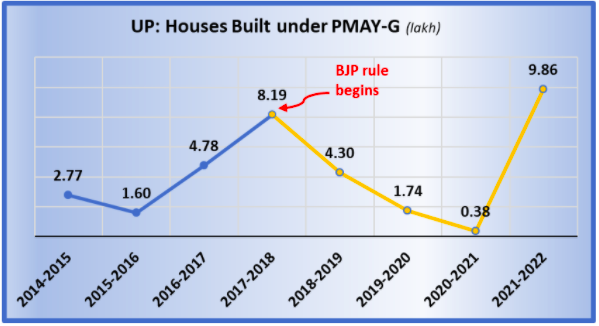 Then, in the last year of his term, and facing a tough election, Yogi's government again went into a frenzy of house building, reportedly completing 9.86 lakh houses. Yet again this seems like a display of callousness that people will become happy if they get the house and hence vote for BJP. However, it speaks poorly of concern for the poor and efficiency that BJP constantly claims to be their virtue – "Soch Imandar, Kaam Damdar" (honest thinking, effective work) being their key electoral slogan.
Cooking Gas for Poor?
Under the Pradhan Mantri Ujjwala Yojana (PMUY), free cooking gas connections and subsidised refills were to be provided to poor families. The subsidy on LPG cylinders was withdrawn from June 2020 and since then gas cylinder prices have zoomed. Under PMGKAY, the Central government also announced that free refills would be given for three months in 2020, to tide over the pandemic crisis. 
As per a reply (No.1891) given by the minister of petroleum and natural gas in the Rajya Sabha on March 10, 2021, UP had 1.47 crore connections under PMUY. According to another reply (No.1246) by the minister given on September 21, 2020, the oil marketing companies that sell cooking gas cylinders in retail had given 1.41 crore cylinders as refills in 2019-20 and 2.30 crore refills in 2020-21 (till August 2020) in UP. This means that the number of refills in 2019-20 was about 0.95 cylinder per beneficiary and in 2020-21 it was 1.6 cylinder per beneficiary.
Clearly, taking one or two cylinders in a whole year shows that the scheme is not working, primarily because gas cylinder prices are now too high after withdrawal of subsidy. The minister told Rajya Sabha that the country-wide average refill in 2019-20 was 3.01 cylinders per PMUY beneficiary. 
UP, led by the 'double engine' government is way behind the country average. The minister candidly admitted that "adoption and use of LPG on sustained basis by a PMUY beneficiary household depends on several factors which inter-alia include food habits, size of household, cooking habits, price of LPG, easy availability of free firewood and cow dung etc."
What these examples of implementation of Central schemes in UP show is that the 'dynamic' government of Yogi Adityanath is in fact a laggard even in implementing the Modi government's own schemes. 
This is happening because of lacunae and weaknesses in the schemes itself (like inadequate funding of MGNREGS or withdrawal of subsidy in Ujjwala) and also because of inability to properly implement the scheme in the state. In short, both engines are running out of steam, and hence the hype about people who benefitted from such schemes forming a solid vote bank of BJP is exaggerated
Get the latest reports & analysis with people's perspective on Protests, movements & deep analytical videos, discussions of the current affairs in your Telegram app. Subscribe to NewsClick's Telegram channel & get Real-Time updates on stories, as they get published on our website.
Subscribe Newsclick On Telegram