UP Elections: Never Ending Saga of Farmer Suicides in Bundelkhand
Loans via Kisan Credit Cards, with compound interest rates, are said to be a big reason for mounting debts at a time when crop failures or damage are leading to losses.


Banda/Chitrakoot: Ragini, 12, literally starts shivering, and her voice gets choked as she describes how she spotted her father hanging from the roof as she woke up on the fateful morning of December 29, 2021.
Her father, 38-year-old Ramroop Yadav, was a farmer belonging to Khaptiha Kalan, Tindwari block in Banda district of Uttar Pradesh. He was upset after his masoor (pink lentil) crop grown on one acre of land was completely destroyed by a stem rot disease. 
Yadav had taken a Rs 46,000 loan from Pailani branch of Aryavart Bank. With the crop loss, he was not in a position to repay the loan. Instead of facing repeated reminders and harassment by the bank, he preferred to end his life, as he had no other source of income.
Unaware of the trauma her father was going through, Ragini, along with her three brothers and one sister, was sleeping beside her parents. Little did she know that she would be the first one to open her eyes and see her father hanging.
The sound of screaming and crying drew neighbours and the members of Ragini's extended family to her home. "I cannot describe what I saw and what I felt that moment. All can say is that the incident turned our lives upside down. Who will sustain us now? Who will grow the crops? How will the family needs be addressed?" she said. Ragini's mother, in her early 30s, is now a widow.
Yadav, a marginal farmer, had taken the loan from the bank through the Kisan Credit Card (KCC) at an interest rate of 7.5% if returned in six months from the date of borrowing. If the amount is repaid to the bank in one year, the interest rate rises to 12%. After one year, it increases to 18%. This way, the compound interest keeps mounting.
Local said Ramroop Yadav had attempted suicide earlier as well on four occasions. "We spotted him, attempting the extreme step and saved him on time. He was under severe depression because of the crop loss and bank loan. He did not have enough foodgrains at home to feed his family. Everything was depending on the money he had expected from the yield. The rotting of the crop shattered him," his uncle, Ghasita Yadav, told NewsClick.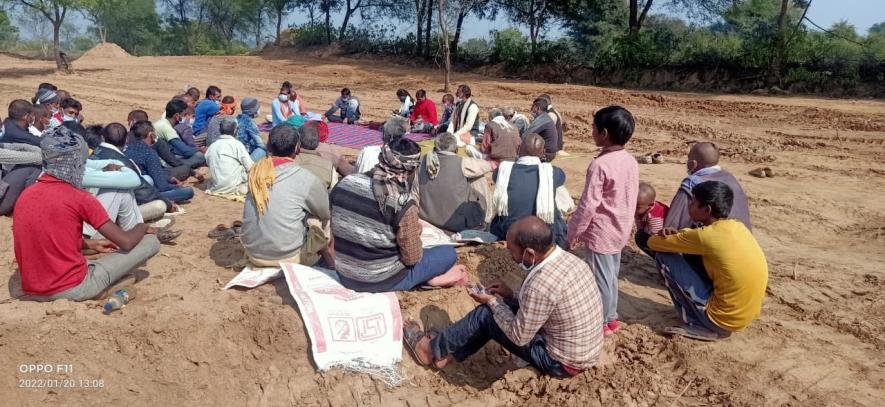 The family lives in abject poverty. Surprisingly, the loan amount has not been waived after his demise. His family has inherited it by default.
In a similar sad story, Santosh Singh, 65, a resident of Mungaura village at Mahuva block in Banda district, was under debt burden of Rs 2.5 lakh that he had borrowed from bank and relatives. He was hoping to return the sum with the money he was expecting from selling his wheat produce but excessive rain in 2021 end and in the beginning of this year destroyed almost the entire crop standing on his total 2 acres of land.
Unable to come to the terms with this, Singh reportedly hanged himself from a tree at a distance of 1.5 kilometers from his home on January 23.
A passerby known to him spotted his body hanging from a tree and informed his family. "My father had taken a loan of Rs 2 lakh from the Naraiani branch of Allahabad Bank. He had borrowed the rest Rs 50,000 from our relatives. He was unde huge pressure. After the crop got destroyed by incessant rain, he was shattered," said Nilesh Singh.
These are not just two isolated cases of farmer suicides in the Bundelkhand region, which is most deprived and economically backward region in the state and is known for peasant suicides because of loans and economic distress.
Such stories of rural distress are strewn across central India's Bundelkhand region, where peasants are fighting with their backs to the wall after drought, hailstorm, and now an unusually warm winter has played havoc with crop yields.
Many farmers have similar horror stories. Somti Sonkar said his brother Nirpat Sonkar was pushed to the brink by loan sharks and agents.
"The bank was threatening to auction his land if he failed to repay the loan. He was helpless and had no other avenue for repaying the borrowed sum, so he chose to end his life," said his brother, adding that many suicides in his district (Chitrakoot) could have been avoided had banks and lending institutions not pressured the farmers.
In fact, to repay loans, many farmers in Banda, Chitrakoot and Mahoba districts have sold their land and become labourers. Sumdhi, a 46-year old farmer in Manikpur block, has 3 acres and had taken a loan of Rs 35,000. "I hardly have anything to repay. There are 10 members in my family. I have to feed them. What do I do if I don't sell my land?" he said.
4.30 Lakh Farmers Under Debt Burden of Rs 2,841 Crore
The seven districts of Bundelkhand are drought-ravaged and top the list of farmer suicides in the state because of faulty government policies, pressure from banks and agriculture fast turning into a loss-making business. Unfortunately, these problems are neither being addressed by any political party nor are on these on election agenda of any.
Most farmers in Banda, Chitrakoot, Hamirpur and Mahoba districts are already indebted. A study has estimated that in 2021-22, a total of 4,29,991 peasants belonging to Banda, Chitrakoot, Hamirpur and Mahoba districts of the Chitrakoot division borrowed over Rs 2,841.98 crore from KCC.
In the previous year (2020-21), a total of 2,16,986 farmers from the four districts borrowed Rs 1,67,915 lakh. These huge loans are just 45% pof the banks' total target.
Records indicate that 92,769 farmers from Banda had taken a loan of Rs 73,439 lakh in 2021-22. A total of 48,329 peasants belonging to Mahoba had together borrowed Rs 15,912.50 lakh. In Hamirpur, Rs 11,166 lakh was borrowed by 4,122 farmers. This number was at Rs 15,766 lakh in Chitrakoot where 30,885 farmers had together borrowed the sum through their KCCs.
According to agri watchers, with an aim to meet targets, government-run lenders have issued a high number of KCCs, which have left cash-strapped farmers indebted.
Sixty percent of farmers in the region are unable to repay loans because agriculture has been in crisis, facing nature's wrath for several decades now.
At least 3, 500 farmers have reportedly committed suicide in the past three decades in the region. The common thread being-- a huge burden of bank loans.
Bank officials claim only 20-25% farmers return the borrowed sum.
"Around 60% of the total farmers who take loans from banks don't pay it back. Ten to 15% farmers have been declared defaulters," said Rajiv Anand, an official associated with Agrani Bank.
Prem Singh, an agriculture expert in Bundelkhand, said: "Economic crisis is a major cause for farmers to end their lives not only in Bundelkhand but across the country. Second, they do not have any platform using which they express to the government what they are going through. Everyone express their sympathy for them but their actual sufferings are not talked about even in Parliament. Whatever being done in the name of relief is just namesake."
A disease can be cured properly only when it is diagnosed and the reasons causing it are known, Singh told NewsClick, adding that merely coming up with new schemes in the name of farmers' welfare will not work till the social, economic and political circumstances that force them to commit suicide are studied properly and acted upon. The government needs to examine what has happened in this land, once known as the food bowl of Bundelkhand.
"Post-Independence, 82-85% of the total population used to be peasants. But today this has gone down below 50%. This means those who were farmers earlier are now labourers. Why is this never discussed? Second, people don't want to marry their daughters with a farmers' son no matter how rich. Third, our education system considers growers as illiterate and uncivilised. Also, the KCCs are making farmers more indebted as compound interest is levied on the borrowed sum. These social, economic and political reasons need to be look into if the government really wants to do something good for the peasantry," he concluded.
On July 15, 2011, the Allahabad High Court had directed the UP government, nationalised and private banks, cooperative banks, financial institutions and Khadi Gramudyog Development Board not take any extreme step to recover outstanding farm loans from farmers in the Bundelkhand area, but government-run lenders continue to do so.
The State Bank of India and Allahabad Bank have challenged the high court's order in Supreme Court where the matter is still pending.
Meanwhile, the All India Kisan Union had applied to banks under the Right to Information (RTI) Act for getting details of recoveries made since the high court's order barring them from doing so. But they were provided data from only one district.
Get the latest reports & analysis with people's perspective on Protests, movements & deep analytical videos, discussions of the current affairs in your Telegram app. Subscribe to NewsClick's Telegram channel & get Real-Time updates on stories, as they get published on our website.
Subscribe Newsclick On Telegram