UP Elections: Parched Mirzapur Hung out to dry by Politicians
None of the political parties have uttered a word on the perennial water crisis in the district during campaigning.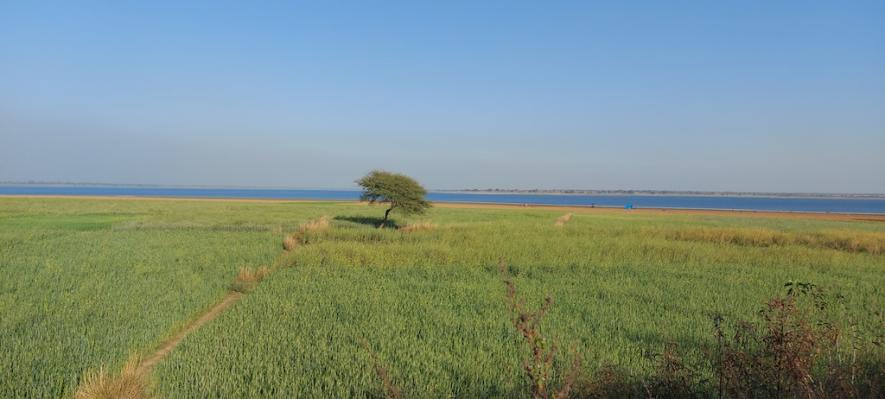 Mirzapur: The crime web series Mirzapur thrust one of the largest districts of Uttar Pradesh (UP) famous for its carpet and brassware industries into the spotlight. The district is also infamous due to its perennial water deficiency despite a beautiful landscape, hilly areas, spectacular waterfalls, shining red soil and lush green terai. 
With an annual rainfall of only around 978 mm as against the national average of 119 cm, the rivers and reservoirs in the region somehow manage to survive annually due to the dead stock, pushing the district and surrounding regions of Sonbhadra and Chandauli to a severe water crisis.
Interestingly, the crisis is not any political party's election agenda with the region going to polls on March 7, the final phase of the Assembly elections.
The district supplies water to farmers from its four reservoirs—Sirsi Dam, on Bakhar River (storage capacity = 2,06,550 cubic meters); Meja Dam, on Melon River (3,02,810 cubic meters); Ahraura Dam, on Garai River (58,300 cubic metres); Jargo Dam, on Jargo River (1,42,920 cubic metres) and Dhekwa Dam, on Pahati River (6,020 cubic meters).
A major portion of the water from the Sirsi Dam is diverted to Prayagraj (formerly Allahabad) for irrigation and household uses. The rest is supplied to locals through a chain of canals. Areas close to the lakes find it easier to draw water but farmlands located far are find it very difficult to get enough water for irrigation. The farmers draw irrigation water directly from lakes through generator sets, which draw it from canals. Since the price of diesel is pretty high, farmers say they can only afford to irrigate the land twice, impacting the yield. Due to the lack of sufficient water, the maximum wheat production on one bigha (1.61 acres) varies between six and seven quintals against the expected 10-12 quintals. 
"The soil here is less moist and absorbs a large amount of water. One crop needs to be irrigated, at least, four times—but due to the lack of abundant water, we manage to only irrigate the land thrice in one cropping season," Surya Prasad Kol, a native of Sarsawa Village, in Marihan Assembly segment, tells Newsclick. Pointing towards a heap of harvested mustard, he says the entire crop dried up because of water shortage. "It was a huge loss," adds Kol, who owns 1.5 bigha of his total ancestral land divided among the two brothers.
Groundwater, which has depleted alarmingly due to less rain, isn't accessible to a majority of farmers because they cannot afford deep boring. "Groundwater will be accessible only if the drilling is, at least, 350 feet, which will cost around Rs 1.5-Rs 2 lakh. How can we afford such a high investment?" asks Kol's fellow villager Shankar Kol.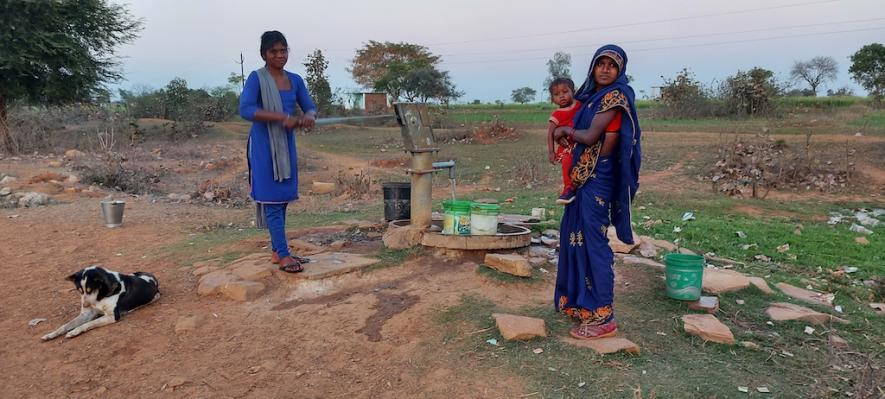 Chinta Kol, from Kakrad village, in Marihan Tehsil's Patehra block, who returned during the lockdown as a preventive measure against the pandemic in India, wonders why such an important issue is not an election agenda. "No matter how much the parties avoid talking about issues of general concern, we will vote keeping water shortage, unemployment, rising poverty and skyrocketing prices in mind. We cannot afford to get distracted from real issues," he says.
Around 90% of Mirzapur villagers depend on farming, and 70% of them are agricultural labourers, who are trapped in a vicious cycle of debt. Once owners of agricultural land, they had taken loans using the Kisan Credit Card (KCC) to grow crops. When the crops failed, they borrowed more money to repay the earlier loans and grow the next crop. Finally, they had to sell their land to pay back the borrowed sum. 
Explaining the shortage of water, Pawan Kumar, head of Kakrad village, says the crisis remains the primary concern despite the presence of so many reservoirs. "We have water but never get it. It is supplied to Prayagraj. We depend on borewells, as deep as 600 feet and connected to handpumps, for drinking water. But the arrangement has failed because of the rising population," he tells Newsclick. 
Had the water not been diverted, Kumar points out, "it would have recharged the groundwater level". The crisis, he says, is forcing villagers to engage in illegal sources of earning. "Unable to sustain their families, poor people in the region started manufacturing illicit liquor. Local liquor is made in almost every third house in the tribal areas, producing more addicts," he added.   
The Centre has launched a rural drinking water project under the Har Ghar Nal Yojana, which is part of the Jal Jeevan Mission, run by the ministry of Jal Shakti. It was rolled out by Prime Minister Narendra Modi on November 22, 2020, through videoconferencing. The project aims to supply clean and safe drinking water to every household in Mirzapur and Sonbhadra districts with a capital expenditure of Rs 5,544 crore. 
Dam water will be purified, treated and finally supplied to 1,606 villages in Mirzapur and 1,389 villages in Sonbhadra. A 784-km pipeline will be laid in Mirzapur simultaneously with the construction of 48 clear water reservoirs to store the clean drinking water. Subsequently, it will be supplied to the households with the help of 5,672 proposed distribution points. In addition, 58 raw water treatment plants will be set up.
But the mega project has failed to impress the farmers, who think it will further increase the irrigation water shortage.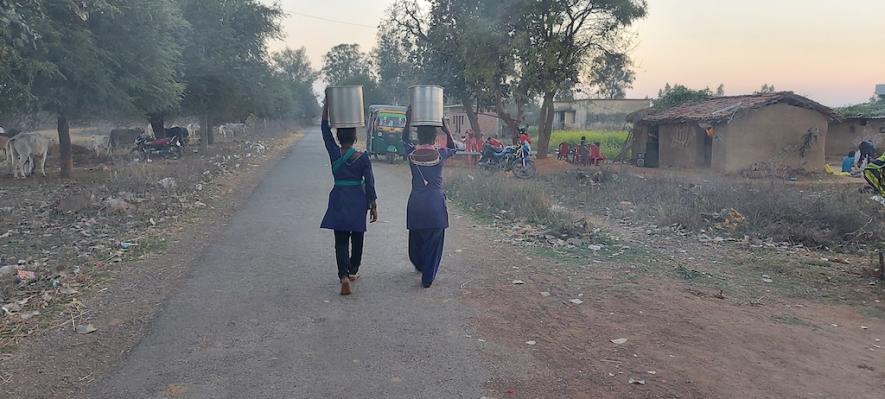 The dam water meant for irrigation will now be used for drinking water, the farmers say adding that the government and the bureaucracy perhaps forgot that they depend on the dam for irrigation. The project will turn the lakes, the only source of irrigation here, dry, they say.
None of the ruling Bharatiya Janata Party and the opposition alliance-headed Samajwadi Party leaders frequenting the district have uttered a word on the water crisis.
POLITICS OF MIRZAPUR
Roughly 650 km from Delhi in the eastern region of the state, Mirzapur has been politically vibrant. From Congress's John N Wilson to Anupriya Patel of Apna Dal (Sonelal), it has elected parliamentarians belonging to different political parties from the first Lok Sabha Elections in 1952 to the last in 2019.
The district has five Assembly constituencies—Marihan, Chunar, Majhawan, Mirzapur and Chhanbey (which is reserved for Scheduled Castes, or SCs). Out of its total population of 28,17,360 in December 2020, as per Aadhaar data, 13,99,680 people (6,22,307 males and 5,55,010 females) are voters. 
As per the 2011 Census, the district has a population of 24,96,970, out of which 1,312,302 are males while 1,184,668 are females. The Hindus number 22,92,534 (91.81%) while Muslims 1,95,765 (7.84%). SCs are 26.5% (6,61,129) of the population while the Schedule Tribes form 0.81% (20,132) of the total count.
Get the latest reports & analysis with people's perspective on Protests, movements & deep analytical videos, discussions of the current affairs in your Telegram app. Subscribe to NewsClick's Telegram channel & get Real-Time updates on stories, as they get published on our website.
Subscribe Newsclick On Telegram