UP Elections: Without Any Help from Govt, Covid Widows Struggle to Make Ends Meet
Thousands of families across the state stand no chance of getting the compensation simply because people did not have access to healthcare and hence, can not produce "evidence" of death due to COVID-19 infection.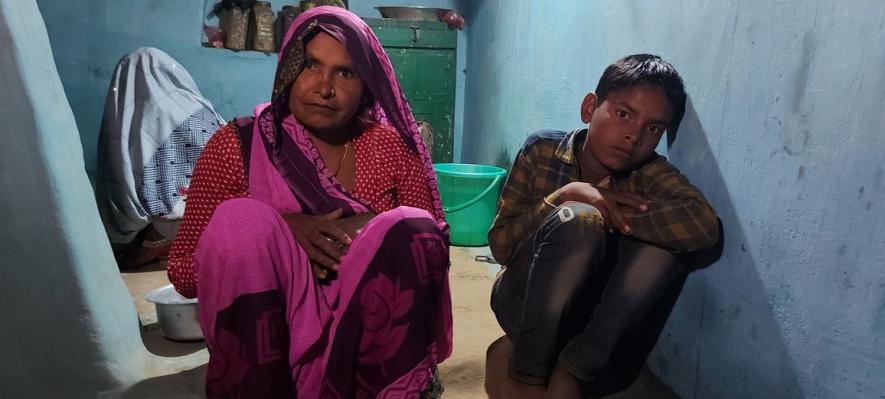 New Delhi/Banda (Uttar Pradesh): She attempts to speak, but her voice chokes. Taking a deep breath, she tries again, but fails. She avoids eye contact to hide the tears rolling down her face. Unable to control emotions for long, she finally breaks down. Kusum Kali, 30, has been bravely fighting circumstances since the death of her husband — Shyam Lal, 35. But sometimes, his memory overwhelms her.
A resident of Raj Nagar, Atarra, in Uttar Pradesh's Banda district, Lal was a daily wage labourer who used to earn Rs 1,000-1,200 every day. He started showing symptoms of Covid-19 in the last week of May 2021. 
"After attending a wedding ceremony, he fell ill. He had had a cough and cold for a few days. As the second wave of the Covid-19 pandemic was raging, a local MBBS doctor whom he had consulted asked him to undergo a test for the virus, which he must have contracted from someone in the family gathering," said Kali.
As advised, he went to the government hospital the next day to get the test done. "Except the cough and cold, he had no other problem. While on the way, he began complaining of difficulty in breathing. When we reached the hospital, he was gasping for air. But the hospital did not have oxygen. He died in the next few hours on May 31, 2021," she recalled.
Though his death certificate does not categorically say that he died of Covid-19, the circumstances surrounding his death lead to no other conclusion.
He is survived by his wife, three daughters as young as 10 and one son who is 14. The family did not get an ex gratia payment of Rs 50,000, as announced in October last year by the state government for those who died of Covid-19. The announcement was made by the government following a directive of the Supreme Court to provide financial assistance to such families.
Kali needed to claim the compensation by furnishing a death certificate, stating that Covid-19 caused the death, in a prescribed format. The death, according to the rules for claiming the money, should have occurred within 30 days of testing positive for the disease. The canvass was later broadened and kin of the patients–who were in a hospital for 30 days but died after being discharged–were later allowed to seek the amount. And if the death certificate did not mention Covid as the cause, an RT-PCR or rapid antigen test or investigations that proved the infection would be sufficient.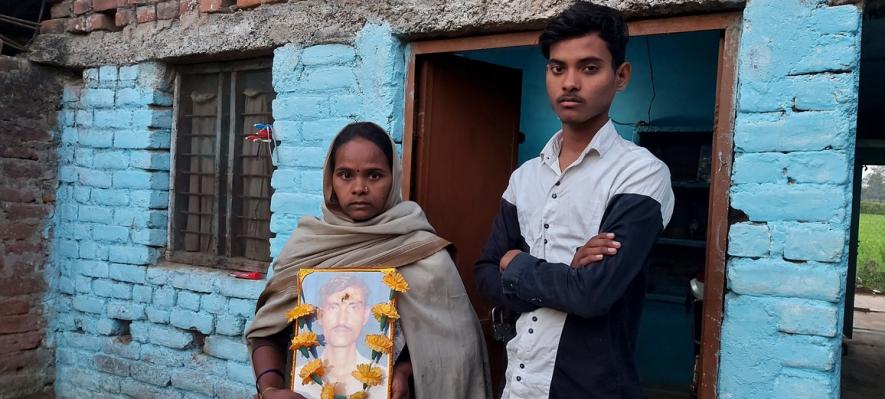 But these guidelines are not going to help Kali. She cannot file the claim without a positive investigation result, proof of hospital admission or a death certificate — confirming Covid-19.
The second wave of Covid-19 wreaked havoc across the country from April to July last year. It was deadlier than its first wave, which began from March 2020. Of 32 lakh Covid deaths between June 2020 and July 2021, an estimate suggests, 27 lakh occurred in April-July 2021. India's cumulative COVID deaths by September 2021, according to the study, were six to seven times higher than reported officially.
It analysed that there was "substantial under-reporting of deaths in India's official numbers". While undercounting has been reported across the country, the analysis pointed out, it has been noticeably significant in Uttar Pradesh where the death count in 24 of its 75 districts was 43 times higher than the official Covid-19 death toll (4,537 by the end of March 2021).  
However, the government denies it. Even as on February 12, 2022, the death toll has reached 5,07,981.
Though the government has already issued guidelines, people like Kali, who need the compensation the most may miss out on it.
Following her husband's death, she is making all efforts to make ends meet. She now works as a construction labourer to get Rs 250 a day. But she does not get work every day. "On average, I don't get work for over 10 days a month. The wage is also very low and insufficient to sustain the family of five," she said.
Her eldest son studies in standard XI. The other three children also go to a local private school. "Jahan tak ho sakin, hum koshish kari hon, padhai hon (I will make all possible efforts to continue their education)," said the resolute woman who added that she would ensure all her children at least complete high school with flying colours.
Bhikam Prajapati alias Shrawan, 40, tested positive for Covid-19, but did not get admission in a government hospital. He was isolated at his home at Lalthok, Atarra, Banda, where he was provided with basic medicines and hygiene by the municipal corporation. He died after 15 days (March 28, 2021).
His widow, Gyana Devi, 35, too has not received any compensation so far despite having documents to prove that the death occurred following the Covid-19 infection. Shrawan, who worked as a daily wager, had been paralysed for one year after he met with an accident while carrying a heavy sack of food grain in the local mandi (market).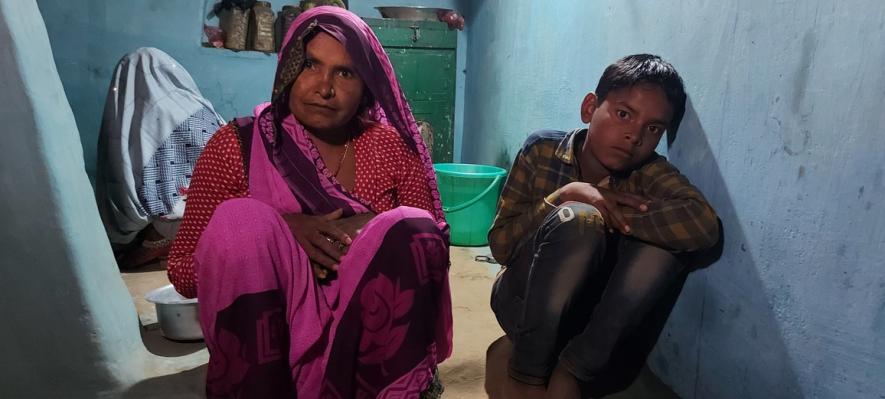 Devi now looks after the financial needs of the family of eight members. She sells vegetables to earn something between Rs 200-500 daily. Her eldest son, Shiv Mohan Prajapati, who too is a daily wager, helps his mother in procurement and transportation of the vegetables.
Her second son, Prashu Ram Prajapati, studies in standard X in a government school. In view of the miserable financial condition of the family, he too has to work sometimes as a construction labourer. 
The entire family had voted for the ruling Bharatiya Janata Party (BJP) in the Assembly elections in  2017 and parliamentary elections in 2014 and 2019. "We regret the decision as the government completely abandoned the poor and underprivileged people like us in the times of need," she alleged.
Her only daughter, 20-year-old Pushpa, had to drop out after finishing standard X. 
Jagdish Prasad Garg, 48, too, had all the symptoms (fever, cough and cold, and difficulty in breathing), but his family too cannot claim that he died of Covid-19 as he died gasping for air while being taken to the local government hospital.
A resident of Gargan Purwa at Atarra Gramin (rural) in Banda district, Garg went to local doctors after he began complaining of breathlessness. He was refused any medical support and referred to the government hospital in Atarra where he died even before admission. 
Without any supporting documents to prove that he died of Covid-19, his widow, 46-year-old Rama Devi, has also not received even a single penny from the government. 
The family has five members. Their two daughters are yet to be married. Her only son, who drives a school bus, has been sitting idle for the past two years since the closure of schools as part of the Covid-19 lockdown. Her only grandson has been suffering from a cardiac problem, which has consumed the family's savings and pushed it into a debt.
While the deceased used to earn something to take care of the daily needs from his small paan shop, his 27-year-old son Brijesh Garg was drawing a monthly salary of Rs 5,000. The family has one bigha (0.61 acre) of land.
"After his departure, my support system is lost. I feel very helpless now. When he was alive, I never struggled to make ends meet. The expenditure on the treatment of my only grandson, who is just two year old, has pushed us under a debt burden of Rs 3 lakh. The wheat crop on the small patch of land we own was destroyed by the incessant rain in December last year. There is no help from the government," said Rama Devi, narrating the plight of her family.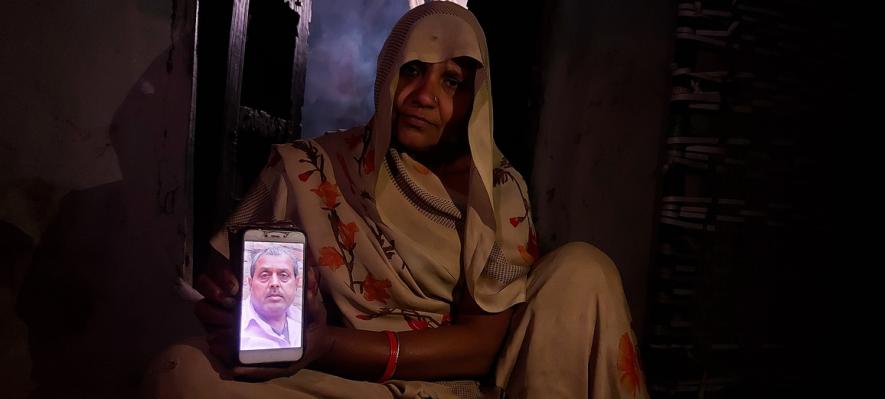 A highly-placed official in the state government told NewsClick that it is mandatory to produce required documents to get compensation from the government. "The government announced compensation only for those who died of Covid-19. Therefore, it is mandatory for claimants to prove the cause of death as people die because of other reasons as well," he said.
He claimed that testing was happening in the rural areas as well. However, there were reports of dearth of testing facilities in the hinterland of the state during the second Covid wave. The Allahabad High Court in May 2021 had rapped the Yogi government in the state for hiding facts about testing and treatment facilities and death toll.
Thousands of families across the state stand no chance of getting the compensation simply because people did not have access to healthcare. Clearly, all deaths are equal. But some are more equal than the others.
An Oxfam International report titled Inequality Kills dated January 2022 suggests 84 percent of households in India witnessed a sharp fall in their income in the beginning of the pandemic. The country's middle class — according to a report prepared by US-based Pew Research Center — shrunk by around 3.2 crore in 2020, while the number of poor people with a daily income of US$2 or less was estimated to have increased by 7.5 crore.
Get the latest reports & analysis with people's perspective on Protests, movements & deep analytical videos, discussions of the current affairs in your Telegram app. Subscribe to NewsClick's Telegram channel & get Real-Time updates on stories, as they get published on our website.
Subscribe Newsclick On Telegram