Electoral Calculus Centering Around Western UP Shaping up Politics of UP and India
Looking at the political significance of western UP as the first phase of polling draws closer in the state.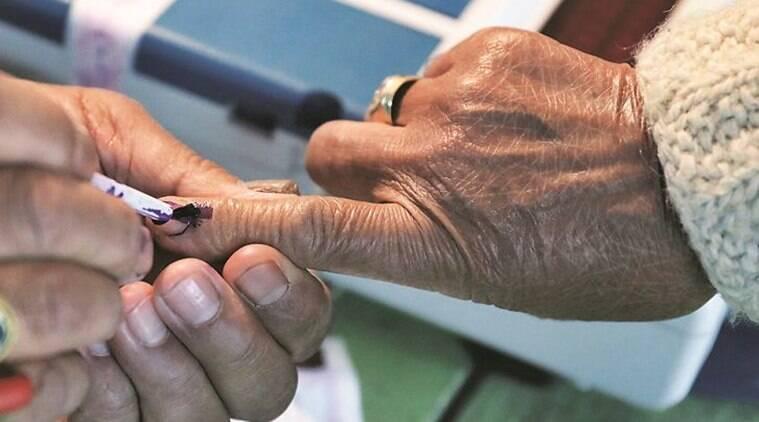 Image Courtesy: The Indian Express
Home Minister of India and one of the top-ranking leaders of BJP, Amit Shah, had said in the recent past that BJP's victory in 2022 Assembly elections for UP would ensure the continuance of Yogi as Chief Minister and pave the way for Modi to become Prime Minister again in 2024. Shah's statement underlines the significance of UP elections for the state, BJP, and the whole country.
The statewide election campaign in UP by different political parties has merited serious analysis and comment to fathom its impact in shaping national politics.
POLITICAL SIGNIFICANCE OF WESTERN UP
The first phase of the elections being held on February 10, 2022, in the western UP assumes critical significance for the state as well as India because historically, the political party winning most of the Assembly seats in western UP forms the government in the state and also secures most of the seats for the Lok Sabha.
For multiple reasons, the western UP has always been very significant politically and otherwise: It is a relatively prosperous region compared to other regions of the State; due to the impact of the green revolution there was growth and expansion of agriculture and the emergence of rich peasants; it is the hotbed of Kisan politics and some of the top leaders of farmers' movement of India hail from this region; sizeable Muslim population is the distinguishing aspect its demography; except in 2013-14 the Jat and Muslim farmers have lived in amity and their unity has always been a defining feature of the region; the presence of Dalit and the tribal population is much less compared to other parts of UP.
Out of 130 Assembly seats in the western UP, BJP won 104 seats in the 2017 elections and had formed the government with Yogi Adityanath as Chief Minister by winning 312 out of 403 seats. Earlier in 1991 BJP got 221 seats, got a majority for the first time on its own and formed government under the Chief Ministership of Kalyan Singh. It was possible only after the party could register a victory in the maximum number of seats in western UP. BJP's majority strength in the 1991 Assembly elections was attributed to farmer leader Mahendra Tikait who, on the request of Kalyan Singh, for securing votes of farmers, issued an appeal to them to vote in the name of Ram. At that time, the massive campaign of LK Advani and BJP for construction of Ram temple in place of Babri Mosque had become a big issue, and so Jats interpreted Tikait's appeal to vote in the name of Ram as an appeal to cast their votes for BJP.
In contrast, in the 2012 Assembly elections, BJP had won only 19 seats in western UP while the Samajwadi Party got a majority in the State and formed the government after getting a significant chunk of seats in that region.
RSS IDEOLOGUE GOLKWALKAR ON WESTERN UP
There was polarisation following the Hindu-Muslim riots in 2013. BJP reaped huge electoral dividends in the 2014 general elections by winning 71 out of 80 parliamentary seats. There was not a single Muslim candidate in its list of the victorious candidates. Divisive politics separating Muslim and Jat farmers in the western UP also resulted in notable victory for BJP in the 2017 Assembly elections.
It is instructive to note that western UP has always been on the radar of RSS, which is the ideological mentor of BJP. For instance, MS Golwalkar, in his Bunch of Thoughts referred to western UP and described it as a "powerful Muslim pocket."
He wrote that an "...explosive situation similar to that of 1946-47 is fast brewing and there is no knowing when it will blow up". Adding further he continued to reflect on western UP from the election perspective and wrote by employing his prejudices against Muslims: "Right from Delhi to Rampur and Lucknow, the Muslims are busy hatching a dangerous plot, piling up arms and mobilising their men and probably biding their time to strike from within when Pakistan decides upon an armed conflict with our country. And when they do strike, it is very likely that even Delhi may be rocked to its foundations unless we wake up in time to nip the mischief in the bud. Not that our leaders do not know it. The secret intelligence reports reach them all right. But it seems they have in view only elections. Elections mean vote-catching, which means appeasing certain sections of people having a solid block of votes. And the Muslims are one such solid block. Therein lies the root of all this appeasement and consequent disastrous effects."
The age-old unity of Jats and Muslim farmers belied that horrendous analysis of RSS leader, and in 2013 the communal riots tore them apart. BJP registered a massive electoral victory in subsequent years.
FARMERS' MOVEMENT DEALT A BLOW TO POLARISATION
Following the historic farmers' movement, stretching for a year against Modi government's three farm laws, Kisan leader Rakesh Tikait and others confessed that they succumbed to divisive politics and resolved to defeat hate and violence. "They talk of dividing" Tikait continued and added, "We speak of uniting. The hallmark of BJP politics is hate." In the Kisan Maha Panchayat organised in Muzaffarnagar of western UP, when Rakesh Tikait chanted Allah-Ho-Akbar all other participants recited Har Har Mahadev. Medha Patkar who was there on the dais, said, "Hindu-Muslim-Sikh-Isahi, hum sab hai behen-bhai." (Hindus, Muslims, Sikhs and Christians are brothers and sisters). Such solidarity cutting across religion spelt danger to the Hindutva plank of polarisation. Rakesh Tikait apologised to the Muslim farmers for the division they suffered in 2013.
The unity of Jat and Muslim farmers in the western UP following the farmers' movement almost put an end to the division they suffered due to 2013 communal violence. It was an aberration in the enduring fraternity of Jats and Muslim farmers who lived together shared so much in their collective lives and celebrated religious pluralism, which remains at the core of secularism, held by the Supreme Court as the basic structure of the Constitution. The resurgence of such unity of the Jat and Muslim farmers has diminished electoral prospects of BJP in western UP, where it got the Jat votes en masse in the 2017 Assembly elections. Now there is no Jat or Muslim votes but only the votes of the farmers of these two communities. They have bridged the gulf caused by polarisation. They are determined to teach BJP a lesson for enacting farm laws without consulting them and passing those in Parliament without discussion and that too based on a voice vote in the Rajya Sabha in complete disregard of demand of some Members of the House for actual voting.
KISANS VERSUS BJP
So now BJP is facing the wrath of the farmers as a whole and not just of Jats, Muslims and other backward classes, most of whom are engaged in agriculture for their livelihood. To break the unity of Muslim and Jat farmers and secure the votes of the Jats for BJP, Amit Shah appealed to the Jat leader of RLD, Jayant Choudhury, that he has gone astray joining Samajwadi Party and so should come back and join BJP.
Jayant's sharp reply that he is not like a twenty-five paise coin which can be tossed at will constituted a snub to the Home Minister. He also retorted that the Home Minister should first invite families of 750 farmers who died during the year-long movement of farmers against farm laws.
Apart from inviting Jayant Choudhury for getting the Jat votes, Amit Shah while commencing his campaign for BJP in western UP chose Kairana and raised the manufactured divisive narrative that Hindus left Kairana because of the threat posed by Muslims of the area. Such a narrative has already been debunked. He also appealed to people that they should not forget the communal riot of 2013. Such a campaign of the Home Minister by raising only issues that earlier divided Jats and Muslims demonstrated that the BJP does not want to highlight its so-called development agenda, which was part of its widespread ad campaign across India. By anchoring itself on polarising Hindutva agenda, it has proved the point it has no other issues to counter the campaign of its political opponents such as the Samajwadi Party and Congress, who only raise issues common to all communities.
LEGACY OF CHARAN SINGH ROOTED IN JAT-MUSLIM UNITY
Now there is growing realisation among both the Jats and Muslim farmers that they lost hugely on account of 2013 communal riots considered by them as an aberration. They firmly asserted that the riots disrupted their unity forged on shared values of their collective existence, always bringing them rich benefits and serving their common interests. Therefore, they are determined not to get trapped in any communal narrative of any political party to divide people and win their votes based on their faith and exclude those who are not part of that faith.
A farmer of the Jat community perceptively observed that Charan Singh, an outstanding Jat leader, would not have become the Prime Minister of India with just the votes of jats. He said that Jats, Muslims and people of other castes of western UP voted for him and based on their collective support, he could emerge as a prominent leader of national stature.
Such sensitive understanding of the political developments by both the Jat and Muslim farmers constitutes an effective counter to the communal narrative which has lost its steam after the year-long movement of farmers affirming secular values and religious pluralism in complete contrast to the polarised politics determining electoral outcomes in 2014 and 2019 general elections and 2017 Assembly election.
It is worth noting that during the last three or four years, Jats invited Muslims, who had fled the villages in the aftermath of riots, back to the villages where they resided together. During Panchayat elections, Jats chose Muslims as Pradhans, and their solidarity does not support BJP's politics based on majoritarianism which stands in sharp contrast to the Mahendra Singh Tikait and Charan Singh's political persuasion at the core, which remained the unity of Jats, Muslims and other castes.
AMIT SHAH'S PREPOSTEROUS CLAIM ON FIGHTING MUGHALS
Amit Shah's preposterous claim that the Jats and BJP have a shared history of fighting against the Mughals and, therefore, they should come together in electoral politics has been ridiculed by political analysts and commentators. They point fingers at the absurdity of Amit Shah's claim that BJP, formed almost four decades back, was fighting against Mughals who ruled India during the 16th and 17th centuries. They maintain that while Maratha and Rajput rulers fought against Mughals, Jats had no inimical relationship.
Amit Shah, instead of raising the issue of farmers belonging to Jat and Muslim communities and other castes, is talking of false historical narratives solely to secure the votes of Jats.
It is worth noting that none of the polarising narratives is impacting people who raise their fundamental issues cutting across faiths. They raise the issue of massive unemployment levels confronting youth, back-breaking price rise, stray cattle destroying crops of Hindus and Muslims alike and above all, lack of livelihood opportunities. They talk of the devastating second wave of COVID causing deaths of thousands of people and the Yogi government's inability to deal with the shortage of oxygen, drugs and hospital facilities. The anger and resentment against BJP is intense and widespread. It is demonstrated in the streets of several constituencies of western UP and other parts of the State where people are angrily asking BJP leaders to go back from their areas and shouting against them. Such push back by people, during election time, against leaders of a particular political party was never seen earlier in the electoral history of UP.
BJP has coined the term Labharthi, the beneficiaries, to refer to those who got free ration and a direct cash payment of Rs 6000 per annum to farmers and other doles. The benefits accruing to these Labharthis seem to be inadequate in the face of rising prices high cost of diesel, petrol and cooking gas cylinders. In UP, as in the rest of India, the high cost of diesel has adversely affected farmers. It is especially so in western UP, the citadel of farmers who use diesel to sustain their agricultural activities.
It is well known that western UP is the hotbed of Kisan politics, and it has witnessed massive farmers' movements determining the electoral fortunes of political regimes at the State and national level. It is said that the political fortunes of the Rajiv Gandhi government nose-dived after Mahendra Tikait led the massive farmers' movement enlisting the participation of almost a million cultivators. Only after Jat and Muslim farmers of the region were divided by employing divisive politics in 2013, the political fortunes of BJP soared, and it formed the government at the Centre and State. The year-long farmers' movement against farm laws enacted by the Modi regime witnessed a massive participation of Jat and Muslim farmers of the western UP, and it adversely affected the electoral prospects of the BJP. Therefore, Prime Minister Modi was forced to repeal the farm laws. It was a great victory for the farmers. However, the Modi government has not done anything on their other demands such as legal regime guaranteeing MSP for crops, repeal of electricity law and withdrawal of cases slapped against agitating farmers.
In the Union budget presented by Finance Minister Nirmala Sitaraman on February 2, there is no mention of the issues raised by the farmers and measures taken by the government of India to address them. Given this, the farmers feel that they have been betrayed by the Modi regime and so started observing Viswasghat Divas (Day of Betrayal) on January 31, 2022. They intend to carry it forward and appeal to people not to vote for BJP. Such developments would also have severe consequences for BJP in the forthcoming elections in UP. Massive anger of people against the Yogi regime has been combined with the unity of Jat and Muslim farmers in western UP and revival of social justice agenda by several prominent OBC leaders who have left BJP and joined the Samajwadi Party led by Akhilesh Yadav.
All such politically significant developments have the severe possibility of producing an unfavourable electoral outcome for the BJP. Eventually, the final results to be announced on March 10 would show which party has got the people's mandate. Whatever the outcome, it is clear that the party winning most of the seats in western UP will form the government in UP and determine the course of national politics.
The author was Officer on Special Duty and Press Secretary to President of India KR Narayanan. The views are personal.
Get the latest reports & analysis with people's perspective on Protests, movements & deep analytical videos, discussions of the current affairs in your Telegram app. Subscribe to NewsClick's Telegram channel & get Real-Time updates on stories, as they get published on our website.
Subscribe Newsclick On Telegram