Encephalitis Deaths: Bihar's Healthcare System in ICU
The state does not have even 5,000 government doctors, and seats in government medical colleges have not been increased for a long time. Here's a reality check.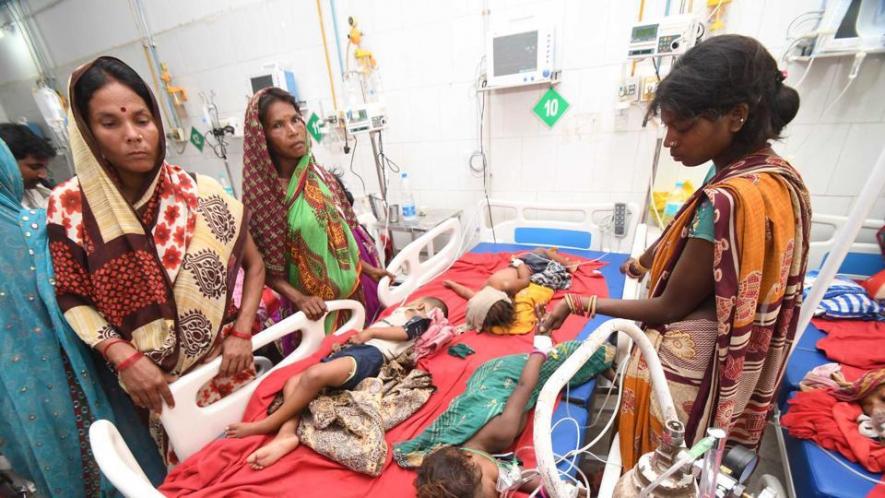 Image Courtesy: Hindustan Times
New Delhi: With the death of more children because of suspected Acute Encephalitis Syndrome (AES) at Sri Krishna Medical College and Hospital (SKMCH) in Bihar's Muzaffarpur, the toll has risen to 115 in the district and 132 across the state, according to official figures.
Such is the anger of the people, that SKMCH, the epicentre of the current AES outbreak, saw parents and kin of children admitted there chanting slogans like 'Nitish, Go Back', when the Bihar Chief Minister visited the hospital on June 18, for failing to control the situation.
It took two weeks and a mounting death toll for the Chief Minister to visit Muzaffarpur, which is just 70 km from Patna. It was only during his visit, as told to the media, that he was apprised of the shortage of doctors and poor sanitation in the hospital. However, few days before his visit, Union Health Minister Harsh Vardhan, Minister of State for Health Ashwini Kumar Choubey and Bihar's Health Minister Mangal Pandey had gone to SKMCH to take stock of the situation.
Why does it appear that the public healthcare system in the state has collapsed? Are doctors not working properly? Do they have proper infrastructure? What is the state's health budget? What purpose will such high-profile visits serve?
State-run SKMCH was built in 1970 in the name of Bihar's first chief minister. It was inaugurated by then Chief Minister Daroga Prasad Rai. After 49 years of its establishment, the medical college does not have post-graduate seats to produce doctors with specialisation in pediatrics. It does not even offer PG programme in gynaecology and surgery despite earlier assurances for the same.
After Nitish Kumar visited SKMCH, its principal told the media that the state health secretary had asked for a proposal to introduce courses of specialisation. Ironically, it has been 49 years since the medical college came into existence, but the need for a PG department in pediatrics and other courses was thought of only this year.
Many say this has been done with the aim to douse people's anger. Had there been even 10 PG seats in the pediatrics department, there would have been doctors to respond to the prevailing emergency in a better way, and the government could have avoided arranging for doctors from neighbouring districts.
Over 100 children have died in three different years each in the past seven years. Despite that, no separate AES ward has so far been set up here.
The Chief Minister paid a visit but did not address the media. A press release from his office was released and it was the state chief secretary who spoke to the media. He said SKMCH – which at present has 610 beds – will be upgraded into a hospital with 2,500 beds. An addition of 900 beds will be made in one year and the rest will be done in the following years.
He said the number of beds in the paediatric ICU – which currently has 50 beds – will be increased to 100. A big dharmashala (guest house) will be made for patients' attendants. He further said since late arrival of children in the hospital has been observed as one of the major reasons behind the fatalities, the government will give Rs 400 to parents' attendants as travel reimbursement.
Hollow Assurances?
To understand how executable the assurance of upgradation of SKMCH is, let's study the National Cancer Institute at Haryana's Jhajjar district. Its foundation stone was laid in January 2014 by then Prime Minister Manmohan Singh. The hospital was inaugurated by Prime Minister Narendra Modi in February this year.
The bhumi pujan (land worship ritual) was done by then Union Health Minister JP Nadda in 2015. The proposed hospital with 710 beds was slated to be completed in 2018. Despite the fact that the hospital was being constructed under the supervision of the Prime Minister's Office (PMO) and under the monitoring of Delhi's All India Institute of Medical Science (AIIMS), it had only 20 beds instead of the proposed 710 when the PM inaugurated it. This was the execution of a project, which was being supervised by the PMO and monitored by AIIMS.
When it took three years to make a 20-bed hospital operational, how will Nitish Kumar's government add 900 beds in SKMCH in just one year?
There is so far no word on the number of doctors required to run a hospital with 2,500 beds.
After visiting SKMCH in 2014 after the death of 139 children, then Union Minister Harsh Vardhan had said that the government would increase the number of MBBS seats from 100 to 250 but nothing has happened so far. In fact, the Medical Council of India (MCI) had decreased the number of seats to 50 because of poor infrastructure. This was increased to 100 in 2014, after the deaths.
Nitish Kumar was also chief minister in 2012 when 179 children died, and he was again chief minister in 2014, when 139 children died. A seven-year period was enough to equip the hospital with latest technologies and fulfill all the requirements.
Cracking Infrastructure
When the death toll began climbing, the number of ICUs was increased to four. Earlier, only one pediatric ICU was available in the hospital, which had 14 beds. After the number of ICUs were increased, the number of beds has now reached 40, which is still far insufficient. Given the conditions of these ICUs, where more than one child has been kept on each bed, it cannot no longer be called an 'intensive care' unit. It is, in fact, an air-conditioned general ward.
The Indian Society of Critical Care Medicine says a hospital with 100 beds should have an ICU with a capacity to accommodate 8-12 beds. One bed should have an area of 1.25-1.5 square feet. But in SKMCH, all the beds are close to each other. The partition between them is much below the prescribed limit. Entry to the ICU should be limited and there should only be one gate for entry and exit. But no compliance of such guidelines is visible at SKMCH.
As per reports, doctors are being brought from Patna and Darbhanga to attend the heavy footfall of patients. The question is: Do those district hospitals have sufficient number of doctors? Don't forget that over 100 people have died of heat stroke in the state. Other hospitals, too, are running short of doctors. The Patna Medical College and Hospital (PMCH) has a shortage of 40% doctors and the Darbhanga Medical College and Hospital is short of 50% doctors, according to reports.
The state has sanctioned posts of 11,734 doctors. But there are only around 6,000 doctors in government hospitals and medical colleges, says reports. Of these, 2,000 work on contractual basis and the rest are permanent. The state has a ratio of one doctor for a population of 17,685 people.
Students who have completed MBBS from SKMCH get Rs 15,000/month during their one-year internship. Ironically, they too have not got the sum for the past two-and-a-half months. Still, they are working.
According to Policies Research Studies (PRS), Bihar's health budget was Rs 8,234 crore in 2016-17, which was reduced to Rs 7,002 crore in 2017-18, slashed by Rs 1,000 crore in just one year. The urban health budget was reduced by 18% and the rural by 23%.
When the entire state's health budget stands at Rs 7,002 crore, from where is Nitish Kumar expected to spend Rs 1,500 crore for a proposed superspecialty hospital with 1,500 beds and Rs 2.5 thousand crore for a multi-specialty hospital with 2,500 beds?
In the 2017-18 budget, the government allocated Rs 819 crore for construction of hospitals in the state. In 2018, the state cabinet had taken a decision that the PMCH would be turned into the world's 'largest' hospital. It, at present, has 1,700 beds, which would be increased to 5,462 beds. The government claims that this will be completed in seven years and the budget for it has been fixed at Rs 5,540 crore. This means, this proposed upgrade will swallow almost the entire state health budget.
For over 5,000 beds, the hospital would need at least 1,500 doctors. Does the government have so many doctors? The state does not have even 5,000 doctors, and seats in government medical colleges have not been increased for a long time – exposing the gaping hole between assurances and delivery.
Get the latest reports & analysis with people's perspective on Protests, movements & deep analytical videos, discussions of the current affairs in your Telegram app. Subscribe to NewsClick's Telegram channel & get Real-Time updates on stories, as they get published on our website.
Subscribe Newsclick On Telegram