'Encounter Politics' Heats up in UP as Another Man is Killed in Azamgarh
If encounters were a solution to controlling crime, then Uttar Pradesh should have had no crime by now, says former UP top cop.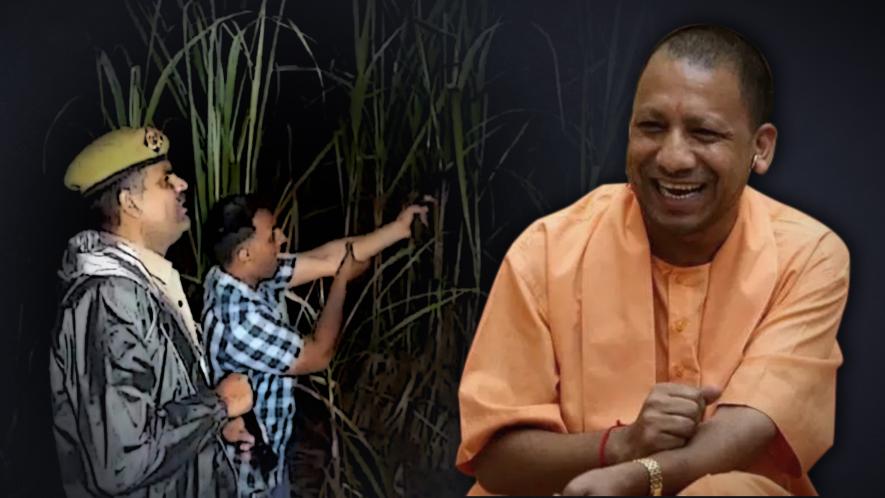 New Delhi: Days after the encounter killing by UP police of one Pushpendra Yadav for his alleged role in illegal sand mining in Jhansi, Uttar Pradesh, which created a political storm across the country, another person named Lakshman Yadav was gunned down in an encounter on Thursday in Azamgarh for his alleged involvement in several cases, including murder, loot, etc.  
According to Azamgarh Range DIG, Manoj Tiwari, Lakshman Yadav was a notorious criminal, carrying a bounty of Rs 1.5 lakh. 
"Acting on a tip-off, a police team surrounded Lakshman Yadav in Narhumpur village in Maharajganj area and in the ensuing exchange of fire, he and a constable, Surendra Yadav, were injured. They were rushed to hospital, where Lakshman died during the course of treatment. A pistol and a number of cartridges were recovered from the spot of encounter," he said
The police also claimed that there were 34 cases against Yadav. He had allegedly killed the brother of a police officer in Ambedkar Nagar recently after which a bounty of Rs 1.5 lakh was announced for his arrest.  
Soon after coming to power in Uttar Pradesh, Chief Minister Adityanath, in a television show, had said, "Agar apradh karenge, toh thok diye jayenge (If anyone engages in crime, they will be shot). Following this statement, the state police, has undoubtedly become trigger-happy. In fact, the killing of 'hardened' criminals in Uttar Pradesh is now listed as a major achievement by the Adityanath-led Bharatiya Janata Party government. 
UP Tops in 'Fake' Encounter Cases  
Rajiv Yadav, a human rights activist and a member of the NGO, Rihai Manch, which took up cases of human rights violations with the National Human Righst Commission (NHRC), says "In both the encounters (Jhansi and Azamgarh), the people killed belonged to the Yadav community. Before that, during the period of Lok Sabha elections in May, almost 70-75 persons were killed and most of these were Yadavs and Other Backward Classes (OBC)," he said, adding that "when the Chief Minister had said thok do (shoot them), the state DGP OP Singh sang in the same tune and claimed goli ke badle goli (a bullet for bullet). The killing of Pushpendra Yadav in Jhansi and Lakshman Yadav in Azamgarh are examples of the state's 'encounter politics'". 
Alleging a 'design' behind some of these encounters, the activist said: "The encounters had started from Western UP where most of the people gunned down were Muslims and dalits, and now the trigger-happy police ,who specialise in encounters and mostly belong to the upper castes, are killing only yadavs and backward class people. Before Lakshman Yadav, several encounters took place in Azamgarh where seven people killed, six on the spot and one named Sunil Pasi was injured and later died in jail."
According to NHRC, Uttar Pradesh is on the top in fake encounters cases. A total of 1,241 complaints of encounters had been registered across the country, of which one-third (455) alone were from UP. 
The UP police's fake encounter killings made big news after an Apple executive, Vivek Tiwari, was gunned down in the posh Gomti Nagar of Lucknow, leading to an outrage over the state government's handling of law and order. "When Vivek Tiwari's encounter could be accidental and the government had given a huge amount on the name of compensation, why no compensation for Yadav and many others?, said Rajeev, alleging caste bias by the authorities. 
He said in many cases, the police tie up a victim's knees with a sack and fire from close range. "This is called a half-encounter," he said, adding that the police had adopted this tactic after getting flak over extra-judicial killings. 
According to data released by the state government under the present dispensation, police engaged with criminals in 3,896 encounters and arrested 8,904 accused in the process. While 76 criminals were killed, 1,154 others were injured in shootouts since  Adityanath took over as Chief Minister in 2017.
What Experts Say
Commenting on the ongoing encounters, former Additional Director General of UP Police, Vibhuti Narain Rai, told Newsclick that "encounters are never a part of the state policy in any civilised society. There is a legal process and courts are there to punish the accused. If police themselves start killing the accused, what difference will there be between the executioner and police?" 
Rai said in several cases, including the recent one, due course of law had not been followed by the police. "In every encounter, the same pattern is being repeated, that the accused were shot in the legs only", he added.
When asked if encounters were a solution to stopping crimes, the former ADG said, "If crime could be controlled with encounters, UP would have the not had the highest incidence of crimes. Crime can be only controlled by basic policing and police reforms. For example, FIRs should be registered with honesty. In Uttar Pradesh, at least 20-25% crimes are not recorded….There should be an update on cases, the accused and the modus operandi,  only then it is possible to decrease the crime rate."
Last week, a youth named Pushpendra Yadav was killed in an encounter in Jhansi for his alleged role in sand mining. The police and the encounter came under the scanner after the two versions came from the police and the deceased's family alleged that the area police officer-in-charge, Dharmendra Chauhan, had demanded Rs 1.5-lakh as bribe to release his truck. 
In a similar case, Jitendra Yadav alias Jeetu, a young gym trainer, was shot at by a trainee sub-inspector in Noida on February 3. The Adityanath government compensated Vivek Tiwari's family in the Lucknow encounter case within 12 hours but the CM has still not met Jitendra Yadav or Pushpendra Yadav's family. 
Get the latest reports & analysis with people's perspective on Protests, movements & deep analytical videos, discussions of the current affairs in your Telegram app. Subscribe to NewsClick's Telegram channel & get Real-Time updates on stories, as they get published on our website.
Subscribe Newsclick On Telegram