Environment: Bihar to Double Sand Mining Ghats Without any Scientific Study
River experts and environmentalists have warned that such an expansion would be bad as mindless sand mining has already worsened rivers' ecosystems, health and biodiversity.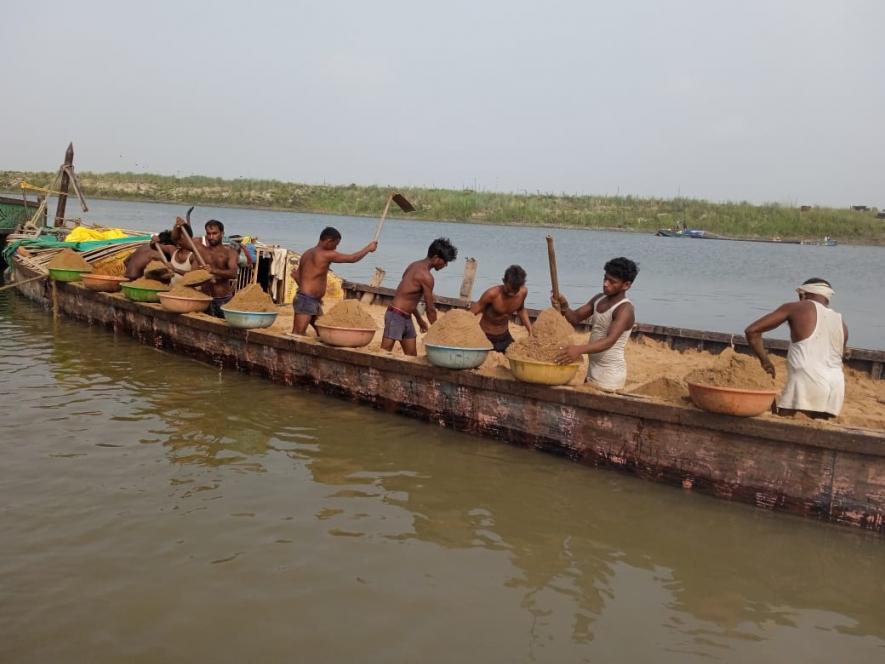 Photo credit -- Mohd Imran Khan
Patna: Ignoring the absence of a scientific study and data on sand mining's impact on river beds and the environment in Bihar, the state government is set to double the sand mining ghats from next month onwards to increase its revenue. It raised eyebrows among river experts and environmentalists.
Until May 30, 2022, sand mining was going on on 435 ghats on different rivers in 16 districts. The state mines and geology department plans to allow sand mining on 900 river ghats in 28 districts.
However, to date, there is no scientific study and data on sand mining's impact on rivers, which is essential to expand sand mining in the state, a senior official of Bihar state pollution control board, on condition of anonymity, told NewsClick.
"It is not proper to increase sand mining without scientific study and data. This will result in unsustainable sand mining. It will continue to damage the ecology of rivers."
The official further said in May 2022, the government initiated a new move to conduct a scientific study of sand mining's impact by experts from the National Institute of Hydrology, Roorkee, National Institute of Technology, Patna and IIT Kanpur. The report is yet to be released.
"Unless we do a scientific study, how can the government widen its sand mining blocks for auction to private parties to earn more revenue?" he asked.
A river expert from NIT Patna told NewsClick that scientific data is a must for sustainable sand mining because there is no specific information available for the volume of sand in river beds at a particular place where sand mining occurs.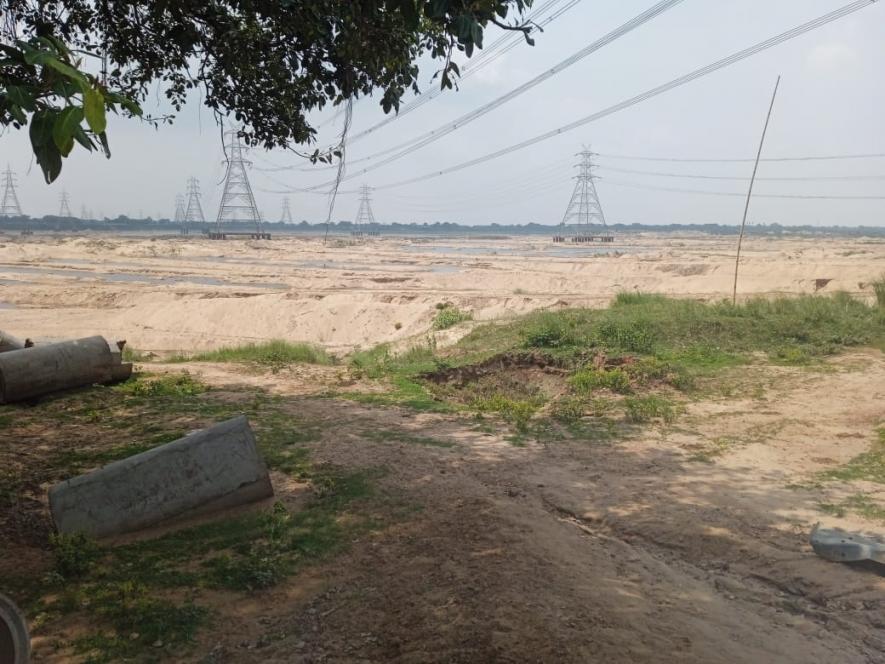 River experts and environmentalists have warned that mindless sand mining has already badly affected rivers' ecosystems, health and biodiversity. Kiul river is on the verge of extinction, and the Sone river bed has been excessively damaged. The yellow sand of Sone is in high demand in the construction sector, unlike Ganga's, which is grey and is mainly used for filling.
Gopal Krishna, an environmental activist, told Newsclick that Sone's health had severely deteriorated due to illegal mining. 
"Violation of the law is the norm on the Sone river bed. Earlier, abundant new sand accumulated after floods," he said, warning that "aquifers and surface water are getting destroyed due to sand mining."
"Unavailability of drinking water around the river could be a major problem soon. Villages around such areas will become ghostly places due to unavailability of water," he added.
Similarly, Ranjeev, a river activist, told NewsClick that the government's decision to increase sand mining would cost the river's environment.
"Rivers are already badly damaged in the name of sand mining because it was not done scientifically, and miners have been extracting sand more than permitted."
Sand mining in the state remained banned for four months — from June 1 to September 30 this year. For the last few years, sand mining was banned for three months, from July 1 to September 30, in the state following a National Green Tribunal (NGT) order. But this year (2022), sand mining was banned from June 1 itself following a Supreme Court order. 
The sand mining activities are likely to resume from October 1.
The state mines and geology department recently directed the district officials to finalise the settlement of the lease of authorised ghats on different rivers for sand mining. The department has already issued an advertisement for an e-tender to lease ghats for sand mining, a department official told NewsClick.
After realising that it cannot check illegal sand mining by powerful nexus in the widespread riverine belt that also causes huge loss to the public exchequer, the state government has decided to increase sand mining with certain regulations to earn more revenue.
The department recently got a list of 238 sand dunes in 29 rivers from the water resources department. It informed that this resulted in the creation of more than 200 big islands due to increasing silt problems in the rivers.
"All of them would be cleared by sand mining now," an official said.
Last month the government hiked the royalty on the sand to be paid by the miners from five rivers, including Sone, Kiul, Falgu, Chanan and Morha, from Rs 75 to Rs 50/cubic metre, another move to increase revenue from sand mining.
Last year, the then-state mines and geology minister Janak Ram said that the state government incurs an annual loss of Rs 700 crore due to illegal sand mining.
So far, the government has prepared a district survey report (DSR) to ensure that the sand mining is done in a sustainable and "environment-friendly manner", but it has been violated by sand miners. The DSR is based on studies about the presence of sand and other minerals in a district and lists ways in which they can be extracted sustainably to inflict minimum damage to the riverine ecology.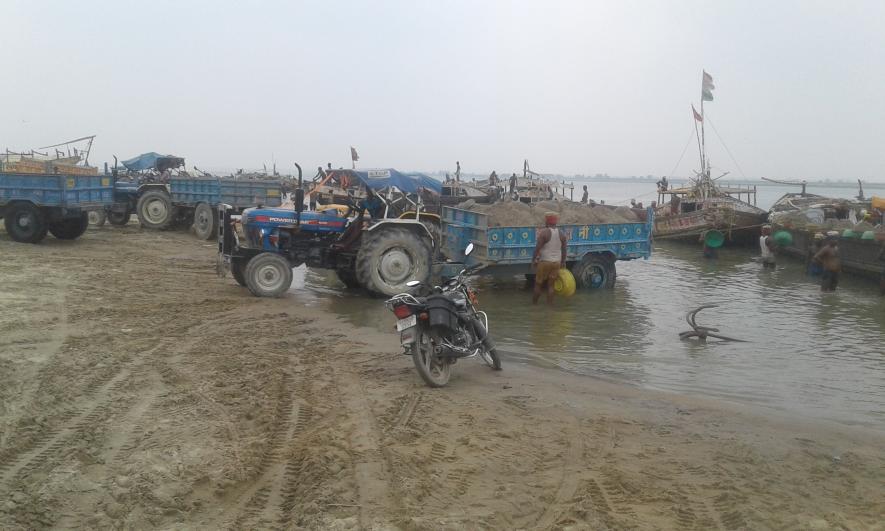 Photo credit -- Mohd Imran Khan
Ramakar Jha, head of the centre of water resources from the National Institute of Technology, Patna, told NewsClick that a scientific approach is necessary for sand mining.
"Unfortunately, we have no such study and data for it."
Authorities have failed to stop illegal sand mining despite the crackdown; it is reflected in the fact that hundreds of boats, trucks, tractors, dumpers, porcelain and JCB machine are seen waiting for their turn or moving in the daytime as they are being used for extraction, loading, unloading and carrying of sand near the bank's of different rivers in Bhojpur, Patna, Vaishali, Saran, Arwal, Aurangabad and other districts.
Get the latest reports & analysis with people's perspective on Protests, movements & deep analytical videos, discussions of the current affairs in your Telegram app. Subscribe to NewsClick's Telegram channel & get Real-Time updates on stories, as they get published on our website.
Subscribe Newsclick On Telegram