EXCLUSIVE: French Order for 28 Rafale Gives Away What Modi Wants to Hide
In 2016, the Modi government bought 36 Rafale aircraft for €7.87 billion. In 2019, France signed a €2 billion deal for 28 upgraded Rafale, at almost half the price. Any explanations, Mr Modi?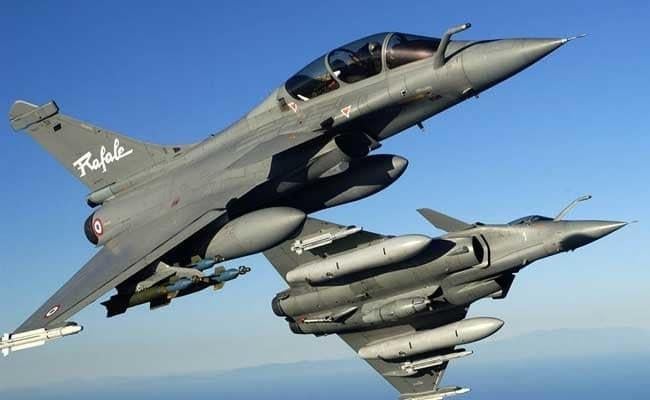 Has Prime Minister Narendra Modi bitten off more than he can chew on the Rafale deal?  It seems so, going by the latest news coming from France.
The French government has placed an order for an upgraded/next generation version of 28 Rafale aircraft with Dassault Aviation worth "nearly €2 billion", reported Dassault group-owned French newspaper, Le Figaro, on January 14. Why is this news so important for India?
When the Narendra Modi government signed the contract for 36 Rafale aircraft 16 months after Prime Minister Modi's unilateral announcement from France in April 2015, the deal was signed for €7.87 billion (Rs 64,000 crore, as per today's exchange rate). The government was not ready to give the exact price details. Initially, they cited national security as the reason, which later changed to a confidentiality agreement signed between the two countries way back in 2008 (Though that agreement does not say that the commercial aspect of the deal must be a secret). But, on March 12, last year, the government told Parliament that the basic aircraft price was  Rs 670 crore and the rest Rs 1,000 crore per aircraft was for add-ons, including weapons.
As per the details coming from France, the French government placed an order worth €2 billion with Dassault for 28 Rafale F4 versions, which will be inducted into service from 2024.
At a time when the Modi government is struggling to justify the exorbitant price they are paying for the F3R version, saying it has a lot of India-specific enhancements, a special helmet- mounted display and new weapons, the French Minister for Armed Forces, Florence Parly, tweeted from her official Twitter handle saying she was at the Mérignac factory of Dassault Aviation where the Rafale is assembled to sign a contract worth €2 billion for the improved F4 version. Her tweet was re-tweeted by her ministry and Dassault. The ministry put out another tweet claiming that by 2024, as many as 28 additional Rafale with F4 configuration would join the force and another 30 would be ordered in 2023. So, there is no doubt on the authenticity of the claim.
French newspaper Le Parisien confirms the details along with defence websites, Defence News and Defence Industry Daily. Defence News gives more details of the deal and the improvements in the aircraft. It writes:
"The French government today signed a €2 billion contract with Dassault Aviation for 28 Rafale aircraft. The F4 standard will have upgraded radar sensors and front sector optronics as well as improved capabilities in the helmet-mounted display. It will have new weapons, notably MBDA's Mica NG air-to-air missile and 1,000 kg AASM air-to-ground modular weapon, be able to carry the new Scalp missiles and be equipped with the Talios multifunction optronic pod made by Thales. The Rafale F4 will feature novel connectivity solutions to improve the aircraft's effectiveness in network-centric warfare."
 The article quotes Parly as saying: "We'll be able to receive more data, strengthen our data rate, talk, receive, notably thanks to satellite communication and software-defined radio: the Rafale F4 will move even further into the era of data."
The article clearly states that the deal signed by France is inclusive of all the things mentioned. But Dassault Aviation in its three press releases on Monday did not say a word on this contract.
Now, recall their weird justification for selecting an Anil Ambani Group-owned company as their Indian offset partner and later, after the revelation of former French President Francois Hollande, how they struggled to support the Modi government's decision. So, it can easily be assumed that they avoided putting out the financial details fearing a backlash from their other customers.
This news will surely jolt the Modi government, as all this while they were trying hard to justify the exorbitant price they had decided to pay for 36 Rafale. They gave various reasons over a period of time. Defence minister Nirmala Sitharaman, Finance Minister Arun Jaitley and other ruling Bharatiya Janata Party (BJP) leaders kept pointing out that people were comparing the price of bare aircraft with a completely loaded one with "India-specific enhancements", and that the deal they had placed was equipped with modern day weapons. The ministers also said that deal signed by the Modi government was much cheaper (there are various versions for how much cheaper. It varies from 9% to 20%).
But, this latest news from France raises more questions about all those statements, which were plain rhetoric aimed at hiding the culpability of the Prime Minister, who had announced the deal without following any procedures, as is being widely alleged.
It will be apt to recall how the Cabinet Committee on Security headed by Modi had hiked the benchmark price from €5.2 billion to €8.2 billion against the expert committee decision, and how the government had transferred the officials who dissented.
In fact, this may well be one of the reasons why the government hurriedly removed former Central Bureau of Investigation Director Alok Verma from his position in a "midnight coup", as the Opposition alleges, and why the Modi government is not ready to accept the Opposition's demand for a Joint Parliamentary Committee to probe the Rafale deal.
Get the latest reports & analysis with people's perspective on Protests, movements & deep analytical videos, discussions of the current affairs in your Telegram app. Subscribe to NewsClick's Telegram channel & get Real-Time updates on stories, as they get published on our website.
Subscribe Newsclick On Telegram