Exclusive: What do Bihari Workers Returning From Valley Have to Say About Kashmiris?
For workers from Bihar, J&K is a favourite place after Kerala, where they can work in peace, and even draw decent wages. Due to future political uncertainty in the Valley, they have been forced to return home.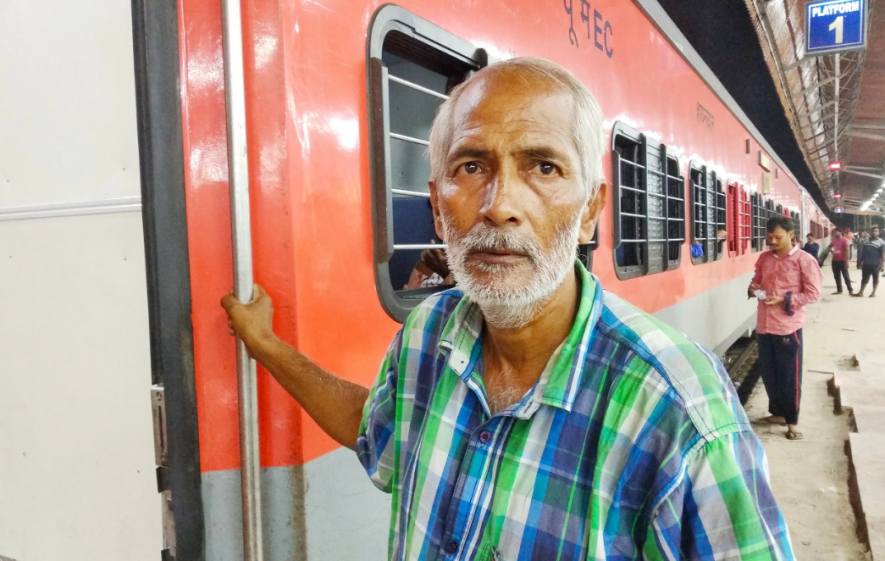 Pratap Paswan, who returned from Baramulla after staying there for 30 years.
Patna: Normal life has been thrown off-track in Jammu & Kashmir after its special status was withdrawn after the abrogation of Article 370 on August 5. Internet and phone lines are down. The uncertainty has majorly impacted migrant labour in the state, as work has come to a standstill since August 4. Since shops and markets are closed, they cannot even buy daily essentials. With restrictions on movement throughout the state, they have no option but to stay holed up inside their homes.
With the future looking uncertain and the possibility of matter getting more serious, migrant workers have started returning home in groups of three and four. There a large number of migrant workers from Bihar in J&K, who have also started leaving the state.
On Monday, Archana Express from Jammu Tawi reached Patna Junction at 8.30 p.m, with packed coaches. Such was the crowd that it was difficult to differentiate between the reserved and general bogies. All the faces alighting from the train looked tired and sleep deprived.
Shivnarain Sardar, 22, hails from Madhubani in Bihar. He was staying in a rented house in Srinagar's Rambagh area. He had gone there just  two months ago, and was working on a construction site, loading and unloading material.
Shivnarain, who had to leave in a hurry, is owed Rs 9,000 by the contractor in Kashmir.
"Work on the site stopped on August 4 and our SIM cards also stopped working the same night. Next morning the shops and markets were closed. We had carried some pulses from home, so till now we were making do with that and mashed potatoes," said Shivnarain.
He further said: "The contractor owes me Rs 9,000. He gave us money to barely get us home and told us that once the situation improves, he will send the money in our bank accounts.
Because of imposition of curfew, the workers had to face a lot of trouble to reach the station there. "We walked 4 kilometres to reach the bus stand. We took a bus that dropped us at the railway station at dawn. After spending 14 hours at the station, we were able to board the Archana Express," he said.
Will they go to the Valley again? The workers said: "There are no job opportunities in Bihar. Even if we get work, the wages are poor. So, we will go back to J&K once normalcy returns."
 After J&K lost special status, Bihar's deputy chief minister Sushil Kumar Modi had tweeted: "Removal of discriminatory provisions of Article 370 will open up employment opportunities for lakhs of youths from Bihar." Perhaps, Modi forgot or deliberately did not accept while tweeting this that lakhs of Bihari workers are employed in J&K. Had he once peeped into the packed coaches of five express trains coming from J&K, he would not have used such words in his tweet.
Migrant workers from Bihar say after Kerala, their favourite destination is J&K, where they can not only work in peace but are also paid higher wages. Shivnarain gets Rs 500 as daily wages for loading and unloading on the construction site. Along with overtime, he manages to earn Rs 22-25,000 per month. He is worried about what he will do in Bihar now, as it was because of unemployment that he had gone to J&K.
Jaleshwar Sardar, 33, says there are no job opportunities in Bihar.
Jaleshwar Sardar, 33, also belongs to Madhubani. He too has returned on Archana Express. "There is no guarantee of work in Bihar. Daily wages are also lower. We have been forced to come back and will now have to face difficulties. Had Bihar government created jobs for us, we would not have to run helter-skelter for jobs," he said.
There is nothing new about Bihari workers returning home from other states, sometimes leaving their belongings and due wages behind. A few years ago, when there were attacks on North Indian workers in Mumbai, many Bihari workers had to leave the city. Last year, too, Bihari workers had to return after facing hate attacks from a section of Gujaratis. When asked then, many of the workers said they were abused and even beaten up in Gujarat.
However, there is a marked difference in returning from Maharashtra and Gujarat. Bihari migrant workers had to leave the two states after they sensed hatred towards them from a section of the local populace.  While in the case of J&K, they were forced to return because of the Centre's decision and the resultant turmoil in the Valley. A majority of workers returning from J&K openly praised the love and affection of the Kashmiri people.
 "Our landlord was a Muslim. He was always nice to us and never ever said or did anything hurtful," said Jaleshwar Sardar.
Pratap Paswan, 72, who hails from Araria, and had been in J&K for the past 30 years in Baramulla, said he had seen stone-pelting as well as police action, but he never faced any harassment from the  local people.
He said the company he was working with owes him Rs 30,000. "We were told that once the situation improves, come back. You will get the money," he said.
Paswan said he was able to travel back from Baramulla with whatever little money he had saved. "There was no problem with money in the Valley. The problem was that I desperately needed money to return home, which I did not get. All I have is Rs 100 in my pocket, and I have to travel to Araria," he added.
The workers said that the curfew in J&K added to their difficulties as reaching the station meant spending extra money, roughly 40-50% more than normal.
 Paswan said his landlord in Baramulla, too, was a Muslim. "He was a very nice man. There were no restrictions on our food habit, no misbehaviour. If anybody says that people in the Valley are bad, I will never ever believe it."
 Not every Bihari in J&K is a worker, there are many who run shops there. Originally from Banka, 40-year-old Kailash Paswan is one such person. He has been running a gol-gappa and ice-cream outlet in Srinagar, but has never faced any obstacle from the local people there. Of course, once earlier he had to return to Bihar for a few days because of curfew.
Kailash Paswan used to earn Rs 25,000-30,000 a month but now stares at uncertainty in Bihar.
Kailash Paswan, who reached Bihar on August 8 on Archana Express, said he used to earn Rs 25,000-30,000 a month, and paid Rs 1,000 as rent to a Muslim couple. "When we decided to return, the couple tried to stop us. They told us thing will be normal soon. But we had doubts, so we came back," he said.
The views of these people on the local Kashmiris seems quite accurate as no incident of any violence or hatred against Biharis has ever come to light in J&K. In fact, there was an incident in the Valley related to Bihar that made headlines in June this year, but that had nothing to do with the local people. Actually, in May, after the killing of Zakir Musa, a commander of a militant group, there was a protest in South Kashmir's Pulwama where there was some stone-pelting. The security forces used pellet guns in which a 17-year-old Araria resident, Mohd Shahnawaz Alam, was injured. The pellet pierced his eyes. He had to return to Araria. His elder brother, Shahwaz Alam, had then said he had been working in Kashmir since the past three years and had never faced any problem despite repeated lockdowns. In fact, the local Kashmiris came out and helped an injured Shahnawaz and had appealed on social media for funds for his treatment.
Anyway, Kailash Paswan, like the other returned Bihari workers, wants to go back to J&K after normalcy is back. Like lakhs of Biharis, he too rues the fact that his own state has no job opportunities. 
(All Images by Umesh Kumar Ray)
Get the latest reports & analysis with people's perspective on Protests, movements & deep analytical videos, discussions of the current affairs in your Telegram app. Subscribe to NewsClick's Telegram channel & get Real-Time updates on stories, as they get published on our website.
Subscribe Newsclick On Telegram