Experience as a Muslim Student in a Different era
A veteran journalist shares his experiences of studying as a lone Muslim student in a school in the post-Partition era.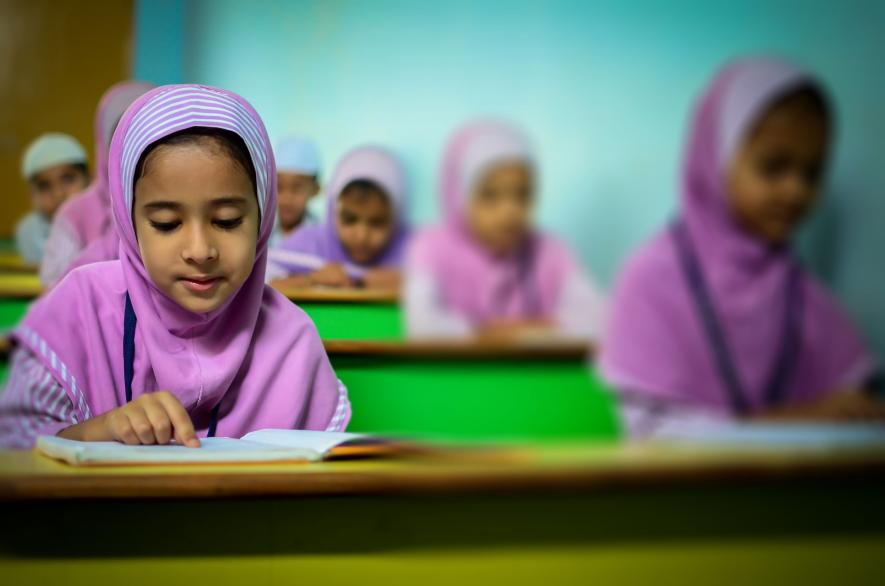 Representational Image. Image Courtesy: Pexels
Dehradun: It was a message from Col. Anil Chandra (retd), a brilliant Judge Advocate General (JAG) retired army officer and an equally talented sportsman, my schoolmate in Chandigarh, reminding me of a poignant incident of my first day in the new school which I had joined in sixth class, exactly half a century ago. It was the Government Model School in Sector 22-A, also known as the Junior Model School in those days, while the only other in Sector 16 was the Senior Model School.
The incident that Col. Chandra brought up was eerily similar to a recent episode from Muzaffarnagar, where a Muslim student suffered humiliation and physical harm orchestrated by a teacher displaying overt prejudice against the Muslim community.
Taking a journey back to April 1973, I found myself stepping into the premises of this esteemed co-educational institution, having cleared its entrance exam, transitioning from a small kindergarten school to this expansive educational universe. This significant shift was accompanied by an amalgamation of excitement and apprehension. My father, a diligent central government employee, and I embarked on this new chapter, riding his bicycle.
That first day in my new environment was forever imprinted in my psyche. It's quite likely that perceptive classmates like Col. Chandra also harbour those memories. The day's proceedings began with the teacher taking attendance. The old students were familiar, but we newcomers, a mere five of us, were prompted to introduce ourselves. As I stood up and declared, "I am Syed Mohammad Akief Kazmi," the classroom's dynamics dramatically shifted, and a ruckus was created. 
While the female students seemed amazed and captivated by the novelty of having a Muslim classmate, a section of the boys started labelling me derogatorily with terms like 'Mulla', 'Musla', and even 'Pakistani'.
Sensing the escalating tension, the teacher sternly rebuked the more aggressive ones and resumed her lesson. The brief respite ended as soon as she exited. It was a nightmare till the next teacher came to the class. The boys circled me, barraging me with unsettling questions. Some more curious ones even wanted to know whether I was circumcised and called me 'K@#wa'. 
Col. Chandra aptly remembered the tears that welled in my eyes during this ordeal. The political climate back then, still haunted by the memories of Punjab's partition and subsequent wars with Pakistan, had fostered a subtle animosity toward Muslims.
Such reactions were probably because, during that period in Chandigarh, I might have been the lone Muslim student in that large school. Many of my classmates were possibly interacting with someone from my community for the first time. Many had seen a Muslim only in the films but had seen a Muslim physically for the first time.
While I was disheartened and wondering what to do and whether I would be able to come to school the next day, in that distressing situation, an unforeseen group emerged as my saviours, the notorious backbenchers of the class. These "bullies" sternly warned the others to back off. Their unexpected support carried through lunch, where they not only shielded me from potential harassers, but two of them also shared their meals. 
Their kindness was the silver lining, encouraging me to return the next day. With new generous friends, it was near normal the next day as most of my classmates tried to become friendly. Many of those schoolmates turned into lifelong friends.  
Upon hearing my distressing first-day ordeal, my father counselled resilience and pointed out the goodness of my classmates who came to my rescue. He explained the challenges Indian Muslims confronted post-partition, especially in regions like Punjab. He also reminded me of Mrs Talwar, my kindergarten headmistress, who had played a pivotal role in securing my admission into this school.
It was Mrs Talwar, an old English teacher who had to flee Uganda in the late sixties under dictator Idi Amin and had started a small school neighbourhood named 'Kiddies Home'. Her appearance mesmerised me, and I told my parents that I would only go to that woman to study while my elder siblings went to another bigger school. My stubborn insistence forced my mother to take me to her.
Mrs Talwar was an affable personality who had very few students in her school. She was hard-working, loving and caring. She and her husband were forced to abandon their hearths and homes in Uganda due to prevailing political circumstances. Mrs Talwar was a teacher while her husband retired from railways. The old couple returned to India and decided to contribute to society by starting a small school. She worked tirelessly with her students. Since her school was only up to the primary level, she suggested that I appear in the entrance examination of the Government Model school. She filled out the forms herself and, despite old age, even took pains to take us for the entrance examination for admission in sixth class.
My unwavering preference to be under Mrs. Talwar's tutelage, coupled with her dedicated efforts, ensured my seamless transition to a more significant educational establishment. My gratitude extends to the Talwars and all my supportive friends throughout this journey.
Reflecting on the stark contrast between the eras, it's worth noting that despite the scars Punjab bore from the partition, the prevalent sentiment was not of hate as seen nowadays of manufacturing hate.
Chandigarh, often called the 'City Beautiful', exemplified modern India's essence. It breathed an air of freshness, throwing away old shackles of narrowness, showing the march of a new modern country. It was a melting pot of cultures, religions, and traditions. We siblings went to school, colleges and university, facing no hatred, making friends and enduring human relationships.
Our neighbourhood painted a picture of this unity. We had a Sikh family from Balochistan, a Garhwali Brahmin family, a Punjabi Christian lady from Kharar and a Punjabi Jain family from Jandiala, Amritsar, as neighbours. 
Their enduring bonds, transcending communal lines, truly highlighted the spirit of Indian unity and camaraderie. My mother, who is now in her 90s, is still "Ammi" to those neighbourhood kids and our friends. But unluckily, our next generation is not that fortunate.
SMA Kazmi is a senior journalist who has worked at Chandigarh, Amritsar, Meerut, Haryana and J&K with 'The Indian Express' and 'The Tribune' newspapers for over three decades. At present, he is based in Dehradun.  
Get the latest reports & analysis with people's perspective on Protests, movements & deep analytical videos, discussions of the current affairs in your Telegram app. Subscribe to NewsClick's Telegram channel & get Real-Time updates on stories, as they get published on our website.
Subscribe Newsclick On Telegram