Explosives Recovered From a Hindutva Proponent and a Gau Rakshak
It is not surprising that the advocate for Raut is defending the Sanatan Sanstha.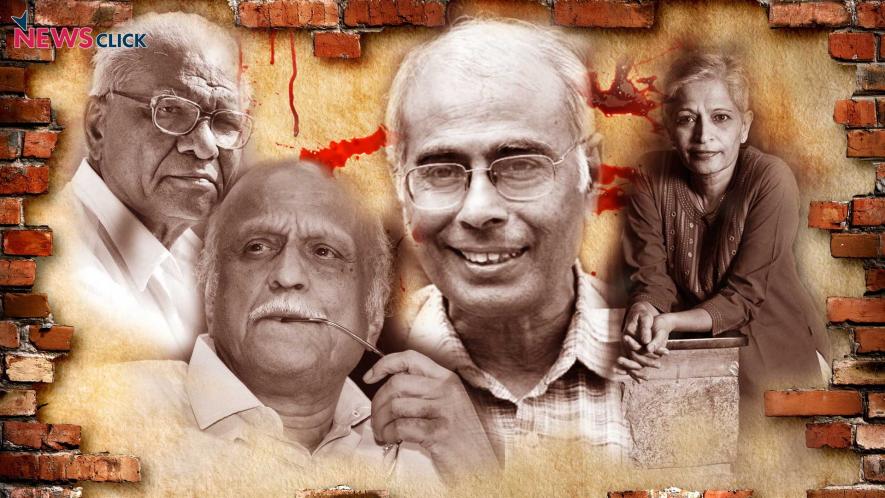 The Hindu extremist organisation Sanatan Sanstha (SS) and its splinter Hindu Janajagruti Samiti (HJS) have had a long relationship with weapons and explosives. Maharashtra Anti-Terrorism Squad (ATS) raided the house of Vaibhav Raut on August 10, 2018, an SS sympathiser and a member of Hindu Govansh Raksha Samiti, and recovered at least eight country-made bombs, along with other explosives and literature of SS. Raut has been taken into custody, and is being interrogated to know how he intended to use them, and also the source of these explosives. Raut was arrested from his residence in Nalasopara West, Mumbai. 
The state organiser of HJS for Maharashtra and Chattisgarh said, "Shri. Vaibhav Raut is daring cow-protector (Gau Rakshak) and was active through an organisation dedicated to the protection of cows, 'Hindu Govansh Raksha Samiti'. He used to participate in the programmes and agitations organised through uniting Hindu organisations under the aegis of Hindu Janajagruti Samiti; however, Shri. Raut had not participated in any of the programmes since last few months."
The SS has, as usual, denied that Raut is a member of the organisation and has said that he is "just" a Hindutva worker. This is not the first time that the SS and its investments in weapons and explosives have come to light, and it is also not the first time that the organisation has denied all the allegations. The organisation has a group of advocates devoted to defend it and its doings. Sanjeev Punelikar, who is one of such advocates, is now advocate for Raut, and he has denied the allegations of Raut being an SS sympathiser or its member. According to him, this is a ploy to defame the infamous right-wing outfit. Even after being a lawyer for Raut, instead of defending him, Punelikar is seen defending and giving statements about SS. It is interesting, but not surprising. 
Hindu Vidhindya Parishad: advocates committed to the cause of Hindu Rashtra
Advocate Sanjeev Punalekar is the National Secretary of the Hindu Vidhidnya Parishad (HVP). HVP is an organisation that was formed as a result of the All India Hindu Convention in Goa organised by HJS. According to their website, it is a voluntary organisation of "nationalist and devout" Hindu advocates. The Parishad sketches the path towards the "Hindu Republic" and also gives a call to all the Hindu advocates to "fulfill their duty by contributing towards establishing Hindu Rashtra." 
It is not surprising that the advocate for Raut is defending the SS. As the national secretary of an organisation, which vows to work for the "Hindu cause", and believes that its members "have experienced the divine help coming to them when they thrived to achieve their goals (of defending Hindutva extremism)" he is bound to defend SS. HVP proudly says, they successfully "established that Sanatan's seekers are innocent in cases where they were falsely implicated on charges of so called Hindu terrorism in Madgaon Blast Case, Goa." 
Also read: Who is the Mastermind Behind the Assassinations of the Rationalists?
The Goa police had arrested six SS members involved in a bomb blast. According to the police, two SS supporters, Malgonda Patil and Yogesh Naik, were allegedly carrying a bomb in their scooter, to plant near the Narkasur effigy competition in Madgaon. The duo died, as the bomb went off prematurely. The National Investigation Agency (NIA) took over investigation of the case. Investigators alleged that a SS member, who was an engineering student, played a key role in preparing the Improvised Explosive Devices (IED), and carrying detonators and timer devices for the blast. However, all six were acquitted. Punelikar was the advocate defending SS in the case of infamous Madgaon blast of 2009.
Punelikar was also part of the press conference called to defend SS against calling out the organisation in the murder case of Narendra Dabholkar, in Mumbai, in 2016. This conference was presided by Bharatiya Yuva Shakti, Dr. Upendra Dahake, BJP's vice president for Kalyan city, Hindu Govansh Raksha Samiti, HJS and SS. He had said, "We are well wishers of SS. We will stand by SS till our last breath and expose malpractices and wrongdoings of Dr. Dabholkar and his family members; then, let police nab whomsoever they want. 'Hindu Vidhidnya Parishad (HVP)' would have sent Dr. Dabholkar to jail if he was alive today. We shall not sit quietly till we expose all wrongdoings of Dabholkar family and they are sent to jail." 
Recently, appearing in a Times Now debate, Punelikar also ruled out SS's involvement in Gauri Lankesh's assassination. Refuting the findings of the investigation in the case, he had said, "The accusations hurled at SS in the Gauri Lankesh murder case are absolutely fake. Till date, all the murders in the country have been committed using 7.65 0r 7.32 mm revolvers. Since these two types of firearms are cheap, and they are easily available. An AK47 or an airgun is not used for any kind of murder. Hence, this is like saying men wearing shirts have committed murder just because the murderer of an individual was wearing a shirt. Thus, an unreasonable attempt is being made to implicate Sanatan in the Gauri Lankesh murder case." 
However, the investigation of SIT has been making the involvement of SS in the Gauri Lankesh's murder clearer day by day. A report in Prajavanion August 10, 2018, has noted that the12th accused in the case, Bharat Kurne alias Uncle, has confessed hosting the chief accused Amol Kale and Parushuram Waghmore of the Hindutva organisations and training them to use weapons. Kale is the person from whom the SIT had recovered two lists containing names of 34 targeted individuals who had publicly condemned Hindutva politics. Girish Karnad, a well-known playwright and activist from Karnataka was the first name, followed by Gauri Lankesh. The second list had 26 other names.
As explained above, the Sanatan Sanstha and its "terror" activities are coming to light, and its connection with the murders of voices resisting Hindutva is been established. The organisation, however, goes untouched by law till date. 
Also Read:Assassin's Creed: Hindutva-supporters' Network Planned Several More Killings
Get the latest reports & analysis with people's perspective on Protests, movements & deep analytical videos, discussions of the current affairs in your Telegram app. Subscribe to NewsClick's Telegram channel & get Real-Time updates on stories, as they get published on our website.
Subscribe Newsclick On Telegram