Faith as Nuisance, Sound as Pollution
The Uttar Pradesh police should ensure that people are not made "captive listeners" to any religious ceremony in mosques, temples, gurudwaras and their fundamental rights are protected.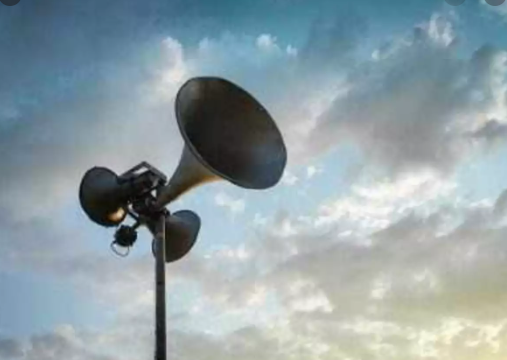 Representational Image. Image Courtesy: Times of India
Is "God" really deaf, that you need to call out so loud to communicate your prayers?
In his time Kabir, the great 15th-century poet-saint, raised this question in his own inimitable style. One can only imagine the ire of both Hindus and Muslims that he must have invited, yet that did not deter him from questioning their rites and practices. He continued to expose the society he lived in. Now his poser about noise being an integral part of religion has received a fresh lease of life.
A recent judgement of the Allahabad High Court has declared azaan, or the call for prayers, integral to Islam, but the use of loudspeakers is "inessential" to the practice. It has banned the use of any sound-amplifying devices between 10 pm and 6 am. The judgement is an indirect affirmation of faith being a private matter that should not be allowed to vitiate public life.
One can say that the judiciary has echoed Kabir by declaring in unequivocal terms that religion does not require loudspeakers!
But the reasoning is certainly different: according to the Allahabad High Court, loudspeakers infringe on the fundamental rights of citizens under Article 19(1)(a). "No one has got the right to make other persons captive listeners," it observes.
This judgement is in response to a PIL filed by Afzal Ansari, the BSP Member of Parliament from Ghazipur, in which he questioned the blanket ban by the district administration of the Muslim call to prayer during the month of Ramzan. Similar reports have come from Aligarh and Hathras as well, where the administration had invoked the lockdown to ban azaan. The administration's pretext for the ban is that any call to worship on loudspeakers would violate the lockdown rules. There were stray reports from other parts of the country as well of over-enthusiastic policemen instructing local muezzin to stop azaan as per the government's orders (which turned out not to be true).
In the words of the Allahabad High Court, "Azaan can be recited by muezzin from minarets of mosques by human voice without using any amplifying device and such recitation cannot be hindered with under the pretext of violation of the guidelines issued by the state, to contain the pandemic Covid-19."
The judgement has left room for loudspeakers to be used in mosques as well—if for some reason that is necessary—by approaching the district administration for permission.
Consequent to this decision, it is expected that the Uttar Pradesh police would implement the judgement of this and all other courts preceding it, in letter and spirit, and ensure that no sound-amplifying devices are used in mosques, temples, gurudwaras and other religious places either. It is hoped that the police will ensure that people are not made "captive listeners" to any sort of religious ceremony and their fundamental rights are protected.
In an ambience where there is an explosion of religiosity, which is being further strengthened by the ascent of a majoritarian politics that revolves around religion and faith, this judgement could be seen as a breath of fresh air. Today the construction of illegal religious structures has become an industry in itself; even government offices and police stations are found to house temples and so on. Much of this is taking place on prime land in cities and towns, which these structures are illegally occupying. Not a day passes when one does not come across a religious festival being organised by this or that spiritual group which is taking out rallies with loudspeakers blaring!
In a multi-religious society, where people of different faiths have been living together for centuries, where the use of sound-amplifiers at religious places becomes a contested issue every now and then, it would act as a fantastic deterrent if the highest courts of the country and states take cognizance and pronounce a similar judgement that would be applicable everywhere in the country.
Merely three years back, a stray comment by a Bollywood singer about the use of loudspeakers at mosques had invited lot of negative public reaction. To be fair to the singer, he had even questioned the use of amplifiers during a Hindu arti or a gurbani recital at the gurudwaras of the Sikhs.
Furthermore, the Allahabad High Court is not alone in passing such a judgement against loudspeakers.
Five years back a two-member bench of the Bombay High Court comprising justices VM Kanade and PD Kode had also passed a similar judgement while responding to a plea filed by a Navi Mumbai resident about the use of loudspeakers at mosques without permission. The bench directed the authorities to confiscate such loudspeakers whether they were installed for "Ganeshotsav, Navratri or at mosques... irrespective of religion, caste and community." It also asked people to unite against sound pollution.
Legal scholar and author Prof Tahir Mahmood, who was chairman of the National Commission for Minorities from 1996 to 1999, had dealt with this question of what he called "loudspeaker provocation", and underlined that a blanket ban would not violate the religious rights of any individual or community. He had examined the many related cases that had been brought before Indian courts. In one such case brought before the Calcutta High Court in 1996, Om Birangana Religious Society vs the State and others, it was decided that "...using an amplifier in a temple or for a Hindu religious ceremony elsewhere is not an essential practice of the Hindu faith and can lawfully be stopped by a competent authority."
Similarly, even the apex court's legal position vis-a-vis temples, gurudwaras, mosques, churches and other religious structures and functions has been clearly expressed; for instance in the case of a Pentecostal church. The use of microphones and loudspeakers by the church was stopped by the local administration, which the church challenged in a petition before the Madras High Court. The court upheld the ban and the church had appealed before the Supreme Court on grounds that the fundamental right to religion was being compromised.
The Supreme Court said in its decision in this case that "...no religion prescribes that prayers should be performed by disturbing the peace of others, nor does it preach that they should be through voice-amplifiers or beating of drums."
"In our view," the SC held, "in a civilised society in the name of religion, activities which disturb old or infirm persons, students or children having their sleep in the early hours or during day-time or other persons carrying on other activities cannot be permitted." It also said that a "student preparing for his examination is entitled to concentrate on his studies without their being any unnecessary disturbance by the neighbours. Similarly, old and infirm are entitled to enjoy reasonable quietness during their leisure hours without there being any nuisance of noise pollution..."
But was anybody listening?
Again, it is Kabir who said:
Saints, I see the world is mad.
If I tell the truth they rush to beat me,
If I lie they trust me.
The author is an independent journalist. The views are personal.
Get the latest reports & analysis with people's perspective on Protests, movements & deep analytical videos, discussions of the current affairs in your Telegram app. Subscribe to NewsClick's Telegram channel & get Real-Time updates on stories, as they get published on our website.
Subscribe Newsclick On Telegram