Fall From Grace: Who Failed Sushil Kumar, the System, His Coterie or the Wrestler Himself?
Wrestler Sagar Dhankad's death at the Chhatrasal stadium on Tuesday is the latest in a long list of misdemeanours that have shadowed the last few years of Sushil Kumar's life. Sagar was beaten to death by Sushil's friends and the police have started an investigation into the matter. The double Olympic medallist, a suspect in the murder, is absconding.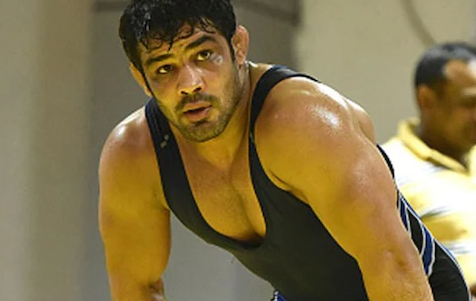 With both his future, and reputation from past glory at stake, wrestler Sushil Kumar is in a precarious position.
Sushil Kumar is absconding and the Delhi Police has cast a net across state borders to trace the double Olympic medallist in connection with the murder of wrestler Sagar Dhankad. The narrative sounds straight out of a crime thriller, doesn't it? A nightmare scenario for not just the wrestler but Indian sport in general. We hardly get any Olympic medallists, and the few we have all seem to be losing the right to remain on a pedestal in different ways.
But Sushil… The wrestler's fall is criminal, if you will forgive the wrestling pun.. And it makes the others, including his hate-mongering former good-friend Yogeshwar Dutt, look positively dignified in comparison. Here is the lowdown (pun intended now), on what has transpired over the course of the week that has seen one of India's most celebrated athletes go into hiding, police say, in Uttarakhand.
"We have recorded statements of all the victims and they all made allegations against Sushil Kumar," Additional DCP (North-West district), Guriqbal Singh Sidhu, told the media. "We have lodged an FIR of murder, abduction, criminal conspiracy and are conducting raids to nab Sushil Kumar."
On Tuesday, Sagar, who used to compete in the 97 kg Greco-Roman category, was beaten to death outside the Chhatrasal Stadium, which houses the training centre run by Sushil's father-in-law, Satpal Singh.
After preliminary investigation and collection of evidence, the police are considering the possibility that the murder was premeditated. As per reports, citing the FIR, it has come to light that Sagar and his friends were staying in a house reportedly owned by Sushil near the stadium. They were asked to vacate and that led to friction between the two. The animosity escalated to violence Tuesday night when Sagar's group was accosted by Sushil's aides for a chat. 
Also Read | IPL 2021: The Privilege of Spin When Playing a Virus That Doesn't Discriminate
Sagar, 23, and his friends  — Sonu Mahal and Amit Kumar — were allegedly beaten by around 20 men. They attacked the trio with hockey sticks, baseball bats and batons. Sagar succumbed to his injuries, while Sonu and Amit are hospitalised at the moment. The Delhi Police have arrested wrestler Prince Dalal for his alleged involvement and attempts are underway to trace Sushil. Following questioning of Dalal, and related investigation, the police, as per a department source quoted in reports, has learnt that Sushil wanted to "teach them a lesson" for "badmouthing him in public" and "disrespecting him".
With both his future, and reputation from past glory at stake, Sushil is in a precarious position. It is ironic that the incident took place in order to defend Sushil's honour and it is now the final stroke that threatens all the goodwill he might have earned over the course of a long, and successful, wrestling career. What this reflects is how Sushil is in a perpetual state of flux, caught between two opposing poles within India's wrestling jungle — a part of the system which expects him to be the role model, and the other, murkier, part which forces difficult choices down the throats of our pahalwans. The situations which offer these choices vary but the basic nature is uncannily similar — between being true to the sport and larger societal maxims or using their muscle and will for other less-acceptable means. 
Of course, the case is under investigation and Sushil's involvement needs to be proved in a court of law. He remains innocent until proven otherwise, but the events leading to Sagar's death and Sushil's subsequent disappearance puts in sharp focus the nature of the coterie he cultivated out of choice and, conversely, how different choices may not have been apparent to him until it was far too late. 
Indian wrestling is a very closed and factionalized community where many factors get intertwined, including caste and regional or state politics, along with utility of muscle for many things ranging from nightclub bouncers to bodyguards to political thugs — the bahubali culture of the hinterland. Not all wrestlers become Sushil or Dutt or Bajrang Punia, earning crores through their athletic prowess. Many don't even manage the government job they are eligible for through sports quotas. The effort to stay afloat using muscle power, their primary skill set, in this context is an often explosive concoction.  When it's not a question of livelihood, it's a fight for limited bastions of power, and even elite wrestlers are not immune. Now we know this beyond any doubt. 
Also Read | Malaysia Open Postponed Leaving Saina, Srikanth's Tokyo Hopes in the Lurch
Historically, wrestling and such fight sports end up feeding the requirements for strong men in illicit dealings and other businesses that rely on physical strength and intimidation to get the job done. 
Everyone knows it to be true, but turns a blind eye, accepting it as part of the sport. Having grappled with the system for a better part of 12 years myself, I came to understand the Herculean resolve it takes to fight the deeply ingrained duality of this world.  
One has had friends and teammates fall prey to the lure, and subsequently destroyed when the law finally catches up. Many others manage to elude justice by the skin of their teeth. I was presented with the same dilemma when a former wrestler at the training hall proposed some cash for a small favour outside of town. The path is often paved by seniors in the field, and rejecting their guidance, in a sport so steeped in parampara, is problematic in itself. The choice I made that day was to decline this invitation, hard or easy notwithstanding. Not all in my place have the tools to make similar decisions. 
Beyond easy money and extending your own life in the sport, this choice defines the wrestler's willpower and fight since it would be used to question or praise the infallible machismo and bravado he possesses.  An example of the extent of its reach is present in the Chhatrasal incident. Dalal, who is arrested, and Sonu, who is hospitalised, both have gangster connections, police have been quoted as saying. In fact, the investigators are reportedly looking into a gang rivalry angle too. 
                                                                                       ******
In all possibility, Sushil's downward spiral began a couple of years after the last major high point of his career, the silver at the 2012 London Olympics. Various business opportunities emerged even as injuries and a slowing body, hindered his career on the mat. There are reports about how Sushil had, at a point, won contracts to run all the toll plazas on major highways in and around Delhi. And to run that business, he, or his aides, had allegedly made use of prominent gangsters in the NCR. 
Also Read | AIFF President Holds "Informal" Meet with Members; Vaccination, Relegation the Major Talking Point
Perhaps more damning are the allegations of brute force used by his aides and well wishers to subdue potential rivals. Despite Sushil claiming that the sport must remain sacrosanct, his camp was involved in the attack on Parveen Rana, following a trial bout between the two in 2017. Rana, once a promising wrestler, no longer competes at the highest level of the sport. Sushil, at the time, was not directly involved in the incident where Rana and his support team were manhandled outside the competition venue. However, the incident was addressed in court and attracted media ignominy. 
The previous year, Narsingh Yadav, the selected India qualifier for the 2016 Rio Games, tested positive for a banned substance and was suspended for four years. The wrestler from Maharashtra, who was engaged in a court battle with Sushil regarding selection trials,  suggested there was foul play and his food or water was possibly spiked with the performance enhancers by someone close to Sushil. It was never proven and at the time Sushil had enough goodwill and clout to get out of the episode relatively unscathed. The controversy saw everyone involved fall into disrepute though. 
Here comes the larger competitors instinct which fails to look at a fierce rival, today, as a potential flagbearer of your own legacy, tomorrow. Rana, and Narshingh before him, was a challenge for Sushil, a threat and needed to be subdued or sidelined at all cost. For a competitive wrestler, drawing that fine line of being sporting and being a fighter with an instinct to win is tough. That fine line, or how he maintains its balance, defines the reach or potential of his career. When one is driven only by the desire to win, and surrounded by those who only celebrate these facile victories, the wrong choices seem logical. 
Also Read | IPL 2021 Scrapped After Covid -19 Breaches the Bubble. But What is a Bio Bubble, Anyway?
The third side of the quagmire involves Sushil, the sports administrator. For the longest time, the School Games Federation of India (SGFI) was run as his personal fiefdom by Satpal Singh. In 2016, Sushil was pushed into the organisation as its president. One would say pushed, as the move was surprising since Sushil was actively competing at the time. Surprising but not unexpected, as Satpal was handing over the reins to an unblemished star, also his student and son-in-law, which ensured his indirect control over the school sports body. A typical wrestling, or rather Indian sport, move (placing kith and kin in positions of power or influence within sports organisations). One has seen it many times in the sport's administration. 
In March this year, Sushil was unanimously reelected as president even as the Sports Ministry had revoked official recognition of the organization between his two tenures; citing mismanagement and corruption. The biggest controversy of Sushil's first term as president of SGFI erupted when Nitisha Negi, a 15-year-old footballer in the girls' schools' team, drowned in Australia. The Indian contingent — 150 strong — were competing in the Pacific School Games in 2017. A can of worms opened up following investigation into the death of Negi. It came to light that the girls' hockey team was left to fend for itself in Adelaide, the venue for the Games, while it was also reported that the SGFI, who did not have approval to send the team abroad from the Indian government, had taken money from the players as a participation fee.
Sushil, known for making righteous statements and stances and having often shared a vision of how sport should be run and how the athlete should be the paramount focus of the establishment, never clarified the episode. As the head of the SGFI, neither did he take responsibility nor did he attempt to probe for the truth and hold his team accountable. Similar to the situation today, when Sushil is in hiding, trying to avoid legal ramifications for his actions, when in fact extending support to the police would have served to boost his case. Maybe even salvage some of this declining reputation. 
Despite being at the helm of SGFI, Suhil remained a mute spectator. After the Sports Ministry cancelled the recognition of the organisation last year, the SGFI swung into action and the five office bearers who were involved in the Pacific Games were banned for five years. But Sushil never took moral responsibility for the incident. 
                                                                                            ******
The incidents mentioned here are part of an intricate web that struck hard at our idea of a champion. In the last nine years Sushil is but a namesake with a different set of morals, priorities, and understanding of responsibilities — to himself, to the fans, to the sport, and to society.
Also Read | To Host And How To Host: A BCCI Primer On Negotiating Profit
It used to be that every wrestler faced this kind of moral ambiguity unless he was Sushil or Dutt or a dangal superstar. As Indian wrestling's biggest hero, Sushil had a choice that was not afforded to those with lesser accomplishments. Which makes his involvement all the more perplexing. It begs the question, what compulsions kept someone of Sushil's stature mired in the underbelly, and, how many others of his ilk feature in this mix? 
Unfortunately, Sushil's exploits will no longer be defined by his medal tally or national pride, but by the latest instance following a pattern of self-aggrandising and violence. There is perhaps an expectation of our role models to uphold their morality, even amidst the nexus of money, power, politics. Makes one think why we equate professional success with unimpeachable integrity. But as a long standing exponent of the sport and its power to rise, heal and unite, one can't help wishing he had made a different choice. One that could have influenced the outcomes of the next generation of wrestlers. 
Get the latest reports & analysis with people's perspective on Protests, movements & deep analytical videos, discussions of the current affairs in your Telegram app. Subscribe to NewsClick's Telegram channel & get Real-Time updates on stories, as they get published on our website.
Subscribe Newsclick On Telegram