False History For a Nation is Like a False Memory For an Individual: Prof. Irfan Habib
Learned historians and academicians came together to talk against all forms of distortion of history under the current regime.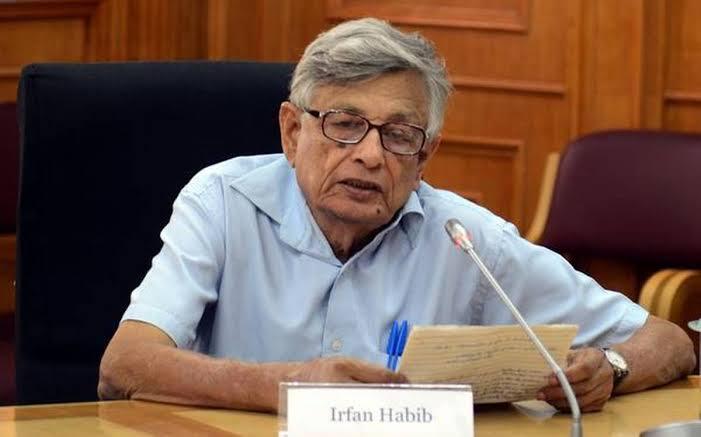 Renowned historians, economists and academics participated in a symposium organised to pay tribute to the legendary historian Irfan Habib on his 90th birthday on August 12, and deliver speeches on the historical method and against distorted rewriting of history including in textbooks and school/university curricula. The event was organised by Tulika Books and Safdar Hashmi Memorial Trust (SAHMAT).
Communist Party of India (Marxist) leader Sitaram Yechury, who also shares his birthday with Habib, said that Habib has lived through the most tumultuous period of history (Partition of India). "Since he joined the party till today, Comrade Irfan Habib has not looked back," said Yechury, adding, "His commitment since then, during the partition, communal riots, dedication to the cause of Marxism and dedication to the social upliftment of people into social change has been a superb example of what human commitment is all about!"
The event felicitating Irfan Habib, had Romila Thapar, Professor of Ancient History, Emerita, at the Jawaharlal Nehru University as the keynote speaker. In defence of history, Professor Thapar said that the explanation of the discipline can only come from rationality. "There is an attempt to legitimise the currently popular distortions of history in order to defend political ideologies. This fantasised history is being projected in multiple ways through social media, television channels, and glossy magazines. Facts are not being separated from fake," she said, reiterating the importance of reliable evidence and the reading of evidence.
In order to prevent history from being used as political propaganda, Thapar said that we all have to insist on the right to critique textbooks and the content. This cannot be treated as an anti-national act as it is usually viewed by the authorities. The defence of history is an "imperative and imminent requirement" if we want to return to the early years of independence, she said. "We were a thoughtful, humane, and a secular society," she concluded.
Professor Aditya Mukherjee, Professor of Contemporary Indian History, Centre for Historical Studies and Dean, School of Social Sciences, Jawaharlal Nehru University (JNU), said that after Independence, in the 1960s and 1970s, Irfan Habib, Romila Thapar, Satish Chandra, Amartya Sen gave rise to an explosion of material that questioned the colonial paradigm, and JNU that started functioning in the same era, started to promote a secular and pro-poor perspective. He added that the NCERT books written by historians like Romila Thapar, Satish Chandra, etc. came under attack by the communal forces.  
Further, he mentioned the coming up of Rashtriya Swayamsevak Sangh (RSS) schools, which started focusing on school education and attacking history in the 1950s. By 1977, there were 500 schools, by 1993, there were 6,000 RSS schools, and the texts followed in RSS schools taught incorrect things about Islam and Christianity to tender minds. "About Islam they teach that they come with a sword in one hand, a baton in the other. Wherever they go, houses of prayers and universities are destroyed, libraries are burnt, religious books are destroyed, mothers and sisters are humiliated, mercy and justice are unknown to them," said Professor Mukherjee.
He pointed out how there was an attempt to ban books written by Professor Habib, Thapar, RS Sharma and other historians by the RSS a few years ago. They tried to delete passages of history from books that did lead to widespread protests by people like Amartya Sen, and that they were called anti-Hindu Indians. Professor Mukherjee drew parallels between what happened in the 1990s to 2004 and to what is happening now (since 2014) saying, "When this same virulent interpretation of History is being repeated, and how the same game has started all over again."
He added that there is an attempt to portray through books that the Hindus are in grave danger in today's India. Hindus are reminded through such education about how the Muslims allegedly committed atrocities on them in the past. Professor Mukherjee cited examples of the new Uttar Pradesh proposed population control law to showcase how the majority is trying to perpetuate a Pan-Islamic threat. "Love Jihad is being used as a tool to spread fear in the minds of Hindus that their women are in danger and are being lured away by Muslims," he said.  
Expressing grief that today's India does not look like the one that the freedom fighters fought for, he said, "The distortion of History and the rapid manufacturing of untruths in the name of history, for purposes totally destructive of the survival of India as a constitutional democracy, are occurring today". But fortunately, the resistance to this is gaining grounds. He referred to the protesting youth who used the Constitution and teachings of BR Ambedkar and Mahatma Gandhi while demonstrating against the Citizenship Amendment Act, 2019.
Professor Irfan Habib, thanked everyone on the panel for their birthday greetings, and shared his opinion on the subject of distortion. "False history for a nation is like a false memory for an individual, it is a disease for the country," he said. He asserted that defending proper and correct history must be a part of our educational effort as the RSS and other associated wings are severely damaging the country. He opined that history must be protected against communal forces and the BJP government who is representing a coloured version of history that justifies their so called "majoritarian policies" is against the poor people. He candidly said that the present government is harming the country beyond repair. "They paint Muslims as the destructive element in Indian history," he said.
In his concluding remarks, the learned Professor said that we should all be proud of our history and that every country must have a correct memory of its history for its citizens. "A nation is built by its history, hard work, developing democracy, research technologies and civil liberties," said Prof Habib.
The entire discussion may be viewed here:
Get the latest reports & analysis with people's perspective on Protests, movements & deep analytical videos, discussions of the current affairs in your Telegram app. Subscribe to NewsClick's Telegram channel & get Real-Time updates on stories, as they get published on our website.
Subscribe Newsclick On Telegram