Family Massacre
Seething in anger because of his brother's condition, Suhail kept pelting stones and participating in the protests.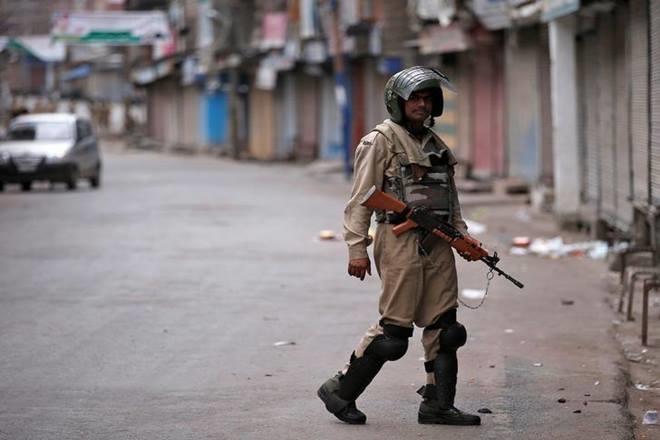 Khan spent lakhs to save the life of his son, but lost his other son, and was handicapped himself. This story is of a conflict-hitfamily. Since the 1990s, Kashmir conflict has continued to shatter Khan's family.
Born in the middle-class family, Khursheed Ahmad Khan, now 49 years old, is a resident of Pandan, Nowhatta Downtown, an area of the old city Srinagar.
Nowhatta gained political significance after the historic Jamia Masjid was built there. The main preachers of the Masjid were separatist leaders at the time, and still are.
In 1988, Khan joined the militant organisation, Al Umar, along with his younger brother MohammadAyoub Khan, who joined two years after him, and was later killed by the armed forces.
Khursheed Khan aka Syed kept escaping the forces even though his family was being harassed continuously. This did not deter his will to fight for Azaadi (freedom)."I chose the armed resistance movement to fight for the cause, and harassment to my family was not going to suppress me," says Khursheed.
However, the shock of the death of his brother, proved to be a turning point, even though he continued to fight. In 1992, the commander in chief of Al Umar, Mushtaq Zargar aka Mushtaq Latram, was arrested, and that was the last day that Khursheed wielded arms.
"After his arrest, AL Umar lost their roots in the Valley and the outfit was breaking down so, I decided to drop the gun and live a normal life again," says Khursheed.
The forces continued to look for Khursheed, but were not successful in finding him. In the meantime, Khursheed got married to Rizwana, who is now 38 years old.
Khan joined the Auqaf Committee of Jamia Masjid, and started working as a caretaker of the mosque. Rizwana took up tailoring to supplement the family income. The couple had a son, Shabir Ahmad Khan, who is now 23.
All seemed to be going well. However, Khan was unaware that even after quitting the militant group, he was still under the radar of the government forces.
In 1995, a Major, whose name Khursheed still remembers as "Petter", located his house. "They entered our house, I was sitting on the second floor when I heard the noise in the courtyard, and I looked down from the window," recalls Khursheed.
Major kept the gun pointed at Khan, while the armed personnel ran up the stairs. "I was nervous, I was clean, but that pointed gun and the sound of rushing boots made me run in panic, and I jumped from the second floor to the ground," said Khan.
His jump did stop the forces, but Khan ended up with multiple fractures in the spinal cord and his legs lost the ability to walk. Forces never came again to arrest Khan.
Time passed, and Khan had two more sons, Sameer Ahmad Khan and Showkat Ahmad Khan, familiar as Suhail. Life proved to be an uphill battle with his broken spinal cord and lame legs. Khan thought that his three sons would be his support. But fate had another plan in store for them.
In 2010, when Kashmir faced mass uprising after the killing of a student named Tufail Matto, more than 100 Kashmiris died, and thousands were injured in different protests against the killing of the student. Uprising was on the rise. The separatist leaders used to declare the protest calendar for the march, and the strike days and also a relaxation day.
Khursheed recalls one such relaxation day when his son Shabir (Jaanu) left home for tuition. "He was in standard X, and he was preparing for the board exams," said Khursheed.
The movement of traffic and people was normal in the area, everyone was busy shopping as the strike had been called off for a whole week.
Shabir left home to attend his tuitions, but never made it. Nowhatta had always been tense, being on the hit list of the police for stone-pelting. On the relaxation day, there were clashes between protesters as well. Other areas were witnessing normalcy."
"Within 10 minutes of his leaving home, I got a call from my neighbour, who said, "Jaanu vas aav Kalas shell" (Jaanu was hit by tear gas shell on the head)," says Khursheed.
Khursheed and his wife rushed to the spot, but some locals had taken Shabir to the SKIMS (Sheri- Kashmir Institute of Medical Science) hospital.
"When we reached the hospital, I found my neighbours outside the operation theatre, I rushed and tried to find out about my son," Rizwana recalls with tears in her eyes.
After waiting for a few hours, Jaanu was taken out of the theatre with his face bandaged all over, while only his bruised eyes could be seen.
Tear gas shell had damaged Jaanu's left side of the brain, and his condition was critical. Jaanu was kept on a ventilator in the ICU.
Doctors revealed that Jaanu was in a coma. In the meantime, Jaanu's brother Sameer started pelting stones as a revenge for his brother's condition.
After spending three months in the ICU and having undergone two major surgeries, in which an artificial bone was inserted in Jaanu's head, he was finally out of the coma. Although, he was able to see, he was unable to recognise anyone apart from his mother.
To get the money for Jaanu's treatment, the family started asking people for donations. A request for donations was published in the newspaper every day. People started donating, but not for very long. Even after spending more than Rs 8 lakh on the hospital bills, his condition was not getting better.
"Doctors said that due to grave injury to the head, Jaanu had lost his memory temporarily, and that he won't be able to walk, as right side of his body was paralysed," said Rizwana.
With the passage of time, Jaanu recovered slowly, but was crippled and was suffering from aphasia. He also gaining his memory back, albeit slowly.
In the meantime, Suhail became a habitual stone-pelter. He was in standard VI when he was arrested by the police for the first time, and faced extreme third-degree torture, according to Khan.
In 2012, when Jaanu was still recovering, his wound caught severe infection due to the artificial bone and the doctor wanted to perform an emergency operation. "It was another shock for us. We thought that he will be fine, but things were getting worse," says Rizwana.
Due to the financial crises, the family wasn't able to pay for the surgery. They decided to ask for donations again. But donations were not enough. Rizawana decided to sell her jewellery. "I sold it for Rs three lakh, just enough for the operation," said.
Jaanu spent another month in the hospital with new artificial bone in his head.
Seething in anger because of his brother's condition, Suhail kept pelting stones and participating in the protests. Every Friday, after the congregational prayers, protests used to take place and clashes between police and protesters became a routine in Nowhatta.
"Police used to detain Suhail and torture him every week. They started giving him drugs in the barrack mixed with the food," alleges Khursheed. "That turned him into an addict."
Tortures made Suhail's health weak, he dropped his education in 2014, and started taking care of his ailing brother. However, Jaanu's infection returned. And, this time there was no money with family for the operation.
"We asked the doctor what was the reason for the infection he said his head is not adapting to the new bone so, we decided to remove the bone," recalls Rizwana.
It was the only option, as catching the infection was really dangerous for Jaanu's health, and could affect his brain as well. Doctors who were treating Jaanu decided to donate and paid the hospital dues.
Without the bone, it is dangerous for Jaanu to live. It is a laceration in his head, and that side of the brain is not protected. Jaanu has to be careful that nothing should touch his head, that can damage his brain, even strong chills can be dangerous.
Meanwhile, there was no stopping Suhail from stone-pelting and police kept arresting him. In these four years, Suhail had many FIRs registered in his name in Nowhatta police station. He spent his teenage years in various jails of Kashmir, but that did not deter him from pelting stones.
This tussle between Suhail and the police ended on March 1, 2015, when Suhial got a call from the nearby Khanyar police station.
"Suhail told me that Station House Officer of Khanyar Police station called and said 'come here, we need to talk about some issues'," recalls Khursheed.
After about one and a half hours, Suhail came back with his eyes red, and headed straight to his room. Rizwana followed him to find out what had happened.
Suhail asked her to leave and told her that he wanted to sleep for a while. Another hour passed, and Suhail's friend entered the kitchen and asked Rizwana about Suhail. "I asked him whether everything is alright, and if he needs to go back to the police station," said Rizwana. His friend informed them that he had taken a high dose of some sedative after leaving the police station.
Rizwana went to his room again, but this time Suhail didn't respond to her calls. They rushed him to the hospital where doctors declared him brought dead. The reason for his death was cardiac arrest due to the high does of sedatives. Suhail was 16 years old when he died.
"It was another tragedy in our family. It seems like my life is cursed. Now, I am left with a partially paralysed son, a husband who is handicapped, and a younger son Sameer," says Rizwana as she sobs.
The only hope of the family is Sameer. Sameer dropped out of the school due to the poor financial condition, and started working as a delivery boy in a medical agency. Initially, he was pelting stones as well, and had few FIRs against him. To make sure the safety of Sameer, the family decided to get him married.
Last year, when Sameer turned 19, he got married to one of his cousin sisters. Since then, he hasn't participated in protests or in stone-pelting. Now, all the responsibilities are on Sameer's shoulders, who fulfills them with his hard work.
"I can't change what happened in the past, but I can work hard to make sure my family has a good future," said Sameer.
Get the latest reports & analysis with people's perspective on Protests, movements & deep analytical videos, discussions of the current affairs in your Telegram app. Subscribe to NewsClick's Telegram channel & get Real-Time updates on stories, as they get published on our website.
Subscribe Newsclick On Telegram