Farmers Lost Over Rs.2 Lakh Crore Due To Low Prices of Crops This Year
Thousands of farmers arriving in Delhi for Kisan Mukti Sansad on 20-21 November 2017 to protest betrayal by Modi govt.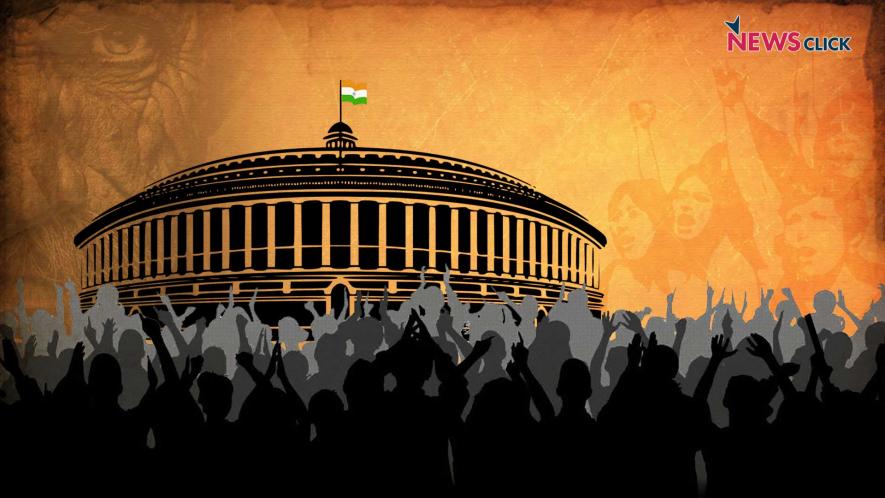 Newsclick Image by Nitesh Kumar
Following the massive workers' mahapadav on Nov 9-11 at Delhi, it is now the farmers' turn to occupy the Capital. Thousands of farmers from all over India will congregate at Delhi to demand better prices for their produce and complete freedom from debt. Many families of farmers who committed suicide in the recent past due to debt will also participate in what is being called the Kisan Mukti Sansad (Farmers' Liberation Parliament).
During the election campaign for the 2014 Lok Sabha elections, Narendra Modi had promised that farmers would get good prices for their crops. He assured that if elected, his govt. would implement the price formula recommended by the MS Swaminathan Commission, which was a fixed minimum support price that covers the cost of production and gives an additional 50% of that to the farmer.
More than three years have passed since Modi won the election and became the Prime Minister. But there is no talk of this promise. In fact, the agriculture minister even denied in Parliament that such a promise was made.
What is the cost of this betrayal? The All India Kisan Sangharsh Coordination Committee (AIKSCC), an umbrella forum of over 180 farmers' organizations, has calculated that for the top 7 crops in the kharif season this year, farmers got prices that were less than Modi's promise by a whopping Rs.2 lakh crore. The seven crops studied were paddy, maize, soybean, cotton, bajra, groundnut and urad. Market arrivals and costs across hundreds of mandis were analysed by the AIKSCC activists. This has been dubbed #KisanKiLoot (plunder of farmers) by the Sangharsh Committee.
For example, Bhagat Singh, a farmer from Haryana sold 19 quintals of bajra crop. While the MSP is Rs.1425 and the deserved MSP as per PM's election promise is Rs.1917, the farmer got only Rs.1135 per quintal. This meant #KisanKiLoot of Rs.14,858. A woman farmer from Andhra Pradesh, Gaddam Lalithamma sold 31 quintals of groundnut at a mere Rs.2600 per quintal while the MSP is Rs.4450 and PM's promised MSP would be Rs.6134. The #KisanKiLoot of this farmer is Rs.1,09,554.
AIKSCC found that farmers would lose Rs. 35,968 crores as compared to prevailing MSPs. This is because in most places farmers don't even get the govt. backed MSP. If compared to PM's promise of cost price+50%, the loss balloons to over Rs.2 lakh crore. The reason for this difference between their current loss and the potential loss compared to PM's promise is that even the declared MSPs are highly inadequate. However, among the 14 crops of Kharif 2017-18, the MSPs for 7 crops have been fixed less than the cost of production. In the other 7 crops, the margin above cost of production is merely 2% to 19%.
Steadily rising input costs, like fuel, pesticides and fertilizers and even water, slashing of subsidies by the govt., are some of the key factors behind this skew in cost versus income imbalance. Another major factor is the opening up of economy to agricultural imports and integration of India's production with global markets that causes local prices to crash, as has happened in tea, groundnut, rubber etc. Between 1990-91 and 2011-12, while agricultural exports grew at an annual rate of about 13%, agricultural imports grew at a faster rate of about 21%, according to R.Ramakumar of TISS.
This massive injustice in prices is pushing farmers into debt and suicides across the country and igniting repeated protests across the country. In the past two years farmers have agitated for better prices to their produce in Maharashtra, Rajasthan, Karnataka, Madhya Pradesh and several other states. Besides these, the Bhumi Adhikar Andolan, a front of over 300 organisations, has held kisan jathas across the country in 2016 and AIKSCC organized a Kisan Mukti Yatra covering over 10,000 kilometers throughout the country, meeting nearly 50 lakh farmers and strengthening their struggles.
"It is to address this loot of farmers that we are congregating in large numbers in Delhi on November 20th 2017 in a Kisan Mukti Sansad (a farmers' freedom parliament) to be organised on Parliament Street. Full remunerative prices as a legal entitlement with correct cost estimations and at least a 50% profit margin over the cost of production, for all farmers and commodities, is our main demand, in addition to a demand for freedom from debt, that includes a comprehensive immediate loan waiver as well as statutory institutional mechanism that addresses farmers' indebtedness on an ongoing basis," said AIKSCC leaders at a recent press meet.
On November 20, a draft Bill encompassing the two demands will be introduced and passed after debate by the farmers' parliament. AIKSCC will invite leaders of political parties and the Prime Minister to come to the Sansad – but only if they are ready to support the Bill and the demands.
Get the latest reports & analysis with people's perspective on Protests, movements & deep analytical videos, discussions of the current affairs in your Telegram app. Subscribe to NewsClick's Telegram channel & get Real-Time updates on stories, as they get published on our website.
Subscribe Newsclick On Telegram