Farmers Prepare for Long Haul for MSP, Cancellation of Criminal Cases after Partial Victory
Despite the announcement about the repeal of farm laws, farmers are firm on other demands of the farmers' struggle, including the law for a guaranteed Minimum Support Price (MSP), cancellation of criminal cases against the protesters, sacking and arrest of union minister Ajay Mishra Teni for his alleged role in the Lakhimpur Kheri massacre.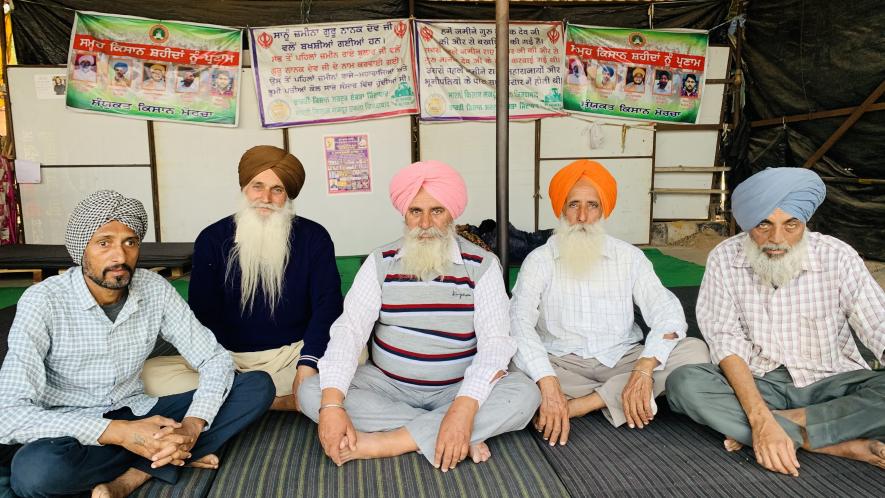 Bhagwan Singh Khalsa awaits his meal while he reads the Punjabi Tribune to keep an update about the farmers' struggle at the borders of the national capital against three central farm laws and a law guaranteeing fair and remunerative prices for their farm produce. However, Khalsa has no one nearby to share his meal. He has been staging his protest solely against the farm laws at the petrol pump run by Reliance Petroleum on Ambala- Rajpura road. He has single-handedly compelled the staff to shut its operations for a year now. The protest site is close to the famous Sambhu Border in Ambala, from where farmers began their march to Delhi on November 26 last year. The committee staging the protest at the Shambhu border deploys a person to deliver meals to the lone protester every day.
Khalsa, a resident of Harpalpur village in Patiala district, tells NewsClick that he chose the petrol pump for his protest because the big business like Reliance appeared to be the ultimate beneficiary of the government's decisions. It was necessary to break the nexus of the Modi government and big businesses to save the people from consistent harassment and plunder.
"They have reduced the petrol and diesel prices only after the BJP was defeated in by-polls in many states. Earlier, they had all arguments to justify the increasing prices. Likewise, their plunder could only be stopped when their business interests are hit."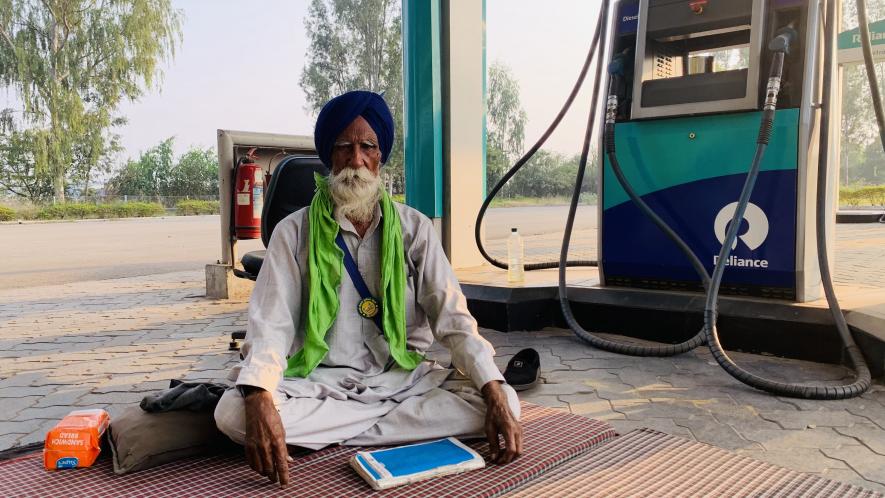 Khalsa was referring to Assembly and Lok Sabha by-poll results in Himachal Pradesh, Karnataka, West Bengal, where the saffron party lost its seats to Congress and Trinamool Congress on November 2.
"I decided to sit here because it needs sacrifices to win any struggle, and it may continue throughout generations. The Mughals unleashed atrocities on people. Even they did not spare innocent children. They were defeated by collective resistance. The British East India Company, for which it was said that the sun never sets in the Empire, was also defeated, and they had to leave India. The independence was achieved by the sacrifices of generations. I am doing my bit in this historic struggle."
After a tedious one-year-long struggle, the farmers in this part of the country where Punjab and Haryana share their borders are jubilant over Prime Minister Narendra Modi's national address in which he announced that the government would be repealing the three contentious farm laws in the upcoming winter session of Parliament. Yet, they are cautious and firm on other demands of the farmers' struggle, including the law for a guaranteed Minimum Support Price (MSP), cancellation of criminal cases against the protesters, sacking and arrest of union minister Ajay Mishra Teni for his alleged role in the Lakhimpur Kheri massacre.
When asked about the long struggle and hateful campaign among communities, Khalsa said," We also saw hateful campaign here. The campaigners conveniently forgot the inclusive heritage in Punjab. Guru Nanak's life saw three important episodes where Muslims played a critical role. The birth attendant lady who first saw Nanak and declared him an extraordinary child for his traits was a Muslim. Bhai Mardana, who accompanied Nanak in his udasis (pilgrimages) and remained a lifelong partner was a Muslim. Above all, the seer who laid the foundation stone of Harminder Sahib was Miyan Mir, a Muslim. So, the people talking absurd things do not know about our history."
Away from the petrol pump, Dimpy Sharma, a teacher by profession at a makeshift tent at Shambhu border, told NewsClick that his calculations suggest that a farmer saves about Rs 17,000 per acre in a season. "Now, you merge it with an average landholding of 2.6 acres/farmer in the country, we find that annual income of a farmer for two seasons would be Rs 88,400/year or Rs 7366/month. How do you think he can run livelihood in this raging inflation with this meagre income? Mind you, the chances of two good crops are bleak as natural calamities always loom large on their heads. So, the law for MSP where we are provided 1.5 times the cost of the crop would alone save us apart from other subsidies!"
Sitting beside Sharma, Bhajan Singh emphasised that the previous year wreaked havoc for them as the migrant workers went back to their homes and did not come back fearing police action en route.
"No worker was ready to return. While some feared police action, some were worried about their health. It took a lot of effort to convince them to return. We sent buses to their homes. The rates for sowing shot up from Rs 2000/acre to Rs 4000/acre. This season, it has dropped to Rs 2500/acre. The government was unwilling to open Mandis, and we had to struggle every time to compel it to initiate the procurement. In the current season, we first had to queue for DAP, and now Urea is unavailable. How do we do our work in these conditions?"
However, he remains firm on the march to celebrate the partial victory and further struggle. Tejvir Singh, a young activist from Bharatiya Kisan Union (Chaduni ), said the farmers had finalised four routes from the Haryana-Punjab border for their caravans to the borders of Delhi.
" The caravans will leave from Sirsa, Kharauni, Dabwali and Shambhu Borders. The first three will begin their journey on November 25, whereas the caravan from Shambhu will start on November 26. These caravans will be touring the different parts of Haryana and will be welcomed by farmers in villages."
He added that the partial victory came in the backdrop of upcoming elections in Punjab and Uttar Pradesh.
"I am hopeful that the government will act on MSP too. Without this, there is no meaning of long struggle. Please understand our agony. The sugarcane farmers wait for their payments for a year, and it is a common practice. What if I ask you that you will get your salary after one year. This mechanism has to end."
Singh added, "The young farmers seem perturbed as they were booked in criminal cases for stopping trains and blocking highways as part of mass action. These cases have to be cancelled. We cannot trust them. They will be hounding for our blood once the movement concludes and cases remain open."
Get the latest reports & analysis with people's perspective on Protests, movements & deep analytical videos, discussions of the current affairs in your Telegram app. Subscribe to NewsClick's Telegram channel & get Real-Time updates on stories, as they get published on our website.
Subscribe Newsclick On Telegram