Farmers' Protest: A Great Unifier for Thousands of Agitators
NewsClick spoke to many protesters who are taking part in any agitation for the first time to understand the changes it made to their lives.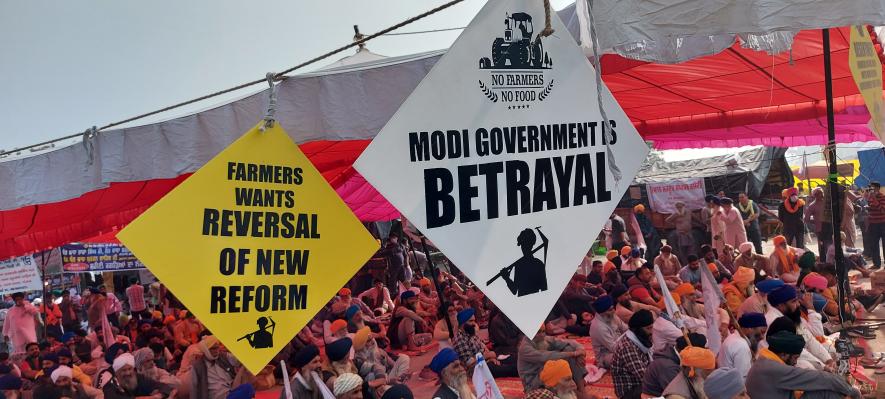 New Delhi: It has been over a month since farmers from across the country continue to block four major highways near Delhi to protest against the three Farm Laws the Central Government passed in September. Even the bitter cold has failed to weaken them; resilient peasants — camping in partially insulated tractor trolleys, tents and even out in the open — are saying in one voice that they will not return until the government repeals the laws.
The agitating farmers have stationed themselves at four sites at Delhi's periphery since November 26. These sites are the Singhu and Tikri borders between Delhi-Haryana, the Ghazipur border between Delhi and Uttar Pradesh and the Shahjahanpur border between Haryana and Rajasthan.
NewsClick spoke to many first-time protesters. Belonging to different parts of the country and from varied socio-economic backgrounds and age groups, the protesters and their supporters shared their experiences of the agitation so far, what they learned, the changes it brought about in their lives and how it is shaping their thought processes. 
Thirty-year-old Sukhbir Singh, engaged in seva (social service) at a langar (community kitchen for free meals) at the Ghazipur border, said he has performed kar seva (voluntary work done by Sikhs) at different community kitchens organised by Baba Kashmir Singh Bhuriwale (an Amritsar-based ascetic) across the country during natural calamities and mishaps. However, this is the first time he is attending a protest and contributing to it. 
"I am doing my bit by offering my services at this langar. We ensure that those who come to the protest and the underprivileged from neighbouring areas don't sleep hungry," he said.
When asked what prompted him to travel around 450 kms to offer his services, he explained: "This protest is not just about pressing the government to repeal the black laws and give us a legally guaranteed MSP (minimum support price), it's about securing our heritage. More than a source of livelihood, agriculture is our identity, our heritage. I came here to be part of the protest to ensure that our next generation does not say that their elders did not do anything when their identity and heritage was under attack."
WHERE ARE CUSTODIANS OF THE CONSTITUTION?
Baba Jagga, 62, a resident of Muzaffarnagar in Uttar Pradesh, is managing a community kitchen and is also a first-timer at an agitation. 
"This protest has changed me in many ways. It has made me realise the nature of a government and its machinery. Talking about a welfare state is fine for intellectual arguments. The reality is that only rich and influential people matter to the government; policies are made to protect their interests. It is painful that our judiciary, the custodian of the Constitution, chose to keep mum when fundamental rights of citizens guaranteed by the sacred book are being flouted by none other than a democratically-elected government. How can our representatives rest in their cosy rooms when their electorate is spending the night out in the open in this spine chilling cold?" he asked.
UNITY IN DIVERSITY
Manish Gujjar, a 22-year-old marginal farmer from Bijnor in western Uttar Pradesh, said he joined the agitation at the Ghazipur border only after the government, its representatives and supporters, launched a smear campaign to discredit the protest against the "unconstitutional" laws and used force, instead of addressing the farmers' grievances.
"Hamen koi aur nahin balki sarkar gumrah kar raha hai (No one except the government is misguiding us)," he said in a thick accent amid claps from fellow agitators.
Gujjar said he had pinned hope in Narendra Modi and voted him to power in 2014. "He lost our faith the day when farmers – the majority of whom are elders –  were met with brute force. Water cannons, tear-gas shells and batons were lobbed on them when they were marching towards Delhi. They were called Khalistanis (Sikh separatists) and what not. After the government crossed all limits, we hit the streets. Call us whatever you want, but the protest will continue until you (the government) roll back the laws. It has now become a battle of ego," he said. 
Asked what the protest had changed within him, he added: "The protest made me realise the power of unity. People from different religions and castes are participating in this agitation. Their only identity is that they are farmers. I too harboured grudges against a certain community, but when the protest broke out and attempts were made to curb it using force, I realised that us being divided on religious lines did not serve our religions but the government." 
Forty-five-year-old Surjan Singh from Uttarakhand also shared the same feeling. "The farming community in the country was divided due to various regional and local disputes. This kind of unprecedented attack by the government has made us forget our differences and has united us all," he told this correspondent at the Singhu border. Singh, in his forties, said that the movement taught him to struggle and demand his rights. 
MERE ASSURANCES ON MSP NOT ENOUGH

 
Prince, 37, a farmer from Uttarakhand, said it is the possible attack on their farming which has brought the peasantry on road. 
"Watching our elders reaching the here, braving the tear gas shell and water cannons, made me stronger and join the protest. I came here against the wishes of young children. The purpose of this struggle to protect their future," said father of two kids.
Randeep Singh from Uttarakhand was initially reluctant and also a bit critical of the protest. He said he was of the view that the farmers were over reacting, and they should at least have some trust on the government, which is claiming that the MSP won't go.
"But when I suffered the blow, then I realised I was wrong. The paddy yield I cultivated on 24 acres of land stood at 550 quitals. The procurement began in October. I took it to the local government procurement centre where I was asked to take it to the mill because of the large quantity. The mill has a daily purchase target of 700 quintals. After dilly dallying, they agreed to buy 329 quintals as they had achieved the daily target. I was asked to sell the rest 180 quintals either to them at a price lower than the MSP or to some private traders. When I took the left over grains to APMC mandi in November where officials told me that the would be able to purchase only after January 29. They finally bought it on December 24 when I agreed to paid a bribe of Rs 100 per 100 kg. Though the payments are yet to come, yet I have already paid Rs 1,800 as bribe," he narrated.
He said if these laws will be implemented, the procurement would be willingly reduced to enable private players to buy the agricultural produce. "This practice would slowly eradicate the APMC mandis. When there will be no mandi, the assurance that MSP would be there would have no meaning," he predicted.
'IT'S NOT ATTACK ON FARMING ONLY'
Sandeep Kaur runs a boutique in Patiala. The mother of two was distributing some food items and warm clothes to the protesting farmers at the Tikri border. 
"After keeping a watch on the negotiations between the farmer organisations and the government and they way they are responding to the government's letters, I came to understand how difficult it is to hold a dialogue. It is a different experience altogether. I have understood how the government pushes its agenda and how one counters it effectively. The second biggest takeaway from this protest is togetherness, which is intensifying with each passing day and sustaining it," she added.
Kaur has been to the different protest sites; asked why she comes, sparing time from her busy schedule, she said: "Those who are sitting here are like our parents. I come here to encourage them. It is not that only farmers will be affected by these laws. We are an agriculture-based economy. If it is affected, there will be an adverse effect to everything."
After five rounds of negotiations with the government had failed to breach the impasse, the government and farm unions have again agreed to resume talks which are slated to take place this afternoon at 2 PM.
WHAT THE LAWS Are ALL ABOUT
Taken together, the laws have loosened the rules which decide sale, price and the storage of farm produce. The earlier laws had protected India's farmers from the free market for decades. Now, most Indian farmers sell their produce at government-run procurement centres, where they have a greater chance of getting a MSP for their produce. 
What the new laws do is set up a national framework for farmers to deal directly with private companies, and they don't mention an MSP. Farmers are afraid that they will be exploited by large corporations which will dictate prices.
The laws also allow private companies to hoard essential items for future sale. Until now, only the government could hoard essential supplies; for food security. 
The farmers are also not just angry with the laws themselves, but how they came about. They said that they were passed without consultation, that they are inherently in the interest of big business, and they were pushed through Parliament without enough time for a proper debate.
The government argues that these laws are in the interest of the agriculture sector; that they will be good for farmers by allowing them to negotiate directly with private companies; that they will give farmers access to new and bigger markets, and that they will attract investment in the agriculture sector. It is a sector that employs half of India's 1.3 crore people. 
Agriculture has been in a crisis for decades for a number of reasons, including low productivity, climate change and high indebtedness of farmers. 
Many rounds of talks between the government and farm union leaders have failed to end this deadlock. It is so since the government says that it's open to amending these laws, but farmers say that nothing short of repealing such fundamentally flawed laws is good enough for them. 
The Supreme Court, meanwhile, has suggested to the government that it consider holding back these laws when there is so much opposition to them. It also said that farmers have a right to protest as long as they are not damaging lives and property. 
The farmers came to protest after sowing their winter crop in mid-November and say they do not have anywhere to be until those crops need harvesting in April. And so, Prime Minister Narendra Modi is faced with one of the biggest challenges since he was first elected. 
Get the latest reports & analysis with people's perspective on Protests, movements & deep analytical videos, discussions of the current affairs in your Telegram app. Subscribe to NewsClick's Telegram channel & get Real-Time updates on stories, as they get published on our website.
Subscribe Newsclick On Telegram