Farmers Protest Against Land Acquisition for Limestone Mining by Ultra Tech Cement in Bhavnagar
"Our land is our livelihood. We, unanimously want to throw the company out of our village."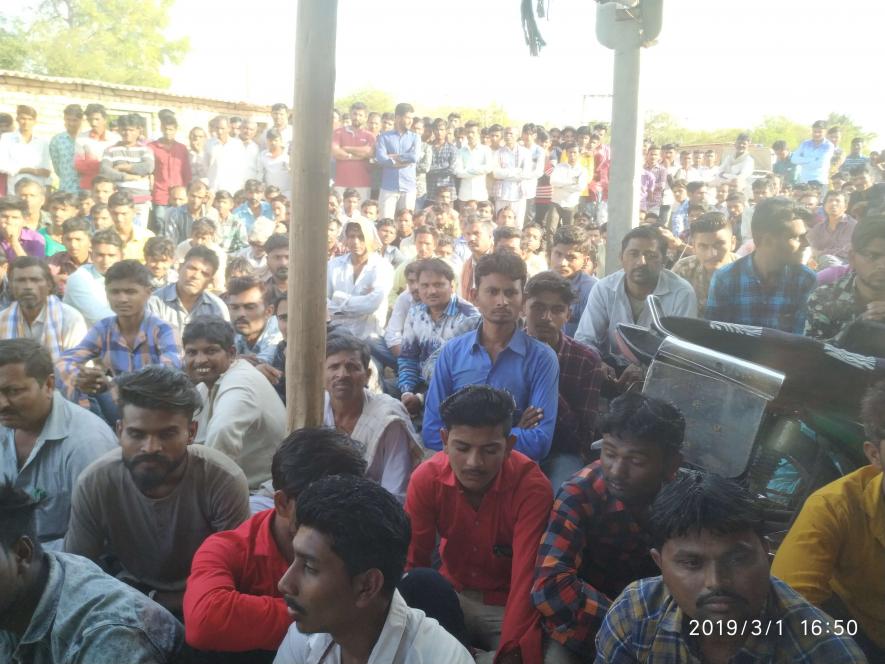 About 200 farmers marched on March 1 to gather at a spot in Bhambor village, Talaja taluka, Bhavnagar, to hold a meeting as a mark of protest against mining of limestone for Ultra Tech Cement in 13 villages of Mahua and Talaja taluka. Their hands were tied as they walked in silence, followed by district police and local police personnel from Dhatha police station, who later detained the farmers.
"In early January this year, police used massive force on protesting farmers, injuring many. About 50 farmers were arrested, and later slapped with section 307 (attempt to murder) under Indian Penal Code. Hence, we marched today with our hands tied lest we are charged of some crime again," Kanubhai Kalsariya, former BJP MP from Mahua constituency of Bhavnagar turned activist who has been leading the farmers, told Newsclick.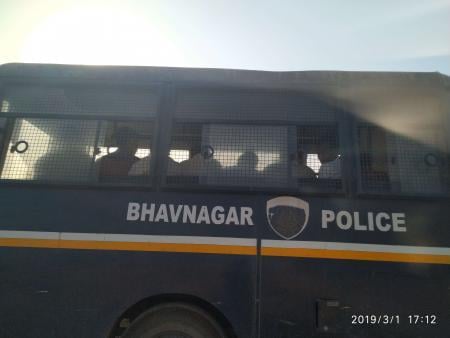 "There were about 1500 farmers who had gathered to protest to halt the process of mining near Bhambor village. As local police dispersed the crowed. They left, but only to gather again in more numbers. They gheraod us, and started pelting stones injuring a police sub-inspector. Police took necessary action thereafter, and had to lathi charge," said Nilesh Gohil, police inspector from Dhatha police station.
On January 2 this year, Bhavnagar police had lobbed 35 tear gas shells, and had lathi charged at the farmers injuring many, including women. Police claim, hit by stone pelted by farmers, several police personnel were injured too.
"Police arrested 50 of us, and thrashed us in police custody, and later when we were released, they slapped charges of attempt to murder. Several farmers fractured their hands in the lathi charge; one young woman suffered injury on her spine and is still under treatment, while a youth was hit on his head, and now requires a surgery due to internal bleeding," said Bharat Bhil, an agitating farmer of Nicha Kotda, one of the villages that will be affected by limestone mining.
Following the incident, when the complaint against the police was not heeded, the farmers had approached the High Court through Advocate Anand Yagnik. Subsequently, in February this year, the High Court ordered a judicial magistrate to initiate a criminal prosecution against the policemen who were accused of assaulting farmers in custody. Noticeably, the prosecution is yet to initiated.
Earlier, in December 2018, the farmers had protested forcing the district administration to suspend the process of mining for Ultra Tech Cement. It was the eighth time in the last six months, farmers had forced the officials to suspend mining in the area.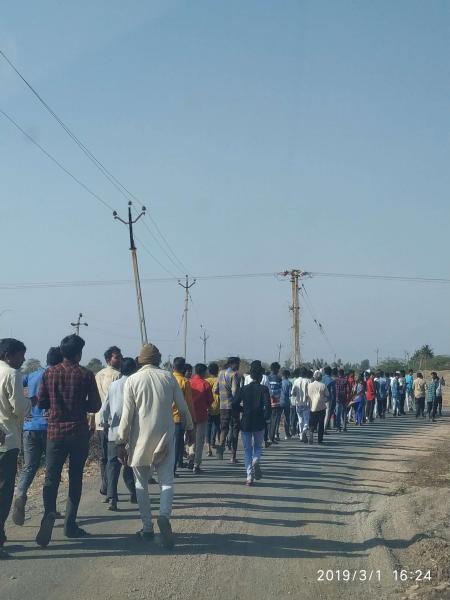 Noticeably, in January 2018, Ultra Tech Cement, a company of Aditya Birla Group got the environmental clearance to mine for limestone in 13 villages of Mahua and Talaja taluka of Bhavnagar district. In a letter, Union Ministry of Environment states that the permission comes with certain conditions.
As per the letter, Ultra Tech company has to rehabilitate 147 families and provide a house for each family with total expenditure of Rs 12.25 crore or as per guidelines of the Right to Fair Compensation and Transparency in Land Acquisition, Rehabilitation and Resettlement Act 2013, whichever is of greater value.
Also read: Farmers In Maharashtra Protest Against Forceful Land Acquisition For Bullet Train Project
The Ministry has also set the condition that the company will help the affected farmers to buy alternative plots of agricultural land at lower cost in and around the concerned villages for livelihood.
The cost of the project that will mine limestone in an area of 632 hectare with production capacity of 2.07 million tonne per annum, is estimated to cost Rs 60 crore.
"Fifteen hundred hectares of fertile agricultural land and about 200 hectares of gauchar land and government waste land is under risk here due to mining. About 150 hectares were purchased by the company 20 years ago, but not acquired in so many years, rest about 1250 hectares of land has been given on lease to Ultra Tech on lease without consent of owner farmers. Before the environmental clearance was given to the company, a public hearing was held involving the affected farmers. Farmers, in a hundred percent unanimous decision, refused to give away their land. Yet, Ministry of Environment gave mining permission to Ultra Tech Cement. What was the purpose of the public hearing then?" asks Kanubhai Kalsariya.
"Since the company got permission, they have begun mining in about 10 hectares of land amid massive protests by farmers for past six months," he added.
"I am resident of Ucha Kodta village, and I know that we have not sold or given away even a bigha of land to the company. Yet, one day, we got a stamp paper document given to us by the government stating that our land is being leased out to Ultra Tech company. We don't want any company to enter our village, our land is fertile, and yields three crops a year. We know that once the company starts mining in our village, our lives will be ruined, and we won't be able to live in our village," said Kaushikbhai Bijalbhai, a protesting farmer.
"Seven hundred and fifty-six bigha of land has been leased in our village," he retorts.
"Our land is our livelihood. We, unanimously want to throw the company out of our village. But these people are using all kinds of force against us to harm us," says a teenaged girl at the protest.
Farmers claim that even though mining would be carried out in 13 villages, but more than 20 villages would be indirectly affected by the process and they would have to migrate eventually.
"We are fighting to save our livelihood. As per the rules, if 80 per cent of the stake holders oppose the project, it stands cancelled. But in our case, despite each and every farmer present, the public hearing opposing the project, Ultra Tech was given environment clearance to begin mining. We began protesting more vehemently after Ultra Tech company attempted to begin mining following the permission of the ministry," stated Bharat Bhil.
"We were told by concerned authorities that according to Mines and Mineral Act 1957, the government is the owner of the mineral beneath our land and not the farmers. Hence the government leased out our land for fifty years," he added.
Noticeably Mines and Mineral Act 1957 was amended in December 2015. As per the amendment, a fixed percentage to revenue of any mine has to be allocated to the development of the area around it which will be called a District Mineral Foundation. The state government will set the rates and a National Mineral Exploration Trust will be set to explore and promote non-coal mines. The license that earlier had validity of 30 years was extended to 50 years.
The amendment of 2015 came to be implemented from the year 2016 resulting into extension of the lease period of land of 13 village to Ultra Tech Cement to 50 years.
"A farmer doesn't even get to know that such bills are passed in the Parliament that goes against us," says Bhil.
Also read: Jharkhand Govt's Land Acquisition for Adani Power Plant Challenged in Court
Get the latest reports & analysis with people's perspective on Protests, movements & deep analytical videos, discussions of the current affairs in your Telegram app. Subscribe to NewsClick's Telegram channel & get Real-Time updates on stories, as they get published on our website.
Subscribe Newsclick On Telegram