Farmers' Protests Bridge Gaps in Riot-Affected Muzaffarnagar but Long Road Ahead
While doubts remain the protests against the contentious Farm Laws has played a role in bringing communities together after seven years of strife.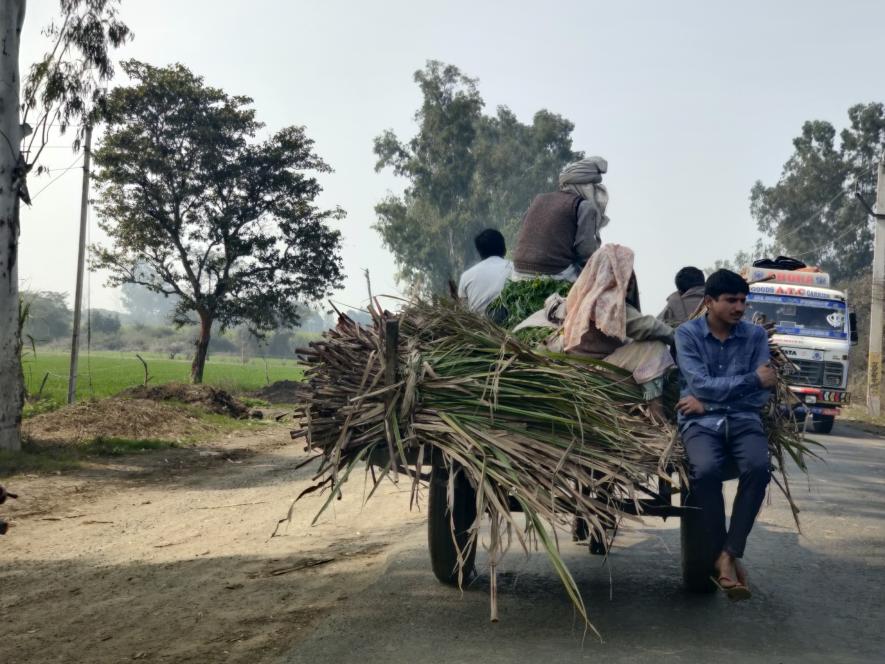 Farmer taking his harvest to the local Kiratpur sugar mill. PC Saurabh Sharma.
Jaula, Muzaffarnagar: Mohammad Sajjad, a resident of Jaula village in Budhana, Muzaffarnagar, and Rakesh Baliyan, a resident of Sisauli village from the same block, had participated in the farmers' protest against the Farm Laws and had been at the Ghazipur Border for a couple of days in January.
Both had left for the protest site on the same tractor and had shared meals; they are still in constant touch even after having returned from the protest site. Both Sajjad and Baliyan have seen the death of either a relative or a family member in the ghastly Muzaffarnagar Riots in 2013 in which over 50 people were killed and over 50,000 were displaced. They are both in their late thirties.
Sitting at a small eatery that serves eggs near a sugar mill on Shamli road, Sajjad tells his friends that it is now important for both Jats and Muslims to join hands and fight against laws which the government looks adamant on not repealing.
"We are farmers first. We should forget that we are Muslims, Jats, Gurjars, Baniyas or Sikhs till the government rolls back the laws. We are farmers and we feed the country. People eating their rotis or vegetables never think about the religion of the farmer who harvested the crop and now is the time to keep the enmity between the communities at bay. In fact, we should now accept each other as brothers, apologise to each other for the past and work towards a better future," Sajjad was heard telling people sitting alongside him.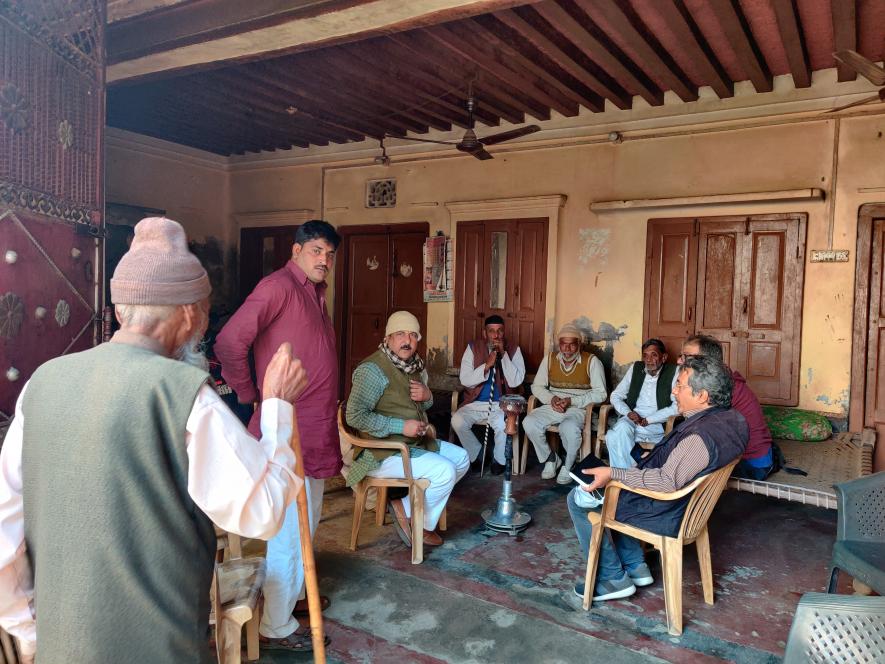 Muslim community members talkin to extend More Support to Rakesh Tikait in Jaula village
However, he was interrupted by someone who asked: "How can we forget about our past sufferings. Are we still not being asked to compromise and withdraw (riot) cases?"
Dead silence followed for a few minutes. Sajjad responded: "Agar humne khoya hai toh unhone bhi khoya hai.Mat bhoolo ki do haath se taali bajti hai. (If we Muslims have suffered losses then so have they (Hindus). Do not forget that it takes two hands to clap). Till when do we keep carrying grudges in our heart? Don't we have to fight against these black laws (kaale kanoon) and get back to farming? Don't we have to get prosperous?"
Only about half the people gathered there listening to him took note. Aslam, a young man in his twenties said, "Unity is never established due to the efforts of only one community or person. The other side too has to bow down and let go of its ego," he said.
The young man, a college student, refused to reveal his last name and where he was from.
"How can I buy into the idea that things are alright here? Even the farmer's protest is getting political and we do not know if the Baliyan's organised the first khap which triggered the riots. Now everything is said to be returning to normal. Wounds heal but it takes time and people should not be asked to join the movement or forget about the riots," he said.
In Sisauli village – the home of the late Chaduahry Mahendra Tikait – hardly any men were visible as most of them had joined the protest for Bharatiya Kisan Union (BKU) leader Rakesh Tikait while the rest were busy in their farms.
Rakesh Baliyan, who belongs to the Baliyan Khap said that it had been seven years since the riots and that something like this was required to bring both the communities closer.
"Look, whatever happened in 2013 was very unfortunate and it should not have taken place but now I think this divide should end. It has been seven years and the good thing was that nothing untoward happened after the riots. Hamara hukka paani to ek doosre ek bina kabhi chala hi nahi hai toh iss baar itna bada andolan kaise ho jaata. Hum sab Chaudhary ji (Rakesh Tikait) ke saath hai," he said. In Kutba village the Jat community reiterated that cases against them should be withdrawn and things would return to normal.
Kamal Bhargava, a Meerut-based senior political analyst told Newsclick said that whenever something has threatened farmers from the region it has united the communities.
"They are farmers and the movement has indeed brought the communities closer. However, for how long they will stick together and live in harmony in the region is a concern. The tussle between the Jats, Muslims and Gujjars has to end but the wounds of 2013 have not healed and it will take a long time and much effort to heal. Another important facet is that the movement has brought Jats and Gurjars closer than it has Jats and Muslims," Bharagava added.
"Speaking to people and leaders on the ground I get the sense that they are worried that Rakesh Tikait might be nursing political ambitions or that he might make the protest political, given the kind of speeches he has been making," he opined.
Asif Rahi, a Muzaffarnagar-based social worker, said: "This has indeed brought the communities together. They farmers have forgotten their communal differences and have come together because farming in itself is a religion and Rakesh Tikait – the son of Chaudhary Mahendra Singh Tikait – crying is a big deal to all the farmers from the sugarcane belt."
"Many efforts have been made by civil society groups, government agencies and individuals but the impact was never seen in the way it is now being seen. The coming together of the Chaudharys for this movement is making a difference and one should not forget that the Muslims from this Jat belt are converted ones and they cannot leave their Jat brothers alone," Rahi concluded.
Rashtriya Lok Dal leader Vipin Singh Baliyan, who has been working on communal harmony in the region, said, "Time is a great healer but the farmers' protest and Tikait's tears have worked as a positive force in healing the wounds of Muzaffarnagar. Life was already returning to normal but the statement of Mohammad Jaula brought Jats and Muslims more together. Both Jats and Muslims are now coming together as they could not see their biggest farmer leader crying," he said.
It must be mentioned that people at the relief camps due to the Muzaffarnagar Riots are unaware of what has been happening in the country and are still struggling to lead a respectable life.
Get the latest reports & analysis with people's perspective on Protests, movements & deep analytical videos, discussions of the current affairs in your Telegram app. Subscribe to NewsClick's Telegram channel & get Real-Time updates on stories, as they get published on our website.
Subscribe Newsclick On Telegram