Democracy is Violated When Resistance is Absent. Farmers Have Understood That: Krishna Prasad
The struggle has become a pan-India movement with programmes in the past 6 months bringing together both producing classes -- workers and farmers -- close to each other, enabling them to understand their issues clearly.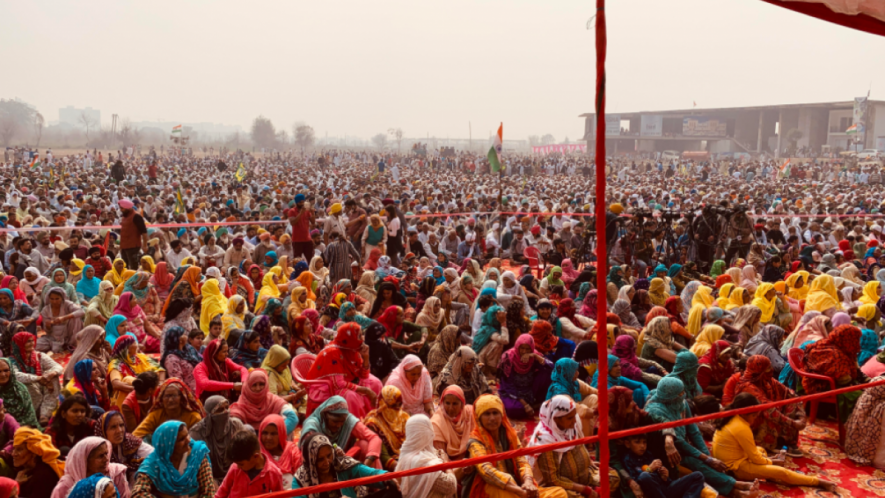 The farmers' movement will be completing six months on May 26. This has been the biggest farmers' uprising in Independent India. NewsClick spoke to P Krishnaprasad, Finance Secretary, All India Kisan Sabha, to talk about action programmes on that day, the struggle ahead and the legacy of the struggle.
RK: The farmers' movement is completing six months tomorrow and the Samyukta Kisan Morcha, which is the umbrella body for peasants' organisations, has given a call to observe it as Black Day. How is the day going to be observed across states and protest sites in Delhi's borders?
KP: The farmers' organisations have called upon farmers, workers, students, youth and every other member of the civil society to observe May 26 as Black Day when the current struggle completes six months. The participants, adhering to COVID protocols, will be hoisting black flags atop their houses, personal and commercial vehicles. Also, they will be burning effigies of the Modi Government in villages, cities and protest sites.
In commercial establishments, workers will be tying black badges on their sleeves to express their solidarity. All major trade unions are also observing the day as we together began the struggle with the historic workers' strike on November 26 against the four labour codes and privatisation of PSU's.
In addition, 12 Opposition parties have already extended their support. This is going to be a pan-India action where no state will be left out. Our message of repealing the farm laws and the Electricity Bill, enact a law guaranteeing minimum support price for all crops with guaranteed procurement based on the recommendation of Swaminathan Commission and minimum wage to agricultural labour, will be delivered to every household.
While the movement is termed as the biggest farmers' uprising in the history of Independent India, which has continued for six months across all major states, including Punjab, Haryana, Rajasthan, Maharashtra and Southern India, yet, it could not force the government enough to pay heed to your demands. Why is this so?
Yes, it's now a pan-India movement where organisations are very active in the states you mentioned and also across the country. To answer your question, we need to address both parts. First, the movement was built in stages and it strengthened with every mass programme. During the struggle, we observed three Bharat Bandhs, one by trade unions and two by farmers' unions, on January 8 and March 26, respectively. Similarly, we observed a Rail Roko programme on February 18 this year where the rail traffic was stopped. All these programmes brought the producing classes, workers and farmers, close to each other, enabling them to understand their issues clearly. This could happen because the movement in Punjab, Haryana, Rajasthan and Uttar Pradesh gained a mass character and is quite strong there.
However, these conditions do not apply all across the country, as agrarian relations have been distinct in different regions. Let me cite an example. I hail from Kerala, a state where 82% of total crop production is cash crops, such as coffee, rubber, spices, cashew etc. The agrarian relations there are different from the same in the green belt region. The farmers in Kerala were plundered through the free trade regime brought in by ASEAN and other agreements. Kerala produces seven lakh tonnes of rubber annually. 90% of rubber production in India is from Kerala. Prior to the ASEAN agreement, rubber was sold for Rs 240 per kg. When the agreement came into effect, the prices crashed to Rs 70 per kg in the year 2011. If you calculate the loss to farmers, it would be Rs 11,400 crore for that one year alone.Now, it is somewhere near Rs130 per kg. If we assess losses suffered by rubber farmers in the last ten years, which amounts to a whopping sum of Rs 60,000. So, these different relations and issues need to be taken into account. And this is what we are going to do in the days to come. Take concrete issues in different states and regions and put forward concrete demands and mobilize farmers to fight for those demands. 
Until and unless farmers of different regions feel that their concerns are not being addressed, it will be very difficult to bring them together and build pan India struggle. We are going to work on this. Then the movement will take mass in these regions too. This struggle is definitely going to alter Centre-state relations, too. PM Modi is proposing 'one nation one market', but who will benefit from this? Obviously, the corporate giants. No farmer will travel 200 km to sell his/her produce but the intermediaries of corporate forces are there everywhere to procure at cheap rate. We will also ask chief ministers of non-BJP governments to take a stand on this, as agriculture is largely a state subject.
Coming to your question on why the government is not paying heed to our demands. Please understand that this is a policy question and he (Modi) is merely a mascot for corporations. So, it is not the government, but the corporations that are not willing to step back. Why is the government not stepping back? Because they are in a crisis that they themselves created since the past three decades through pursuing capitalist and neo-liberal policies. In the past three decades, the purchasing capacity of both producing classes -- workers and farmers -- has nosedived. Once the large majority of the people do not have money to purchase things, how will corporate industry and commerce survive? Only through further exploitation and there is a limit for everything. So, resistance has to be built and these policies need to be reviewed if the crisis is to be resolved. If the Modi Government remains adamant not to change the policies, then the option is to change the Government. The next stage of the struggle has to address that option.  
Do you think the struggle did better where farmers' movements were traditionally not strong and resistance was not significant in Central Indian states?
Well, I think the general weakness of the kisan movement in such regions could be one explanation. But we are certainly seeing political consolidation happening against the Bharatiya Janata Party in these states as well. However, the agitation is making an impact in Chhattisgarh and Madhya Pradesh too where farmers came out on streets in Guna, Gwalior, Reewa and Chhindwara and organised thousands of farmers on Mahapanchayaths as well as Rail Roko, Road Roko struggles. 
When we talk about farmers' movements, the question of legacy pops up. What is your view?
When we talk about legacy, we must also think about who created it. I think the farmers of the country need to really thank their brothers and sisters in Punjab for the leadership role they played in this historic struggle. They studied the issue very well and made tremendous sacrifices. It was their langars that provided free food to the protesters and gave the movement a better standing. The massive participation and mass character of the movement has ensured that it remains peaceful which is why the government could not muster courage to initiate any action at the protest sites. Although they did try to stop farmers by digging up roads, using water cannons and tear gas, concertina wires and barricades. Democracy is violated when resistance is absent. Farmers understood this. So, the legacy of the movement and message is: have a fearless mind, show courage to build a collective to face the brutes. Nothing can frighten a fearless mind and that is what we need at the time of authoritarian regimes. 
Another legacy that I can think of is about worker-farmer unity. Now, all farmer unions, across political affiliations, came together to fight exploitation. Who convinced them about this? It was the workers, who have been waging a struggle since the last 30 years now. The trade unions were consistently in struggles against the neo-liberal onslaughts. They were supporting the farmers' struggle from day one and our struggle against 3 farm laws and 4 labour codes began on the same day, November 26 last year. The farming communities had no other option but get liberated from the illusion on neo-liberal development policies and to fight it out together with the working class.
How do you see the struggle beyond farm laws?
The real question is that agriculture is now a loss-making enterprise. Farmers have been basically selling produce as raw material to agri-business companies. It is these companies which have been depriving them of their due share. Let me cite an example. In 1998-99, coffee beans used to sell at Rs 90- Rs.120 per kg. To make a kilo of coffee powder, you need 2.5 kg beans. The corporate companies were selling powder at Rs 450 to Rs.900 during that time. Post 1999, the prices of coffee beans dropped due to the free trade regime to the rate of Rs.18- Rs.24. So, the prices of coffee offered by companies, like Nestle, should have also dropped. But what happened is quite the opposite. Coffee was being sold in the price range of Rs 900-1,400 per kg at that period. Their profits did not come down but increased manifold. The corporate forces do exploit both the farmers as well as the consumers. Much of this enormous profit is cornered by industries, commerce, their middlemen, transporters and media and as tax to the Government. That is why we are asking for the C2+50 formula to be implemented through active state intervention. This growing struggle and the combined strength of the worker-peasant unity must compel the corporate forces to share a certain percentage of their surplus with the primary producers. And the ruling BJP, being a pro-capitalist party, cannot do this. So, this government has to be replaced with a Left and democratic alternative. 
Get the latest reports & analysis with people's perspective on Protests, movements & deep analytical videos, discussions of the current affairs in your Telegram app. Subscribe to NewsClick's Telegram channel & get Real-Time updates on stories, as they get published on our website.
Subscribe Newsclick On Telegram