UP: Farmers who Abandon Cattle to be Booked Under Prevention of Cruelty to Animals Act, Says Minister
The statement comes amid farmers' unhappiness over the state government's failure to resolve the issue of stray cattle menace.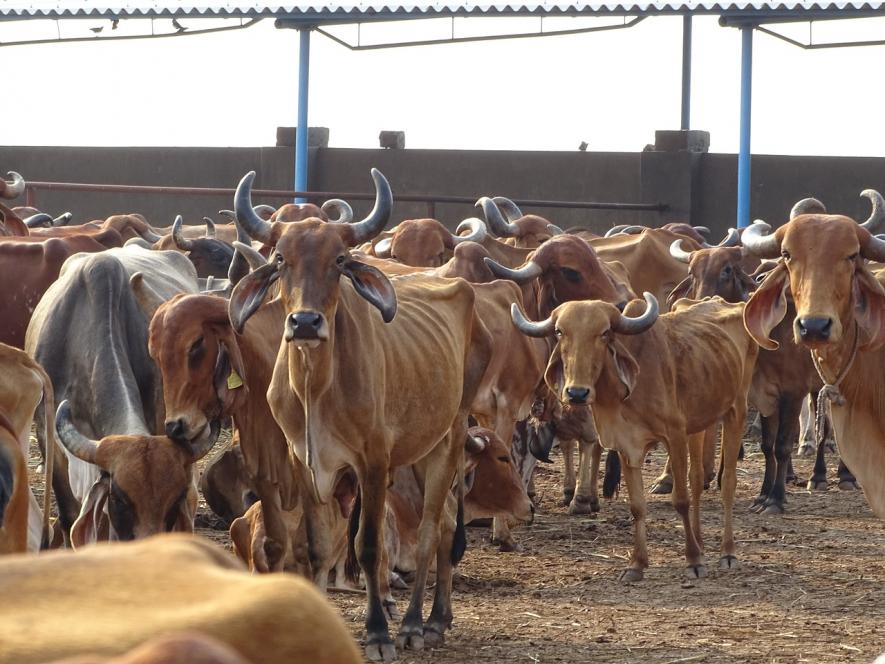 Image Courtesy: Needpix.com
Lucknow: The Uttar Pradesh government on Friday said FIRs under the Prevention of Cruelty to Animals Act will be registered against farmers who abandon their unproductive cattle.
Animal Husbandry Minister Dharampal Singh said, "Everyone knows who set them free. When a cow gives milk, it is kept, and when it stops, it is set free. There is a difference between 'kasai and kisan' (butcher and farmer). We will care for the farmer, not the butcher. FIRs will be lodged under the Prevention of Cruelty to Animals Act against those who set their cattle free." 
He asked the district administration to identify the farmers taking Rs 900/month as an allowance for taking care of stray cattle. 
Singh warned the farmers who abandon cows after using their milk for a long time.  
He further said: "Cow's milk, ghee, 'dahi' and dung are good. Goddess Lakshmi resides in cow dung, and mother Ganga lives in cow urine."
"We are concerned about cows and are protecting them….these are not stray animals. There is a lot of difference between stray animals and abandoned animals. We call them 'Nirashrit Govansh'," said Singh.
Samajwadi Party spokesman Rajeev Rai said the BJP (Bharatiya Janata Party) government was not sincere towards the issue of protection of cows. He said Prime Minister Narendra Modi, in his 2022 poll campaign, had promised to resolve the issue. He added the BJP government was talking about registering cases against those who abandon cows instead of taking measures to resolve the issue.
Uttar Pradesh Police lodged an FIR against 16 named and 20 unidentified persons under the Prevention of Cruelty to Animals Act for allegedly herding stray cattle inside a government primary school after allegedly breaking open the lock on the school's gate in Karan Khal village of Hasanpur police station area in January in Amroha district. 
In a similar case, police in Sambhal has registered a case against at least 13 named and 50 unknown people for blocking the highway and creating an atmosphere of chaos.
Shyam Singh Chahar, a farmer leader in Agra, accused the Centre of double standards, saying that the government will initiate legal action against those farmers who abandon their cattle after it stops giving milk is highly objectionable. 
The stray animals who go to the gaushala live only for three-six months, and after that, they die due to lack of food and facilities. 
"Will the government also take responsibility for poor management? Will the government take action against the chief development officer and block development officer because the amount to run gaushala comes into their account? If farmers are responsible for abandoning cattle, the officers are equally accountable for cattle dying in gaushala. The law should apply equally to both," he told NewsClick. 
Anger is brewing among the farming community in Uttar Pradesh against the Yogi Adityanath-led government over its failure to fulfil the promise of solving the stray cattle menace in the state. Farmers have served an ultimatum to the Yogi government demanding new legislation to deal with the stray cattle menace, failing which they would launch a Statewide agitation to press their demand.
Though the UP government claims to run 6,222 cow shelters that house 8.55 lakh homeless cattle and is building shelters at all block levels, a farmers' leader said the issue remains a challenge for the party.
The government is paying Rs 30/animal/day for maintenance. Finding a solution to the stray cattle menace has been a major demand of the farmers for the last few years. 
Though the state government tried to put all the stray cattle at its shelters, it has become difficult for the authorities to maintain them due to a lack of funds. Farmers believe that the BJP, to get their support during the Assembly elections, had given false assurances and was not interested in solving the problem.
Dharmendra Malik, Bhartiya Kisan Union (apolitical), speaking to NewsClick, said, "There are two factors people are abandoning once they cannot produce milk. The first factor is that the low fertility rate among cows of foreign breeds has led to people abandoning these animals faster, as these are considered a liability once they stop producing milk. The second factor is the high price of fodder which farmers can not afford for a long time. The government should work on both factors instead of acting against farmers as it will not serve the purpose."
He added, "If the government's attitude remains, then this problem will never end. The government should organise an awareness programme that even cows are part of a family like pets (dogs and cats). We should not keep them only for benefit. Besides, the government should closely monitor the low fertility rate."
Get the latest reports & analysis with people's perspective on Protests, movements & deep analytical videos, discussions of the current affairs in your Telegram app. Subscribe to NewsClick's Telegram channel & get Real-Time updates on stories, as they get published on our website.
Subscribe Newsclick On Telegram