Fate of Dalits in Gujarat: Denial of Land Right, Self-Immolation and Police Assault
The bandh call was given by the Dalit Adhikar Manch (DAM) in Ahmedabad and Gandhinagar to protest against failure to regularise land tilled by landless labourers in the state.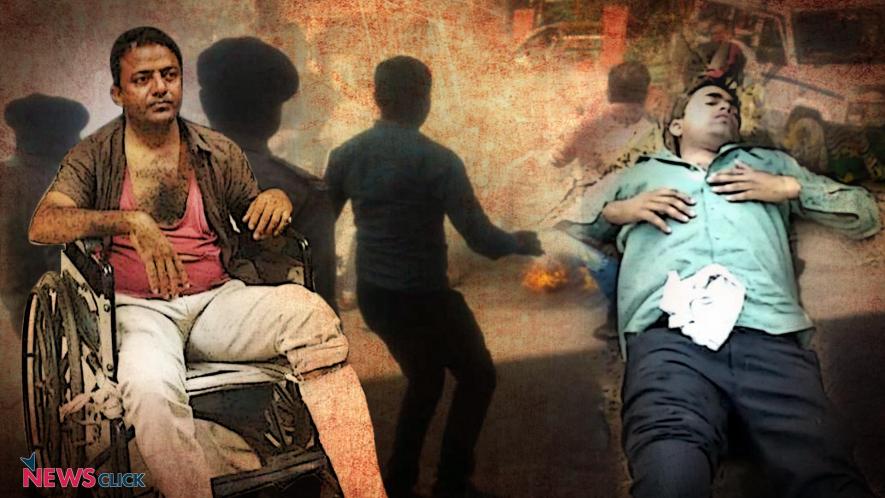 Close on the heels of the self-immolation by Dalit activist Bhanubhai Vankar in the premises of Patan district collector's office in Gujarat, two Dalit activists were allegedly assaulted by the police when they were appealing for implementation of a protest bandh. This incident happened on February 18 at Jasoda Nagar, part of Vatva assembly constituency represented by Pradipsinh Jadeja, state home minister (independent charge). The bandh call was given by the Dalit Adhikar Manch (DAM) in Ahmedabad and Gandhinagar to protest against failure to regularise land tilled by landless labourers in the state.
Bhanubhai Vankar was helping Dalits in Dudkha village of Sami Block in Patan district to get actual possession of land allotted to them under land reform legislations, the Tenancy Act and the Agricultural Land Ceiling Act.
In the Jasoda Nagar incident, Yash Makwana was allegedly brutally thrashed and choked till he fell unconscious, Prakashbhai Makwana suffered a leg fracture due to the police action.
"On February 18 morning, we along with hundreds of fellow community men and women took out a march from Jasoda Nagar in Ahmedabad, urging people with folded hands to shut their shops in support of our protest. We were also getting support of the business community. It was a peaceful appeal and we were not resorting to violence of in any kind," Yash told Newsclick.
"Police sub inspector Vaghela with a strong police force began mercilessly beating us. Many of us suffered serious injuries. I was choked and Prakashbhai suffered a fracture in his leg. Male cops assaulted female protesters. When we were detained and taken to GIDC police station, I began vomiting and fell unconscious there. My family members called the ambulance and rushed me to hospital, which discharged me yesterday (February 21)," he said.
Alleging that the excessive force was used on the instructions of Vatva MLA Pradipsinh Jadeja, who is the state home minister, Yash said, "Being the minister for home he can go to any extent to stop such agitations. But he is mistaken. This fight will continue and we will give him sleepless nights till we get our due rights and the murderers of our leader Bhanubhai are brought to book. The police lathis, water cannons and bullets cannot stop us. We will not let the martyrdom of our leader go in vain. We will fight till the end."
He alleged that the police are trying to harass and threaten them with implication in false cases. "My complaint against police officials who tried to kill us, thrashed our women and used casteist language while detaining us has not so far been turned into an FIR," he added.
DR Gohil, inspector at GIDC police station, rubbished the allegation saying that "nothing of that sort happened as being said". "All the protesters were detained as per the due process of law. No one was thrashed or manhandled. The injuries were caused because of them only. The police maintained restraint even after several provocations," he told Newsclick.
Vankar's death sparked off statewide protests as newly elected independent MLA Jignesh Mevani took the lead. He and about 100 others were detained on February 17 while staging protests in Ahmedabad.
"My vehicle was suddenly blocked by a group of five-six plain-clothed people whom I did not know and could identify that they were policemen. They tried to open the gate of my vehicle and broke the keys. It was undemocratic and illegal. If this treatment is meted out to an elected representative, then one can imagine how general people are treated by them," Mewani said.
"There is a categorical guideline given by the Supreme Court in DK Basu judgment that clearly states that any citizen of the country has to be detained or arrested under due procedure of law, which says the police men have to disclose their identity, they must in uniform, displaying their names and buckle number. He or she has to tell the person that he is being arrested or detained for an offense committed by the person. But nothing of that sort happened with me when I was taken into custody," Mevani told Newsclick over phone.
"This is not an isolated case. The long-standing land reform policy is not being implemented. Ever since Una incident (where in four Dalit men skinning the carcasses of dead cow in Mota Samadhiyala village in Gir Somnath district were assaulted on July 11, 2016 by right-wing extremists) happened, I have been continuously raising this issue, demanding allotment of land land to Dalits as per the provisions and ensure the actual physical possession which has so far be given only on the paper. My public interest litigation (PIL) in this regard is pending in the Gujarat High Court. In response to this PIL, a circular has been cited through an affidavit by the Revenue Department, directing each district collector to bring out in public domain whether the land given under the Gujarat Agricultural Land Ceiling Act in only on paper or physical possession has been ensured. In cases where the actual physical possession has not been given, the circular said, ensure that it is done. Each district collector has to do it or get it done through resident deputy collector. This circular was submitted in 2015 but unfortunately nothing happened. It forced a committed activist like Bhanubhai to take the extreme step," said Mevani.
Various castes in Gujarat such as Patidars benefited from the Congress era land reforms legislation and improved their social, economic and political status. But Dalits and tribals, who were slated to be the main beneficiaries of the land reforms because of their social and economic backwardness benefited the least as a result of the state apathy. Those who tried to get its benefit had to pay a heavy price in terms of their lives. The Golana massacre, a caste-based attack in 1986 where six Dalits were killed by upper caste people when the former tried to get their land, still stands an example.
The two communities were to be allotted about 3.75 million acres of land. But barely one-third of this land has come to Dalits and tribals so far. In many cases, Dalits have been given 'legal possession' of the land allotted to them under the land reforms act but not the actual physical possession.
Get the latest reports & analysis with people's perspective on Protests, movements & deep analytical videos, discussions of the current affairs in your Telegram app. Subscribe to NewsClick's Telegram channel & get Real-Time updates on stories, as they get published on our website.
Subscribe Newsclick On Telegram