FIFA World Cup: Black or White? Les Bleus are French in Colour
The 'Africa team' tag to FIFA World Cup champions France is wrong on many counts, and by naming them so, we are, in fact, encouraging xenophobic sentiment.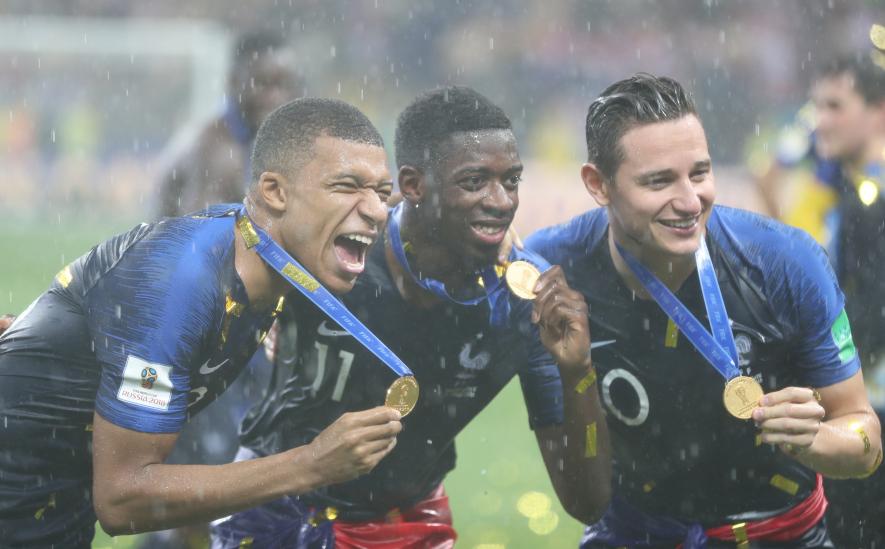 The squad of FIFA World Cup winners France is multi-ethnic, born of modern migration, but the lines by which we define and divide the players are racial, which is unacceptable (Pic: IANS).
At first it was quirky, and one was, to be honest, curious. Then it got annoying. Every time France won a game at the FIFA World Cup, a text, or a visibly xenophobic WhatsApp forward would land. The text came from various sources – school friends who had suddenly taken to right-wing nationalism, uncles and aunts who couldn't tell foot from the ball, a parent who smirked at the colonial implications, and acquaintances with whom one had shared interesting conversations with in the past.
The text was simple, it started off with 'FRANCE LAST AFRICAN TEAM AT THE WORLD CUP', and then proceeded to list out the 15 players of African origin who are part of Les Bleus in Russia.
Of course, there is no denying the role Africa has played in France's modern history. Also, France's role in bloodying the African continent is beyond doubt. But, by labelling the French team 'African', we do them a huge disservice.
Also Read | World Cup: Lukaku, Mbappe and the Colonial Ghosts Within Belgium and France
What France has achieved, now and back in 1998, is a great statement. A multi-ethnic team winning the World Cup for a country that is politically obsessed with colour blindness and has just moved to replace the word race with sex in its constitution (making it tougher to fight systemic racism and injustice) is brutally honest, and lovely karma. Buddha would be proud.
But, the African tag is still wrong, even if many are using it as a slap on the face of racism.
It is unfair to these young men, who eschew French culture, enjoy the slang, and are constantly redefining what it means to be French, or a migrant, in the modern world. By calling them African we are essentially calling them 'black' and separating them from their countrymen we deem to be 'French' because they are white. If the case was made that this team is multi-ethnic and borne of modern migration then it would have been acceptable, still. Unfortunately it isn't. The lines are racial.
Case in point: Antoine Griezmann has not once featured in posts about the ethnicity of this French team. He comes from German- Portuguese descent.
Also Read | FIFA World Cup: A Beautiful Midfield's Ugly Realities – the Croatian Irony
Additionally, it downplays the role of the French footballing system in this team's ascent to the top of the world. This, from a team and federation – and this could sound like baseless history now – who went home in disgrace after South Africa 2010. Incidentally, the make up of that French squad was distinctly African too. As was 1998.
Let us twist the numbers inside out. Instead of looking at 'African' players playing for different countries (exclusively France) in the World Cup, let us look at players from France who have played for other countries in Russia.
Besides the 21 members of the French squad (two of them, Samuel Umtiti and Steve Mandanada were not born in France), 29 players who appeared at the World Cup had their roots in France. To reiterate: that is 50 players – more than two full squads, and almost five starting XIs – grew up in France and ply their trade in other nations. Most football associations struggle to come up with one team good enough to take them to the World Cup. France have produced almost five.
Also Read | FIFA World Cup: N'Golo Kante and the Art of Functional Football
And the numbers have risen consistently since 2002. Since the Korea-Japan edition of the tournament, France have amassed 216 names on different rosters at the World Cup. That is 68 more than Brazil who are famed for being the 'football exporters' of the world (incidentally, no one calls Brazil an 'African team' despite the obvious Afro-Latino heritage of several players in the squad).
It is almost a hundred more than Spain, who apparently redefined the way the game is played today; and 69 more than Germany, whose footballing system has been extolled to no end. While the obvious influence of migrants on the team is undeniable, perhaps some credit is due to the French Football Federation (FFF), for having, on evidence, the best grassroots system in the world, one that pumps out players on a conveyor belt for everyone to take. A system so good that everyone seems to enjoy the benefits.
In a time when global conversation around migration is becoming increasingly stifling, football leaves doors open. Paul Pogba, Kylian Mbappe, Presnel Kimpembe and Benjamin Mendy are black, and have roots in Africa, but they are undeniably French, born in the country they lifted the World Cup for. Without French football they wouldn't be who they are. And without them French football wouldn't have the World Cup.
Unfortunately though, the world will now focus on the Africanness of this team for days to come. Paul Pogba dancing to DJ Marechal's Seka Seka will make waves for its obvious African influence, but see if you can spot Griezmann grooving to the beat too. Much has been – and will continue to be – made of the French team's official song before the tournament, Ivorian group Magic System's 'Magic in the Air'. See if you recognize the tune of their Euro 2016 number though. Both songs, you will notice, are in English. French and African? French or English?
Also Read | The Middle Path: Croatia, France's Midfield Magic Storms FIFA World Cup
Well meaning liberals will extol the virtues of immigration and tolerance by pointing to the achievements of this squad. By doing so, they will reinforce the idea that black immigrants have to be superhuman (and trophy laden) to be deemed worthy of inclusion. That makes them no better than right wing nationalists, who claim that black migrants – or any migrants indeed -- add to society's existing problems and contribute very little.
Instead of celebrating this French team as African, perhaps it will be more inclusive to celebrate them as beautifully migrant. Or just celebrate them for what they are. A brilliant team born from a smooth functioning footballing system, that refuses to differentiate on the basis of colour – skin or national. Allez les Bleus is Allez to the world. Let's honour the champions.
Get the latest reports & analysis with people's perspective on Protests, movements & deep analytical videos, discussions of the current affairs in your Telegram app. Subscribe to NewsClick's Telegram channel & get Real-Time updates on stories, as they get published on our website.
Subscribe Newsclick On Telegram