FIFA World Cup: Is the Cost of Self-Inflicted Defeat Worth It?
Risk-averse Japan and extra-cautious England may have done more damage to their prospects at FIFA World Cup than just letting their fans down.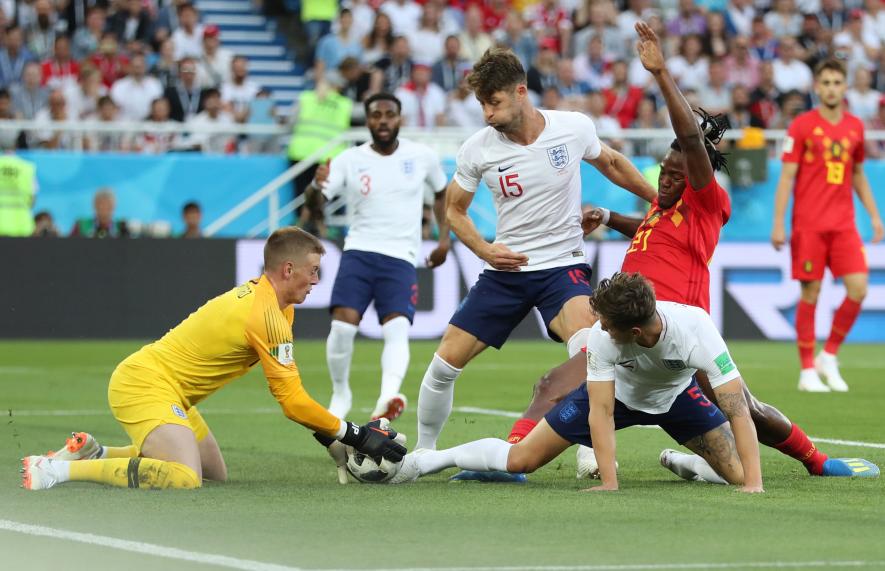 Belgium football team beat England 1-0 to progress as Group G winners, setting up a date with Japan in the Round of 16 at FIFA World Cup, while England take on Colombia (Pix: IANS).
The final group matches of the 2018 FIFA World Cup, besides confirming who plays who in the pre-quarters, have also whipped up an ethical question—which, for a change, is not related to the Video Assistant Referee (VAR). Phew!
Well, we can't afford to 'phew' it aside either as it has potentially more far-reaching implications than the ongoing war over VAR.
Were teams assured of final-16 spots right in fielding reserve players in their final group games? England and Belgium were shamelessly blatant about it, seemingly implying they were not keen to win the match. Worse was Japan's indifference against Poland, wasting time in the latter stages of the Group H clash, even though they were down 0-1. That result, with Senegal losing to Colombia, ensured the Asian side's progress to the round of 16 based on their superior disciplinary record.
READ MORE | FIFA World Cup: Germany Have Themselves to Blame for Calamity Against South Korea
But Japan had everything to play for in Volgograd, yet they didn't. With 10 minutes of logic-defying football, they managed to kill all the goodwill they had earned by way of spirited performances in the opening matches.
FIFA, in its infinite wisdom, should look into these incidents, as the teams seem to be taking "long-term tournament strategy" into the realms of gamesmanship. Some could go to the extent of saying it borders on match fixing!
The fact that teams are being unfair to football, as well as the fans following the action, is another corollary to the ethical dilemma playing out in Russia.
But, beyond the intangible philosophical questions of gamesmanship and fairplay, what the best teams in the world have failed to realise is that they are not doing any favours to themselves by easing off the throttle in a short and high-intensity tournament like the World Cup where momentum, from every quarter, counts.
England's folly
The sarcastic takeaway from the England vs Belgium Group G match is that the 'B' side from the Isles is not so good as the reserve string of the Red Devils. In the clash, predominantly involving bench-occupants, Belgium beat Gareth Southgate's side 1-0 to progress as group winners, setting up a date with Japan in the Round of 16, while England take on Colombia, a tougher side coming off a victory against Senegal.
READ MORE | Hypnotic Jerseys, Sexy Midfield and Pride Could Earn Croatia the World Cup
While the English, with the loss, have possibly negated all the momentum they managed to generate after their convincing victories in the opening two matches.
A loss is a loss, and what the English management has failed to fathom is the psychological and physical (both are correlated) toll a player, and thereby the team, undergoes while going down, whatever the circumstances of that defeat may be.
Dr. Rajat Chauhan, a musculoskeletal sports medicine specialist, feels the biggest mistake teams including England have made is to think resting players would help.
"These players are professionals who are used to playing high-intensity matches through the year. They also have state-of-the-art support structure and systems in place for recovery. Keeping them out of action for a match could turn out to be counterproductive," says Dr. Chauhan.
READ MORE | Alireza Beiranvand: From a 'beggar' in Tehran to Stopping Cristiano Ronaldo at FIFA World Cup
Footballers, like any athlete performing at the highest level, have to keep themselves within a near-perfect physical and psychological realm which we refer to as "the zone". And in the month-long tournament like the World Cup, where the most a footballer plays is seven games (if the team reaches the final), sitting out for a week could muddle his mindset and physical readiness.
"Momentum is key here," adds Dr. Chauhan. "It is different in the case of a 40-match league that goes on for 10 months. There the teams can rest players and it will make sense. But here, resting means, taking the player off the boil, and that affects his mind as well as body. And, in case the team loses, like in the case of England for instance, the impact on the side's momentum and psyche would be so severe that it will affect their physical performance too."
Taking this factor into account, both England and Belgium could find themselves in a tricky situation with their key players, who were rested, taking time to get back into full stride in the Round of 16.
The English side, coming from a loss, would be worse off. They had, in fact, made a similar mistake at Euro 2016 in France. But the lesson has clearly been forgotten. At Euro, England rested key players in their final group match against Slovakia and played out a 0-0 draw. They qualified for the next round but was knocked out of the tournament by Iceland.
The physical toll
While many would claim that all teams start with a clean sheet in the World Cup's knockout stages, it's not necessarily true since the sides going into the round on the back of victories are bound to carry forward a psychological edge.
Former India international Renedy Singh, however, disagrees, and feels England coach was right in trying out his entire squad, as it would give his reserve players confidence.
READ MORE | Trump Tries to Dribble Ronaldo Joke Past Portugal Prez, Scores Own Goal
"Injury can happen any time and, imagine, if Harry Kane were to get injured in the next round," says Renedy. "If Kane's replacement is not confident then that would spell disaster for the team. Besides that, England have had a great run till this loss against Belgium. The 6-1 result against Panama could have made them arrogant and complacent, it happens to the best of sides. This loss will shake things up, making them play with renewed hunger in the knockouts."
While Renedy makes a fair point, the complex dynamics within the players' body—the physiological and psychological changes that come with suffering a loss—should also be taken into consideration, especially because it's an exact science these days.
The English reserve players did play their heart out to gain confidence as well as catch the manager's eye. But their effort ended up in a loss. And a loss, studies have proved, takes players into a low zone, with related physical reactions, including lowering of testosterone levels. And we know how important testosterone is in high-intensity sports.
So how effectively will the English players, yanked out of "the zone", manage to get back into it, fighting a lot of variables, some even beyond their as well as coach Southgate's comprehension?
The dynamics on the football field isn't as simple as playing to a formation, dribbling, making crisp passes, and scoring goals. A lot more goes into it.
However, with all the complexities, what works for teams who end up lifting trophies is sticking to a basic tenet of the game -- play for results, no matter what the stage is, letting the momentum remain in their side, and the morale high.
Get the latest reports & analysis with people's perspective on Protests, movements & deep analytical videos, discussions of the current affairs in your Telegram app. Subscribe to NewsClick's Telegram channel & get Real-Time updates on stories, as they get published on our website.
Subscribe Newsclick On Telegram