FIFA World Cup: France were Young, Sublime and Too Good for Argentina
The knockout phase of the 2018 FIFA World Cup in Russia could not have gotten off to a more dramatic start -- Lionel Messi's Argentina beaten in seven-goal circus by France.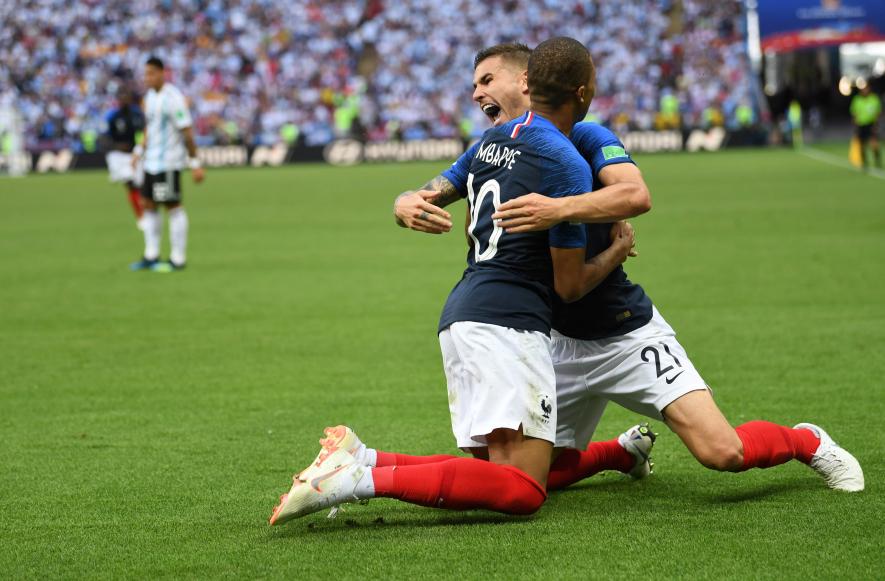 Kylian Mbappe (left) of France football team celebrates after scoring against Argentina in their 2018 FIFA World Cup Round of 16 in Kazan on June 30. France won 4-3 (Pix: IANS).
Going into the game against Argentina on June 30 in Kazan, France were perplexing. They had successfully, and without even a hint of trouble, navigated a group in which they were clear favourites. But they had done it in a manner that seemed more than a little cynical at times. That it was less cynicism more confidence became clear minutes into the opening knockout game of the 2018 FIFA World Cup.
France started out looking well up for it. They were sharper on the ball and pressing with real intent. Argentina won a throw deep inside the French half but the effectiveness of Paul Pogba, Blasé Matuidi and N'golo Kante in closing down both room and options led to Kylian Mbappe picking up a sort-of loose ball and then demonstrating where modern football has reached when it comes to combining pure footballing skill with 21st century nutrition, conditioning and training.
READ MORE | FIFA World Cup, Dispatch from Russia (Ep 3): Pre-quarter Epics and a Prediction Game
I have seen Usain Bolt's Olympic 100 metre final in London from around the 65-metre mark and had a similar point of view when Mbappe made his run. You could almost feel the gears changing as he bore down on goal with way too much clarity of purpose for a teenager. By using the relatively simple first-stage games as an extended training camp, Didier Deschamps — without a doubt encouraged by the sheer quality he has available — has come upon both his most potent attacking formation and his most balanced defensive one.
Argentina were, by no means, the strongest team in this tournament and it was straightforward to assume that they would meet France at this stage. The only question was whether this young French team could get things together when the pressure reached an unparalleled peak. But this young squad also has the benefit of growing up in a footballing system that is an incessantly lit cauldron of pressure.
French supremacy
So, either they will enjoy what they are doing and do it well, or they will do the bare minimum that suits their fancy. Against Argentina, every player decided to show up. In the 20th minute, for example, Pogba was fouled 30 yards from his own goal. In one continuous motion he went down, got up and played a delicious ball over the top into the space between the Argentine back-line and an advancing Mbappe.
READ MORE | FIFA World Cup: Is the Cost of Self-Inflicted Defeat Worth It?
There was only going to be one winner. On a different day the resulting foul could have led to a red card for Nicolas Tagliafico, and ended the game in a different way. France, as it turned out, didn't need the man advantage.
Even though Argentina had significantly more of the ball they never looked really threatening. Of course, when Gabriel Mercado half controlled, half deflected Messi's shot into goal to put the Latin Americans 2-1 up it seemed as though luck was on their side. And that the young 'uns would crumble in the face of a team of veterans of high calibre. Incredibly, what came next was the sort of football every fan on the planet pays money to see. (MATCH HIGHLIGHTS)
And that sort of football was down to each part of the system working the way it was supposed to, almost. The scoreline might also read 4-3, but that in no way reflects the reality of this game. France were so effective at closing the South Americans down that Argentina's first goal had to be one of pure genius.
Angel di Maria found just an inch of space and hit the ball as perfectly as possible. A goal of sublime quality. The second was a good deal of luck. But the French responded immediately and played both ends of the game with focus and purpose. The penalty was won, rather than conceded; the equaliser from Benjamin Pavard was another fine strike, and the third from Mbappe was a perfect example of what coaches talk about when they say transition.
READ MORE | Hypnotic Jerseys, Sexy Midfield and Pride Could Earn Croatia the World Cup
Olivier Giroud showed why he is so vital to the team's functioning, both in terms of what he does on the pitch as his overall maturity and sense of team play. How many times have you heard a player say he was sad to leave a club but welcomed the decision as he knew it was a step forward to them.
High on confidence but never the glory-hunter. Giroud, at this tournament, has underlined the vitality of a team playing with a set of players that may have different values, but play of and for each other.
Which brings us to Kante. A player who has barely put a foot wrong in years. His rise to the very top of world football was announced in the match against Argentina in very clear terms. As Lionel Messi might well be contemplating an actual end to his international career, Kante is staking a claim to be recognised as among the finest midfielders in the next generation.
Every year, every season, every tournament, he just gets better and better. Every cog in the wheel might be needed to make it run optimally but Kante is the sort of cog that, if it falls apart, so does France. With Kante France are set to go far.
Messi's future
There were about 20 times as many Argentina fans in the stadium as there were French. But the home support wasn't enough to change the course of Messi's legacy. Let's face it, that is what it had become a little bit about. While that legacy is inherently tied to Argentina's, the two are not necessarily the same. Despite all that he has achieved for club and country, and that almost all the jerseys in the stands read Messi on the back, he is still a polarising figure. 
He is the nation's all-time leading scorer, including four on the way to the World Cup final at the Maracana in 2014. But for many Argentinians, Messi is an outsider, more from Barcelona than Rosario. After that final too, there were only tears and criticism for the little genius.
READ MORE | Halfway through FIFA World Cup, Is VAR fighting a losing battle?
When he walked up to collect the Golden Ball, given to the best player of the tournament in 2014, he seemed uninterested in the prize. "It was no consolation," he said then.
It was clear that the loss had devastated him. None of us at the stadium that day imagined it might be Messi's last match for Argentina at a World Cup. Two years later he shockingly announced retirement. We shed tears for Xavi, Andrea Pirlo and Philipp Lahm, but Messi had one more World Cup in him, surely; Maybe even two. In 2022, at 35, I would pick him for sure if he were up to it. The question is — can he get over this prolonged heartbreak?
Soon after the Golden Ball decision, Diego Maradona (who remains the nation's favourite son despite his increasingly loutish behaviour) publicly criticised the award as a marketing decision. He believed Colombia's James Rodriguez deserved it more.
It was another chapter in the story that — at least at a subliminal level — might have a great deal to do with Messi's Argentina career. Nothing less than the World Cup matters. The anger and the hurt of not being able to replicate the successes he has had with Barcelona on the international level, and the constant comparison with Maradona are perhaps too heavy a cross to bear. In Qatar we will find out.
Get the latest reports & analysis with people's perspective on Protests, movements & deep analytical videos, discussions of the current affairs in your Telegram app. Subscribe to NewsClick's Telegram channel & get Real-Time updates on stories, as they get published on our website.
Subscribe Newsclick On Telegram