FIFA World Cup: Germany Have Themselves to Blame for Calamity Against South Korea
The hunger and eagerness of Germany football team at the 2014 FIFA World Cup was replaced by complacency and arrogance in 2018.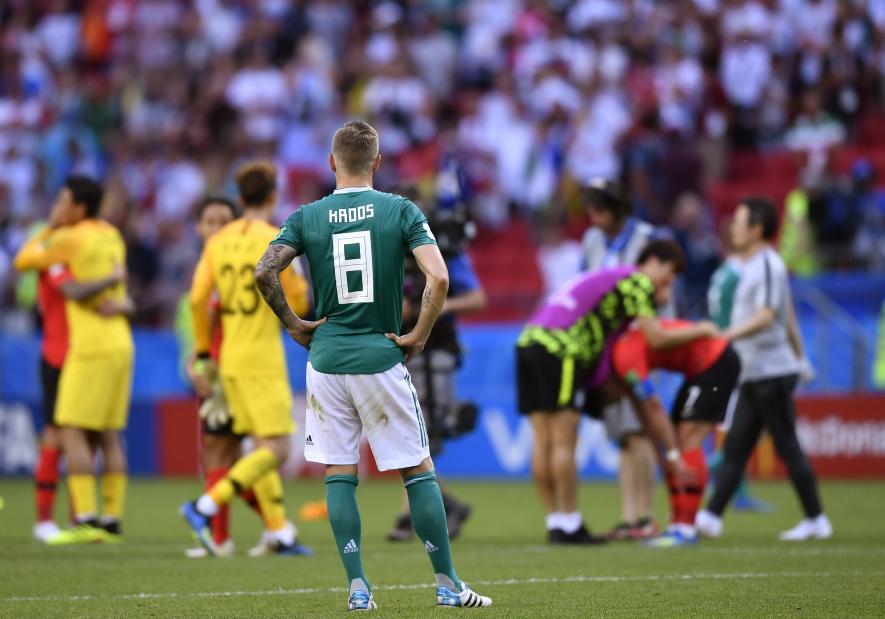 Complacency, arrogance and a lack of creativity have cost Germany a chance of defending their World Cup, and the repercussions will soon follow. (Pic: IANS)
The jinx lives on. Winning the FIFA World Cup doesn't guarantee you success at the next one. In fact, it doesn't guarantee you safe passage through the group stages. Germany are the latest casualty of this jinx, and observers will agree – this was coming.
From the first game, this team hasn't looked like the one that landed in Brazil four years ago. The hunger and eagerness has been replaced by complacency and arrogance. Four years ago, this team took the evolution of tiki-taka to the next level. Football wasn't just about possession, it was about quick transitions and attacking from the channels. Those were the traits that took Germany to their world title.
READ MORE | Hypnotic Jerseys, Sexy Midfield and Pride Could Earn Croatia the World Cup
This time around, though, they have fallen into the trap of thinking all would be the same. Yesterday – and in truth, throughout the tournament – they lacked pace and creativity. Despite having 74% of the ball, and over 25 shots on the South Korea goal, they failed to penetrate the defence. A huge amount of blame for this must rest on their tactics. They didn't have a plan B. In a must-win situation, they went up against a team that was defending deep and defending hard. The spaces between the Korean goalkeeper and the last defender was hardly 5-7 yards. There was no way they would have managed to thread the needle and find the pass that would get a goal there. And yet they kept trying.
The ideal thing to do in such a situation would have been to get their wingers to take on the South Korean wing backs in individual battles. This would have forced the Korean defence to stretch out a bit and may have opened out spaces in the central areas a bit more.
Their three best chances were created through crosses into the box from the wide areas, and Mats Hummels --- who could have had a hat trick on another day --- found the space to exploit because of the way the wingers had stretched the defence out. It is lovely if you can win playing beautiful football, but sometimes you need to invest in a Plan B. Instead Germany relied on constantly playing the ball through the central areas, passing sideways and backwards, hoping for a miracle to get them a goal.
READ MORE | Alireza Beiranvand: From a 'beggar' in Tehran to Stopping Cristiano Ronaldo at FIFA World Cup
It seems obvious to say this, and it is a comment that many will probably repeat in coming days – now more than ever since Germany have been knocked out – but Leroy Sane could have helped this team. I can understand the coach took a gamble and it didn't pay off, and for all we can say, even Sane may not have been able to help this team. But his exclusion cannot have helped.
Sane brings something very important to his team, even the all-conquering Manchester City from last season. He brings the obvious necessities in a winger--pace, technical ability and a love to take people on individually. But, in addition, he also brings the unpredictability that very few German players in the current squad have. Capable of shooting with both feet, Sane likes to run down the channel and pulls full backs with him. This opens up space for someone like David Silva, and Kevin de Bruyne – in this case, Toni Kroos or Mesut Ozil – to exploit. Complemented with Marco Reus on the opposite wing, it could've worked wonders.
Enough about Germany though. As much as Germany's performance was lacking, South Korea's desire and perseverance definitely deserved some reward.
READ MORE | FIFA World Cup: Sweden Players Join Hands With Durmaz After Racist Abuse
I am ecstatic about the performances of the Asian teams at the World Cup this summer. Saudi Arabia bounced back well from their opening day loss and managed to get their first victory at the World Cup. Iran have won a lot of hearts for their dogged determination against teams that are considered far superior to them. Against both Spain and Portugal, you couldn't help but feel that if they had luck their way they would have had all the points. South Korea had disappointed in the first couple of games but made up for all of it with a superlative performance against the defending champions. Japan today will hope to get a point and go through to the knockout rounds – and keep the AFC torch flying high.
I have addressed this point in an earlier column and again I feel the need to stress this, This is the counter-attackers' World Cup. It is the evolution of the game – a resistance almost from the days of possession football's dominating prevalence. Most teams in Russia have succeeded playing the kind of football where they absorb pressure and hit on the break, and hit with pace and vision.
But when they are then forced to be the creators and given the onus of being the controlling team all hell breaks loose. Mexico suffered that against Sweden yesterday. Iceland suffered it against Nigeria. There are only two teams left in the competition, that I believe have the creativity, technical ability and pace necessary to play football without resorting to counter attacking defensive strategies – Spain and Brazil. Both of them also have Plan Bs. Let's see how far they can go now in one of the most open World Cups of our times.
[The author represented India through 1998-2011. He is an AFC A-licenced coach and heads the Football Players' Association of India]
Get the latest reports & analysis with people's perspective on Protests, movements & deep analytical videos, discussions of the current affairs in your Telegram app. Subscribe to NewsClick's Telegram channel & get Real-Time updates on stories, as they get published on our website.
Subscribe Newsclick On Telegram