FIFA World Cup: The Life in Sudden Death
If football is life, penalty shootout is the truth that epitomises life's reality.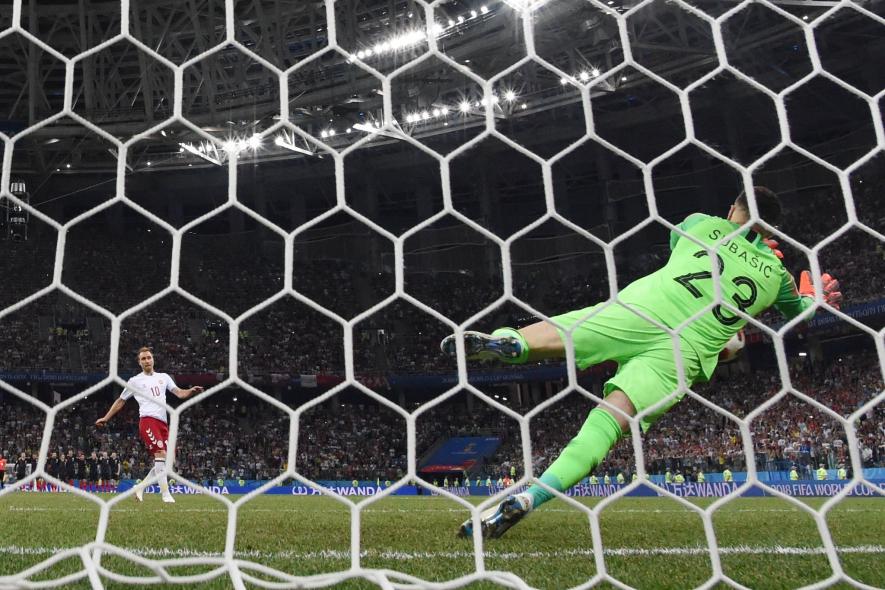 Croatia football team goalkeeper Danijel Subasic stopped three attempts during the penalty shootout against Denmark in the pre-quarterfinals at FIFA World Cup (Pic: FIFA, twitter).
A Russian roulette, a lottery, a Shakespearean tragedy, fate dealing a cruel hand, or just sheer injustice to the hard-working footballer and his sweat! While we romanticize everything about the beautiful game, including headbutts, nasty tackles and deliberate handballs, one aspect of football has forever been a subject for debate. And no, it's not the VAR (Video Assistant Referee), which is not even a contender here.
Love it or hate it, the penalty shootout season is upon us, and it has arrived in a torrent at the FIFA World Cup, bringing with it, like anything torrential, a flood… of emotion — ecstasy for the victors, sorrow for the vanquished, bitter scars for the players who failed just 12 yards away from salvation, with just the outstretched arms and limbs of a lanky adversary to beat.
Then again, it's not just the tall goalkeeper that a footballer faces while stepping onto the spot.
READ MORE | FIFA World Cup: France were Young, Sublime and Too Good for Argentina
Just as the extra-time got over at Luzhniki Stadium in Moscow during the Russia vs Spain pre-quarterfinal match on July 1, the home crowd roared in unison, as if celebrating a victory. It was clear the Russians were confident about the shootout and were happy their team had played out of their skins to keep the much-hallowed Spaniards to a 1-1 draw after 120 minutes.
As the Russian players started walking up one by one during the shootout, one got a feeling that they are unlikely to miss — it was probably their confident strides, maybe they enjoyed an edge fuelled by the home crowd, or, perhaps, it was the erratic form of the Spanish goalkeeper David de Gea.
It was not that the Spaniards were approaching with shaky legs. But there was something amiss. When Andres Iniesta stepped up to take what turned out to be the final kick of his international career, one worried and prayed to the footballing Gods that he shouldn't end up doing a Roberto Baggio.
The Spanish superstar didn't, winning the mind-over-football battle, something which his club teammate Lionel Messi and La Liga arch-rival Cristiano Ronaldo failed earlier on in the tournament, albeit from penalties during open play and not during a shootout.
Shootouts and Baggio
After the shootouts of the night on July 1 — Russia beating Spain and Croatia progressing after a victory via penalties over Denmark — one was left to wonder if there is a football equivalent of PTSD (Post Traumatic Stress Disorder) which players, coaches, commentators and fans suffer. Inexplicably, we always go back to Baggio at shootout time, and think up the worst. I did on Sunday, with Iniesta.
READ MORE | FIFA World Cup: Is the Cost of Self-Inflicted Defeat Worth It?
Baggio's story best illustrates the bad PR surrounding shootouts. His miss and Italy's loss at the World Cup final against Brazil in 1994 define the Italian legend's career, which had many high points, but is best remembered for the mishit at Rose Bowl.
Players, professionals that they are, would be not dreading the prospect of shootouts. They prepare for it these days, with help from science, and statistical clarity from studying scenarios and habits of the players who are likely to be involved. 
But, as they step up to the spot, they are on their own, their future as footballers might be flashing across in the back of their minds — the Baggio story, perhaps. The pressure would be immense, but then, isn't sport all about facing odds and beating them?
That's the beauty of shootouts we tend to miss when we brush it aside as a lottery and an unfair means to end a contest. One would say, it's much more fair than FIFA's fair play rule that gave Japan its berth in the knockouts and sent Senegal home.
Man vs Man
There is nothing more poetically beautiful than a penalty shootout, where, momentarily, the battle becomes gladiatorial — man vs man, mind vs mind, and emotion vs emotion.
READ MORE | FIFA World Cup: Germany Have Themselves to Blame for Calamity Against South Korea
If football is life, like how we all philosophize every now and then, then penalty shootout is the truth that epitomises life's reality. How life has this innate capacity to teach us a lesson or two in humility with a sudden death of the favourable circumstances that had been propelling us.
Just that, in shootouts, unlike life, players have the luxury of preparing for the scenario. 
At Luzhniki and Nizhny Novgorod on Sunday evening, the better men on the day won.
Croatian goalkeeper Danijel Subasic was the victor over Danish custodian Kasper Schmeichel, a 'keeper with pedigree and arguably the best in the world at the moment, who saved the same number of penalties as his opponent in the match — one being in game play — and still ended up on the losing side.
READ MORE | Messi as Argentina's Tendulkar: A GOAT Soup Recipe
In Moscow, Russians kick-takers won the battle of nerves against Spain.
It's never easy when 50,000 fans are behind you and you stand alone before goal, facing a silent wall of expectation, ready to roar in joy or crumble in disappointment after the kick is taken. Players from all four teams — Russia, Spain, Croatia and Denmark — faced various demons and versions of pressure on the day, and what we got were fair results. It was never a lottery or a draw of lots.
Penalty shootouts are football at its life-like best, and first two in Russia 2018 proved it showcasing all its variables, including baggages of victory and defeat, both equally heavy!
Get the latest reports & analysis with people's perspective on Protests, movements & deep analytical videos, discussions of the current affairs in your Telegram app. Subscribe to NewsClick's Telegram channel & get Real-Time updates on stories, as they get published on our website.
Subscribe Newsclick On Telegram