First Generation Students Among 11 Suspended by Pondi University
"The criminalisation of student dissent such as seen in PU is not a first. Nineteen students were debarred from Kurukshetra University and 3 students were debarred from Visva Bharati University for protesting against fee hike," says Mayukh Biswas, general secretary of SFI.
New Delhi: Parichay Yadav had very little idea that his bid to raise his voice against an atrocious fee hike in Pondicherry University would be met with action dusting hopes of a successful career. Yadav, who is one among 11 students barred from enrolling in any of the courses run by the university for five years, is narrating the tale of him and his friends to the national media to point out that his university may be the first to come up with such harsh action but not alone with more centralisation recommended in New Education Policy (NEP).
Addressing a press conference in the national capital, Yadav, president, Pondicherry University Students' Council, said that the university has chosen to take action against 11 students for their participation in fee hike protests in 2020. He said, "we protested fee hike because the majority of students had been affected. The students in Tamil Nadu and other parts of the country thought about Pondicherry Central University as an institution where the poor and the marginalised could get an education and go ahead in their lives. When we gheraoed the administration, they flatly refused to take any action. After 33 days of agitation, we were promised a committee but this committee too failed to give any assurance. Soon, the administration closed the university after the Coronavirus hit the country. On December 17 this year, we were handed a notice that we have been barred from enrolling in any course for five years. The students who have completed their programmes could take their degrees after paying a fine of Rs 10,000."
Yadav emphasised that the action has dusted the prospects of a successful career of the students, some of whom were first-generation learners in their families, students whose parents worked as daily wage labourers who came to university after fighting multiple layers of discrimination. The students allege that the increase in fee varied in different courses with a steep rise in Computer Sciences and Master of Business Administration (MBA) courses. While the university charged Rs 44,700 for three years MCA course, the university increased the fee by Rs 58,691 to a total whopping fee of Rs 1,03,391. Similarly, the fee of the MBA course was increased from Rs 74,200 to Rs 1,45,335. In humanities courses, the fee of Master of Arts courses was increased was Rs 27,300 to Rs 38,135, a hike of 40%.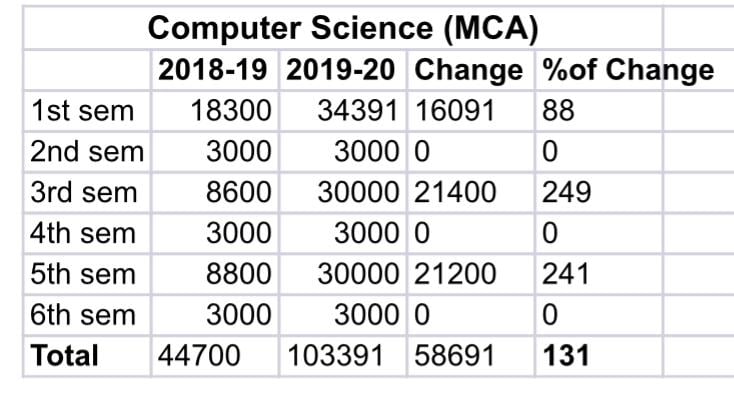 Abhijith Sudhakaran, another student facing action told NewsClick over the phone that being a Dalit, he understood that the importance of affordable education for other students from other backward communities. He said, "I may not have experienced economic hurdles but we fought the struggle precisely because the fee hike closed all avenues to lead a life with dignity and self-respect for all Dalit, Adivasi, OBC and minority students."
Another Dalit student who requested anonymity said that PhD admission was cancelled for taking part in fee hike protests. The student said, "I completed my bachelor's and master's programmes partly with my savings and partly through scholarships. When I entered into PhD, my admission was halted as they did not upload my name into the list of admissions. Subsequently, I could not get the JRF scholarship for almost a year. Today, my father is battling cancer and cardiac ailments. I am running from one hospital to another hospital for his treatment. In midst of all this, I hear that the university has cancelled my PhD admission altogether. I do not know how to express this. Perhaps, they do not want us in universities in the first place itself but we are not going anywhere."
Mayukh Biswas, national secretary, Students' Federation of India who shares the dais with Yadav told NewsClick that the harsh action should not be taken as a stand-alone case. The universities are doing it across the country to send the signal that no opposition would be tolerated in the campuses against the implementation of the Centre's flagship NEP proposing similar exclusion through private education.
He said, "The criminalisation of student dissent such as in PU is not a first. Nineteen students were debarred from Kurukshetra University and 3 students were debarred from Visva Bharati University for protesting against fee hike."
He added that the PU administration's order to debar 11 students, after two years of the mentioned incident, was issued just before the reopening of the campus and the motive is to threaten the students from questioning any autocratic moves by the administration. He said, "Even during the distressing period of COVID-19 lockdowns, several students were targeted and punished, for exercising their right to freedom of speech and expression by participating in movements such as the protest against CAA-NRC and the struggles against fee hikes."
"The University administrations across the country are already utilising the pandemic scenario to impose several restrictions inside the campus with an intent to curtail the freedom of expression of the students. It is imperative to mention that the purposeful delay in reopening the campus, despite the serious concerns of the digital divide, increasing dropout rate, and the alarming reports of student suicides, is another way to restrict students' collective voices. Most of the universities and colleges have been collecting the full amount of fees from the students, though they were denied access to facilities like libraries, laboratories etc," Biswas added.
The action has been condemned by the Members of Parliament from Tamil Nadu. S Venkatesan, CPI(M) MP from Madurai in his letter to Dharamendra Pradhan said that the university deliberately took harsh action taking advantage of "court going to vacation so that this highly arbitrary move could not be challenged legally. They also waited for the winter session of Parliament to get over before issuing such orders, making it impossible to raise it in Parliament either."
Get the latest reports & analysis with people's perspective on Protests, movements & deep analytical videos, discussions of the current affairs in your Telegram app. Subscribe to NewsClick's Telegram channel & get Real-Time updates on stories, as they get published on our website.
Subscribe Newsclick On Telegram