Elections 2019: Meet Independent India's First Voter
The centric demand for roads and accessibility in Himachal Pradesh hasn't seemed to change from the first elections in 1951, even as the state goes to poll today on May 19 in the last phase of general elections.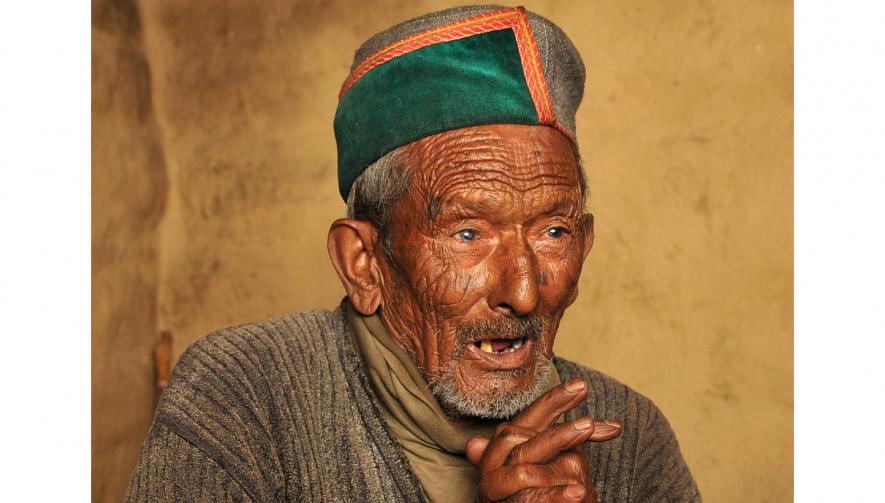 Image courtesy: The Straits Times
Kinnaur: Kinnaur, one of the three tribal districts in Himachal Pradesh which fall into the Mandi constituency, is famous for it's apples, challenging terrain and famous treks. National Highway 5 connects it through the capital city of Shimla. The national highway is crucial to this district as it borders with Tibet and leads to the second tribal district of the state, Lahaul and Spiti which shares a border with China.
The old Hindustan-Tibet Road passes through the Kinnaur valley along the bank of river Sutlej and finally enters Tibet at Shipki La pass. The administrative headquarter of the district is at Reckong Peo. About 6 km from Reckong Peo lies Kalpa, where the first voter of independent India, Shyam Saran Negi lives. At 103, Mr. Negi is a retired schoolteacher who has never failed to cast his vote since the first General Elections in 1951.
NewsClick visited Negi in order to understand the changes that have transpired over the years in Kalpa. "I'm old and have trouble walking, so I mostly sit here in the sun till it sets and when the weather is bad outside, I have to lie inside near the "Tandoor" (coal heater)," he said.
When asked as to how he became the first voter, he said, "I was a school master in this village at the time when it was announced that the elections will happen in 1951. It was a multi-phased election like this one. But Kinnaur would have been closed as the elections would start from October 1951. But you see because of the snow, the elections in Kinnaur happened six months before the rest of the country. I had election duty another village and I lived in Kalpa. I had to reach there by 6 AM but I wanted to vote as well. So by 5:30 AM I voted and left for my duty. This is how I became the first voter and a few years ago, the government found this information and contacted me."
When asked whether he would vote, he said, "I don't know now. I have problems in my knees. I don't know if I'd be able to walk down." Negi's grandson, who was waiting to hand him pamphlets of the Bharatiya Janata Party, overheard the conversation and said, "It won't be like this. Election Commission will send a car for him and people will go with him beating drums and singing like it's some festival. There will be a wheelchair also at the booth."
Also Read: Elections 2019: Amidst BJP vs Cong, CPI(M) Offers a Third Alternative in Mandi
Shyam Saran carefully examined the pamphlets and recognised Modi saying, "This is Modi. You see I'm very old so I don't know how he is. I will have to read what he is promising."
"I have worked with Congress. When the first elections happened, there was nothing here. No roads and heavy snow. We had to walk everywhere. Then slowly roads were built, electricity was brought in. All these work the Congress had done. But then they started making money from the projects here. Otherwise, I have always been with Congress since independence," he told Newsclick.
Roads and Electricity Still a Problem
Negi spoke of the first General Elections in 1951. However, in 2019, roads and accessibility are still key problems in the district.
"When Raja Virbhadra is the CM, we never face these problems. The roads were maintained then. Now you know what happens, because it's generally believed that people here support Congress, when BJP comes into power in the state, they don't give funds for Kinnaur," said a local shopkeeper in Reckong Peo. The roads need extra maintenance due to the erratic weather in the district and movement of heavy army contingents.
"Right now, because our MLA is of Congress and the government is of BJP so our hands are tied. We mostly grow apples. Our priority is road and transport. Also, because it snows heavily, electricity is a must. When there is no electricity, we have no knowledge of what's happening in the world. And as you keep going further towards Spiti, road connectivity keeps getting more crucial for people to access hospitals, schools and banks. After Reckong Peo, the next fuel station is in Kaza, Spiti," said Jagat Singh Negi who runs a small hotel in Kalpa.
The Congress- BJP tussle does hamper the maintenance of the district. So much so that there are no line men to repair electricity poles when they get damaged during heavy rains and snow. "People who support BJP here support it only because of Modi. But this time Modi's image has also diminished. Note ban affected the people here. But the thing is voting is only useful here when you vote for the same party at Centre," Jagat Singh Bisht, a resident of Sangla told NewsClick.
Also Read: Elections 2019: Final Leg of Campaigning in Himachal Pradesh
Lahaul and Spiti, with highest number of female voters, remains closed for nearly six months in a year due to the treacherous weather conditions. Residents of a small village on the Kinnaur- Spiti border called Hoorling, have decided to boycott the elections.
"Why do we vote? What do we get? We have to even buy petrol in black. We live in the middle of nowhere. There's nothing ahead till Kaza. Roads are shut half a year so we have to walk. When the power supply snaps, it doesn't come back for weeks. So why would we vote?," said Tsering Dolma, a resident of Hoorling. "Whoever forms the government, we have little to do with it," she told NewsClick.
As the state goes to poll today on May 19 in the last phase of general elections, the centric demand for roads and accessibility hasn't seemed to change from 1951 till now.
Get the latest reports & analysis with people's perspective on Protests, movements & deep analytical videos, discussions of the current affairs in your Telegram app. Subscribe to NewsClick's Telegram channel & get Real-Time updates on stories, as they get published on our website.
Subscribe Newsclick On Telegram