Food Giants Paid $53.5 bn to Shareholders, 345 mn Went Hungry in 2 Years
The amount returned to shareholders is more than the estimated $51.5 billion required for humanitarian relief for 339 million in 69 countries in 2023.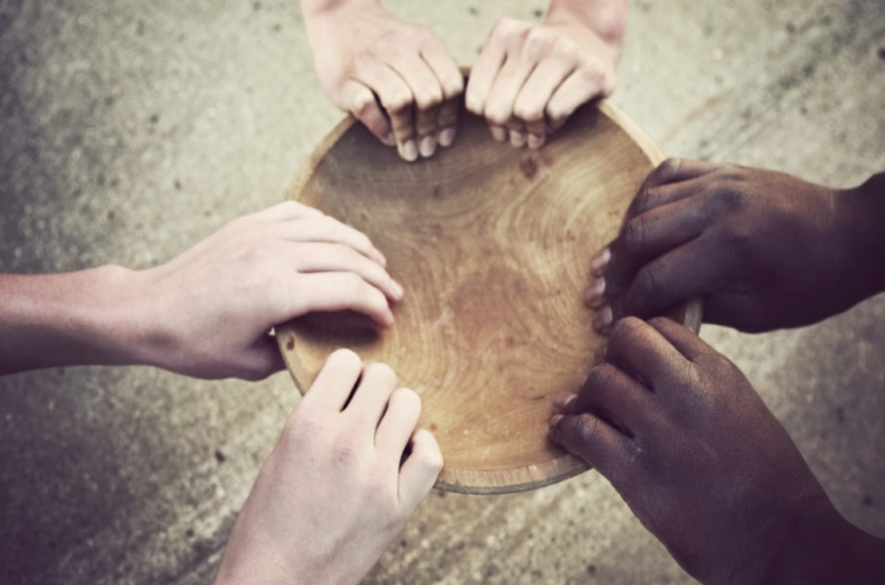 A staggering $53.5 billion was paid to shareholders by 20 of the world's biggest food corporations in grain, fertiliser, meat and dairy sectors in 2020-22 as the number of people facing or at risk of acute food insecurity increased from 135 million in 53 countries to 345 million in 82 countries in the same period.
Shockingly, the amount returned to shareholders is more than the estimated $51.5 billion required for humanitarian relief, according to the United Nations (UN), for 339 million people in 69 countries in 2023—a 25% increase compared to 2022.
According to a report titled 'Food Injustice 2020-2022: Unchecked, unregulated and unaccountable: Who are the hunger profiteers' released by Greenpeace International, the largest 20 agribusiness corporations in each of the four sectors were analysed.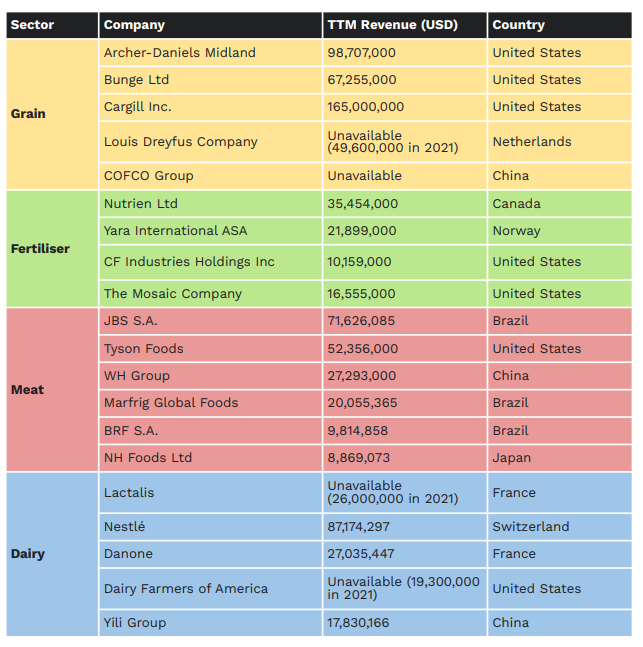 Companies analysed within each sector, their revenue for the trailing twelve months (TTM) leading up to the outset of the research and their country headquarters.
Greenpeace mentioned an International Panel of Experts on Sustainable Food Systems report that notes that four companies—Archer-Daniels Midland, Bunge, Cargill and Louis Dreyfus—control 70%-90% of the world grain trade but are under "no obligation to disclose what they know about global markets, including their own grain stocks".
The four grains companies, according to Greenpeace research, paid out $2.7 billion in cash dividends and, at least, $3.3 million in share buybacks in the two financial years though the real figures are likely much higher.

The four largest players in the fertiliser industry paid $4.9 billion in cash dividends and $2.9 billion in share buybacks in the same period.

In the meat industry, six major companies paid cash dividends of more than $4 billion and repurchased shares worth $2.4 billion in 2020-22.

The dairy sector paid out the most astronomical amount of money with five companies paying cash dividend of around $21.4 billion and repurchasing shares worth $15.2 billion.
The Greenpeace report showed that a small group of companies have disproportionate control over food supply chain and the information about the chains, which "allows for greater extraction of wealth to the benefit of owners and shareholders".
For example, as the four grains companies are not under the obligation to disclose what they know about global markets, including their grain stocks, it allows them to withhold information that would help to stabilise prices.
In fact, employees of Cargill, the largest agriculture company in the world, brag about how valuable their information is to hedge funds "because they know where to invest, when and how much".
"The black box surrounding how commodities prices relate to actual commodities storage is leveraged for the benefit of companies, traders and shareholders in the Global North. In this way, market concentration and corporate control allow for the use of insider knowledge—without it being considered illegal insider trading. Increased concentration of market share correlates with rising profits for companies across the sector," the report states.
In turn, it creates a "vicious circle of increasing control" with these making greater profits, enabling them to acquire smaller companies and tightening their control on the market further.
For example, Canadian fertiliser and seed giant Nutrien acquired Casa do Adubo, a trader of agricultural inputs including seeds, fertiliser and pesticides, in mid-2022 in its sixth transaction since 2019. Consequently, Nutrien would have 180 commercial units with 3,500 employees across Argentina, Brazil, Chile and Uruguay. Nutrien recorded profits of $4.6 billion in the three financial years before 2021.
Similarly, JBS S.A.—the world's largest meat processor—has had meteoric growth through acquisitions from a revenue of just R$4 billion in 2007 to R$400 billion currently.
Out of its seven acquisitions in 2021, the most notable were UK pork producer Randall Parker and Irish Kerry Group's meats and meals operations through its subsidiary Pilgrim's Pride and Australia's biggest pork processor Rivalea.
In 2015, the UN announced 17 Sustainable Development Goals, including "zero hunger" by achieving food security and improved nutrition and promoting sustainable agriculture.
Initially, the Food and Agriculture Organization (FAO) was optimistic about achieving the "zero hunger" goal by 2030. However, since 2015, the global rate of hunger has again spiked with the UN estimating that "between 720 million and 811 million persons worldwide were suffering from hunger" in 2020, around 161 million more than in 2019.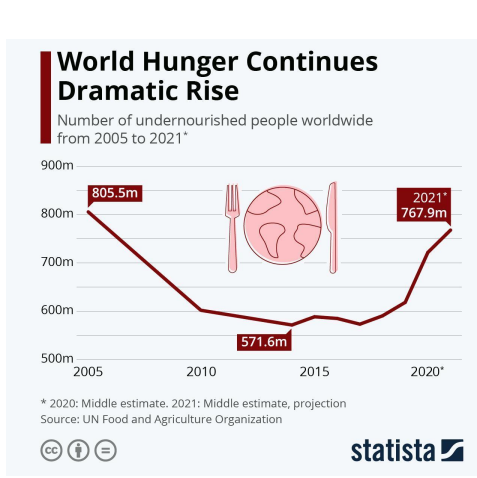 The number of people facing hunger galloped by more than 150 million in 2020 compared with 2019 with 702-828 million affected.
By 2030, nearly 670 million will still be undernourished—78 million more even if the pandemic had not occurred.
Get the latest reports & analysis with people's perspective on Protests, movements & deep analytical videos, discussions of the current affairs in your Telegram app. Subscribe to NewsClick's Telegram channel & get Real-Time updates on stories, as they get published on our website.
Subscribe Newsclick On Telegram