Food for Votes? Is Hunger Relevant Only Till Elections?
Current foodgrain stocks are twice the statutory limit, procurement is at an all-time high, as is output – yet the Modi government is silent on extending the free ration scheme.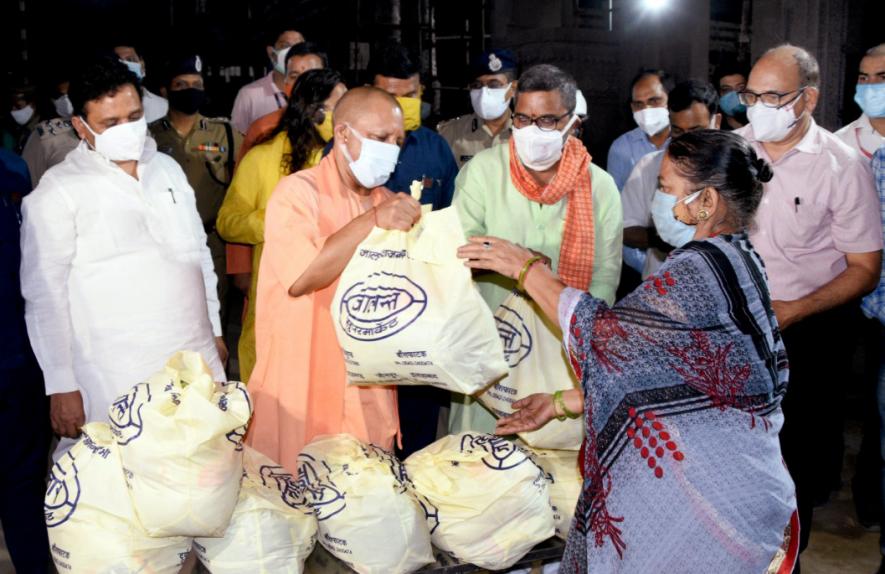 Uttar Pradesh CM Yogi Adityanath distributes ration to people
The 5 kg per person free foodgrain scheme is going to end this month-end. Under this key scheme, launched in 2020, some 366 lakh tonnes of wheat and rice were given free of cost in 2021-22. This was about 5 kg per person, in addition to whatever entitlement of grain existed as part of the National Food Security Act (NFSA), under which highly subsidised grain is sold to an estimated 80 crore persons.
The scheme was to end in November 2021 but was extended till March-end, a move that was probably motivated by the Assembly elections due in February-March 2022. Now, March is coming to an end, elections are over and the people await the government's decision with bated breath.
There is no doubt that the additional foodgrain came as a big help to millions of families who were reeling under the devastating impact of COVID and the ensuing lockdowns, restrictions and stoppage of normal economic activity. But is there any need to stop this scheme?
Abundant Foodgrain is Available
The government had foodgrain stocks of a whopping 533 lakh tonnes, according to official data put out by the department of food and public distribution (DFPD) in the first week of March. [See chart below. Asterix indicates partial data available for March 2022]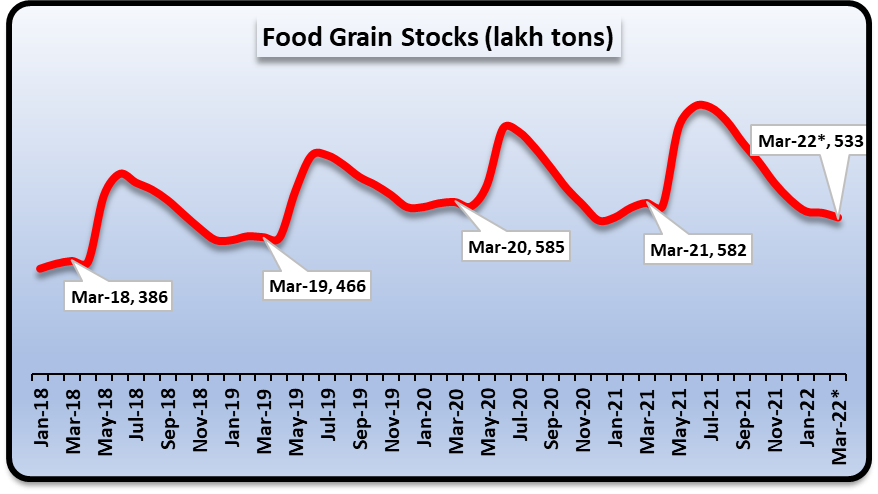 Wheat procurement will be in progress by the time March ends and the final figure for stocks at the end of this month will be probably more than last year's. Even the current stock of 533 lakh tonnes is 150% more than the Central government's norm for the first quarter of calendar year (1 January 1-March 31) which is 214 lakh tonnes.
This happy position is because of abundant foodgrain production as well as record procurement. As per the second advance estimates of the agriculture ministry, cereal production for 2021-22 is estimated at 2,891 lakh tonnes, up from 2,853 lakh tonnes in the previous year (2020-21). In fact, with production of pulses, too, at record levels, the total foodgrain production is set to reach 3,160 lakh tonnes, up from 3,107 lakh tonnes in 2020-21. Clearly, there is no shortage of foodgrain.
Data available till the time of writing indicates that grain procurement, too, will be at record levels this year. As on February 28, 2022, procurement of rice during 2021-22 is 475 lakh tonnes while corresponding procurement in the previous marketing season (2020-21) was 446 lakh tonnes. Procurement of wheat during 2021-22 was 434 lakh tonnes compared with 390 lakh tonnes in the previous market season (2020-21).
So, the government is sitting on a huge stockpile of foodgrain and there is no likelihood of any shortage or crisis affecting supply. In fact, there is a case for increasing the per person allocation, expanding the coverage to those still outside the public distribution system, and also including other produce, like pulses and cooking oil, in the basket of food items currently being given out under the system.
Available for Export But Not Indians?
There are murmurs that the Ukrainian war may affect global wheat supply and lead to shortages and high prices. This does not affect India, which is self-sufficient in wheat for a long time now. In fact, Prime Minister Narendra Modi has been urging traders to export wheat and make a quick buck out of the current volatile price situation.
"Suppose now an opportunity has come to export Indian wheat, we should seize this opportunity and provide the best quality product with the best service, and slowly such an arrangement will become permanent," he reportedly said at a webinar organised by the finance ministry.
Farmers are hardly in a position to export directly. They will sell the wheat to traders who can export. PM Modi is addressing traders when he says they should make a permanent place for themselves in the global market by exporting best produce. It's a lucrative logic, but what it means is that hungry Indians can fend for themselves – like they have been doing for millenia – but dynamic traders can make a killing in this sellers' market.
Hunger Still Stalks Indians
As has been reported earlier by NewsClick, a survey carried out by the Right to Food Campaign in December 2021 and January 2022 across 14 states revealed a shocking and dire situation of declining incomes and severe food insecurity among the poor. It found that 80% of those surveyed suffered from some form of food insecurity while 25% reported severe food insecurity in terms of having to skip meals, eat less than usual, running out of food, not being able to eat for a whole day and going to bed hungry due to lack of money or other resources.
As per the survey, 41% of the respondents said the nutritional quality of their diet had deteriorated compared with the pre-pandemic period. This was happening because 66% people reported that their income had decreased compared with the pre-pandemic period and 45% of households had outstanding debt.
The ruling Bharatiya Janata Party or BJP had campaigned strenuously in the just finished Assembly elections, proclaiming that their free foodgrain scheme was a lifeline for millions of people during the pandemic and its aftermath. In fact, post-election analyses have belaboured the point that BJP definitely gained because of this scheme – or at least it was able to contain the discontent over high joblessness and price rise because of this scheme. So, its need is well established.
But to shy away from it now, when elections are over, and to glorify profits over empty stomachs, would be a sign of unalloyed callousness.
Get the latest reports & analysis with people's perspective on Protests, movements & deep analytical videos, discussions of the current affairs in your Telegram app. Subscribe to NewsClick's Telegram channel & get Real-Time updates on stories, as they get published on our website.
Subscribe Newsclick On Telegram