Forest Rights Have Been Crushed During Lockdown, Say Activists
An analysis has revealed that approximately 120 projects were recommended, 90 were deferred, 30 projects returned and only two projects were rejected during the Expert Appraisal Committee and Forest Advisory Committee meetings held during the lockdown.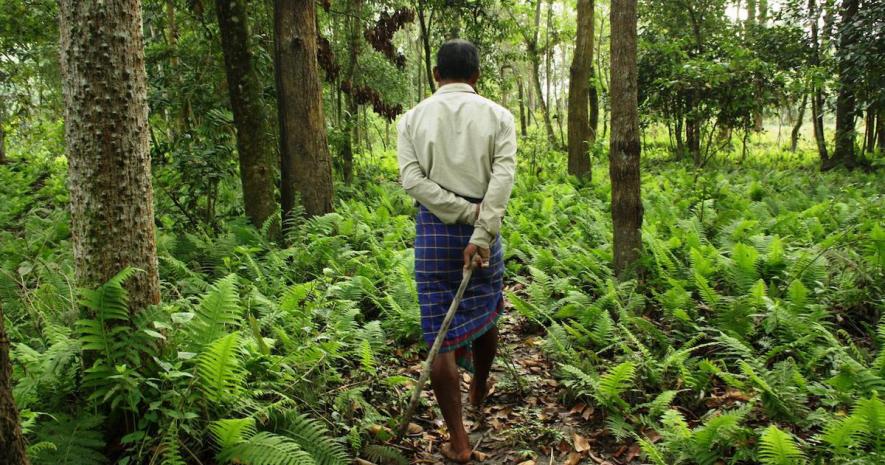 Representational Image. Image Courtesy: scroll.in
The arbitrarily declared unplanned lockdown across the country brought hardships to several sections of the society, but Adivasis and forest-dwelling communities have been among the worst hit. According to the activists who work for land rights, policy decisions for forest diversion taken during the COVID-19 lockdown, which potentially dilute the Forest Rights Act, 2006 (FRA) and undermine the decision-making authority of the Gram Sabhas, is the biggest threat faced by the communities. 
FRA requires completion of the recognition and vesting of forest rights, and obtaining free prior informed consent of Gram Sabhas before diversion of forest lands, which has been specified in the Ministry of Environment, Forests and Climate Change (MoEFCC)'s own guidelines (2009), the Forest Conservation Rules (2016), and also upheld by the Supreme Court in the landmark Niyamgiri judgment (2013). 
An analysis of the minutes of crucial committee meetings during the lockdown (about 40 meetings, some as short as 10 minutes and others up to five hours) reveal that that approximately 120 projects were recommended, 90 were deferred, 30 projects returned and only two projects were rejected during Expert Appraisal Committee and Forest Advisory Committee meetings held during the lockdown. 
"A quarter of the recommended projects fell in Fifth Schedule districts. The analysis has not looked at the details of how many of the deferred projects fall in Fifth Schedule districts, and about many clearances made during National Board of Wildlife meetings. During the nationwide lockdown period from March 24- June 30, the Forest and Expert Appraisal Committees within the Ministry of Environment and Forests went on a project clearing spree, for large scale industrial, mining, hydropower, roads, and highway construction projects, without any due diligence and in absolute disregard to environmental laws and FRA," read the analysis by Community Forests RightsLearning and Advocacy (CFR-LA).
In the name of lockdown, it said, the ministry "crammed what are usually day-long sessions of these committees into two-hour video calls (although there is no provision for video call based clearances in Indian environmental laws), and gave speedy clearances without any field visits, basing their decisions only on reports submitted by the project proponents". 
Read more: Amid Lockdown, Lakhs of Coal Workers Begin 3-Day Strike Against Commercial Mining
Of the 120 clearances, at least 30 are in biodiversity hotspots such as the Bhagwan Mahavir Sanctuary, Gir National Park, Sharavathi Lion Tailed Macaque Sanctuary, etc. Also, commercial coal-mining auctions have been launched despite the fact that the Mineral Laws (Amendment) Act (2020) lapsed on May 14, 2020. Despite this, mining continued throughout the lockdown as an 'essential activity.
"Obtaining legal recognition of community forest rights in mining areas of Tamnar, Gharghoda and DharamJaigarh, the three blocks of Raigarh district where coal mining auctions have been announced, has been very difficult. Ever since 2012, the government offices are refusing to respond to any forest rights claims; they say it is a mining area and therefore it's different. Despite the chief minister's recent direction, the officials are willing to recognise only small parts of our claims," said a community organiser from Raigarh district of Chhattisgarh. 
The Gram Sabhas here have been rejecting these allocations of mines. "There is so much violence perpetrated by mining companies targeting communities and we reject them. For some years now, we have been carrying out koyla satyagrahas, in which we demand that these are our forest lands and therefore the ownership and rights to mine these lands, must be in our hands," the community organiser added while describing their struggle. 
Read more: Adani Foists Coal Mines and Hinduism on Communities
Nine coal blocks have been allocated in Jharkhand, mainly in Latehar, Hazaribagh and Chatra districts in the recent commercial coal block allocations. An advocate who is closely associated with the CFR-LA said: "In all of these districts, there has been minimal legal recognition of forest rights. I have been a part of the struggle against mining since 2005, and it has been a difficult struggle. A challenging time was after the shootings in 2015 at the Pakri Barwadih mine. Despite demonstrating our clear opposition, in public hearings and other spaces, the companies got clearances from the Centre."
"While forest dwellers, Adivasis, farmers and workers have been raising voices for generations, so long as those who are in power continue to work against the Constitution, there will be no change in our ground reality. We are aware that commercial coal mining will mean more violations and there will be bigger mines and less interest in community consent."
Get the latest reports & analysis with people's perspective on Protests, movements & deep analytical videos, discussions of the current affairs in your Telegram app. Subscribe to NewsClick's Telegram channel & get Real-Time updates on stories, as they get published on our website.
Subscribe Newsclick On Telegram