Forest Rights Act vs Indian Forest Act: Conservation or Conservatism
The anti-FRA campaign is rooted in the fact that, for the first time in history, the real ownership of forests has been taken away from the bureaucracy and corrupt forest officials who work at the behest of mining mafias and corporations.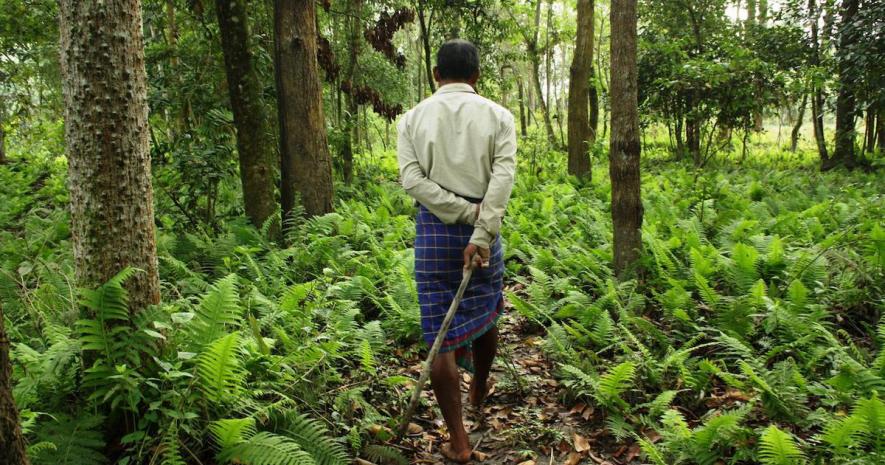 Representational Image. Image Courtesy: scroll.in
Conservation and conservatism are concepts associated with two opposite ends of the political spectrum. Conservation must be inclusive and rooted in the principles of equity and sustainability. Yet we are seeing a global rise of conservative conservationists. Organisations like Wildlife First, Tiger Research and Conservation Trust (TRACT), and Nature Conservation Society (NCS) challenged the Forest Rights Act (FRA) in 2008, immediately when it came into force and can be categorised as elite conservative conservationist. Such organisations are complicit with big corporations which fund militarised and fenced conservation often leading to persecution and eviction of innocent tribals and forest dwellers from their own land. These competing conservationist ideologies often result in legislations which are contradictory.
Scheduled Tribes and Other Traditional Forest Dwellers (Recognition of Forest Rights) Act, 2006, and Indian Forest Act, 1921, are products of two contradictory conservation ideologies. Indian Forest Act is a colonial law which sees the forest as a tradable commodity and seeks to exercise maximum control over transit of forest-produce and the right to collect duty leviable on timber and other forest produce. It also allows state governments to divert forest land to other uses according to its need while recklessly ignoring the rights of millions of tribals and forest dwellers. While the objective of FRA is to evolve an inclusive system of conservation by recognising the rights of communities dependent on forests and treating them as true conservationist and managers of the community forest resource. Regulatory bodies under these two statutes have a conflict of interest which has led to the prosecution of millions of tribals and forest dwellers.
FRA vs IFA
Forest Rights Act (FRA) and Indian Forest Act (IFA) provides for two parallel system of forest conservation. Despite attempts to dilute FRA, the law has successfully managed to democratise the management of forest resources. In a three-tier appellate system, it allows Gram Sabha to act as a quasi-judicial body to adjudicate on the title claims of Individual Forest Rights (IFR), Community Rights (CR), and Community Forest Resource Rights (CFR).
Also read: Modi Govt's Lawyers Didn't Defend Forest Rights Act in Supreme Court
FRA not only confers individuals' title to habitat, but it also aims to protect their tradition and culture by recognising their collective ownership over a larger landscape within or outside their traditional village territories. At a time when, the tribals and forest dwellers have been living at the mercy of forest officials and under threat of losing their homes and livelihood for more than a century, the Act empowers Gram Sabhas by giving them several statutory powers. Without their written consent the forest land cannot be diverted for other land uses. According to the Promise and Performance Report of 2016— Ten years of Forest Rights Act in India, with over 200 million Scheduled Tribes (STs) and Other Traditional Forest Dwellers (OTFDs), India has the largest community of tribals and forest dwellers in the world, and yet, it had to wait till 2006 for a long overdue legislation like FRA. But the journey has not been smooth for FRA so far, right from the day of its implementation.
Britishers deprived tribals of their land and livelihood, and with continued non-recognition of their rights to land and forest resources after independence, the forests were taken over by the Forest Department through indiscriminate notifications under IFA declaring them reserved or protected forests. After years of mass struggles and protests by Adivasis, civil society and Left Parties, this Act could see the light of day. The Communist Party of India (Marxist) [CPI(M)], along with other major left parties was the major proponent of FRA which was enacted under UPA-I. They fought tooth and nail for it both inside and outside the Parliament. CPI(M) even staged a walkout in protest against the attempt to dilute the Act by anti-tribal lobby masquerading as Wildlife NGOs.
The underpinning of the anti-FRA campaign can be understood by the fact that for the first time in history, the real ownership has been taken away from the bureaucracy and corrupt forest officials who work at the behest of mining mafias and corporations. The FRA is a superseding Act, which means laws repugnant to it cannot hold. Thus, the revolutionary implication of enforcement of FRA is, no matter what rights IFA has given to the State and Forest department and what they may decide, their rights and needs are now subject to the consent of the community.
Also read: Changes to Indian Forests Act: How Modi is Trying to Subvert FRA
Long before the word conservation was coined, the tribals have been managing and conserving their forests and its resources by using indigenous techniques and their vast knowledge of the intricate forest system. Their lands have been forcibly occupied for various development and industrial projects making them encroachers on their land. The Supreme Court, on a petition filed by wildlife conservationists challenging the validity of FRA, has directed state governments to evict tribals and forest dwellers who have been illegally occupying the forest land. A careful study of the status report submitted by many states to the nodal agency, Ministry of Tribal Affairs (MoTA) reveals that a large number of appeals for title claims are still pending, while many genuine claims have been rejected on many arbitrary and faulty grounds like want of evidence of identity to the satisfaction of the forest authority. The FRA doesn't place the unnecessary burden of proving the identity or rights of the claimants for the simple reason that if the claimant is truly a tribal or forest dweller, then he or she might not possess requisite documents to prove his/her claim of rights. Even statement of elders other than the claimants, reduced in writing is suffice as a proof of identity. Thus, the FRA subtly puts the onus of proactively proving that the claimant is an encroacher, on the state.
The petitioners have inter alia prayed in the petition that if the claim of rights under FRA is not found to be tenable by the competent authority, then the claimant is required to be evicted by the authorities. Experts have contrary views to make. "Before arriving at the eviction decisions, the entire implementation exercise must be re-checked. Lapses must be checked and corrected. The same petitioners had filed the petition challenging the validity of the FRA, from as early as 2008, giving it no time to be operational. This raises many doubts about their intent," said Aditi Patil, a research scholar working with Land Conflict Watch.
Patil said that, over 9000 sq km of forest was cleared for non-forest purposes in the last 15 years and according to Parliamentary Standing Committee on Science & Technology, Environment & Forests report on Status of Forests (2018), an area of 2400 sq km forest land has been diverted for infrastructure projects under Forest Conservation Act, 1980. But tactical silence of many such shrewd organisations speaks volumes about their intentions. For them, giving occupational rights to tribals is the biggest threat to forests in India as it leads to fragmentation of forests which is a serious threat to biodiversity and conservation process. FRA gives rights to people on lands that they have been living on since generations. "This is not some new parcel of land that is given to a family, so the question of fragmentation of forests doesn't arise as is alleged by the petitioner. We must question these organisations/petitioners about how they justify their conservation theories. Conservation cannot happen in a fenced off and stand-alone manner," she added.
CORPORATES OVER FOREST RIGHTS?
Modi government in an effort to ease expropriation in favour of corporations has come up with the Draft National Policy, 2018, and draconian amendments to the already anti-forest and anti-tribal Indian Forest Act, 1980. If these draft amendments get enacted, they will make the provisions of much-needed FRA ineffective and increase the militarised conservation of the forest by giving the forest departments arbitrary and unrestricted powers. In addition to having powers under the Code of Criminal Procedure (CrPC) to search, arrest and investigate without warrant earlier, now the forest department will also have discretionary powers to use firearms against anyone they deem as an encroacher. With increased immunity, like granted under the Armed Forces Special Powers Act (AFSPA), it will be virtually impossible to prosecute officials without the sanction of the state government.
Also watch: AFSPA-like Changes to Indian Forests Act?
The draft amendment further proposes to put the burden of proving the innocence on the accused. This proposed amendment can be seen as a shift from the general rule of the Indian Evidence Act (S.101) which provides that the burden of proving the case can never shift to the accused. Further, the forest authority will have the power to seize and sell the property even before his guilt is proved, which might result in increased harassment of tribals and forest dwellers, and corruption. Similarly, the draft amendment seeks to provide for collective punishment for certain offences— a drift from collective management to collective suffering. Over and above, provisions for regulating the transit and levying duty on forest produce have also been provided in the draft, frustrating the provisions of FRA that Minor Forest Produce (MFP) cannot be taxed. Many of these proposed draft amendments if enacted would make FRA a toothless tiger.
Despite the foreseeable damage by the proposed amendment, another unscientific and disastrous Draft National Forest Policy (NFP) was brought in. The NFP has put an overemphasis on the need of Public Private Partnership (PPP) Model to best suit the interest of corporate masters. The PPP model will work to commercialise the whole conservation exercise by setting up Production Forests.
Manya Singh, a research scholar associated with Centre for Ecology Development and Research, Dehradun, said, "Forests take years to grow and achieve carbon-sequestration efficiencies. Plantation of sapling will take years to grow into fully developed trees that can offer canopies for birds and shelter for smaller mammals. The undergrowth and vegetation of a forest cannot be stimulated in plantations. Private plantations cannot replicate forest ecosystem services. On the other hand, traditional conservation practices like sacred groves have been protected by indigenous people since generations. As a result, there is no change in the biodiversity of an ecosystem when it is conserved in its natural state. Anthropogenic changes disrupt the natural balance and plantations have failed to achieve this balance. The focus of forest policy should be on conserving whatever little natural forests we are left with."
The phrase conservative conservationist sounds more like an oxymoron despite having a common etymological origin. This lobby must realise that by conserving the colonial mindset and interest of their corporate funders don't make them a conservationist, in fact, their version of conservation does the reverse of what they seek to achieve. Their unconditional support for the capitalist idea of unrestricted economic development regardless of environmental consequences, while attempting to discipline the individual choices and action, exposes their priorities.
Unlike in political arena, the ideological clash and research community splitting into feuding factions would do more damage to the conservation efforts and undermine a critical assessment of India's dwindling biodiversity. If one is really sincere to the cause of conservation, then we must come out in unconditional support of the tribals and forest dwellers, and oppose the Draft National Policy and proposed amendments to the Indian Forest Act—both of them will work together to bring encroachers inside the forests and make the forest dwellers the encroachers.
Vikas Bhadauria is the President of the Students' Federation of India- Delhi State Committee. The views are personal.
Also watch: FRA Issue Exposes Criminality of BJP: Brinda Karat
Get the latest reports & analysis with people's perspective on Protests, movements & deep analytical videos, discussions of the current affairs in your Telegram app. Subscribe to NewsClick's Telegram channel & get Real-Time updates on stories, as they get published on our website.
Subscribe Newsclick On Telegram