Forgotten People and Misplaced Priorities
India's economic policy and processes over the years have been operating in such skewered way that it kept out the majority out of its benefits and helped a few, according to the recently released India Exclusion Report 2015, prepared by the New Delhi based Centre for Equity Studies and its partner organisations and experts. It further points out how deprivation along with dehumanisation makes a deadly cocktail for India's three fourth populations to eke out an inglorious everyday of stigma, humiliation and worst forms of human rights violations.
Ensuring inclusion has been a constant feature in agenda of policymakers in India. However, the evidence generally shows further widening of inequalities and lack of inclusion in terms of most important social and economic outcomes.
This tardy performance stems not only out of lack of genuine political will (although that is certainly a factor), but also because the nature of inclusion—or, more importantly, exclusion—has not been studied and understood adequately -- resulting in even well intentional policies missing the mark completely. There is, of course, the basic problem that economic policies and processes continue to operate in ways that both rely upon and increase inequality and lack of voice of major groups and social categories. But there is also a genuine lack of understanding of the complex yet intertwined nature of exclusion in its various manifestations.
Focusing on three essential "public goods" -- urban health; urban water and sanitation; and access to equal and dignified work for women, the report points out that disadvantaged sections of the population -- women, Dalits, Adivasis, Muslims, persons with disabilities, and persons with age-related vulnerabilities are most among the excluded.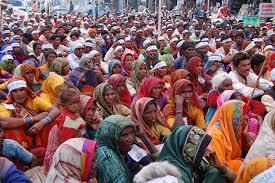 Image Courtesy: wikipedia.org
It further points out that while urban areas in general have more extensive health services than rural areas, access to adequate health care is significantly lower for the urban poor, with poor working and housing conditions (and particularly the homeless) may have hardly any access at all. They are also much more likely to have lower or no access to basic drinking water and sanitation.
The homeless, obviously, are not only the most destitute but also the most deprived of access to minimum "public goods" because of the residence-based nature of all public service delivery. They, and among them especially street children, are often excluded completely from any kind of health care. They are more likely to be trapped in low-end jobs with unsafe, unhealthy and debilitating working conditions. Their access to water and sanitation services is hugely inadequate to ensure good health, and they are typically forced to drink non-potable water, often fetched over long distances, and defecate in the open or use poorly maintained public toilets without running water and with little privacy or security.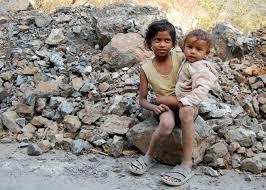 Image Courtesy: wikipedia.org
The report highlights how working women face particularly adverse forms of exclusion, and they are mostly those who face some of the multiple deprivations already outlined. Within the broad category, some specific forms of work that are particularly oppressive are highlighted, such as manual scavenging (the dominant part of which is performed by women) and hazardous occupations such as construction or mining, where they are also paid significantly less than men.
Some attention is paid to especially vulnerable groups that are often ignored in the wider discourse. The first is single women above the age of 35 years, a porous and heterogenous category that is nonetheless profoundly unsettling for society and that often faces dramatic expressions of patriarchy through neglect or open oppression. State action, including both the design and the implementation of government policies, often reinforces and intensifies the social and economic exclusions that single women have to deal with.
Image Courtesy: commons.wikimedia.org
A really pathetic and stressing story emerges from the account of the Devadasis still found in Karnataka, Andhra Pradesh, Tamil Nadu and the Travancore region of Kerala. Despite being legally banned, clandestine practice was found even in early 2015, and the practice has mutated in different ways, but still remains as oppressive and akin to a form of sexual slavery with little agency or autonomy for the children and women who are victims of the practice.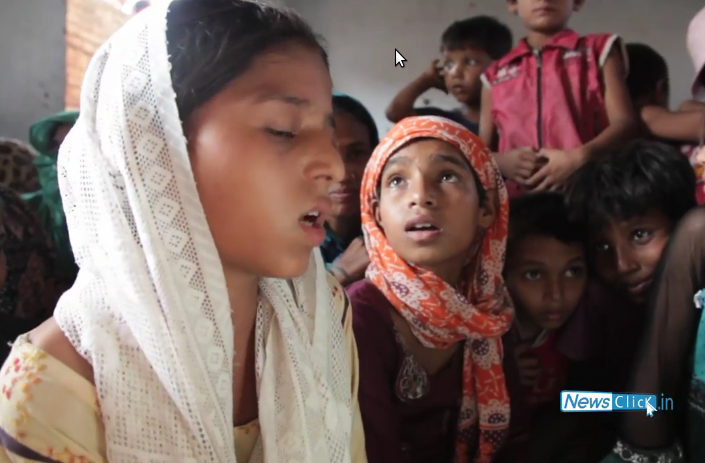 The report also examines some other specific cases of exclusion defined in the larger sense, such as victims of communal violence (with focus on survivors of communal violence in Muzaffarnagar and Shamli districts of Uttar Pradesh and of the recurring incidents of mass violence in the Bodo Territorial Autonomous District region of Assam). The case of the tiny group of Jarawa (or Ang) tribal people in the Andaman Islands raises more complex issues of how their very survival is threatened by active contact with the wider world, which is generally insensitive to their needs and conditions.
Get the latest reports & analysis with people's perspective on Protests, movements & deep analytical videos, discussions of the current affairs in your Telegram app. Subscribe to NewsClick's Telegram channel & get Real-Time updates on stories, as they get published on our website.
Subscribe Newsclick On Telegram